Enlightening Outdoor Experiences 
Festival of Lights
Source: Chashu Ramen + Izakaya / Video by Joe Jacobs
The City of Worcester has reimagined the Festival of Lights for everyone to enjoy through February 2021. From Ivy Orth's illuminated geodesic sculptures to New England Botanic Garden at Tower Hill's relocated rainbow tunnel, the Worcester Common's attractions include so much wonderment this year! They're expanding the festival into Main South, wrapping more trees with lights and they've introduced an impressive multi-story window installation by Creative Hub Worcester at 554 Main Street, directly across from Hanover Theatre. Pro Tip: Check out our guide to spending a day in downtown Worcester before you go!
Maple Sugaring Demonstration
Tap into your curiosity about the region's natural resources. In this live webinar, presented by New England Botanic Garden at Tower Hill, you can do so from the comfort of your own home. Kyle Jacoby will walk you through the history of maple sugaring, how syrup is made today, the differences in syrup types, and tips for starting to make it yourself!
Connect with Creatures
Visit the "Sanctuary in the City" for one of Broad Meadow Brook's wildlife programs. Learn all about owls at the Owl Prowl for Families and uncover the stories told by animals through their tracks at the Winter Wildlife Tracking & Ecology event. Or bust out your binoculars for a Friday Morning Bird Walk on February 5th, where you can enjoy a guided walk, sharpen your birding skills, and help track migrating and resident birds for Mass Audubon.
Be One with Nature
Put on your snowboots and parkas and head to Boylston, MA for in-personal outdoor experiences at New England Botanic Garden at Tower Hill. A family favorite on display through January is Yeti, Set, Go! Or if you're seeking a meditative experience try Shinrin Yoku, known as "Forest Bathing" where you'll learn about mindfulness practices, sensory awareness, and nature in the conservatory. 
---
Engaging Visuals & Words
Exploration through Visual Art
Source: Iris and B. Gerald Cantor Art Gallery
Discover drama and whimsey at New Gilded Age: A Theatrical Installation by artist B. Lynch at the Iris and B. Gerald Cantor Art Gallery located on the Holy Cross campus in Worcester. 
Try stepping into the world of Chiso, the 465-year-old, Kyoto-based kimono house, through the Worcester Art Museum's free virtual exhibit available through February 6th. Through January 17th you can visit the Japanese Screen Rotation and in February visit The Kimono in Print: 300 Years of Japanese Design.
Sparking Inspiration in the Community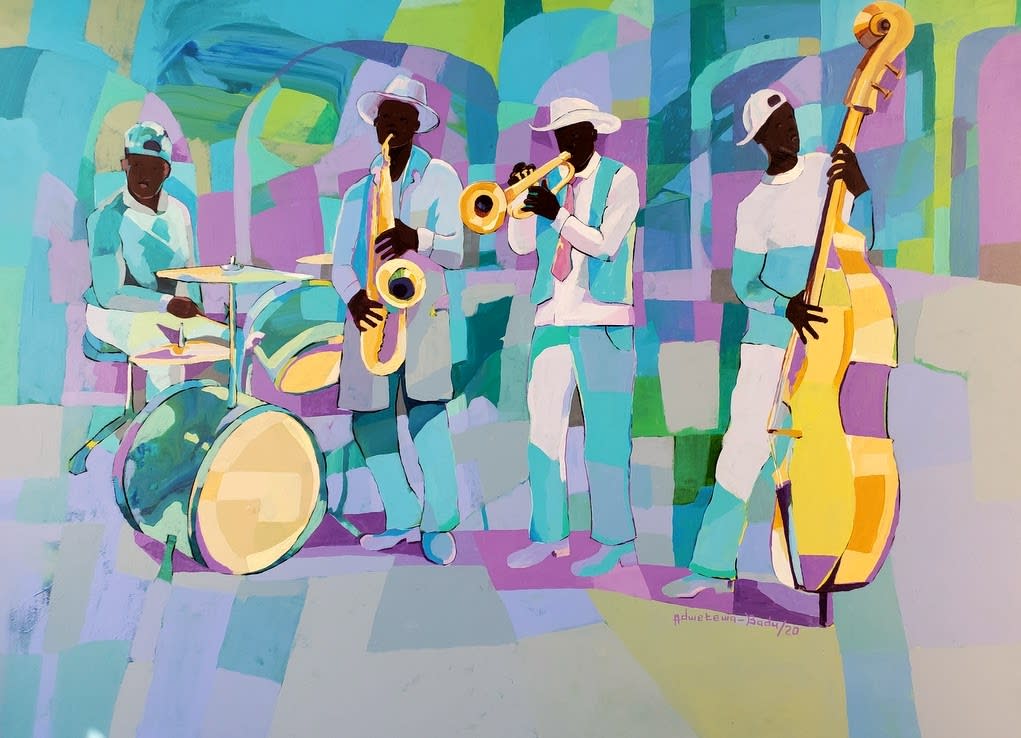 Benjamin Adwetewa-Badu, Street Blues, acrylic, 37" x 49", 2020, $1,000, part of State of Being: Works by Worcester Public Schools Visual Arts Faculty. Image courtesy of ArtsWorcester.
ArtsWorcester has launched new virtual exhibits such as State of Being: Works by Worcester Public Schools Visual Arts Faculty and Material Needs 2020. If you're an artist, become a member for the opportunity to submit to the upcoming show Inside Voices, a themed exhibition in collaboration with the Fitchburg Art Museum. 
The Worcester County Poetry Association is bringing Thirsty Lab poetry readings virtual! Discover multiple dates on our event calendar where you can listen to writers present their works. 
Blackstone Valley's art mecca ValleyCast has a facebook page full of artist interviews, studio tours and pop-up virtual performances for their Art & Music Makers Festival! 
---
Foster Your Musicality
Let Music Move You
Source: Crocodile River Music
Crocodile River Music, who brings African music, art, and dance education directly to New England schools, has a ton of great videos on their YouTube page and we highly recommend you check them out! Dance expert Shani Collins is offering a West African Dance Online with the Hanover Theatre Conservatory starting January 13th or you can join Master Drummer and West African native Issa Coulibaly for West African Drumming Online!
Music for the Whole Family
The Worcester Youth Orchestras Mid Year Winter 20/21 Audition submissions are due January 10th! 
If your skills need improvement, tune in to Worcester Music Academy's Q&A Session on Facebook Live and you'll receive a special offer.
Sit Back & Enjoy
If you're seeking more virtual performances, check out the shows Music Worcester is presenting: On January 8th, pianist Simone Dinnerstein's performance is available to stream for a limited time, and American tenor Lawrence Brownlee will perform on January 29th from Mechanic's Hall.
Worcester Chamber Music Society is presenting The Spotlight Concerts: Peter Sulski & Randall Hodgkinson on January 28th. The series features music selected by the performers and reflects both their musical passions and influences and those of the composers.
---