Weddings
Worcester Weddings & Central MA Celebrations
---
Celebrations in Central Massachusetts are aplenty, especially when it comes to a time as notable as your nuptials. Whether you're considering a ballroom or a barn, something romantic or rustic, these handpicked wedding venues cater to your liking with experts who will guide you in fostering the most memorable experience for you and your beloved guests. 
Peruse the list below to get started with venue ideas, and check back to our site throughout your planning process as we constantly update our wedding-specific content through the season. Think: guides to local event design, catering options, photography experts, musical talent and more.
The Beechwood Hotel
In all of Central Massachusetts, the award-winning Beechwood Hotel stands out for good reason. From its sprawling and meticulous grounds, beautiful and romantic patios, landscape water-feature, and so much more. This breathtaking boutique hotel offers newly renovated European-inspired guest rooms, high-end amenities, and a spacious ballroom with doors opening to a private terrace, where every imaginable wedding dream comes true.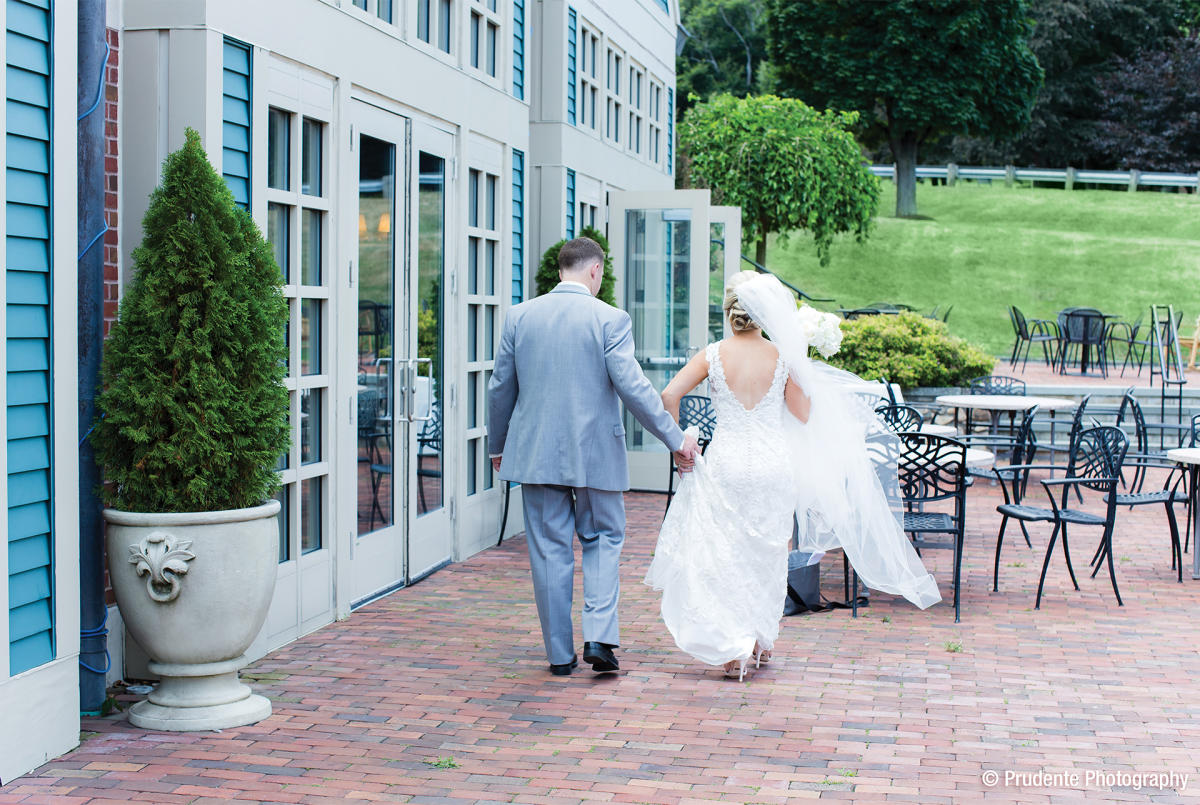 Source: The Beechwood Hotel
Noted as one of the best Wedding Venues in Central Massachusetts, the only AAA Four-Diamond Beechwood is a member of the exclusive and ultimate Preferred Hotels Connect Collection, comprised of extraordinary properties in the most remarkable locations throughout the world. A Beechwood wedding, whether intended to be micro, intimate, or grand, is incomparable. In just one location, couples enjoy all of the beauty that nature has to offer, along with every possible feature you could dream of in a wedding venue. Award-winning cuisine, a private art collection, elegant ballroom, on-site historic chapel, the most well-appointed and luxurious guest rooms, acres of land, and every possibility.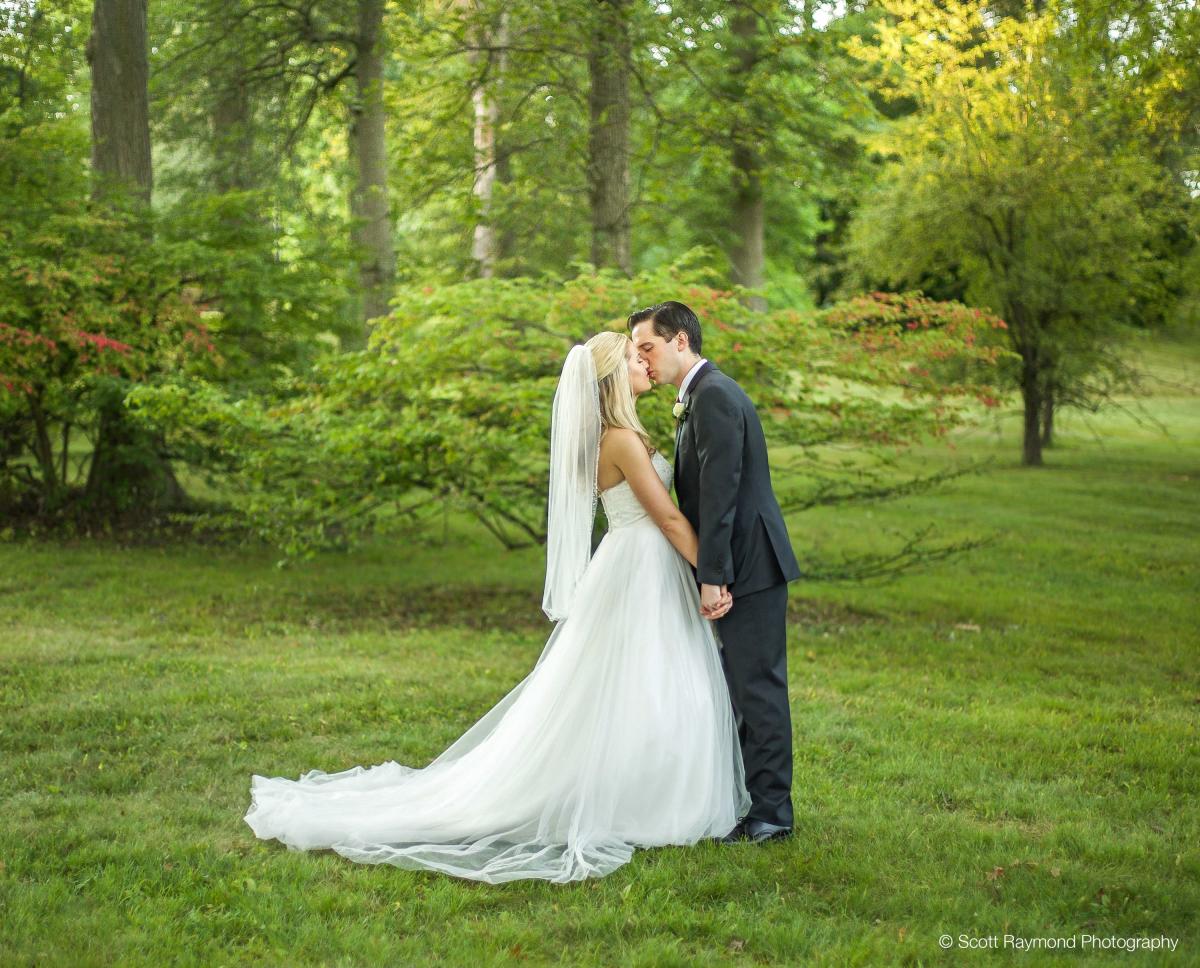 Source: The Beechwood Hotel
The Beechwood wedding concierge team provides each couple with meticulous attention to detail and personalized service to ensure a uniquely special dream wedding. Discover why Happily Ever After begins at the Beechwood.
---
The White Room at Crompton Collective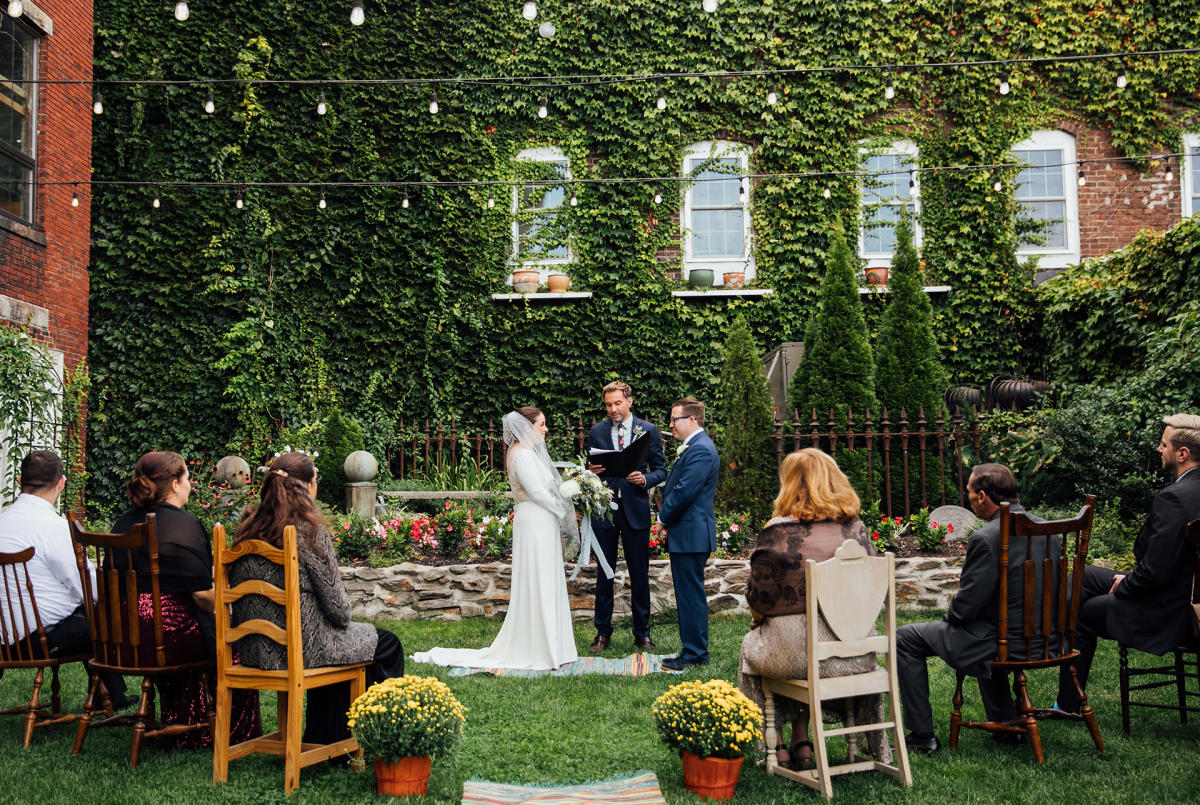 The White Room at Crompton Collective is a 5,000 square foot space in a beautifully renovated building in Worcester's vibrant and bustling Canal District. This venue lends style, sophistication and a modern feel through its ivy-covered brick, sunlit windows, and assorted, mismatched furniture. On-site ceremonies can also be held in their outdoor courtyard, a beautifully lush green space (also perfect for a cocktail hour).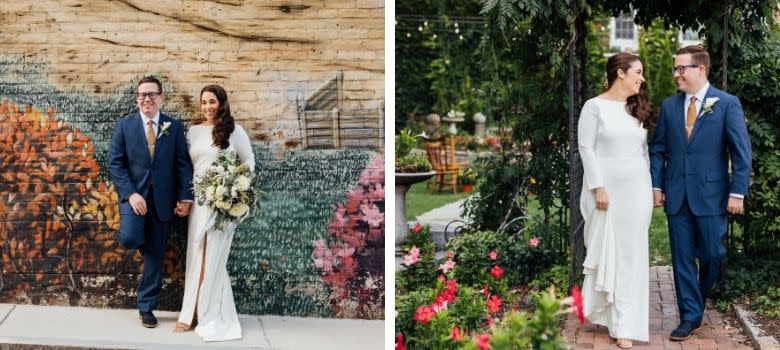 The White Room can be easily decorated to cater to your style and theme, and your rental comes with fun amenities including a rustic white bar, vintage wood chairs and couches, unique wooden tables and string lighting to name a few. 
---
Farms, Barns & Vineyards

A family farm event venue, Oakholm Farm is a rustic-glam, charming location located in Brookfield, Mass. Like most family-owned businesses, Oakholm Farm owners Christina and Babe make their clients instantly feel right at home. Weddings at Oakholm Farm can be easily personalized to your interests and style: casual, colorful, hip, spiritually inspired or elegant.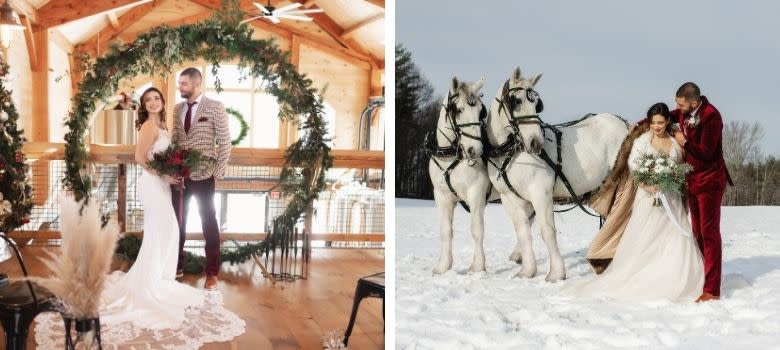 You can exchange vows under a rustic solid pine arbor, with a beautiful backdrop Lake Quaboag, surrounded by the beauty of the farm with your closest friends and family. Your wedding party and guests can enjoy a late campfire, dance party, and lingering after-party under a starry night sky or in the estate game room. Also, if you're a couple who's exceptionally into beer, you could definitely host a hip, fun micro-brew micro-wedding partnered with Oakholm Brewing, also located at Oakholm Farm. 

Sources: The Barn at Wight Farm (left) & Douglas Orchard and Farm (right)
Set on four acres in a colonial village setting, The Barn at Wight Farm is a venue on beautifully landscaped grounds that include a patio with seasonal dining, a firepit and a manicured field suitable for tent functions. A beautifully decorated bridal suite is included with all weddings and you can expect expert catering because this property is part of the Table 3 Restaurant Group.
Seeking a hidden-gem wedding venue that is as unique as it is rustic? Look no further than Douglas Orchard & Farm. When this functioning orchard isn't farming fresh fruits and vegetables, it offers a landscape and event pavilion to serve as the idyllic setting for an intimate ceremony.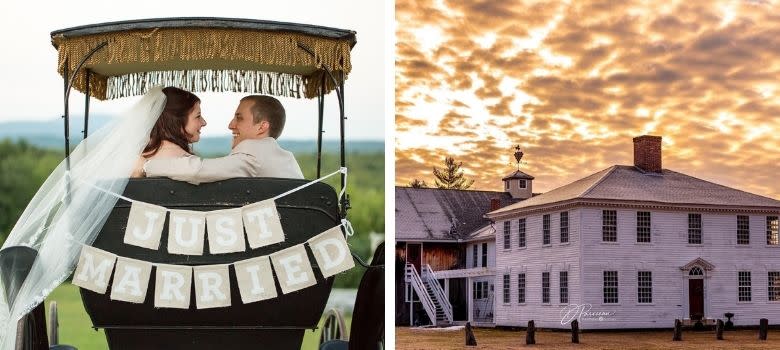 Sources: The Farm at SummitWynds (left) & Hardwick Winery & Vineyard (right)
Holden's Farm at SummitWynds is fit with growing lavender, sunflowers and breathtaking views overlooking Mount Wachusett, a coveted spot now available to hold weddings and receptions for up to 90 people in the historic barn that was once a ski lodge. 
Winding around the picturesque Quabbin Reservoir, a quiet country road will lead you to Hardwick Winery, a vineyard that is the perfect place to host an intimate wedding. The timber frame barn can accommodate over 100 guests, and the gazebo overlooking the property makes a beautiful spot for a ceremony.
---
AC Marriott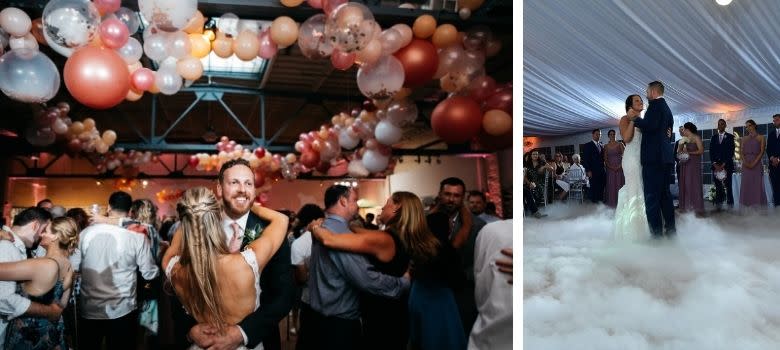 Sources: Photography by Joe Gonzalez-Dufresne, courtesy of Sarah Connell Sanders (left) & AC Marriott Worcester (right)
Located in the heart of Downtown Worcester, the AC Marriott's Pavilion Tent is taking weddings to new heights. With over 11,000 square feet of event space, the AC Marriott can host up to 400 partygoers. With sleek decor and modern finishings, this venue is what dream weddings in the city are made of and the perfect blank slate to make your own. They also have you covered with a modern ballroom aesthetic, if that's more your style.
---
New England Botanic Garden at Tower Hill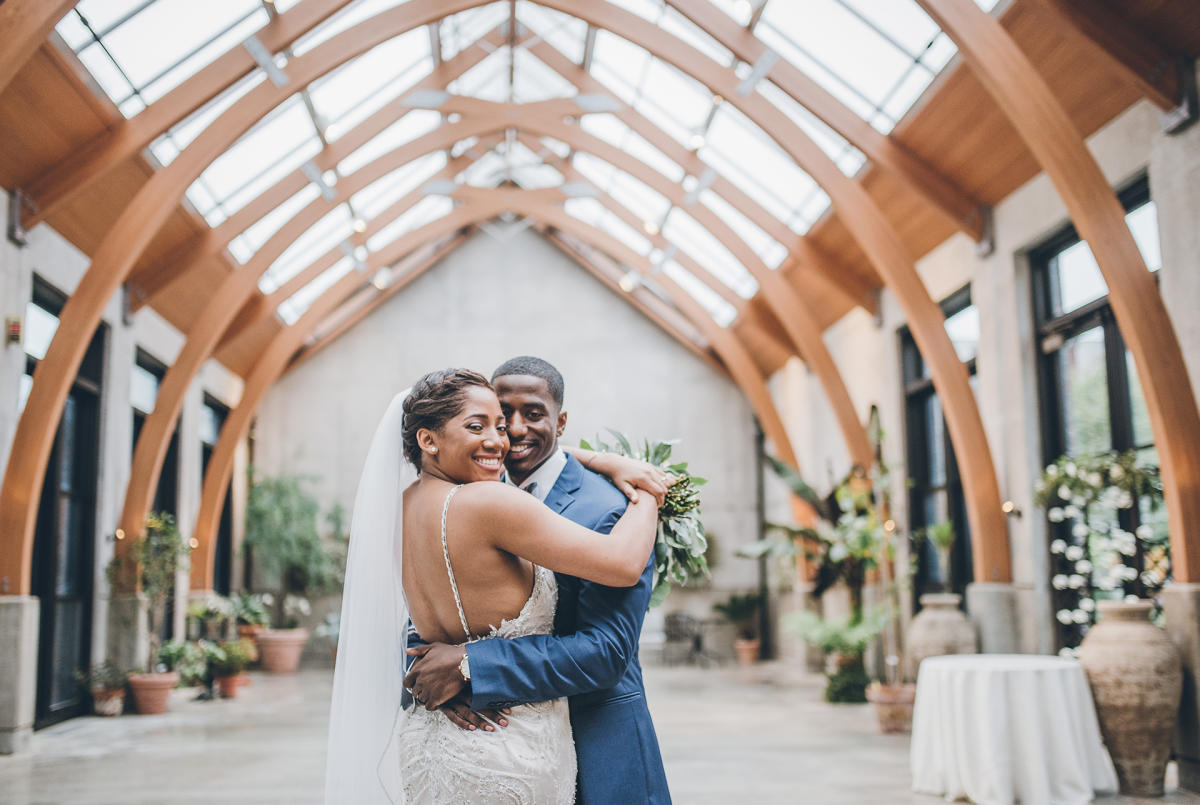 Located in Boylston, Mass., New England Botanic Garden at Tower Hill offers a peaceful, tranquil setting for your wedding day. You can host your ceremony at the Secret Garden or Limonaia, your cocktail hour at their Winter Garden or Great Hall and an elegant reception in the Orangerie, their 18-century-like glass conservatory.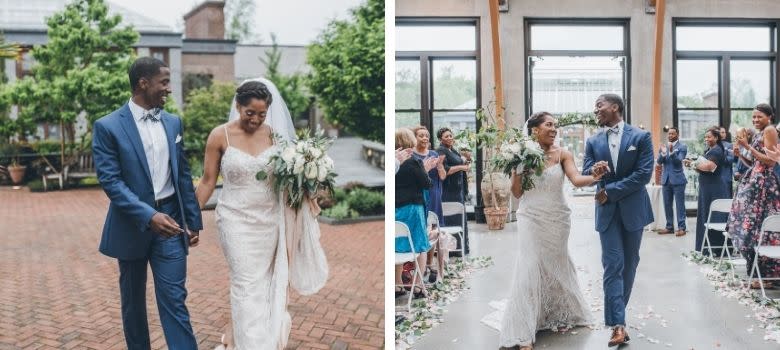 The greenery sets much of the decorative tone at New England Botanic Garden at Tower Hill, where guests can dine next to exotic plants and enjoy the greenhouse along with views of Mount Wachusett and the Wachusett Reservoir. This venue makes for a unique experience and a beautiful, vibrant place to celebrate your love day. 
---
Worcester Art Museum

Source: Worcester Art Museum
A gorgeous courtyard option can be found at Worcester Art Museum, which has equal parts urban charm and historic elegance, surrounded by art and culture. Its Renaissance Court boasts magnificent architectural spaces, and its grand staircase provides an equally grand entrance for you and your wedding party. You can also host your outdoor ceremony in their Stoddard Garden Courtyard, which offers a mosaic backdrop, sculptures and greenery. 
---
Mechanics Hall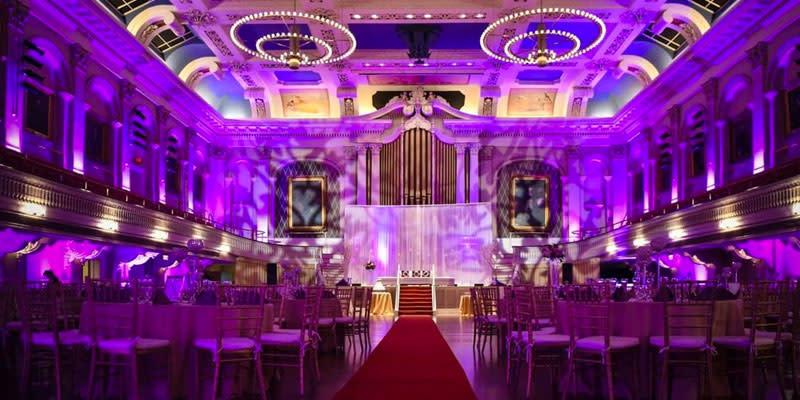 The acoustic character of Mechanics Hall sets it apart from any other venue in the city (and frankly, the world). Along with the organ, the Great Hall is also home to two Hamburg Steinway concert pianos. This venue's distinct architecture even landed it on the National Register of Historic Places. You can even take your engagement photos in this pre-Civil War performance space. Private rooms for prepping or entertaining children are aplenty. Brides and grooms are free to select their own vendors, including the caterer. 
---
The Hanover Theatre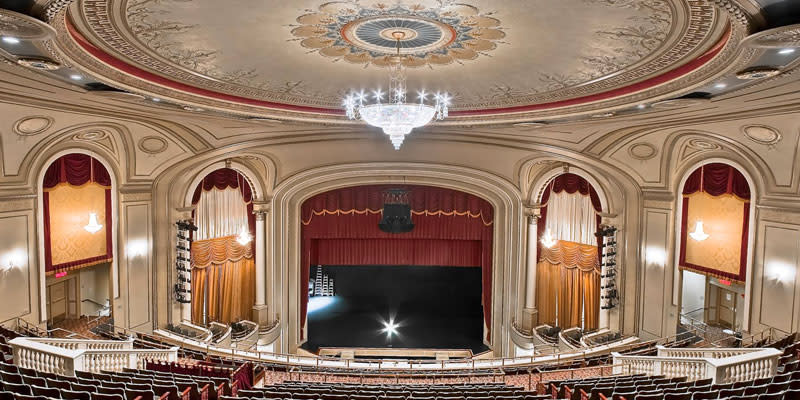 The Hanover Theatre offers a variety of guest experiences for your wedding day. Two brand new unique event spaces make for easy access to the theater's upper lobby and can accommodate up to 250 people. The historic lobby itself boasts glittering chandeliers, antique mirrors, and a granite crafted bar for up to 150. From the promenade, attendees will look down on the historic space below from a perch reminiscent of the 1920s with enough room for a seated function of 200. 
---
Public Spaces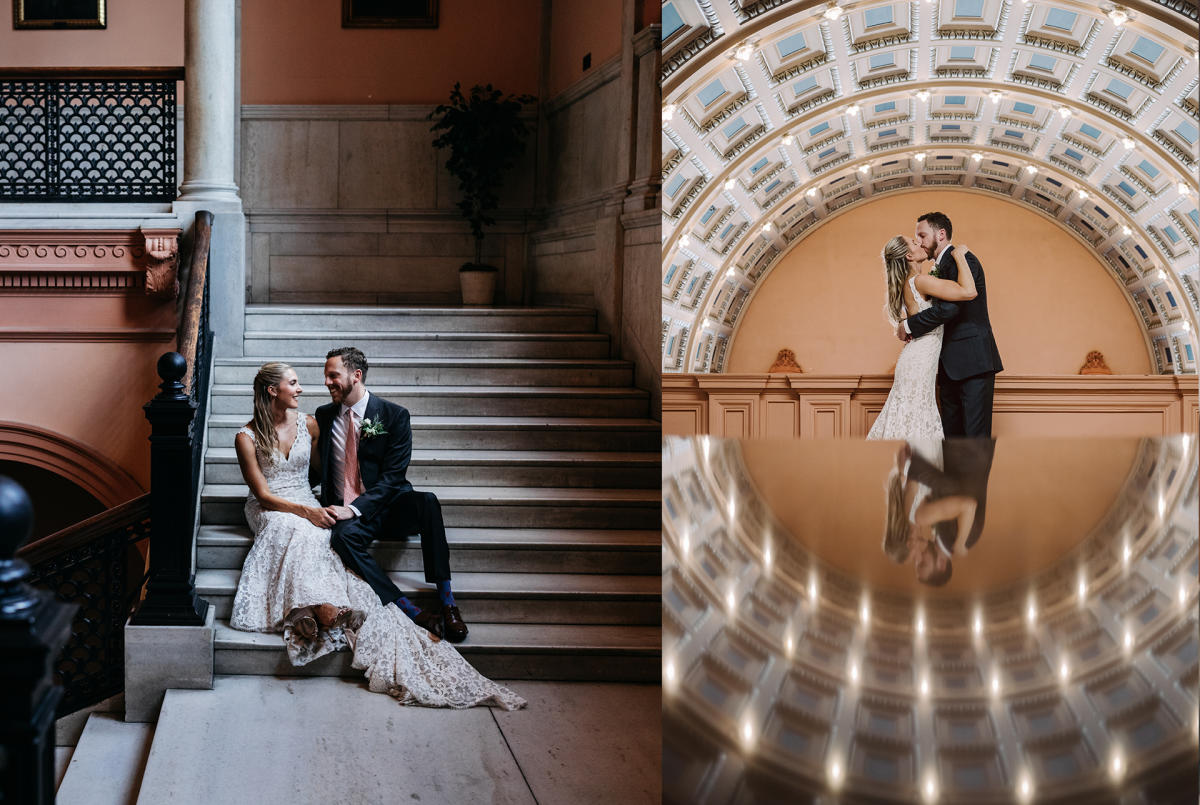 Sources: Photography by Joe Gonzalez-Dufresne, courtesy of Sarah Connell Sanders
If you're keeping it short and sweet, consider hosting your nuptials in the heart of Worcester, at Worcester City Hall. The beauty here is in the eye of the beholder, so we recommend you bring a photographer with an eye for architectural detail to truly take advantage of this often-overlooked space. Get gorgeous shots on the grand staircase, interior courtyard and outside on the Worcester Common. More details on City Hall elopements can be found here.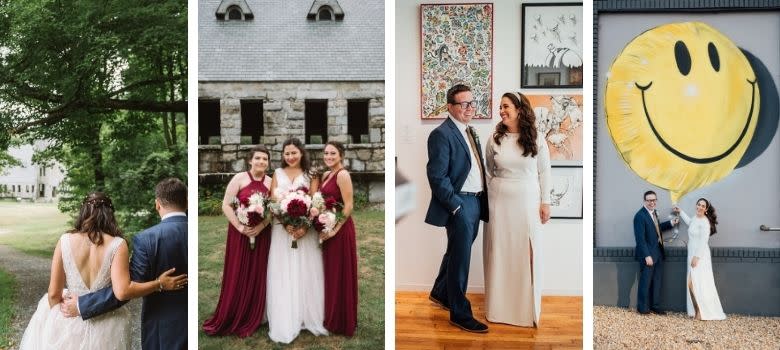 Sources, left to right: 1 & 2. Photography by Mei Lin Barral, courtesy of Bree DiBella; 3 & 4. Addie Roberge Photography
Another beautiful public space is the Old Stone Church, located in West Boylston, Mass. Situated on the banks of the Wachusett Reservoir, the church is the last vestige of a town that was flooded to create the reservoir. The church is a photographer favorite, offering rustic, historic charm and gorgeous scenery, especially in the fall or around sunset.
Couples seeking artful environments should consider the fantastic mural scene in Downtown Worcester for their after-ceremony photoshoots. You'll find the Insane 51 mural and a fun smiley balloon mural located right by ArtsWorcester, conveniently an equally artful reception venue option steps away from the public art.
---
Historic Atmospheres
Located in Sturbridge, Mass., Publick House Historic Inn is a full-service New England destination venue, making it a perfect weekend retreat for you and your loved ones. Whether you're thinking of a traditional ceremony or a private, intimate wedding celebration, Publick House provides a romantic, country-setting backdrop for your festivities.

Source: Publick House Historic Inn
The rustic inn venue also offers Paige Hall, a grand ballroom with cathedral ceilings, large palladium windows, chandeliers and a wall of windows that overlooks their patio and gazebo. It can also be combined with their Historic Barn for additional seating.
For outdoor celebrations, they offer their Garden Tent, which features a stone paver floor, a brick walkway, two chandeliers and beautiful lighting, and the Garden Gazebo, Hillside Arbor or The Meadow for outdoor ceremonies. They've won WeddingWire's Couples' Choice Award for 2013 through 2018. Their full-time wedding consultants will help you with your menu selections, timeline of events, wedding cake design, seating plans and more.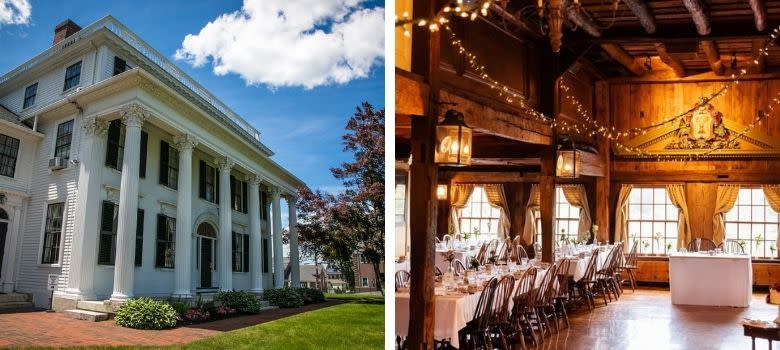 Sources: Asa Water's Mansion (left) & Salem Cross Inn (right)
Soon-to-be newlyweds seeking New England charm should also consider Salem Cross Inn. The inviting 1700s farmhouse and barn look out over 600 acres of West Brookfield countryside. From fresh food prepared locally to horse-drawn carriage rides, the Inn is sure to leave your 200 guests in awe.
Another historic estate venue in Central Massachusetts is Asa Waters Mansion, an outstandingly elegant spot in Millbury, Mass. It's beautifully accented by its ornate decor, grand white frame and stunning, well-kept gardens.
---
Stay up to date with events and things to do by signing up for our weekly newsletter, or plan your trip with our free visitor's guide.