Fall in Central MA
Fall in Central Mass. is unlike anywhere else, with New England charm permeating every corner of this special season. Reds and oranges light up the trees, and it feels like the season's magic was made just for us. Although the best things in life rarely last, and autumn often feels like it's over just as quickly as it began—so when crisp air meets warm fall flavors, you'll want to take advantage of every last drop.  
Bites at Brookfield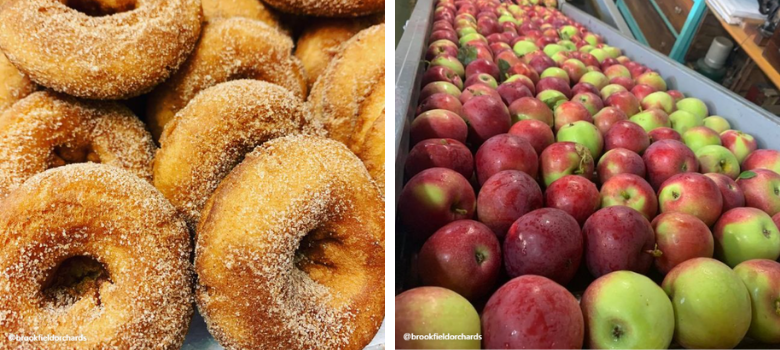 Brookfield Orchards
Apple picking at Brookfield Orchards is a quintessential fall classic. You might visit for the apples, but you'll stay for the cider donuts, warm and freshly baked for every voracious visitor. Their pumpkin selection is nothing to scoff at, either, with pies to enjoy and seemingly endless patches to explore.
---
Monuments with Character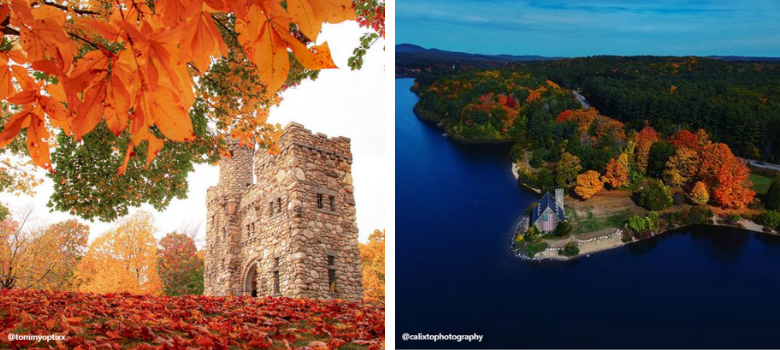 Left: Bancroft Tower by Tommy; Right: Old Stone Church by Roberto Calixto
If you've yet to experience it, or are simply craving it from years past, you'll find yourself in awe of the foliage that graces the region. Every monument becomes a backdrop, and visits to spots like Bancroft Tower and Old Stone Church become an immersive experience not to be missed. Stroll through, snap some photos or simply soak in the history among beauty.  
---
The Wachusett Collection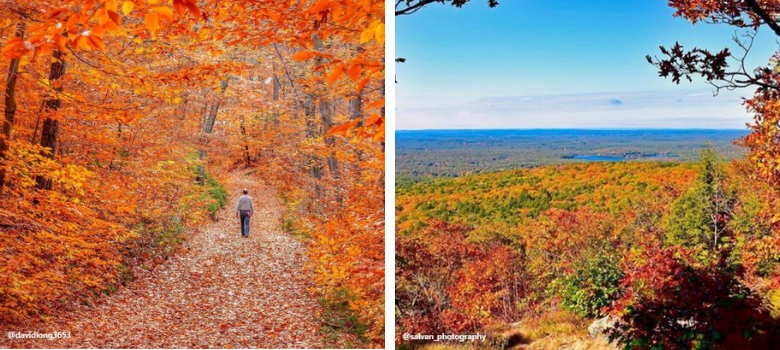 Left: Wachusett Reservoir by David Long; Right: Josti's Vista at Wachusett Mountian by Monika Salvan 
Wachusett Mountain stands steadily as a Central Mass. staple during every season, and fall is no exception. There's no shortage of seasonal festivals at the Mountain, from Oktoberfest to Apple Fest, or you can take in the stunning views by simply hiking the trails. Josti's Vista sits notably on the Mountain, offering a rare rainbow view of the season's foliage. Wachusett Reservoir is another local natural gem to explore, comprised of trails that weave through sections of Boylston and West Boylston, with beautiful bursts of color found throughout October and November.  
---
Sipping the Season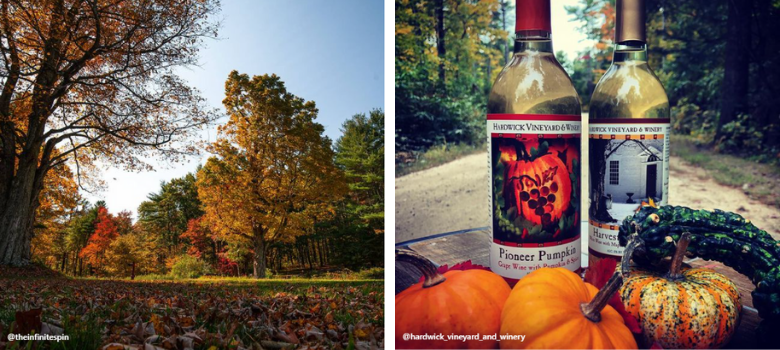 Left: Agronomy Vineyard by Josh Carr; Right: Hardwick Vineyard
All the foliage and festivities may leave you craving a moment of pause (and potentially, a glass of wine). The beautiful Agronomy Farm Vineyard is open weekends, Friday through Sunday, during the 2022 season, and Hardwick Vineyard offers seasonal selections—like their award-winning Pioneer Pumpkin wine—seven days a week. With live music and featured food trucks, you'll find yourself making a day of it. 
If you find yourself in Worcester, check out the bright, chic corner unit at the Worcester Public Market where Canal District Wines offers a tasty selection of red, white, rosé, orange and bubbly bottles all year 'round. With weekly tastings running Thursday through Sunday, you can swing by at your leisure to try their new lineup of fall varietals. Sit, sip, enjoy.  
---
Boo at the Zoo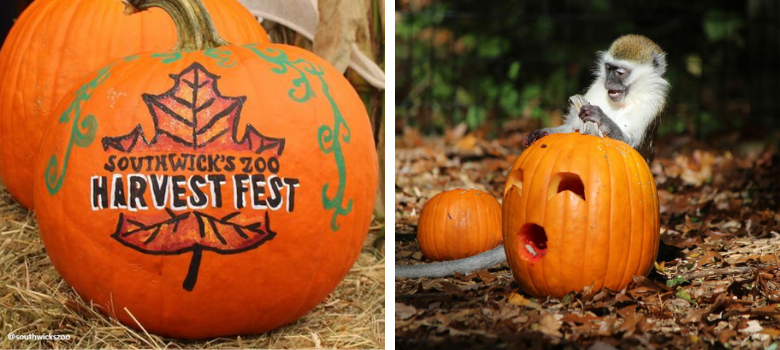 Southwick's Zoo
It's never a dull moment in Mendon, where fall favorites at Southwick's Zoo are back in action this year. On Oct. 23, the beloved Harvest Fest brings farmers market vendors together with live entertainment. The following weekend, Zoo Boo features haunted happenings and animal fun for Halloween goers. Evening visits are also highly recommended to enhance your experience of Festival of Illumination "Once Upon a Time" a truly magical installation.
---
Spooky but Sweet 
Left: Bean Counter Bakery; Right: Table Talk Pie
For the dessert fiends out there (if Halloween candy feels too far away!) try Bean Counter Bakery or a classic Table Talk Pie for seasonally inspired goods. Stop in for a warming beverage, pick up a treat made with care and enjoy outside amid your adventures.  
---
Family-Focused Festivities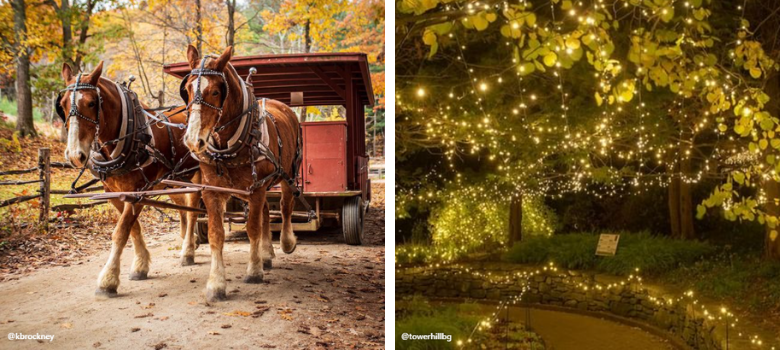 Left: Old Sturbridge Village by Karen Brockney; Right: New England Botanic Garden at Tower Hill
Phantoms by Firelight over at Old Sturbridge Village runs weekends through October, an opportunity for families and kiddos to enjoy "spooky delights"—from bats and bonfires to candy and cauldrons. And you can explore the wonders of the natural world as the seasons change at New England Botanic Garden at Tower Hill with Enchanted Forest: Nature-Inspired Fairy Houses during which child-sized fairy houses transform The Ramble, a 1.5-acre whimsical woodland garden for children and families. 
---
Scenic Towns & Parks 
In addition to the hubbub and happenings in seasonal Central Mass., there's a copious selection of natural wonders in the area, which you can enjoy at your own speed. We've listed some notable spots below for those who just can't get enough of the crisp air and crunchy grounds.  
Broad Meadow Brook, Worcester 
Crow Hill, Worcester 
Green Hill Park, Worcester 
Institute Park, Worcester 
Lake Park at Quinsigamond State Park, Worcester 
Moore State Park, Paxton 
Spencer State Forest, Spencer 
Quabbin Reservoir, Hardwick 
For the ultimate autumn adventure, navigate your way through these local gems all season long.