Strut
January 13 through February 12 at ArtsWorcester Main Galleries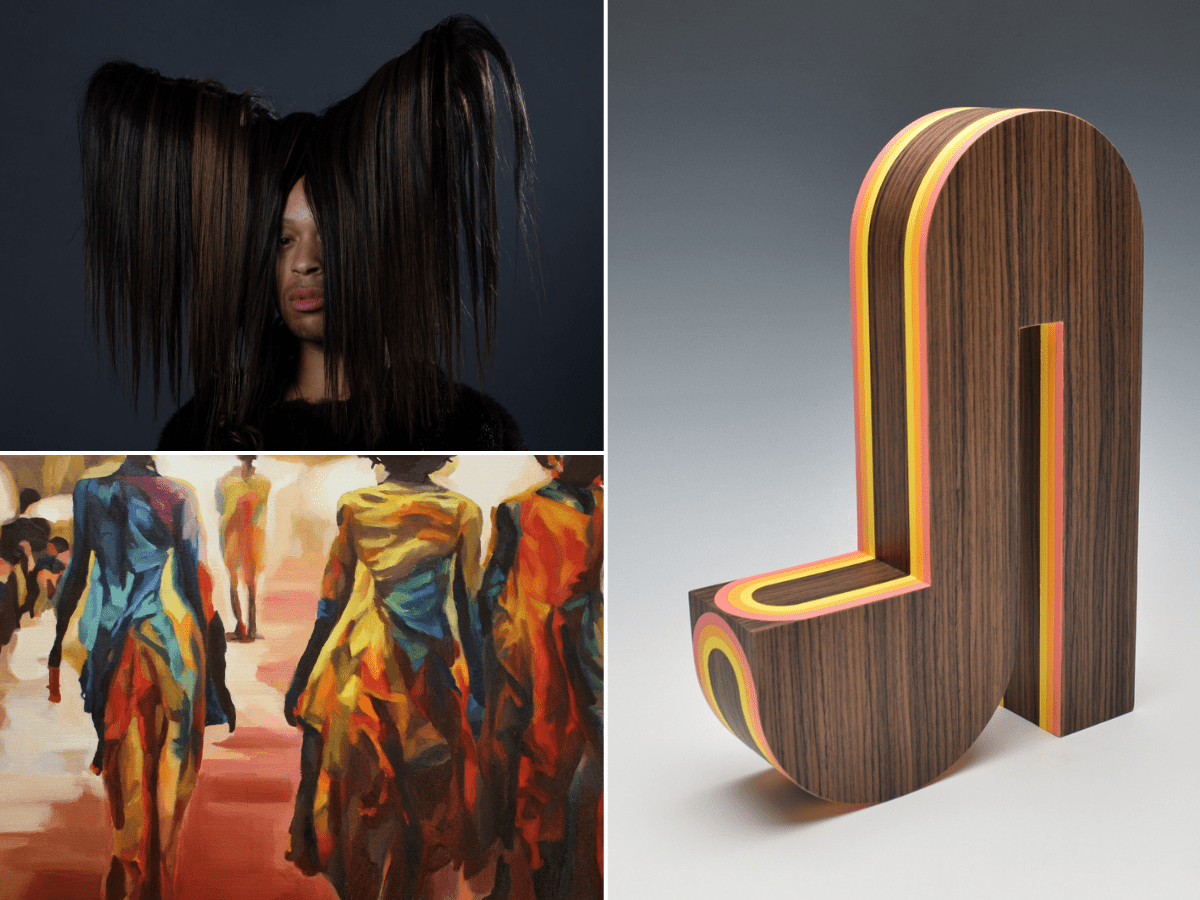 ArtsWorcester presents Strut, a fashion-centric members' exhibition exploring apparel, trends, traditions, personal expression and more. These works will be paired with five recent acquisitions made by the Worcester Historical Museum. For Strut, all ArtsWorcester artist members were asked to consider themes of fashion, textiles and style. Seventy-six wearable and wall-hanging artworks will be on view, all exploring the myriad ways we express ourselves through individual style. From couture to found object creations, photography to multi-media constructions, artist members pulled out all the stops, forming a fabulously dynamic show. Strut will also showcase five new pieces by Worcester designers acquired by the Worcester Historical Museum for its Costume Collection. The museum's expansive and diverse collection relates to all aspects of Worcester's political, social, and cultural history. These exquisite new acquisitions created by Emmanuel Qlynton Carboo, Effie Danquah, Yazbthegreat, Stevie Leigh, and Ernie Jubin/Solo Jubin make the collection even more representative of Worcester's richly diverse community.
The Nineteenth ArtsWorcester College Show
February 9 through April 8 at ArtsWorcester at the Davis Art Gallery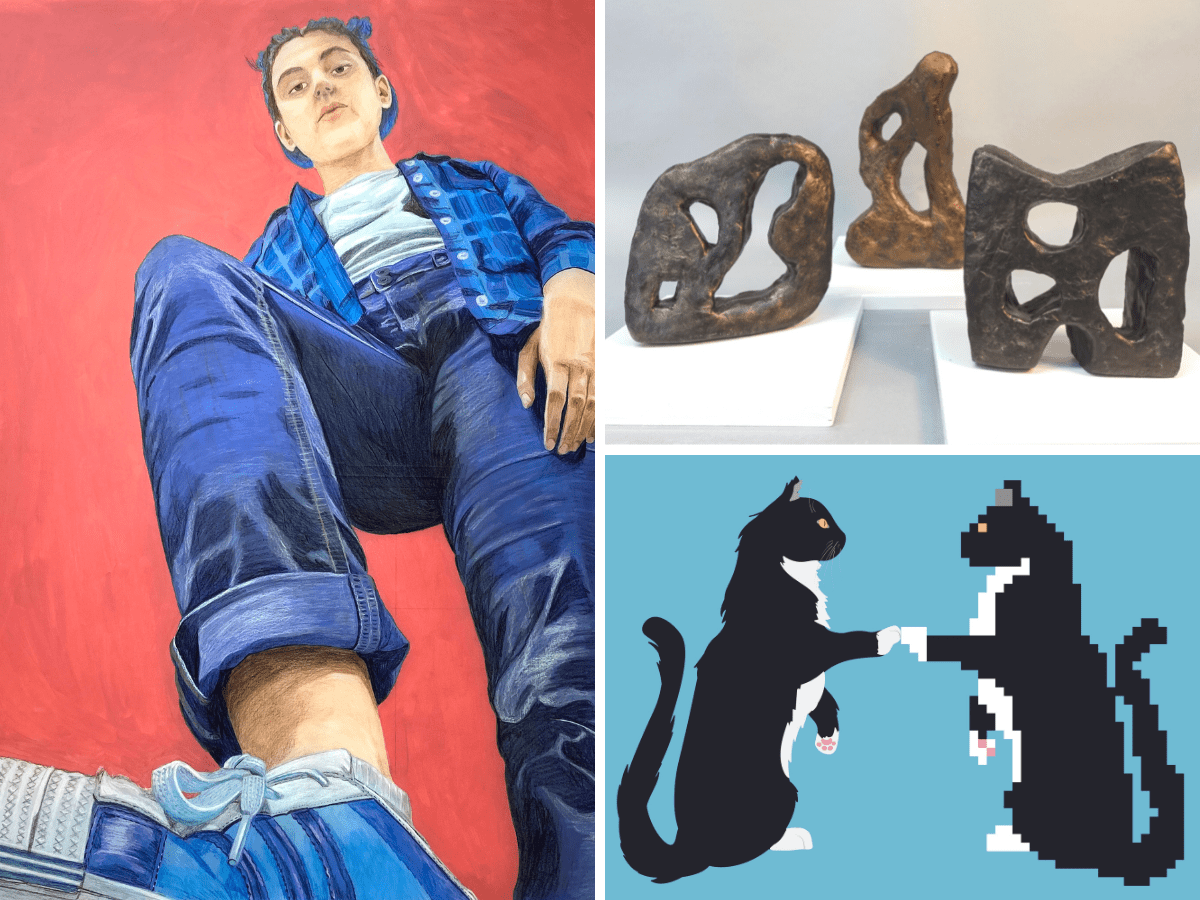 After two years of virtual exhibitions, the College Show returns in person for its 19th year, a juried exhibition open to all undergraduate college students studying or residing in Massachusetts, in any major. This year's juror is Ellie Krakow, Assistant Professor of Art and Mazmanian Gallery Director, Framingham State University.
Impact: A Members' Exhibition with Fitchburg Art Museum
February 25 through April 8 at ArtsWorcester Main Galleries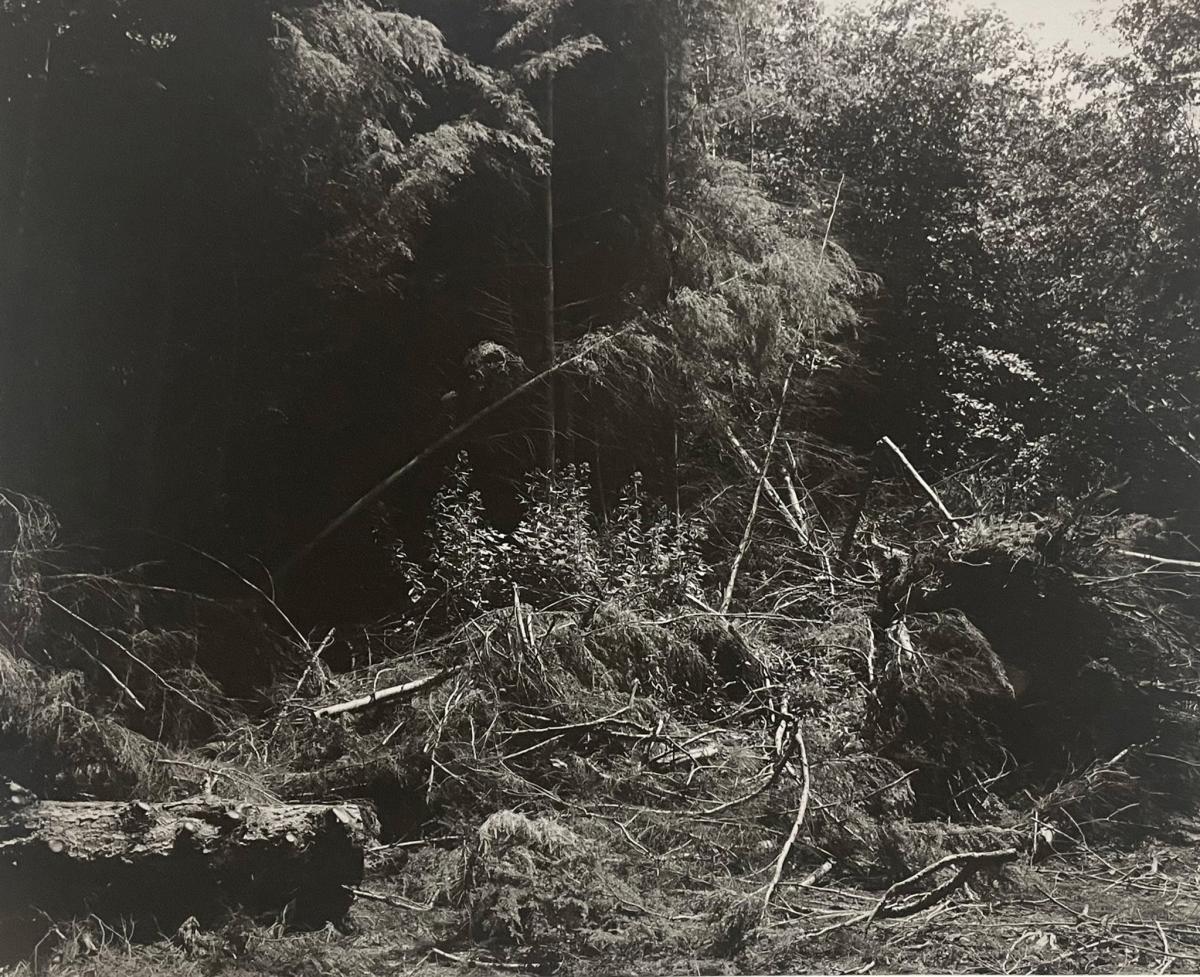 The natural world has always inspired artists with its beauty, power and the raw materials it offers for artmaking. Today, in the face of our climate crisis, many artists bear witness to and represent environmental changes in their work, even as others draw from the beautiful ways humans have shaped and utilized the earth. For this eleventh annual "call and response" exhibition, artist members are asked to consider humanity's complex relationship with our environment through artworks on loan from the Fitchburg Art Museum.
The 20th ArtsWorcester Biennial
Spring 2023 at ArtsWorcester Main Galleries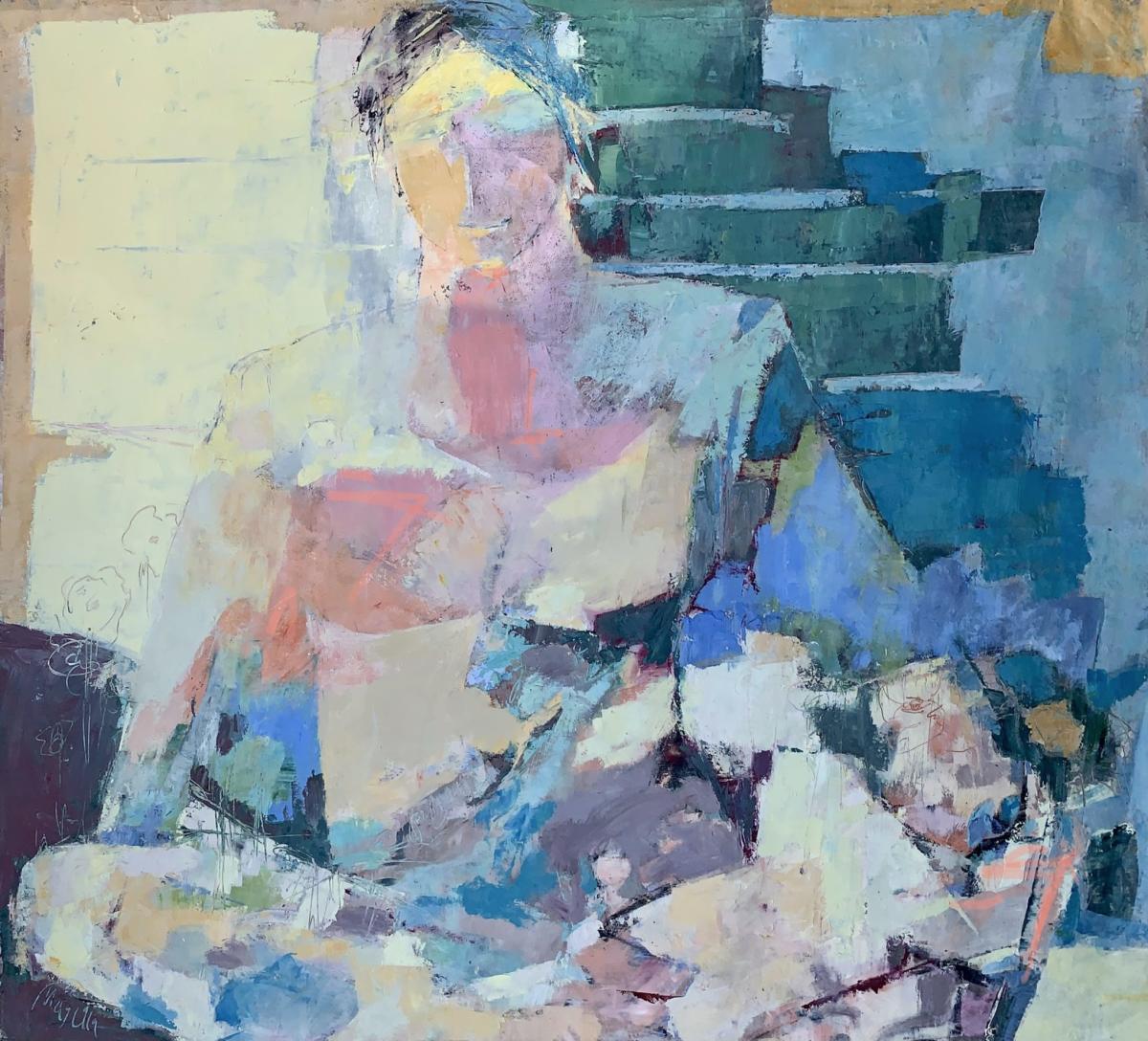 The year 2023 marks the 20th ArtsWorcester Biennial, an exhibition that has included a range of the region's best visual art since 1985. This year's Biennial will be juried by Conor Moynihan, Assistant Curator, Prints, Drawings and Photographs at the RISD Museum. All media are welcome, including but not limited to: painting, sculpture, photography, fiber, fine craft, digital art and video. 
---
The Floating World: Japanese Prints from the Bancroft Collection
Through March 5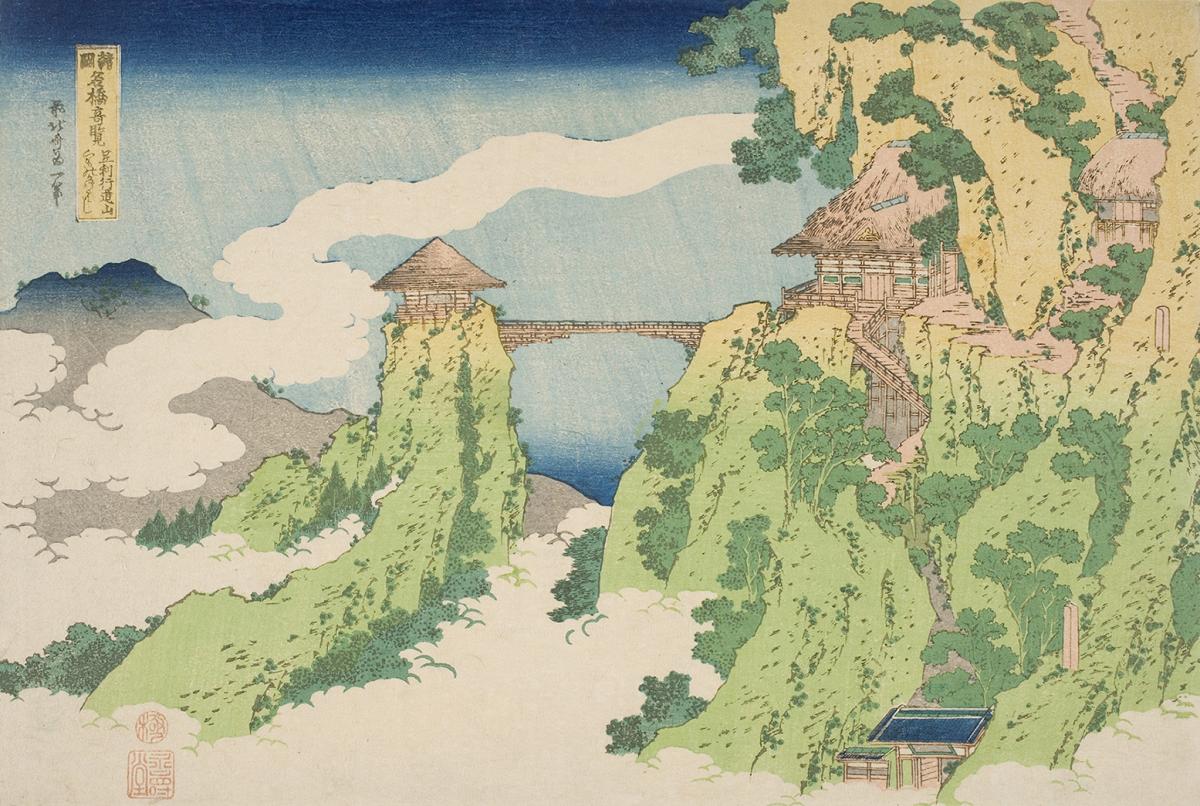 Travel hundreds of years through one of the most culturally abundant periods in world history. The Floating World: Japanese Prints from the Bancroft Collection illustrates the beauty of everyday life through 50 Japanese woodblock prints from the Museum's collection, 48 of which are displayed for the first time. The exhibition pulls directly from WAM's Bancroft Collection of over 3,700 Japanese prints, the first of its kind in the United States.
Frontiers of Impressionism
April 1 through June 25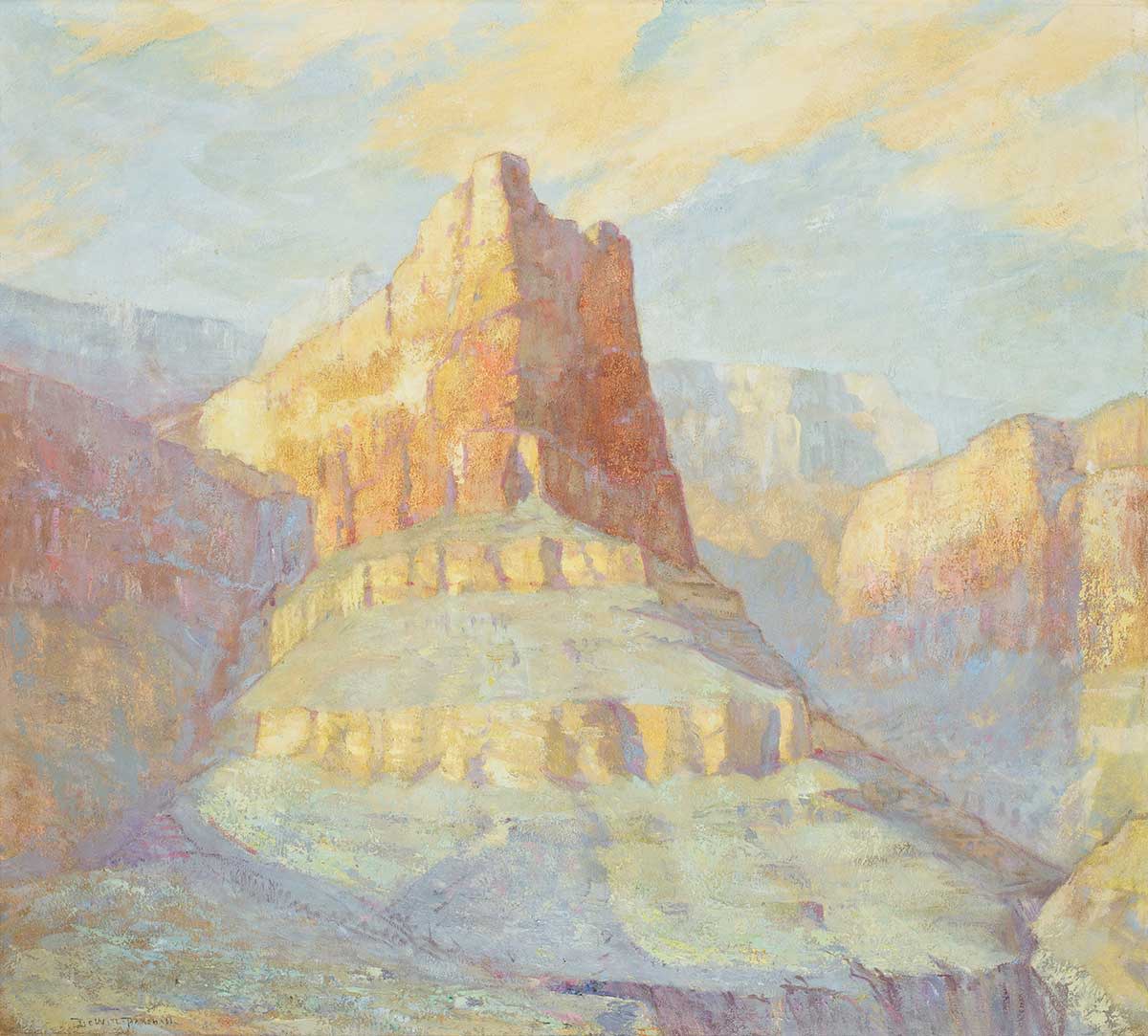 Frontiers of Impressionism chronicles the emergence of Impressionism in 19th-century France, its subsequent expansion to much of Europe and the United States, and the lasting changes the movement has brought to the art world. Framed through the lens of the Worcester Art Museum's collection of Impressionist works, many of which were acquired when these artists were still living, the exhibition highlights over 30 artists, including Claude Monet, Pierre-Auguste Renoir, Camille Pissarro, Mary Cassatt, Childe Hassam, and Max Slevogt. Approximately half of the works in the exhibition will be on view for the first time in decades. After its debut in Worcester, the exhibition will tour internationally, starting at the Tampa Museum of Art, then to the Tokyo Metropolitan Art Museum, followed by additional locations to be announced.
Wall at WAM: Robert and Shana ParkeHarrison
Installation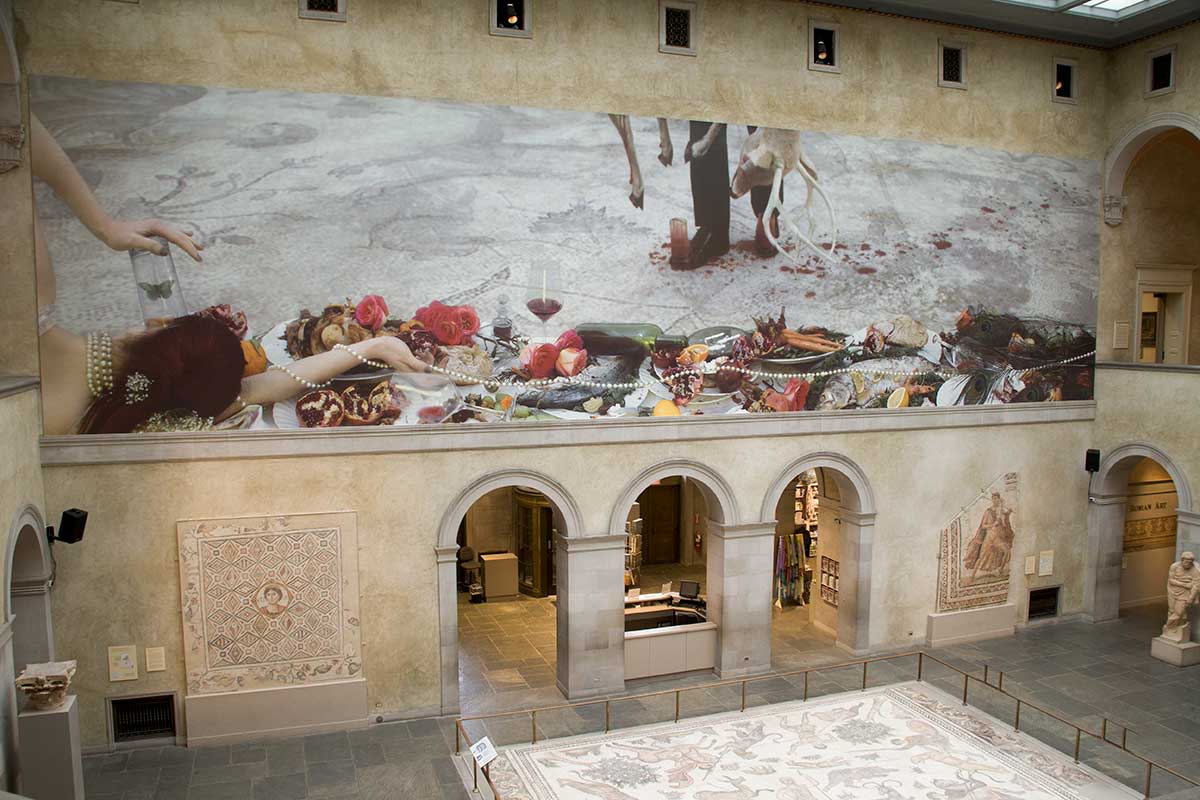 The collaborative husband and wife team of Robert and Shana ParkeHarrison has been commissioned to create the 10th mural for the Museum's Wall at WAM series. Their staged photography involves performance, sculptural props, elaborate backdrops and digital technology. Sepia-toned images from their critically acclaimed series, The Architect's Brother (1993-2005), raised questions about Earth's vulnerability, human responsibility and destiny. Subsequent work has displayed an overt and expressive use of color, surrealistic imagery and more open-ended narratives that explore the interconnectedness of nature, humans and technology.
The Wall at WAM mural is installed on a second-story, 67-foot expanse situated in the most public of the Museum's galleries, a faux Renaissance-style court, and overlooking a sixth century Roman mosaic from Antioch. The ParkeHarrison's inkjet mural, These Days of Maiuma, with its iconography of the remains of a grand feast and its themes of contemporary wealth, decadence and disregard for the environment, is intended to be a visual and conceptual counterpoint to the Worcester Hunt mosaic. The floor mosaic was once the site of many a feast by Antiochenes in an ancient city known for its lifestyle of sophistication, affluence and excess. Both compositions, although separated in time by 15 centuries, are characterized by a complex embrace of the real and the imagined and afford us two compelling visualizations of humans' relations to their world, then and now.
The ParkeHarrisons have developed their collaboration over the past 16 years and in 2000 publicly acknowledged co-authorship of their images. A traveling exhibition of The Architect's Brother toured from 2002-2008 to sites in the U.S., Canada and Europe. Recent solo museum exhibitions included the Nelson-Atkins Museum of Art, Kansas City and the Gallery of Photography, Dublin. Their work is in numerous private and public collections. They are represented by Catherine Edelman Gallery, Chicago.
---
Worcester Scene: Reseen
Through April 1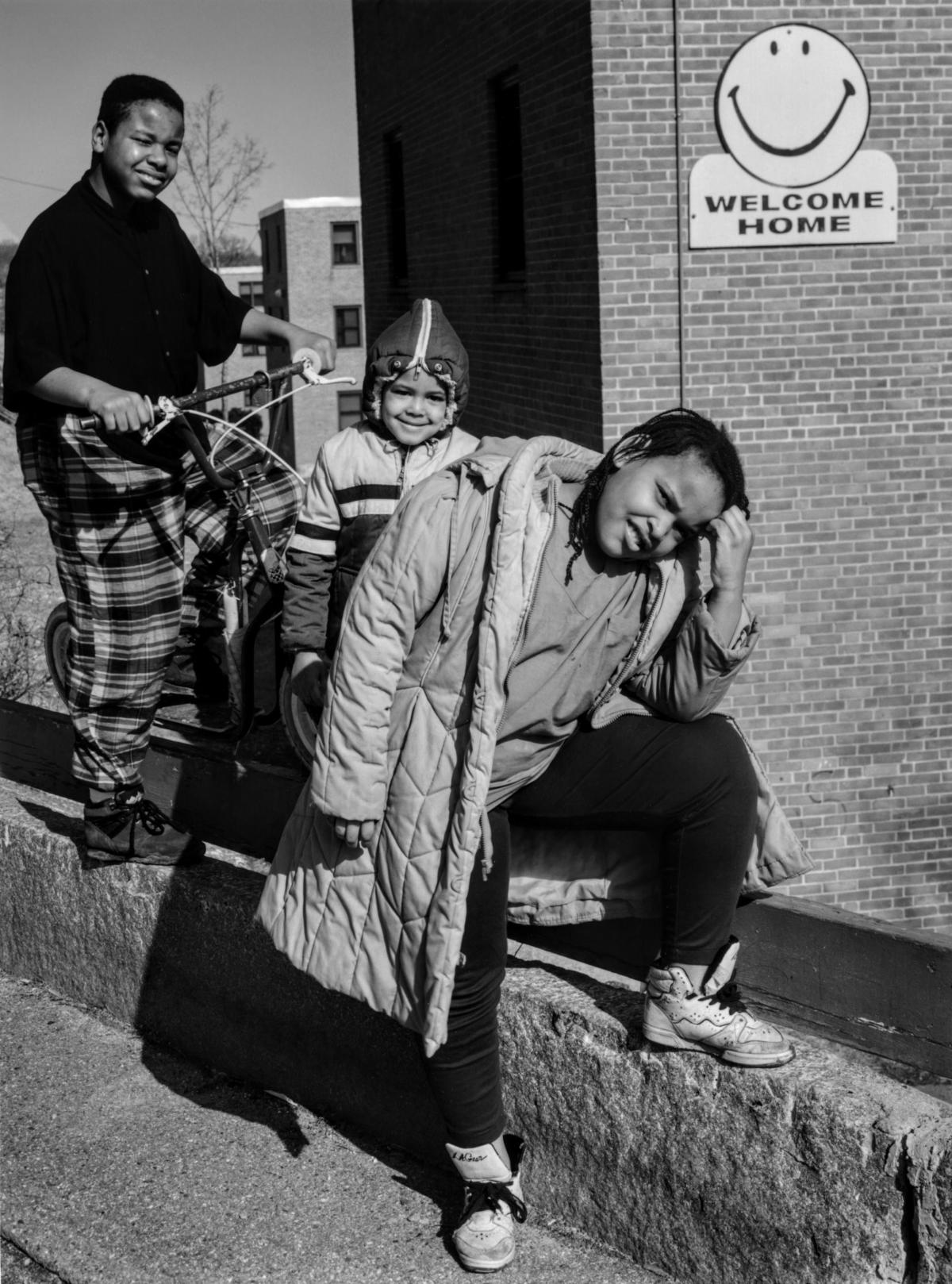 In 1993 a group of nine photographers came together to photograph contemporary Worcester. They captured celebrations, school yards, neighborhoods and a changing city with each click of their camera. They showed, prior to the digital age, Worcester's changing face as a new century approached. Look back at these original photos 29 years later to see how these local photographers and their cameras captured a city on the cusp of change; Stephen DiRado, Peter Faulkner, Elizabeth Garamy, Peter Hagberg, Rosemary LeBeau, Robert Nash, Robert Raslavsky, Mari Seder and the late David Prifti. Worcester Scene: Reseen is on display in the Booth Gallery of the Museum at 30 Elm Street through April 1.
---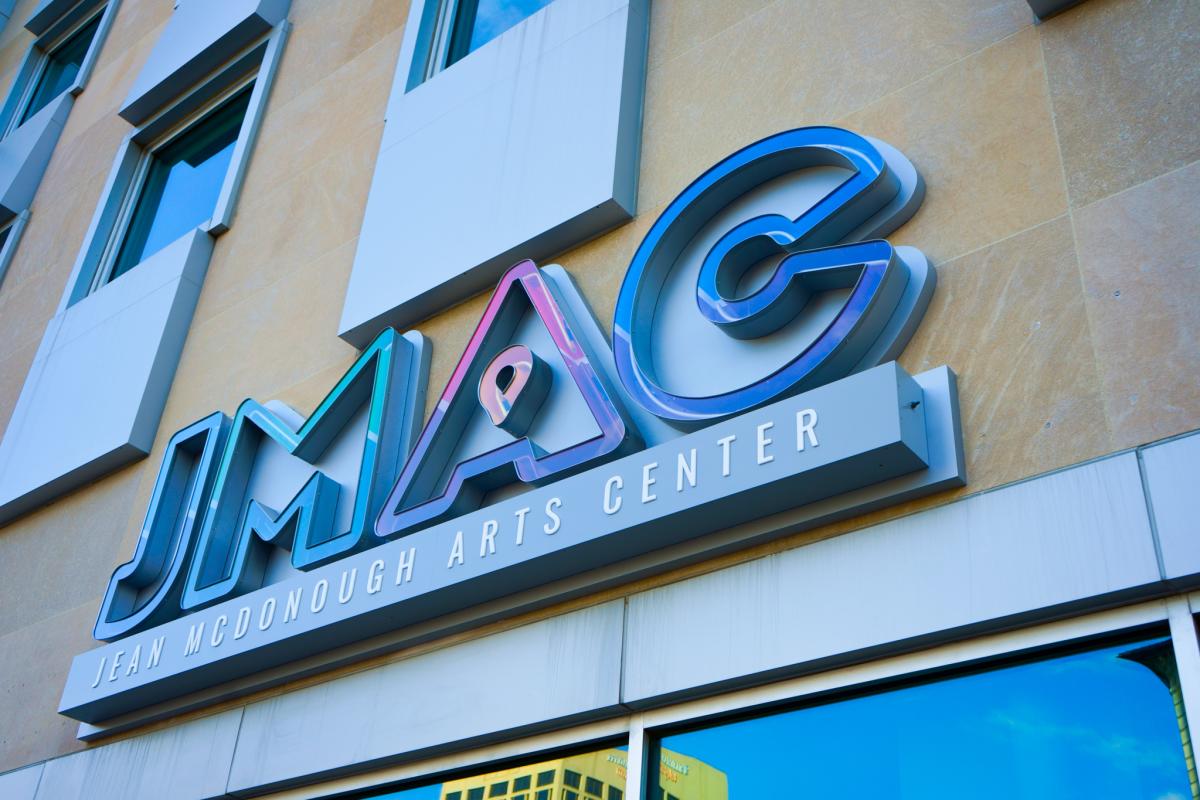 Black Dolls Matter: Resistance and Representation in African American History
February 1 through February 10
The National Black Doll Museum and Worcester Black History Project present a history of Black Dolls. This exhibit will allow visitors an opportunity to experience the world of Black dolls, expressing joy, preserving culture and promoting pride. Dolls in this special exhibit are on loan from The National Black Museum, one of the largest collections in the world. Museum founders Debbie Britt and Felicia Walker will offer a doll-making workshop as well as a variety of talks about collecting and the history of Black dolls in America. The dolls exhibited are from the personal collection of Debra Britt, Founder and Executive Director of The National Black Doll Museum.
---

2nd Annual Inside & Out Sculpture Exhibit with NESA
Through February 24
ValleyCAST welcomes back the New England Sculptors Association for another exhibit of sculpture inside the gallery, out on the Community Plaza and around the grounds of the Whitin Mill Complex. Prizes for favorites will be awarded by people's choice for first, second and third place. Come explore the grounds and gallery to see the sculptures "Inside and Out" and then vote for your favorite by casting a ballot inside the gallery. Voting ends Feb. 17. 
ValleyCAST 10th Annual Art Palette Contest Exhibit
March 10 through April 21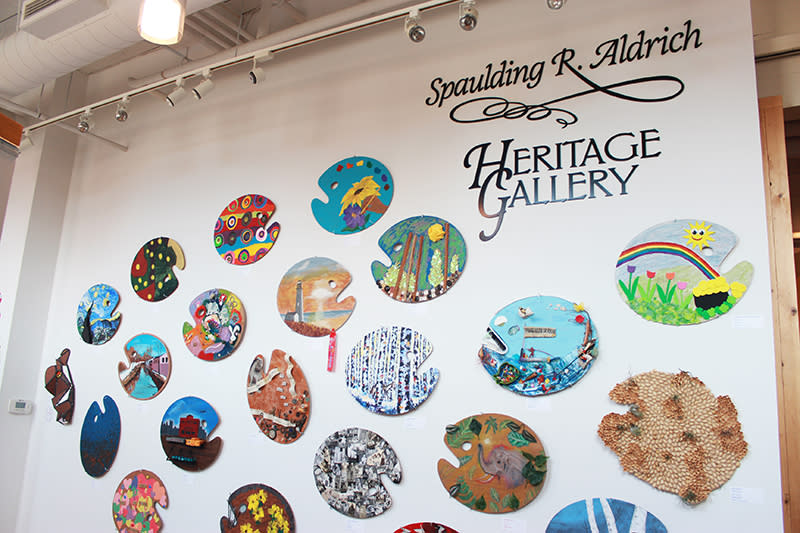 The 10th Annual Art Palette Contest exhibit will be on display during regular gallery hours or by appointment. The exhibit features plain wooden art palettes that people from the community have transformed into unique pieces of art. This popular event is a chance for people of all ages and abilities to share their artwork and celebrate our local creative community. From the opening through April 7, gallery guests will be invited to cast a vote for their favorite palettes. Winners will receive cash awards in three different categories and age groups.
---
Public Art
Various locations across Worcester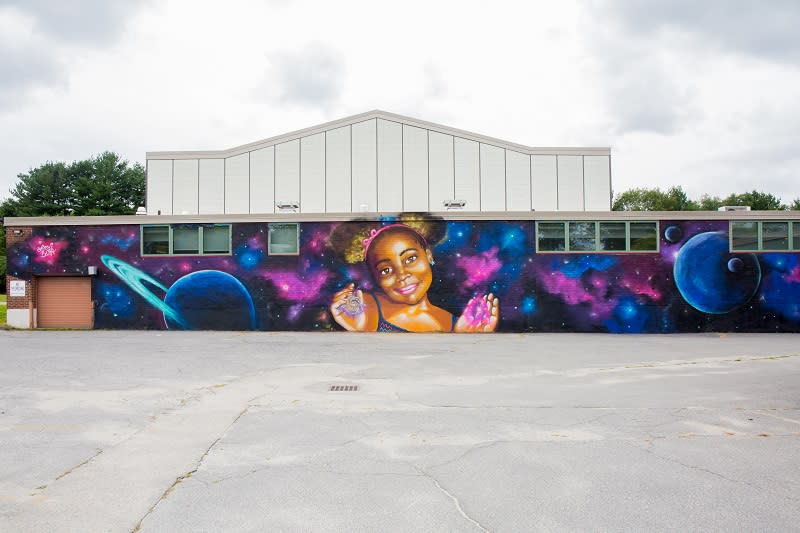 Public art plays a large role throughout the city of Worcester, and you'll find masterpieces around virtually every corner.
---
Keep updated on all museum and gallery happenings through our site—from outdoor history museums to folk art.