Town of Auburn Independence Day Celebration 
Join the Town of Auburn as they celebrate Independence Day with an evening of fun and patriotic events, food, and music! Enjoy a rock-climbing wall, face painting, train rides, fun house, Speed Pitch, vendors, and more along with a a grand entrance by the American Legion Tuttle Post and Vietnam Veterans of America Chapter 554 at 6:45 PM followed by a concert at 7 PM. For more information, please call 508-755-3291.
WHEN: Thursday, June 29 from 5 PM - 10 PM, Fireworks beginning at 9:30 PM (Rain Date Friday, June 30)
WHERE: Pappas Recreation Complex, 203A Pakachoag St., Auburn
COST: FREE | Free WRTA Shuttle Service Pick Up From: Pakachoag School, Senior Center, Auburn Mall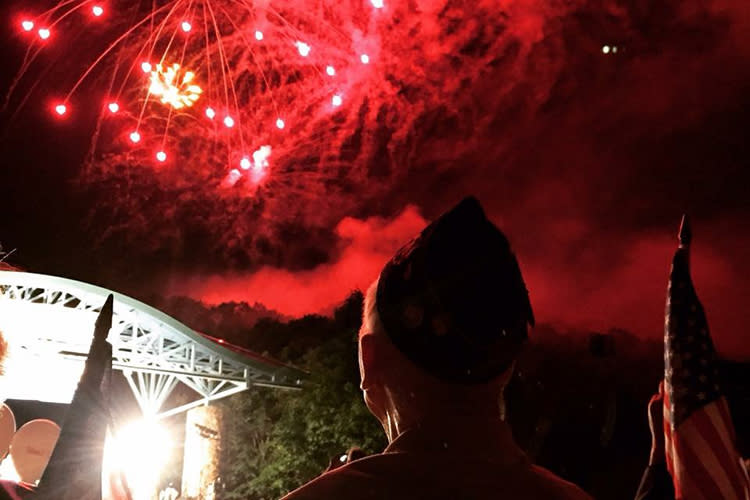 The Worcester Regional Chamber of Commerce, Discover Central Massachusetts (DCM), and the Massachusetts Symphony Orchestra, with lead sponsor, Fallon Health, will deliver a marvelous evening of free family fun at the City of Worcester's annual Independence Day Celebration! The park opens at 4 PM and hot dogs, hamburgers, ice cream, drinks and more will be available for purchase in the refreshment area and a Kids' Korner, open from 4 – 6:30 pm, will feature activities and games provided by several vendors, including the Girls Scouts of Central and Western Massachusetts, Discover Central Massachusetts, Our Lady of Mount Carmel, and Creedon & Company. Jake the Lion, mascot from the Worcester Bravehearts will also be on hand entertaining the young and old alike. The celebration will officially begin with a ceremonial flag-raising at 7:40 p.m., followed by a performance of popular and patriotic music by the acclaimed Massachusetts Symphony Orchestra, under the direction of conductor Myron Romanul. The orchestra will continue as a brilliant fireworks show lights the sky at approximately 9:30 PM to commemorate the birth of our nation. For more information, call 508-753-2924.
WHEN: Friday, June 30 beginning at 4 PM (Rain Date Saturday, July 1)
WHERE: Cristoforo Colombo Park (East Park), Shrewsbury St., Worcester
COST: FREE
Webster Lake Annual Independence Day Celebration
WHEN: Saturday, July 1, Festival begins at noon, fireworks begin at dusk (Rain Date Sunday, July 2)
WHERE: Memorial Beach Park on Lake Chaubunagungamaug in Webster
COST: $5 per car to enter Memorial Beach, Memorial Beach Dr, Webster 
Northbridge Annual Fireworks Display
WHEN: Friday, June 30 - Gates open at 6:00 PM, Display begins at 9:15 PM 
WHERE: Northbridge Middle School, Lasell Field, 171 Linwood Ave., Whitinsville 
COST: FREE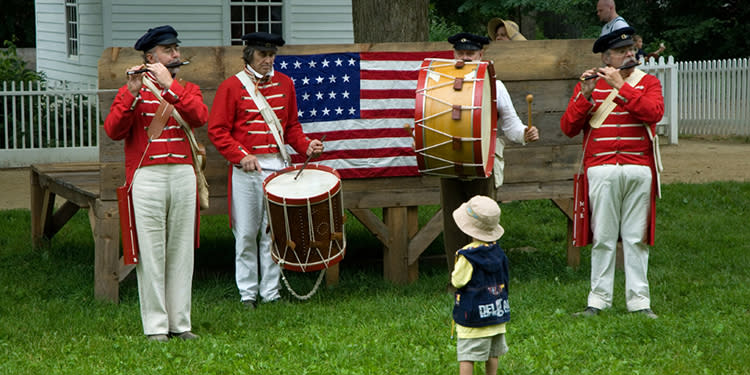 Celebrate Independence Day the old-fashioned way! Visitors will enjoy many patriotic activities such as a citizens' parade, march with the militia, listen to musical performances on the Common, 19th century style "base ball" and "Farm Yard Games" as well as a patriotic reading of the Declaration of Independence with the opportunity to sign a giant reproduction of the historical document. Costumed historians will fire a reproduction cannon and guests can also learn 19th century dances and listen to performances on the Common. Visitors may also enjoy a picnic on the Common as Summer barbecue food will be available for purchase along with beer and wine!
WHEN: July 1 - 4, 9:30 AM - 5 PM
WHERE: Old Sturbridge Village, 1 Old Sturbridge Village Road, Sturbridge
COST: Regular Admission Price
Celebrate Independence Day in style in Rutland, MA! The event will feature three jam-packed days of fun activities, food, music, a parade, fireworks and much more! 
WHEN: July 1 - 4, Fireworks Display on July 3 begins at 9:20 PM
WHERE: Various locations in Rutland, MA
COST: Most events are free, unless otherwise noted
Shrewsbury Parks and Recreation July 4th Celebration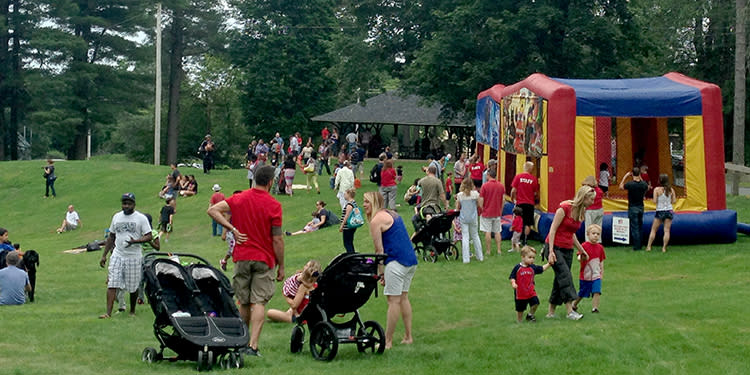 The Town of Shrewsbury Parks and Recreation Department will hold its Annual Fourth of July Celebration featuring festivities such as musical entertainment, games, face painting and inflatable amusements. Boy Scout Troop 114 will serve hamburgers, veggie burgers, and hotdog meals and The Parks & Recreation Concession stand will have Sno-cones, popcorn and ice cream bars. At 12:30 P.M. there will be a decorated bicycle and doll carriage parade for children! 
WHEN: Tuesday, July 4, 12 PM - 4 PM
WHERE: Dean Park, 805 Main St., Shrewsbury
COST: Please bring cash for tickets and food purchases. Tickets for inflatable amusements are $2.00 per ride or $8.00 for unlimited access to events. For more info, please call 508-841-8503 or email parkrec@shrewsburyma.gov.  
Bring Back the BOOM! This year, The Uxbridge 4th of July Committee has teamed up with Premeer Real Estate to bring what is sure to be an amazing Independence Day Celebration in Uxbridge with tons of fun, food, music, and of course, fireworks!
WHEN: July 8 4 PM - 9 PM 
WHERE: McCloskey Field, Uxbridge
COST: $3