The Best Apple Varieties in Central Massachusetts (And What To Do With Them)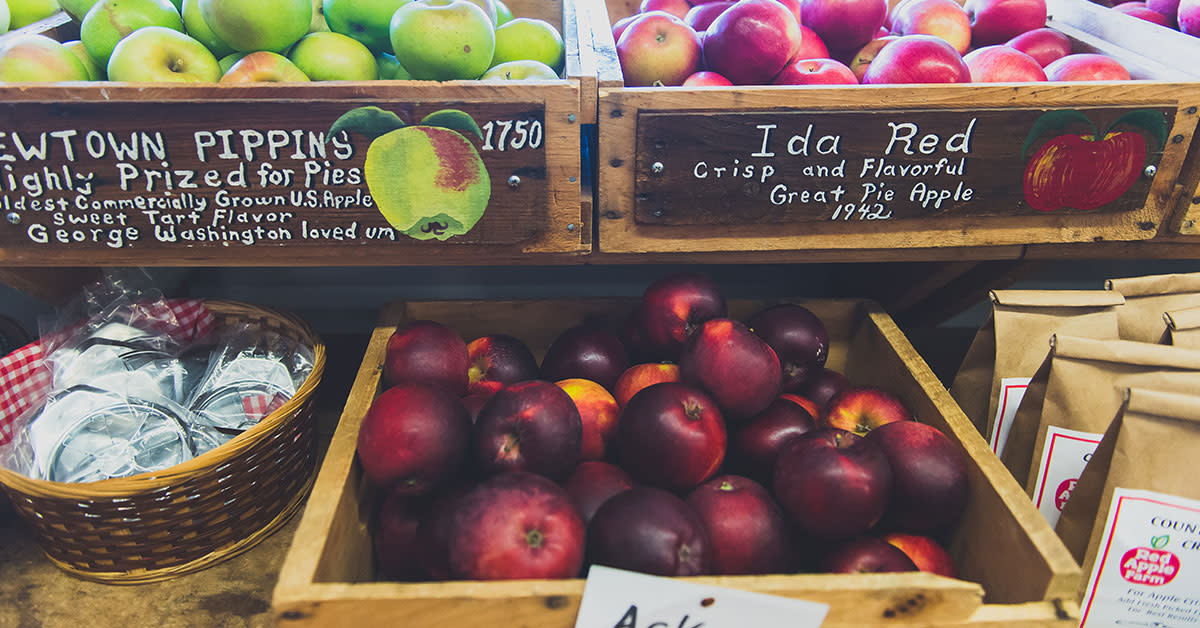 New Englanders love fall at the farm; especially the joy of picking your own apples.
Brookfield Orchards, Tougas Farm, Davis Farmland and Hyland Orchard and Brewery are just some of the many orchards in Central Massachusetts that don't just provide the apple picking - they craft an entire experience around it. 
But what do you do with all those apples once you get the home? And do you know which apples you should pick for the best apple pie, or the ultimate cheese platter?
Read on to discover three great uses for all those fall apples, with tips on where to pick and buy local, or skip right to our list of PYO apple orchards.
Best Apples for Cheese Pairings
The creaminess and saltiness of cheese paired with the sweetness and crispness of apples makes this duo a match made in cheese plate heaven.
Delicious Apple & Cheese Pairings:
- Bring your freshly picked apples (good choices are Honey Crisp, Granny Smith, McIntosh, Gala, Golden Delicious) to Hardwick Winery for a wine and cheese picnic in beautiful Hardwick Massachusetts. The winery sells bottles and flights as well as cheese and crackers plates.
- Smith's Country Cheese's aged Gouda paired with Honeycrisp Apples from Brookfield Orchards in North Brookfield.
- McIntosh is ready in early September from most Central Mass orchards and pairs excellently with a sharp cheese. Try the award winning Tekenink Tomme cheese from Robinson Farm in Hardwick Mass.
- Try any of these amazing pairings from your favorite Central Mass orchard and from the extensive cheese selection at Pecorino Cheese Shop in Grafton: Braeburn and Gouda, Jonagold and Fontina, Gala and Goat Cheese, Fuji and Havarti. 
Tip: Add walnuts, almonds, cranberries, cinnamon, cardamom, honey, rosemary, and chocolate to experiment with unique pairings. 
---
The Best Pie Apple
Considered the superior pie apple, Northern Spy is very juicy, crisp and aromatic. This heirloom apple is sweet yet tart and ripens in late fall. The apple is firm so it won't turn to mush in the oven!
Somewhat hard to find, there are a couple orchards in Central Mass that carry Northern Spy.
Where to find it: Brookfield Orchards, Tougas Family Farm, Meadowbrook Orchards, Sholan Farms
When: Late fall
Lunch Box Apple Pie recipe from Foppemas Farm

Perfect for back-to-school, this simple recipe is easy to make and great for a snack, dessert, or a lunch box treat. Apples and sharp cheddar cheese meld together with a spritz of lemon and spices for a fun twist on apple pie. Use your Northern Spy apples for the best results.
Check out the full recipe on their website.
---
Best Apples for Juicing 
We've all heard the saying, "An apple a day keeps the doctor away." Whether you have a blender or a juicer - you can make delicious and nutritious apple juice for the whole family.
Research shows that eating apples can reduce your chances of getting all sorts of cancers, can whiten your teeth, detoxify your liver and boost your immune system. 

The best apples to choose for juicing are the apples that are going to produce the most juice, and which are highest in nutritional value. 
The apple highest in antioxidants* is Red Delicious, followed by Northern Spy, Ida Red, Cortland, Golden Delicious, McIntosh, Mutsu and then Empire. 
The sweetest and juiciest apples are McIntosh and Red Delicious. 
Where to find it in Central Massachusetts:
Red Delicious: Brookfield Orchards, Charlton Orchards, Stowe Farm Orchard, Hyland Orchard, Berlin Orchards, Meadowbrook Orchards, Sholan Farms, Ragged Hill Orchard.
Northern Spy: Brookfield Orchards, Tougas Family Farm, Meadowbrook Orchards, Sholan Farms
Ida Red: Charlton Orchards
Cortland: Stowe Farm Orchard, Charlton Orchards, Tougas Family Farm, Meadowbrook Orchards, Sholan Farms, Berlin Orchards
Golden Delicious: Brookfield Orchards, Hyland Orchard, Charlton Orchards, Ragged Hill Orchard, Tougas Family Farm, Meadowbrook Orchards, Sholan Farms
Mutsu: Brookfield Orchards
Tip: Add greens and other fruits to make a nutrient-packed green juice!
*Based on a study published by The American Chemical Society 
---
Rarest Apple in Central Massachusetts 
There are over 2500 varieties of apples grown in the United States, each with their own distinct features and taste. Some apple varieties in Massachusetts can only be found in Central Massachusetts. One of those is the 'Wolf River' apple variety. 

If you want to wow your friends or you want to taste and apple you've probably never had before, you'll want to try this uncommon apple. It also tends to be giant, making the apple even more intriguing.
The apple is suspected to have originated around 1875. A man named William Springer moved from Quebec to a farm near 'Wolf River' in Wisconsin. It's speculated that he brought over apples from another Russian variety and planted them at Wolf River, creating this variety of apple.
Having a short shelf life, the apple must be picked green. Call ahead since apple crop and availability vary year to year. 
Where to find it: Ragged Hill Orchard in West Brookfield Massachusetts
When: Late summer
---
*Note: Please call ahead before you visit as the apple crop greatly varies from year to year.