Central Massachusetts' artists and crafters are great any time of year, but they shine brighter during the holidays. Kick-off the season with a trip to the beautiful Worcester Center for Crafts, which brings 60+ fine craft artists and their work to the Holiday Festival of Crafts for three days in November. Or check out Vaillancourt Folk Art—one of the world's oldest manufacturers of Christmas ornaments, located in Sutton, Mass. Make some time for a trip to the Worcester Art Museum for special exhibits and unique shopping experiences or the classic Oakwood Farm Christmas Barn, in Spencer, which offers dazzling holiday decorations.  stART your trip at historic Union Station on December 3, 2017, with a wildly popular and unique arts and crafts festival - stART @ the Station.
---

Classic performances of Dickens' A Christmas Carol include annual performances by the author's great-great grandson at Vaillancourt Folk Art to a large-scale production at The Hanover Theatre for the Performing Arts, in Worcester.  The Trans-Siberian Orchestra will make its only stop in Massachusetts on November 24-25 with two performances of The Ghosts of Christmas Eve at DCU Center, and you definitely will not want to miss any of these holiday classics: A Christmas Story, The Musical, The Boston Pops, or The Nutcracker - all playing at the Hanover Theatre this season. 
Tickets are on sale now for the one-man performance of A Christmas Carol with the the author's great-great grandson Gerald Charles Dickens at the Vaillancourt Folk Art.
---

See winter in a whole new light! The entire family will enjoy a magnificent light extravaganza at the breath-taking New England Botanic Garden at Tower Hill.  Winter Reimagined, which opens on November 24, will wow visitors with thousands of colorful lights and whimsical decorations. The garden offers families everything from special programming to concerts, and more!
Check for special programs and events before you book your weekend getaway to Central Massachusetts! 
---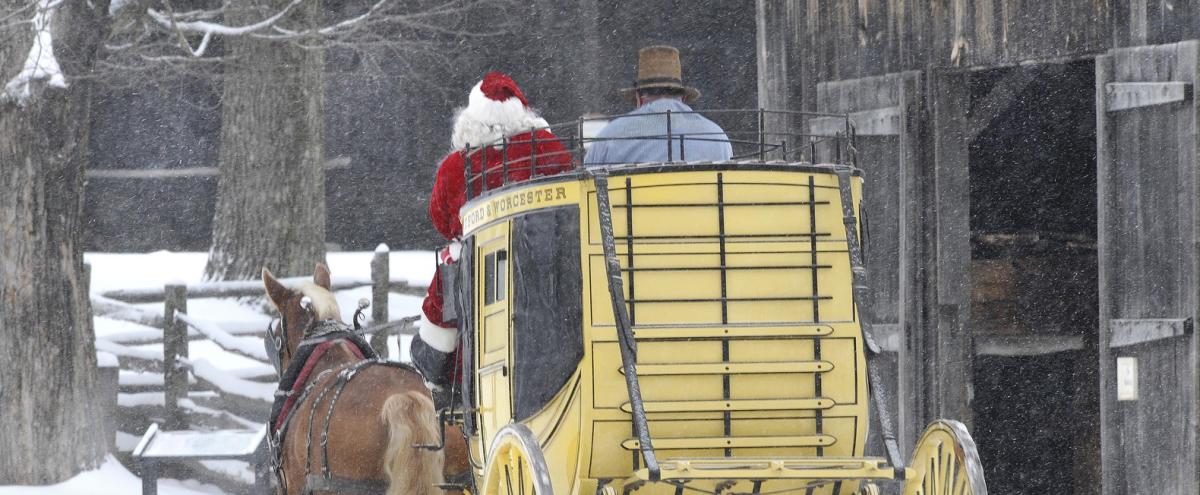 The region's living history museum - Old Sturbridge Village - offers visitors a lookback at Christmas traditions of the 19th century. The Village offers evenings filled with New England holiday traditions, live musical performances, storytelling, sleigh rides, festive foods, a roaring bonfire, and strolls around the decorated Village Common. At North Pole Village, families will find Santa and his whimsical elves, Mrs. Claus' Bake Shop, a magical talking Christmas tree, and an expanded train display, including some of the trains from the movie ?Joy.  Escape the frenzy of a modern Christmas with an enchanted visit to Old Sturbridge Village. +read more
---

Bring the entire family to celebrate the holidays at Heifer Farm with a surprise visit from Santa Claus.  Hayrides, homemade soup, hot cocoa and cider make this tradition a must-do this season! Families can decorate gingerbread cookies, make international crafts and shop at the farm's gift store. The farm holds a Holiday Open House on December 2-3 & 9-10. Or get into the Christmas spirit any time of year at the Oakwood Christmas Barn, in operation for over 40 years. Head to the 160 year old barn to grab a mug of hot homemade cider while you wander through a gazebo bursting with vintage ornaments and dazzling Christmas trim.
---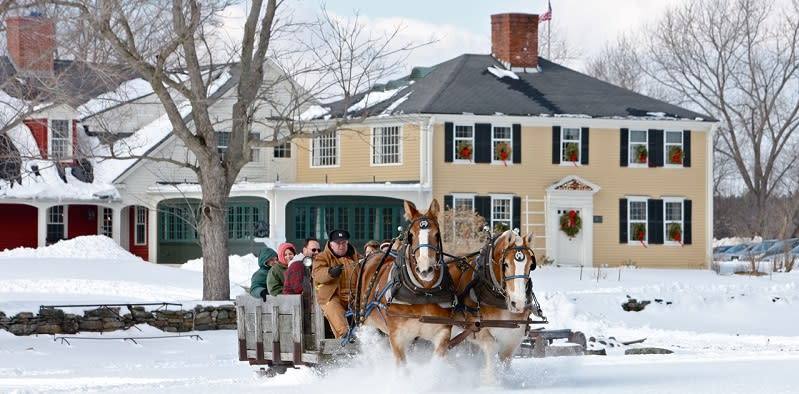 Book your reservations today at rustic Laurel Ridge Bed and Breakfast and warm up with a Fireplace Feast at the historic Salem Cross Inn, a unique dining experience which includes prime rib roasted in a great fieldstone fireplace using an antique 1700's roasting jack. Depending on the weather, visitors can enjoy a horse-drawn sleigh ride on the property's beautiful 600-plus acres of farmland. The Inn also hosts plays (Dylan Thomas' A Child's Christmas in Wales), traditional turkey and farmer dinners in its antique barn. +read more