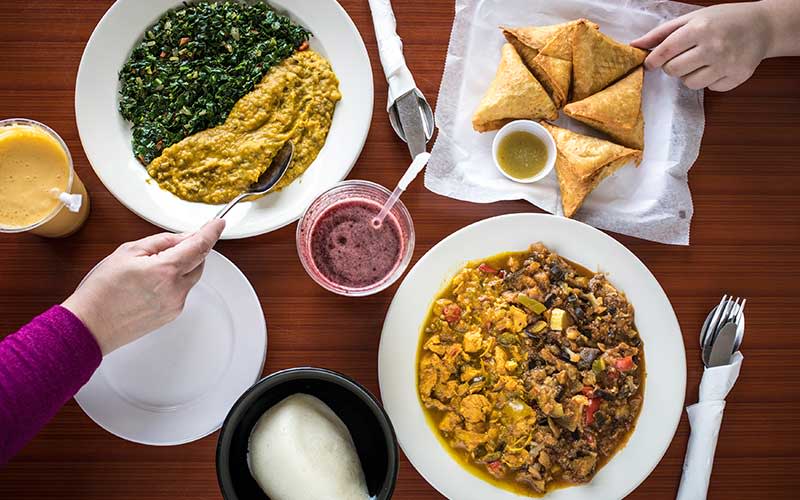 ---
596 Main Street
Known for their customer service and unbeatable value, you'll find classic comfort foods at Addie Lee's. Popular dishes include their fried chicken, beef ribs that "fall off the bone" and heavenly peach cobbler, as attested by many locals.
---
1280 Grafton Street
Emmanuel Labri is the entrepreneur bringing the "taste of Ghana" to Worcester, first at Accra Girls and most recently at akra Eatery & Juice Bar. Try the Omo Tuo, a Ghanaian staple food made with rice, served in a peanut butter soup with goat meat.
---
150 Green Street
akra Eatery and Juice Bar features natural food influenced by West African cooking traditions and is based inside the buzzing Worcester Public Market. Create your own bowl or wrap, or try classics like the Waakye Bowl. As for drinks, locals especially enjoy the Juixe.
---
687 Millbury Street
If you visit for dinner, try the Sizzling Akomfem (guinea fowl) at this Afro Ghanaian-American restaurant. If you're just looking for a snack, you can't go wrong with the fried plantains and an Alvaro, a unique refreshing natural malt drink.
---
118 Cambridge Street
Discover Jamaican favorites at Aretha's Kitchen, described as "a hidden gem" by locals. Try the Ackee Salt Fish or Jerk Chicken for an authentic Jamaican dinner experience.
---
157 Belmont Street
Enjoy a savory soulful twist on Jamaican and American inspired dishes at Belmont, where a meat-free, non-dairy, body-nourishing diet is the cornerstone of the menu design - perfect for vegan and vegetarians alike. Try the veggie stew or create your own combo plate.
---
976a Main Street
In the heart of Main South you'll find delectable oxtail with mac and cheese at Caribbean Flaavor, a Jamaican restaurant where you're invited to discover the fresh and bold flavors of the Caribbean without packing your luggage. Try their homemade Jamaican Beef Patties if you're looking for a quick bite on the go.
---
984 Main Street
Find African cuisine on Main Street at Elder Paintsil's. Locals recommend the jolloff rice fried fish and fried tomato stew.
---
43 West Boylston Street
Omar and Fatima's café restaurant provides a taste of home with traditional dishes served with care. The Somali chicken and steak sandwiches are popular favorites with guests and are filled to the edges with seasoned meat, peppers and onions.
---
79 Millbury Street
Check out Gold Coast for both takeout and event catering, as they've led Central Massachusetts in multi-cultural catering since 2011. Also, their fish & chips, available on Fridays, is a fabulous deal that should not be missed.
---
169 Lincoln Street
A staple of their neighborhood, Jamaica Thymes is a great choice if you're looking for Caribbean favorites. Try the steamed red snapper or if you're looking for beef patties, but get there early because their most popular choices often sell out.