Support a local business and grab a bite to eat. Food trucks have hit Worcester and have taken the culinary scene up a notch! Whether you are craving a chili dog or a grilled cheese sandwich boasting goat cheese and arugula, you can find a food truck in Worcester to satisfy your needs. 
Discover Central Mass. has the inside scoop on the food truck scene, what makes each truck so special, and why they were a hit at the 2018 Food Truck Throwdown in Worcester.
Scoop Daddy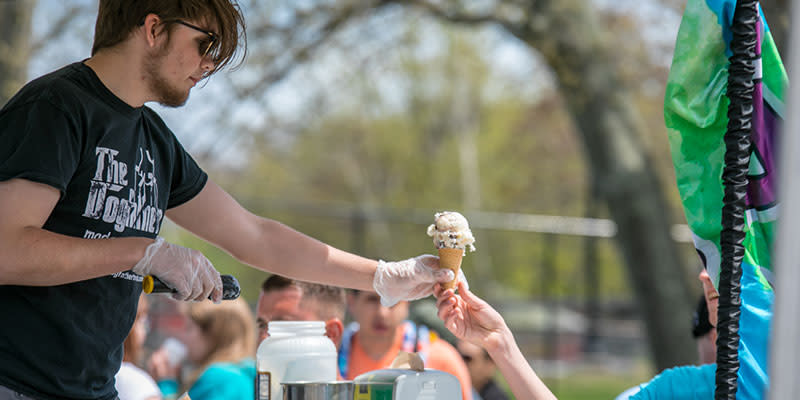 Cooling down the Food Truck Throwdown attendees on the first summer-like day of the season, the Scoop Daddy Ice Cream served up three-scoop ice cream cones and classic branded treats like the Snickers ice cream bars. Traveling throughout Massachusetts, the Scoop Daddy Ice Cream truck is an instant hit and an ageless classic.
From children to adults, the ice cream line for Scoop Daddy at the Food Trucks Throwdown was heavily populated throughout the event and of course, the line for scooped ice cream was longer than the pre-packaged brands like Snickers. Customers walked away with large servings of various ice cream flavors including the classic vanilla and chocolate.
---
Minuteman Kettle Corn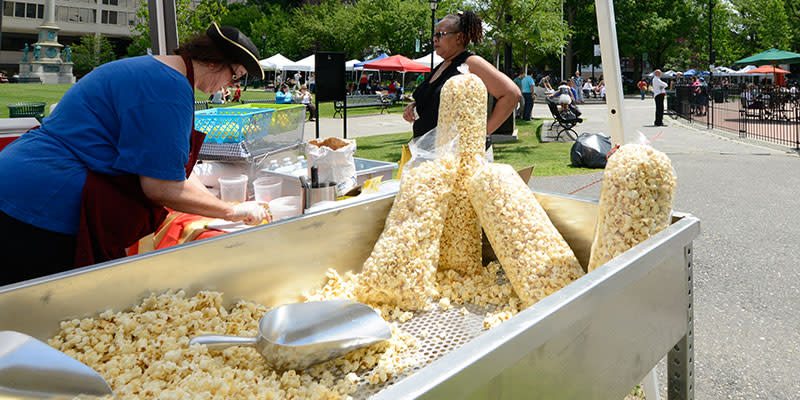 Located in Worcester, MA, Minuteman Kettle Corn offers delicious hand-paddled kettle corn made the old fashion way. Made in small batches, with new batches being made every few minutes, Minuteman Kettle Corn prides itself on the sweet flavors of freshly made kettle corn.
Learning the craft of kettle corn making from the Kettle Corn Poppers in Topeka, Kansas, Minuteman Kettle Corn brings a fresh face to the local enthusiasts. Serving the kettle corn alongside freshly made lemonade and limonade, the Minuteman Kettle Corn food truck was a hit at the Food Truck Throwdown. This food truck can be found participating in food truck events throughout the city of Worcester throughout the year.
---
Teddy's Lunch Box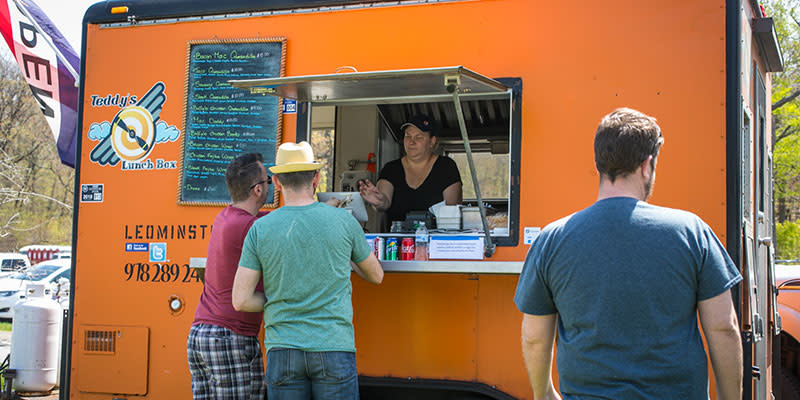 Teddy's Lunch Box is a new take on the typical "lunch box" foods. Inspired by the art of food concept, Teddy's Lunch Box offers everything from bacon-wrapped hot dogs to cheeseburgers and Italian sausages. In a simple-orange food truck, Teddy's Lunch Box intrigues its customers with its lack of over-the-top food truck presence and incorporates its presence in every dish on the menu.
Based in Leominster, this food truck travels Massachusetts to heighten the phrase "lunch food." Keeping its customers on its toes, Teddy's Lunch Box maintains a flexible menu. Although the bacon-wrapped hot dogs are among a crowd favorite, the Pierogi - an Eastern Europe dumpling - holds the attention of those seeking an eclectic line up of food truck offerings.
---
The Grub Guru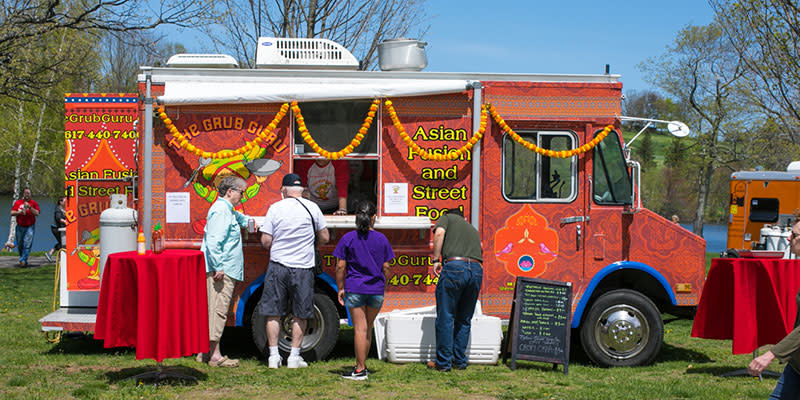 The Grub Guru, based in Shrewsbury, is an Asian fusion street food truck offering more than a quick bite to eat. With Indo Chinese dishes - a mix between Chinese seasoning and Indian tastes - like the orange chicken with fried rice and the veg ball in hot garlic sauce with fried rice, the portions are unlike the typical skimpy food truck servings. Large in both size and flavor, the Grub Guru dishes are unique and filling.
The Biryani, also known as spicy rice, is a South Asian mixed rice dish and a favorite among the Grub Guru patrons. Served with chicken - basmati rice dish cooked with tender pieces of young chicken, blended with herbs and spices then garnished with an egg, onions, and lemon - or as a vegetarian option, the Biryani is listed as a "snack" option on the menu but if paired with the Bao sliders - Chinese steamed buns stuffed with either butter chicken or paneer tikka masala - the Biryani becomes a full hearty dish. If lunch is about smaller servings, then the chicken kebab rolls - made on Indian Roti - are fitting. Giving everyone a dollar off their order in exchange for a Facebook like, the Grub Guru quickly became a must-have at the Food Truck Throwdown.
---
Say Cheese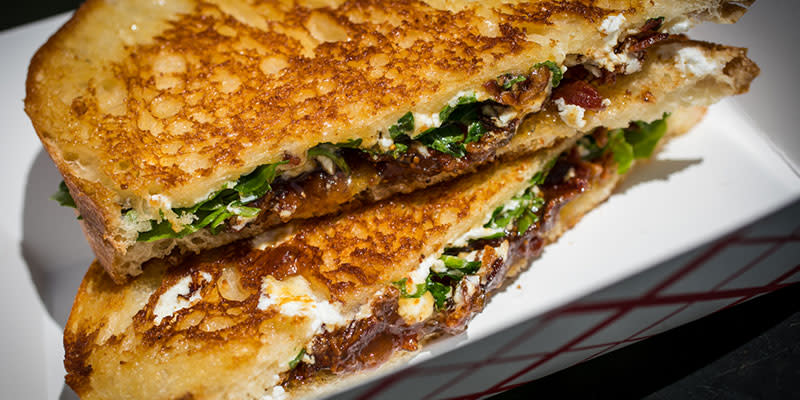 With its massive cult following, Say Cheese has plenty of visitors saying cheese and taking grilled cheese selfies. Say Cheese, is a family owned and operated grilled cheese food trailer, and has quickly become a local fan favorite. Since the start of the Say Cheese food truck, the team has served thousands of grilled cheese variations. Turning the nostalgic grilled cheese into a variety of sophisticated sandwiches like the Caprese - with fresh mozzarella, tomato, basil and balsamic glaze - and the friggin' goat - with goat cheese, fig paste, and arugula, this food truck is unlike any other.
With a booked solid schedule, Say Cheese is in popular demand and for good reason. Their followers have adopted the grilled cheese lingo like the Cheddar Monster - mostly pronounced "Cheddah Monstah" - and the picklebac - a grilled cheese with cheddar, bacon, and dill pickles - and wear it proudly on their branded Say Cheese t-shirts. This food truck makes people smile with every bite and can understand the two-fold meaning behind its name.
---
Anzio's Brick Oven Pizza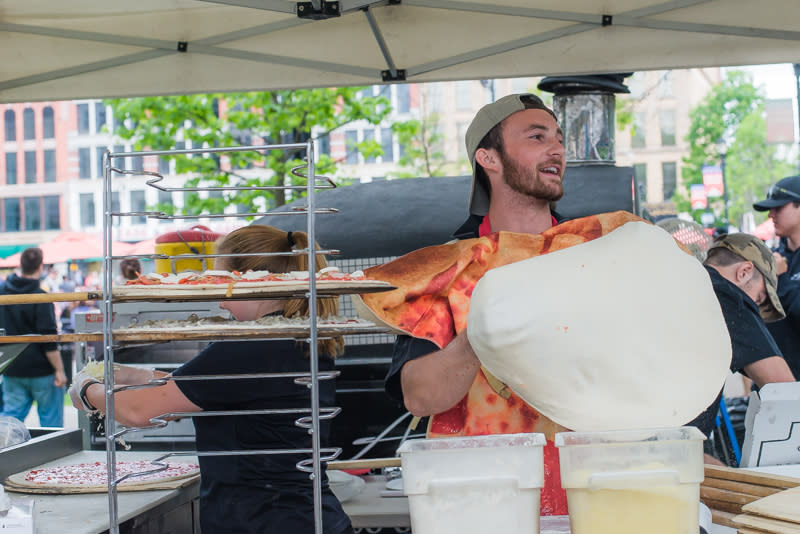 When people think of pizza, they think of Brooklyn pizza: the profoundly accurate level of cheese to sauce ratio with the right amount of crisp in the crust. And while no one thinks of Boston as the pizza capital, foodies are starting to point in the direction of Anzio's Brick Oven Pizza in Grafton, MA. Serving a thin crust Italian pizza, Anzio's authentic Neo-Neapolitan cuisine is making waves in more than one area. With a dine-in restaurant in Grafton, Anzio's Brick Oven Pizza is so good it had to mobilize to keep up with its growing popularity. Mobilizing their authentic pizza style meant taking the brick oven on the road.
The high temperature of the brick oven produces the thin crust pizza that is a perfect combination of slightly chewy, crispy light, and airy. At Anzio's dine-in location, the Neo-Neapolitan brick oven pizza can be topped with anything from artichokes to goat cheese to applewood smoked bacon but with limited space on the road, the top three pizza styles include the all-around favorite cheese pizza, the classic pepperoni, and the ever-changing specialty. At the Food Truck Throwdown, the specialty was the Margarita - a pizza with sausage, caramelized onions, basil and fresh mozzarella. Taking home the Judges Choice Award for Best Food Truck of 2018, Anzio's Brick Oven Pizza is giving the local foodies a good reason to visit Grafton for pizza instead of New York.
---
Sabor Latino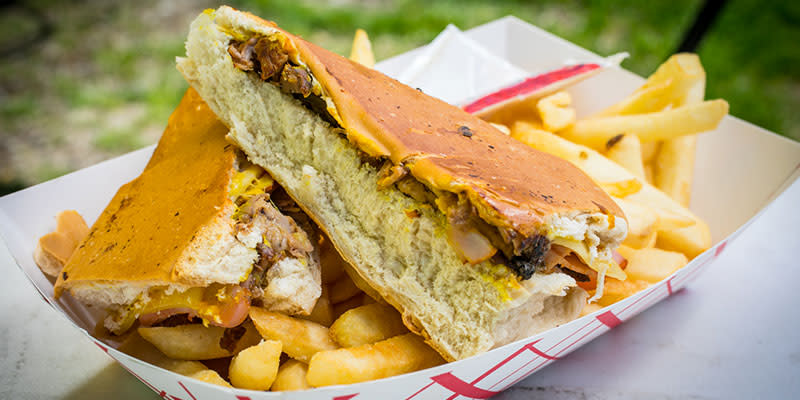 Sabor Latino, a Latin-inspired food truck, caters to the flavorful seasonings of Latin America with dishes like empanadas, yuca fries, and Cuban sandwiches and it didn't disappoint the taste buds of local food truck lovers looking for a little Latin flavor. Representing the Latin food culture with its flavors of cilantro and sofrito, Sabor Latino embodies the direct translation of its name: Latin Flavor in every dish.
The empanadas - hand pies - while a favorite among the Latin culture, are increasingly becoming popular in the American food scene. These small but filling hand pies are often made with ground beef but at Sabor Latino, they kick up the recipe to include ground turkey (instead of the traditional ground beef), sauteed onions, bell pepper, garlic, raisins and olives simmered in a tomato white wine sauce. The chorizo empanada - another favorite and a 'sold-out' item at the Food Truck Throwdown - is filled with ground pork seasoned with herbs and mild spices. While most traditional empanadas are rarely filled with vegetables, Sabor Latino wants their food to be experienced by everyone and include a vegetarian option. In hopes of embracing more than the Latin community, Sabor Latino creates and changes its menu to adapt to its audience and maintain authenticity.
---
Moe's Street Food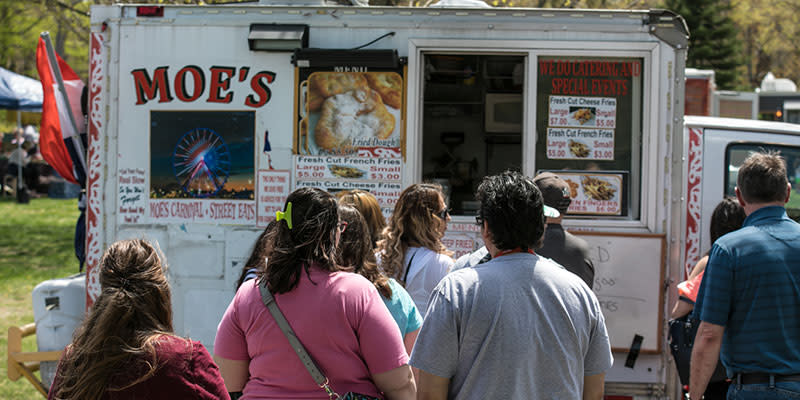 Moe's Street Food is the epitome of Instagram-worthy carnival food. From fried dough to fried Oreos, Moe's caters to the ever-changing trends of deep frying desserts and with a line long enough to allow foodies to eat their lunch while waiting for their dessert at the Food Truck Throwdown, Moe's Street Food was an obvious choice for something sweet.
Raising the level of fun with its 'state fair-like' foods, Moe's travels throughout Massachusetts to satisfy everyone's carnival food cravings. While Moe's menu offered pressed sandwiches, it was really the deep-fried hot dogs, fried dough and fried Oreo's that made the Food Truck Throwdown an even sweeter event. Although the fried Oreo's sold out in the first half of the event, the line continued growing as everyone was intrigued to learn about Moe's deep-fried foods.
---
Kebob King
Worcester's newest food truck, the Kebob King, caters to a Greek-inspired menu filled with falafels and wraps. Bringing to Worcester a new kind of food truck option, Kebob King is the self-proclaimed King of all things Greek. The menu speaks to the Mediterranean cuisine style of contemporary Greek cookery as it includes the wide use of vegetables, olive oil, grains, fish, wine (white and red) and meat - including lamb, poultry, and beef. Cheeses, lemon juice, and herbs are included in most meal options.
Offering rice and kebob dishes, gyros and falafels - a deep-fried ball made from ground chickpeas, fava beans, or both - the fresh flavors of the Kebob King are distinct and unlike others in the local food truck network. Selling out at the Food Truck Throwdown, the Kebob King made a big impact in the food scene and allowed foodies to explore the authentic flavors of Mediterranean cuisine.
---
Pangea Cuisine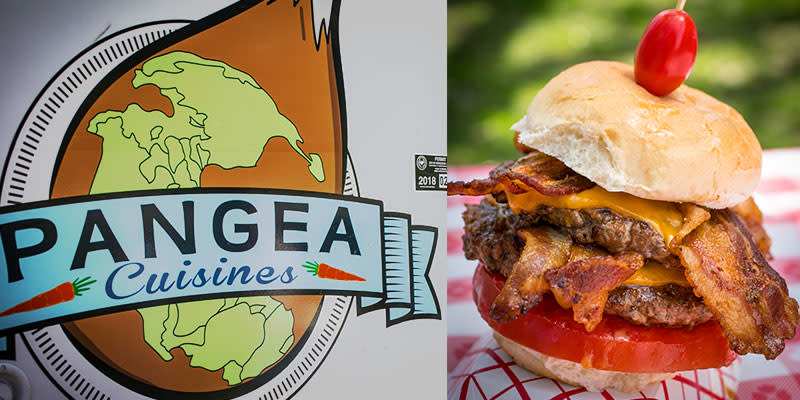 Pangea Cuisine promotes healthy eating in Medway with high-quality foods specializing in Paleo-friendly foods and specialty dishes. With its success and need to expand its menu, Pangea Cuisine launched the Continental Drift food truck and has become a staple in the food truck network.
Breathing life into the stigma of an ordinary, healthy diet with its food truck called the Continental Drift, Pangea Cuisine traveling all over Eastern Massachusetts. The food truck offers an eclectic menu of locally sourced foods like the grass-fed burger, the mammoth burger - a juicy burger with slices of applewood smoked bacon and two slices of American cheese, layered with lettuce, tomato on a bulky roll or lettuce wrap - the pulled pork sliders - tenderized and flavorful 4oz sliders filled to the brim with slow-cooked pork on a roll or gluten-free bun - and the bacon wrapped carrots, Pangea Cuisine offers a hearty menu of different dishes. A mammoth burger was a crowd favorite at the Food Truck Throwdown.
---
Big T's Jerky House and BBQ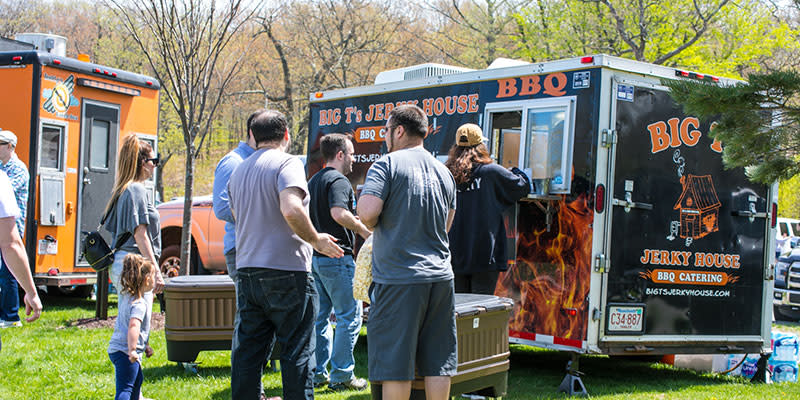 Big T's Jerky House and BBQ pours 25 years of catering and bbq experience into every dish. Claiming to be the "backyard party experts" it is hard to overlook this food truck at the Food Truck Throwdown. Using the best cuts of meat and house-made mop sauces and dry rubs, the flavors at Big T's Jerky House and BBQ is close to that of its Southern inspiration. The jerky, made from black Angus steak, is infused with freshly made marinades and smoky flavors, keeping the jerky tender and original. But while the jerky is one of Big T's signature menu options, it was the BBQ Sundae that was a favorite at the Food Truck Throwdown.
The BBQ Sundae - not to be confused by an ice cream sundae with bbq sauce - is a bowl with dirty rice and a selection of pulled pork and coleslaw, Sam Adams BBQ chicken and cheddar cheese, Texas brisket topped with Demi Glaze and crispy onions or cajun sausage topped with creamy mustard and smoked gouda. This hearty dish was a crowd-pleaser and was quickly listed as a 'sold-out' menu item while menu offerings like the mac and cheese and the award-winning pulled pork topped with coleslaw remained the dish of choice among the attendees.
---
The Dogfather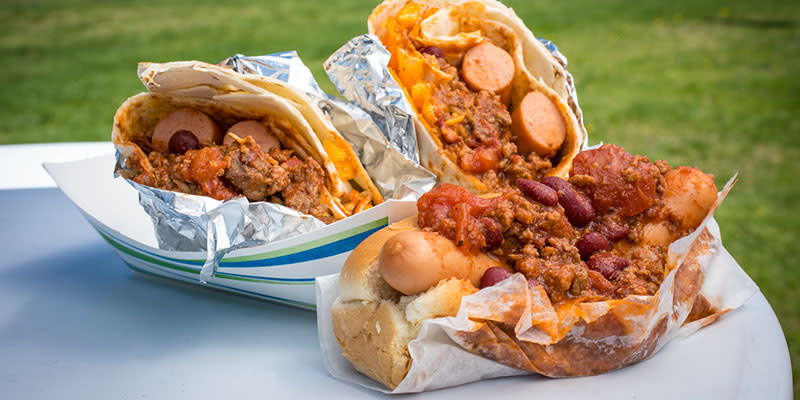 The Dogfather claims "it all started with a bowl of chili" and evolved into the chili hot dog classic, Worcester has grown to love. This Worcester original offers up a variation of hot dogs including the iconic chili dog - a hot dog smothered in the Dogfather's favorite topping: chili. Although the Dogfather is one of Worcester's oldest food trucks, it remains a local favorite and continues to change its menu to add new, creative hot dog toppings.
The biggest menu option of all is the Dogfather's food challenge: The Cement Overload. This specialty challenge consists of three hot dogs, two slices of cheese, 2 spoonfuls of the Dogfather's famous chili, ten slices of pepperoni, sweet peppers, diced onions and mustard, all sandwiched between two flattened and grilled hot dog buns. If you're not up to the challenge, the Frito pie hot dog - a hot dog topped with crumbled Fritos corn chips - is a good second choice.
---
Food Truck Row
Want to visit one of these local food trucks? Monday through Saturday from 11 a.m. to 2 p.m. visitors and residents can stop by Food Truck Row - where six or seven food trucks gather at the Highland Street municipal lot, located on the corner of Highland St. and Lancaster St.