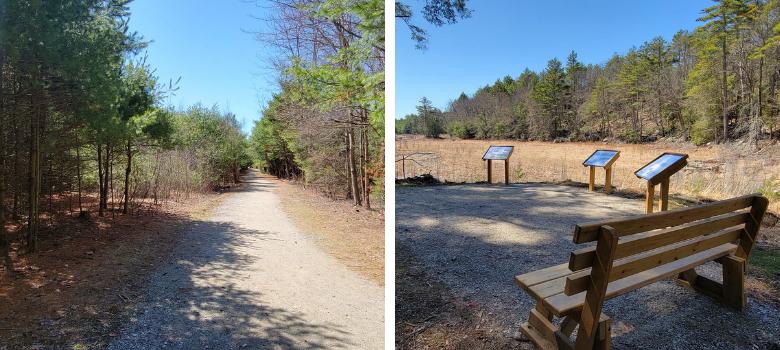 Come One, Come All
Bring the whole family (or take a solo stroll, if that's more your speed). The 880-acre Leadmine Mountain Conservation Area, managed by the Sturbridge Trails Committee, is open to the public for all kinds of passive recreation—like hiking, mountain biking, cross-country skiing, horseback riding, wildlife viewing, hunting and fishing. Time to choose your own adventure!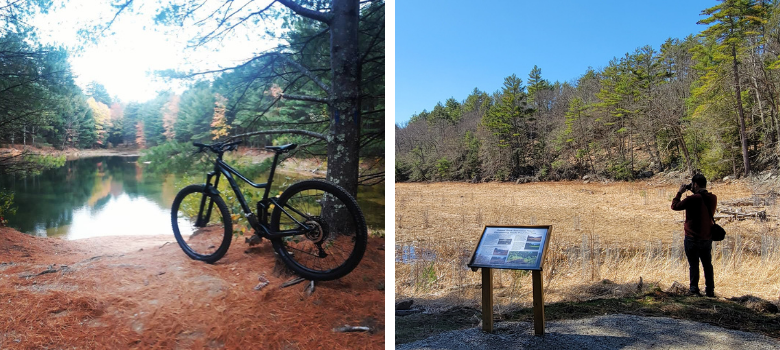 Upon Arrival
Three Parking lots serve the Leadmine Mountain property, so your arrival by car is seamless: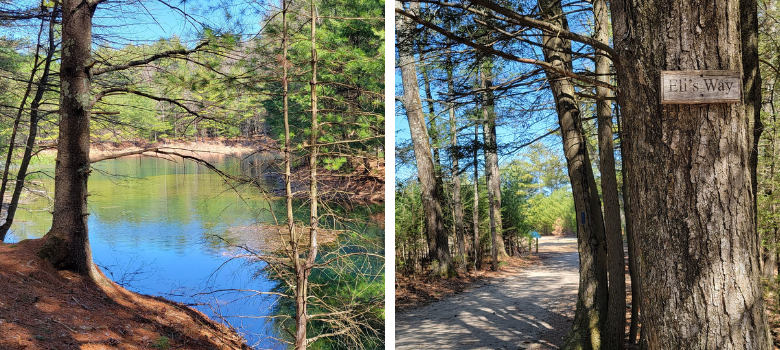 Trail Etiquette
This Sturbridge oasis is a perfect place to enjoy the natural awe of Central Mass., and we'd all like to keep it that way! Trail etiquette and trek policies are simple and straightforward: Tread lightly, remove any waste (both human and canine) and enjoy your visit. Take photos as you wish and be sure to breathe in the beauty. 
General guidelines while enjoying the Trails: 
No motorized vehicles

Fires not permitted

Hunting & trapping as posted and allowed under State law

Swimming only allowed in noted recreational areas

Pets must be under control and on a 6 foot leash at all times

Obey all signage

Sites open from dawn to dusk

Leave all plants, flowers, wildlife, rocks in place

Respect peace & quiet for all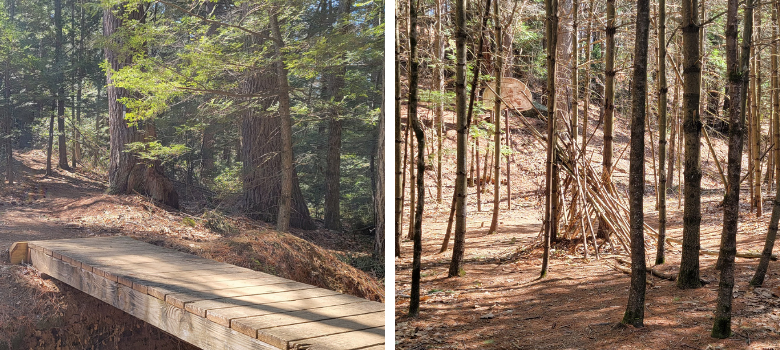 ---
Trail Recommendations
The Arbutus Park Trail is a great route for your first visit, if you're parking at the main entrance or if you're combing your visit with a trip to Old Sturbridge Village. We saw families, joggers, bike riders, strollers and lots of pups during our loop. There is some slight elevation on this 1.62 mile loop, but overall the path is wide and easy. There are occasional benches to rest along the route, as well as bridges over peacefully flowing streams. Visitors to this side of the Leadmile Trails will enjoy the teal blue pond views against a backdrop of green pines, which make this destination particularly photo-worthy.
Starting on the Heins Farm Conservation Area, Leadmine Mountain Trail is 1.9 miles and is marked in orange on the greater Sturbridge Trails map. This two-mile trek trail travels north / south through the Leadmine Mountain property, linking several trails on this property and the Heins Farm trails, via the Pine Lands trail. From the extreme northern end of the trail, the path leads south through oak and pine forests with an understory of mountain laurel. 
At .4 miles, the north leg of the Pineland Trail enters on the right. Continuing southward, the trail passes through oak and hemlock forest with little change in elevation. At .9 miles, the south leg of the Pineland Trail enters on the right. At 1.0 miles, the Cow Stile Trail enters on the left. The trail crosses an unnamed brook, climbing gently to the intersection with the Link at 1.5 miles. The trail crosses a small brook and begins to rise moderately to the gas pipeline ROW. Crossing the pipeline, the trail continues to climb at a moderate grade passing over the northern peak of Leadmine Mountain, then dropping to the intersection with the 7 Ridges Trail at completion.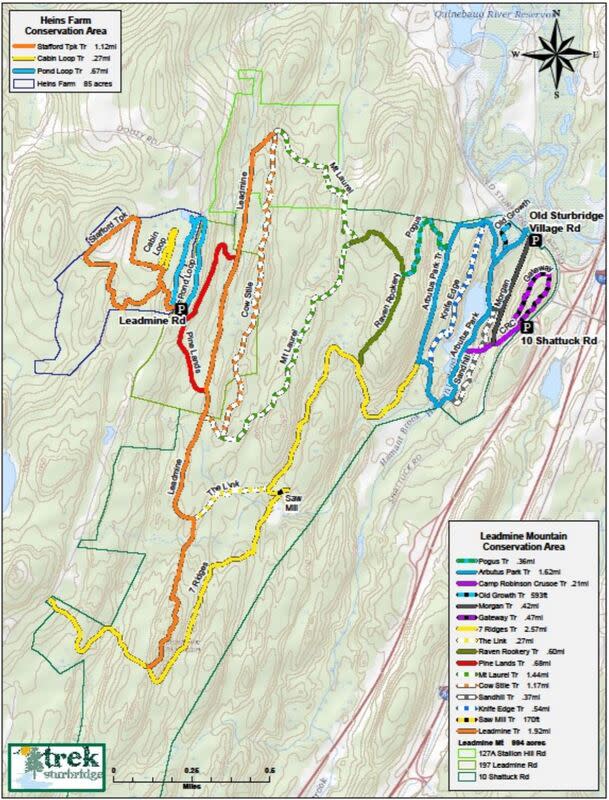 For those more experienced hikers, the 7 Ridges Trail is a 2.57-mile trek sure to challenge you, primarily because you'll either need to back-track or combine with other trails to make a loop back to where you started. Be prepared for elevation and trails that require sure-footing.
There's no better way to ring in the summertime than with a moment of pause. Bring the kiddos, walk the dog or simply spend an afternoon solo. Clear your mind of stress at the Leadmine Mountain Trail and fill it with a fresh sense of wonder.