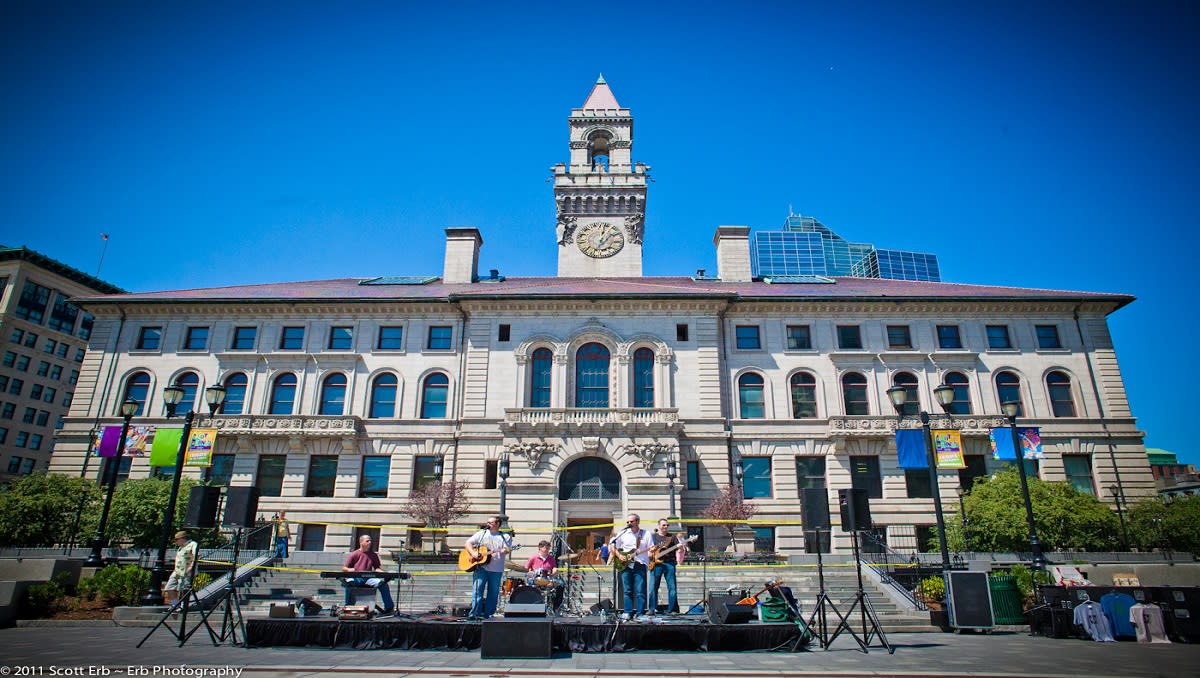 Check out the line-up for the Out to Lunch Concert Series:
Blue Light Bandits
Thursday, June 22
Kicking off the first week is Blue Light Bandits, a four-piece groove band from New England. BLB was awarded "Best Up & Coming Act" at the 2016 Worcester Music Awards and has performed as opening support for artists including KC and the Sunshine Band, Badfish, New Politics, and The 5th Dimension.  Intermission Act: Worcester Music Academy's Girls Acapella group
Fergus
Thursday, June 29
No neart go cur le chelie, meaning "there's strength in unity," celebrates the genre of today's performers. Fergus is a contemporary Irish group from Worcester. The band performs the songs of Irish songwriters and arrangers of the last 60 years, original songs and arrangements, and traditional Irish Music. The sound of Fergus blends elements of American music and world music with Irish music in an acoustic setting. Intermission: McInerney Irish Step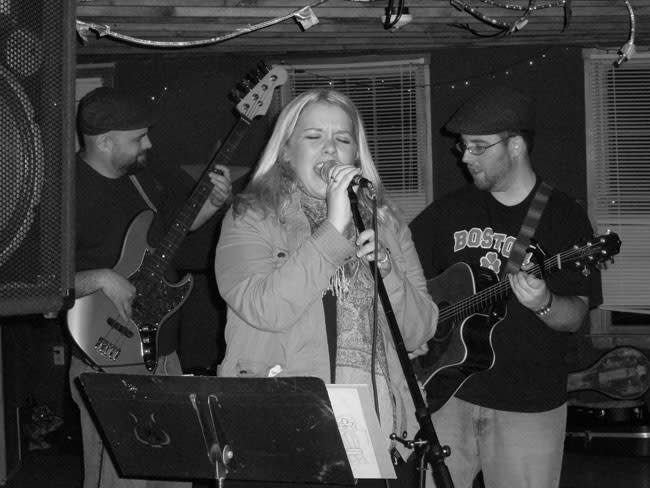 Ball in the House
Thursday, July 6 
Happy Unbirthday, Worcester! In the past month, both Worcester and the United States have celebrated their declaration as a country and a town. Helping us with the party is Ball in the House (R&BSoulPop A Cappella Music Thatll Move Ya). Following in the path of classic harmony groups like Boyz II Men, The Temptations, and Take 6, while incorporating the pop and neo-soul influence of artists like Bruno Mars, Daft Punk, and Pharrell Williams, five member veteran vocal band, Ball in the House, will move audiences with their music.
Worcester Jazz Collective
Thursday, July 13 
The Worcester Jazz Collective is an award winning group that explores jazz and its many forms. The WJC is built around the core of baritone guitarist Tom Lubelczyk, bassist Geoff Oehling, and drummer Tom Sperars, with a range of guest musicians at each performance. The group's repertoire spans the genre of jazz from traditional to contemporary along with a mix of popular and classical music. The WJC was formed in 2014 and since its creation, it has been a showcase for the many wonderful musicians that make up the Worcester jazz scene.
Testify
Thursday, July 20 
TESTIFY is beyond comparison. Individually and collectively, the band known as TESTIFY provides ability and dedication offered by only the best of players. The wide range of influences and musical background culminating on one stage gives TESTIFY a unique sound that every music lover wants to hear. "Powerful" best describes the band that you are about to meet. Music that makes you want to dance!
Whitney Doucet and the Moonshine Band
Thursday, July 27 
Whitney Doucet and Moonshine Band perform their country-rock hits and show why they're on the top 40 list of country and pop music in Central Mass! Habitat for Humanity will host their Operation Playground program on the Common.
The Alchemystics
Thursday, August 3 
Fueled by their passion to explore beyond the edges of traditional musical boundaries and their diverse ethnic and musical backgrounds, the Alchemystics blend reggae, politically infused hip-hop, gritty soul, hard-driving rock, and pulsing Jamaican, Cuban and Trinidadian rhythms into an utterly unique and distinctively original new sound. The result is modern-day roots music with global appeal - an alchemy of ancient musical traditions; intricate, intelligent wordplay; elementally raw soul; irresistible hooks; deep, driving rhythms; and old-school vocal harmonies - fired by the Alchemystic's unique blend of intensity, passion, and sheer artistic chemistry into a powerful, contemporary, and unmistakable sound.
Women of Worcester
Thursday, August 10
After years of side conversations with fellow women musicians about the importance of collaborating, Cara Brindisi gathered 13 area performers for a collective concert that was held in April of 2016. Though all of the women were accustomed to playing solo or lead in their own groups, the concert became a defining moment in the Worcester music scene; a night of teamwork and new beginnings. The public responded with a call for more musicians, more events, and more collaboration.  Amanda Cote and Sarah French soon joined Cara in the efforts to establish a local production company-based on the idea that women of all ages and backgrounds have a place to share music, art, and leadership for the betterment of our community in Worcester County.  In one-year time, Women of Worcester Productions has held 3 public events, all with the intention of inclusivity, creativity, and giving back to various organizations such as Abby's House and Worcester County Food Bank. There are a multitude of events on the horizon, ranging from small workshops to larger formal events. The original April 2016 concert has now been dedicated as an annual event to be held each April with a rotation of musicians and artists from around Worcester County.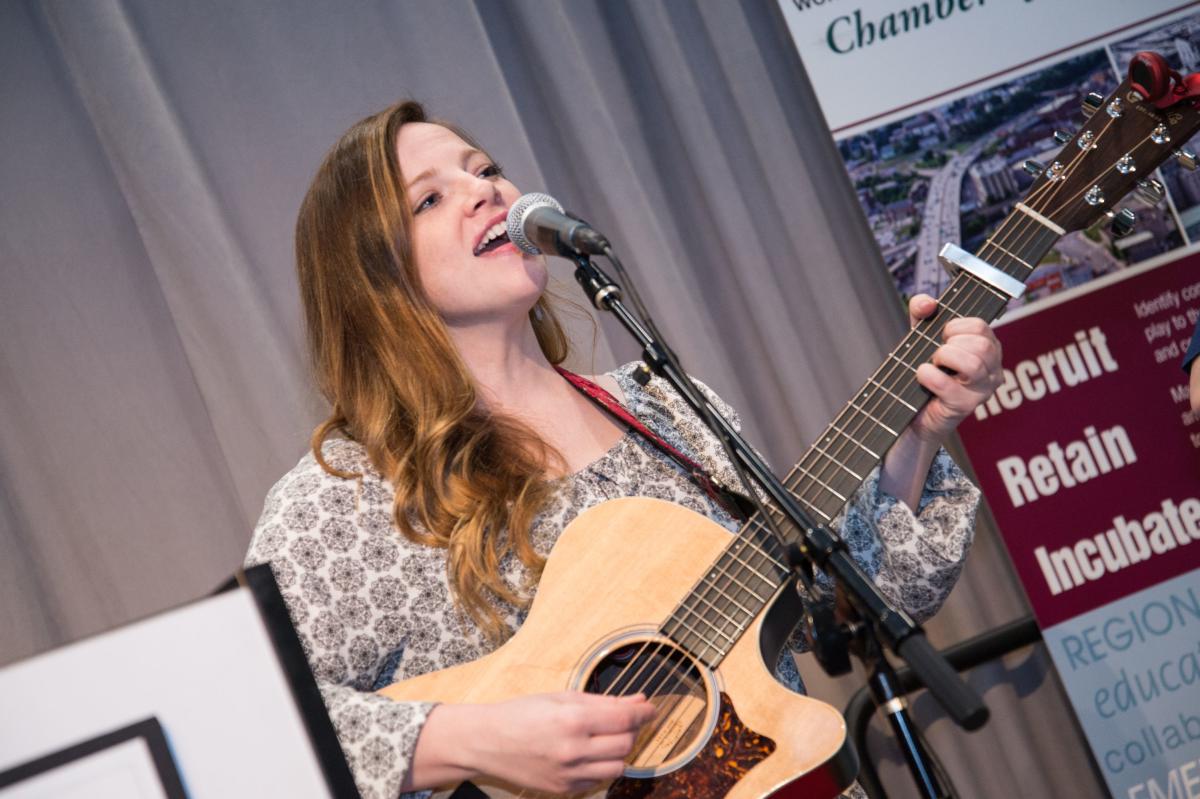 Eduardo Ortiz -- Latin Jazz
Thursday, August 17 
Eduardo Ortiz band leader, music director, bass player, composer. He is a highly talented Musician with extensive experience in entertaining live audiences in nightclubs, concert halls, musical theater, and dance parties. He embraces a deep background playing Jazz and Latin music for live audiences and exclusively for recording and production studios. 
Bringin' It Old School
Thursday, August 24
Boombox: the 70s and 80s Experience. It's a band. It's a show. Take a ride through the defining sounds of two of the most influential, and hilarious, decades in rock music. From AM Gold, classic rock and disco to synth pop, big hair rock and dance, Boombox takes you back.