Green Hill Golf Course
Difficulty rating: 7/10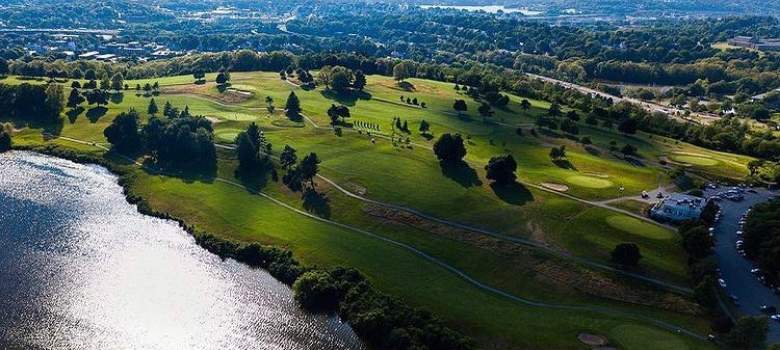 As one of the region's "best kept golf secrets," Green Hill Golf Course embodies the beauty of its views, plus uniquely challenging play for the pros. Located right in the heart of Worcester, Green Hill Golf Course is a scenic, beautiful, but challenging 18-hole golf course. The front nine holes overlook Green Hill Pond, a great sight on an early morning weekend. (Don't worry, though—it's the only water on the course, and it runs alongside the ninth fairway.) 
The back nine will take you up and down all the hills Green Hill has to offer, but standing on the sixteenth green will give you one amazing view of Worcester County. The course presents its challenges with fast, well-kept greens and very few flat spots throughout. Players will find themselves hitting shots into both elevated and downhill greens. If you're having a tough day driving the golf ball, you're actually in luck in regard to locating your ball, as there are several open fairways on the course. 
The Green Hill driving range is a brand new addition that Green Hill boasts, open bright and early each day at 7 a.m. Two practice greens are also available to get in the swing of things, one right next to the clubhouse and the other by the range. And once you've completed your round, you can have a few drinks on the wrap-around outdoor patio overlooking scenic Green Hill Pond, or indoors if it's a chilly night. 
Where to Stay Nearby: Homewood Suites by Hilton
For those playing at Green Hill from out of town (or just in it for a staycation) you can spend your night over at Homewood Suites in the hub of Worcester—for a modern take on Central Mass.
Cyprian Keyes Golf Club
Difficulty rating: 10/10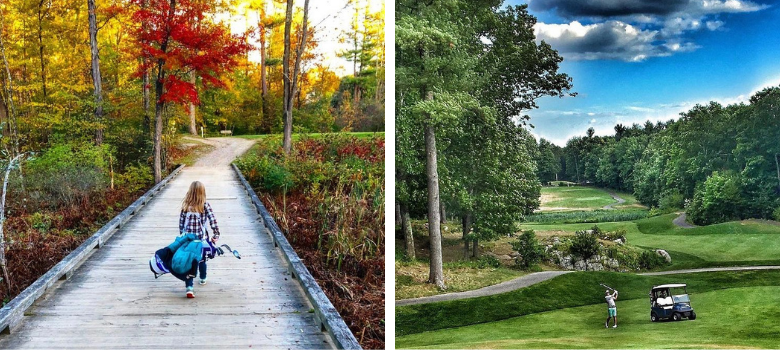 Sourced by @seven_hills_golf | Cyprian Keyes | Left: photo by @frytime20golf & Right: photo by @chris.15.hatem
Carved out of the New England countryside, Cyprian Keyes boasts both a 9-hole par 3 course and an 18-hole championship course—and some of the best views in the area. The 18-hole Championship Golf Course is one of the most challenging courses in Central Mass. This course is always in good shape with nicely cut fairways and greens. What makes it so difficult is that most holes on the course have trees that line both sides of each hole, so errant tee shots will make for a long day. There are few holes that actually require a driver, so many players will be hitting long irons and woods off each tee. 
While this course guards itself with its tree lined fairways, there are only a few holes that have water hazards, one of which is a massive pond on 14. To make things even more fun, holes five through eight will have players hitting both uphill and downhill shots. Throughout, though, there are certainly some scorable holes, like the drivable par 4: the 17th hole (288 from whites).
The par 3 course is the only one in the area and is a fun time for all abilities, whether you are new to the game and still want the experience of the real course, or if you're an experienced player looking to sharpen your wedge game. This course is always manicured in a similar manner to its brother championship course, as holes range from 85 - 165 yards. Good for all ages.
Cyprian Keyes also offers a really solid practice facility, which includes a driving range, practice sand bunkers and a big two-tiered putting green on the backside of the club house. They have a full service restaurant, called Cyprian's, with a nice patio overlooking the 18th green and first tee box. 
Where to Stay Nearby: The Residence Inn
The Residence Inn Worcester specializes in making you feel right at home, with several room sizes to fit your unique needs.  
Kettlebrook Golf Course
Difficulty rating: 7/10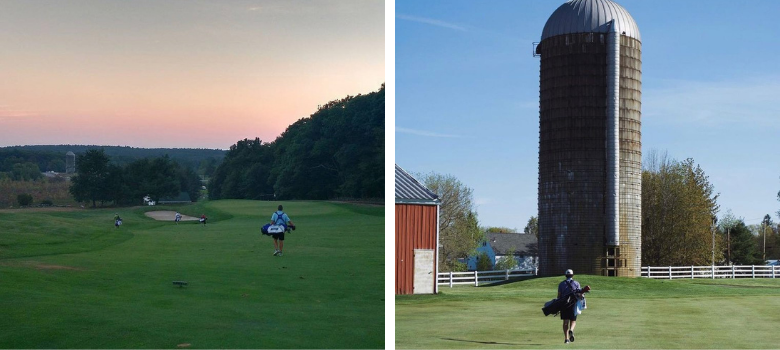 Sourced by @seven_hills_golf | Kettlebrook Golf Course | Left: photo by @brandonpparker & Right: photo by @bennywescott
Located in the backwoods of Paxton, Kettle Brook Golf Course is one of the best courses in central mass. Although it's a little off the beaten path, it sure is worth the drive. This course is known for its perfectly manicured fairways and fast greens. 
During your round, you'll experience a balance of scoring holes, as well as very challenging ones. For example, the 13th hole is a driveable par 4 with a picturesque silo on the left side of the fairway. On the flip side, as you get into your round on the second hole, it's an uphill dogleg left par 5 that reads 551 yards from the silver tees. 
There is minimal water on the course, but when it comes into play on the par 5 seventh hole, you'll have to decide if you're brave enough to take it on. The course does offer a level of forgiveness, though, since some of the fairways run side by side, so you should be able to find your ball most of the time, depending on the hole. On a nice summer morning or evening this course shows us just how beautiful the landscapes of Central Mass. can be, and allows for great photos to be taken.
The only practice area they have is a large putting green right next to the snack shack and first tee box—as well as no driving range. "The 19th hole," Kettle Brook Tavern, features a large outdoor covered porch overlooking the 18th green, so you can watch the action on the 18th as you enjoy the spectacular sunsets. They offer adult beverages, appetizers, sandwiches and salads.
Where to Stay Nearby: AC Marriott
The team running the AC Marriott in Worcester knows it's all in the details, as a spot built by "a visionary's spirit and a designer's eye."
 
Wachusett Country Club
Difficulty rating: 8/10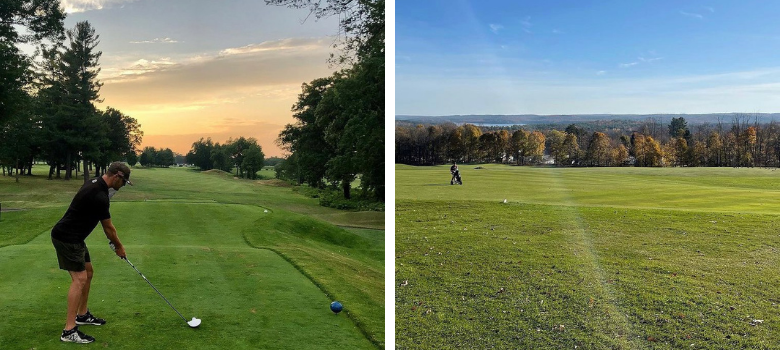 Sourced by @seven_hills_golf | Wachusett Country Club | Left: photo by @nicholasjohn7 & Right: photo by @sbrogs11
Wachusett Country Club is arguably the most fun yet challenging course in Central Mass. This course, like Kettlebrook (under the same owners), offers perfectly manicured fairways and greens. You'll also catch fantastic views of the Wachusett Mountain Reservoir while playing this course. 
Before starting your round, though, you should know that the front nine and the back nine feel and play very differently. The front nine is more wide open with definite scoring holes, so make sure you take advantage of this! With two good shots on the par 5 second hole, most players should walk off with an easy birdie. Throughout the front, you're sure to get away with errant tee shots. 
The back nine, on the other hand, really challenges players with its tight fairways, elevated greens and downhill shots. You'll  have to make sure you're taking the right club to account for all the different slopes. Overall, when looking at the course, players should be able to capitalize on all the par 5 holes.
Wachusett Country Club also has a great practice facility: a full driving range, one designated putting-only green and one two-tired chipping/putting green. A new addition to Wachusett is the "Swing 365" indoor hitting simulators. They offer three hitting bays to rent, at which players can drink and eat while playing their favorite courses "around the world." Ross Tavern, which offers indoor and outdoor seating, overlooks the first tee box and the 18th green, with a full bar and lunch/dinner menu. 
Where to Stay Nearby: Hilton Garden Inn
Business center, heated pool, and fitness options—oh my. The Hilton Garden Inn in Downtown Worcester offers all you could want for a successful stay in Central Mass.
Highfields Golf & Country Club
Difficulty rating: 9/10
Sourced by @seven_hills_golf | Highfields Golf & Country Club | Left: Google Photos & Right: photo by @steven_t_olson
Highfields Golf & Country Club is one of the only courses in Central Mass. that gives players a southern golf course vibe. Upon arrival at the clubhouse, you'll immediately get the feel of a private country club. The course is well-manicured with fast fairways, greens and long rough. With an abundance of water hazards and bunkers throughout the course, a player must be strategic and selective with each shot. 
The defense of the course is their tricky fast greens. On a nice summer day, these are the fastest greens of any public course in Central Mass. There are many risk reward holes on the course that give players an opportunity to score, too: the 12th hole is a 311 yard par 4 that will allow players to go for the green with a nice drive, and the seventeenth is a 105 yard par 3, which calls for an easy wedge shot. On the flip side, the ninth hole is a 550 uphill par 5 that requires three excellent shots if you want a look at birdie. Overall, Highfields is a delight to play and offers players a range of emotions while at play.
Highfields practice facilities are pretty solid, too. They have a  driving range and putting/chipping green right outside the pro shop. Pro tip: You cannot hit a driver at the practice range. As for fuel, J&J Tavern, bar and patio overlooks the ninth green and offers a full dinner menu and bar. 
Where to Stay Nearby: Beechwood Hotel
The only AAA Four Diamond Hotel in Central Mass., Beechwood Hotel is the place to be for boutique luxury.
Pakachoag Golf Course and Auburn Golf Learning Center
Difficulty rating: 4/10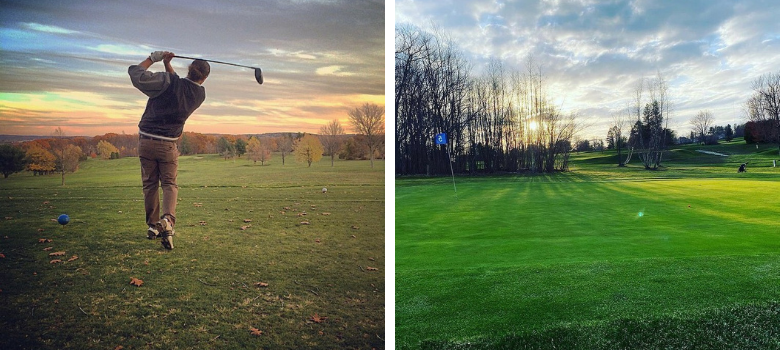 Sourced by @seven_hills_golf | Pakachoag Golf Course & Auburn Golf Learning Center | Left: photo by @tommy_f_reidy & Right: photo by @chrisewings999
An affordably quaint course, Pakachoag Golf Course offers a 9-hole, no-frills golf experience with solid conditions. Not only are you in for a carefree fun round, but you will also learn a bit of history as Pakachoag is the site of Dr. Robert Goddard's launch of the first successful liquid-fueled rocket on March 16, 1926, memorialized by a specially engraved stone on the ninth hole. 
Pakachoag is known for its wide open fairways and minimal trouble on the course. You will always be able to find your ball to hit your next shot. Although not an overly glamorous course, if you're looking for an affordable round of golf and to have a good time out there—this is the spot to be! 
Practice facilities include a small putting green next to the clubhouse. There are no formal dining options, but beverages and snacks are available in the clubhouse. 
No matter how you fare on the fairway, if you're in the area, the Auburn Driving Range is the place for practice. Located five minutes from the highway, Auburn driving range is a great place to hit balls, from 9 a.m. through 9 p.m. in the summer (weather permitting).
Where to Stay Nearby: Holiday Inn Express & Suites (Auburn)
Whether you're working hard or hardly working, the Holiday Inn Express & Suites in Auburn is the ideal locale for those who mean business (or pleasure).
---
Acknowledgements
Big thanks to local contributing editors Ben Radzicki (Holden, Mass.) and Mike McAuliffe (Auburn, Mass.), who have been playing golf in Central Mass. all of their lives. With this passion for golf, they created a Central Mass. focused golf brand known as Seven Hills Golf. Check their IG account @seven_hills_golf for more photos & videos of the Central Mass. golf scene.