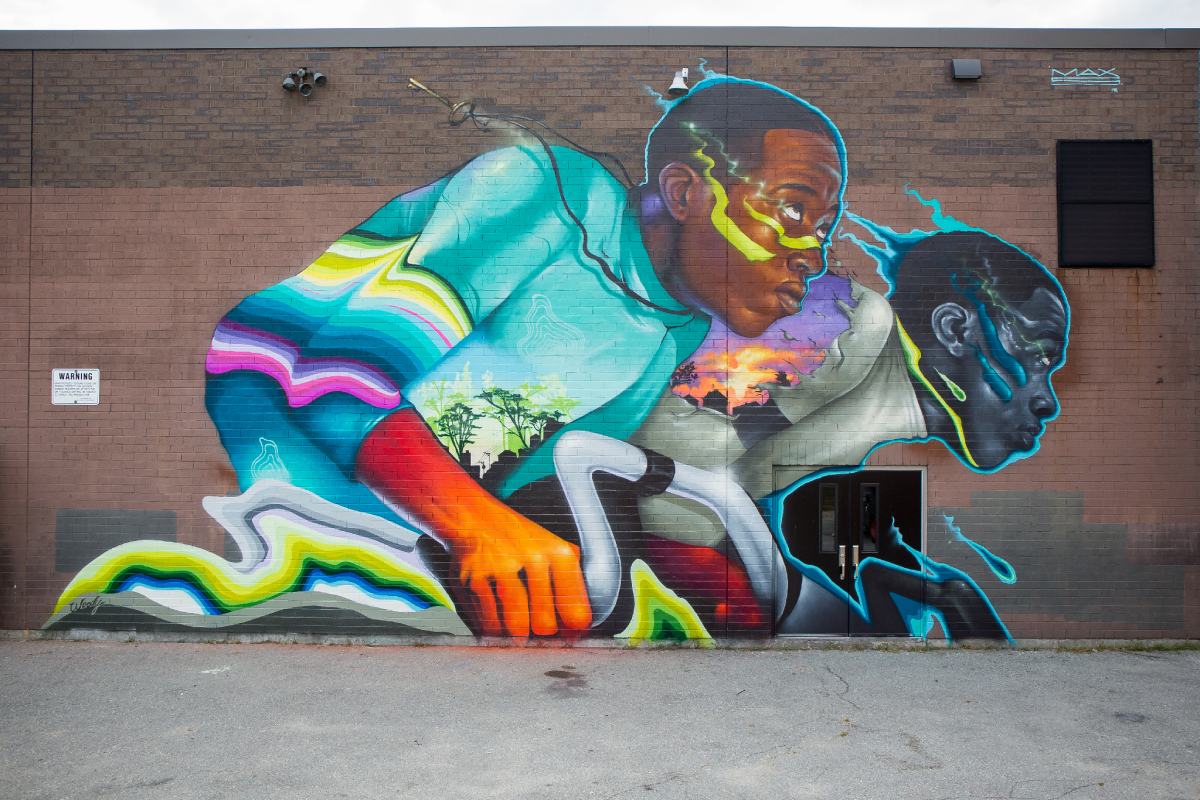 Mural by Max Sansing / Photo by Ian Lundie

Taylor had to fight prejudice just to get on the starting line. In the Jim Crow era of strict racial segregation, he faced closed doors and open hostility with remarkable dignity.
On behalf of Discover Central MA, Jennifer Ingham sat down with Lynne Tolman, president of the Major Taylor Association, to learn more about the life and legacy of Major Taylor. In this interview, you'll learn more about Taylor's impact and why visible representation of historical Black achievement is critical to the Worcester community and beyond.
JI: There is a POW! WOW! Worcester mural of Major Taylor that is celebrated in the city. How does this help children and adults learn more about Major Taylor's legacy?
LT: The POW! WOW! Worcester mural painted by by Max Sansing in 2018 on the outside of Chandler Elementary School is a really striking portrayal of Major Taylor and a fantastic learning tool. The image invites a lot of questions, starting with "who is this?" The bicycle, of course, is the big clue, but even for viewers who might not connect the artwork with "the Worcester whirlwind," as the newspapers called the 1899 world champion cyclist, the forward motion and the facial expressions -- that determination, those eyes on the prize -- bring up questions about the places this young person is going and what it takes to get there.
JI: What is one interesting detail embedded in the Major Taylor mural that those learning about him would appreciate?
LT: The artist told me that the dual images, two cyclists in the picture, one in greyscale and one in color, are a reference to what the sociologist W.E.B. Du Bois in 1897 called "double consciousness," the idea of African American identity being divided, or having a foot in two worlds. A more recent term that gets at this is "code switching." Major Taylor, coming up in the Jim Crow era of strict racial segregation, certainly experienced that "two-ness" as he propelled himself through barriers into the all-white top level of his sport.
Another interesting detail in this mural is the key flying on a string around the bicycle rider's neck. The artist talked about everybody seeing themselves as superheroes and having unlocked potential. That's why art is such a good teacher: The interpretation comes from the beholder.
JI: Why is the visible representation of historical Black achievement critical to the Worcester community?
LT: As the saying goes, you can't be what you can't see. The people you see on pedestals, in the portraits hanging, the people with streets or buildings named after them -- if none of them looks like you, you internalize that message. You're being told not only who did achieve success, but who has potential, who matters.   
JI: Recently, a Black Lives Matter mural was painted on the streets of Major Taylor and Martin Luther King Boulevard in Worcester. How does that reflect Major Taylor's views on racial justice?
LT: It's really fitting to have the Black Lives Matter mural on Major Taylor Boulevard, because Major Taylor, in his quest to become "The Fastest Bicycle Rider in the World" -- that's the title of his autobiography -- overcame what he called "that dreadful monster prejudice." He wrote in the book's foreword about challenging the status quo. He called for "simple justice, equal rights, and a square deal" for Black people not only in sports "but in every honorable game of human endeavor." The Black Lives Matter message today is an urgent echo of the message delivered 100 years ago by the street's namesake.

Major Taylor was careful and deliberate about using his platform as a world-famous athlete to advocate for racial justice. Sports figures often get blowback for doing that. Worcester's mural depicts some who did: Tommie Smith and John Carlos giving the black power salute at the 1968 Olympics (in the letter V, by Tiger Tattz), and Colin Kaepernick with a raised fist holding the Bill of Rights (in the letter R, by Ferdinand Nazario). I wonder if Major Taylor would have foreseen his own struggles mirrored in these ways throughout the century after his lifetime. 
JI: Tell us more about Major Taylor's legacy and what he endured in the midst of a pre-civil rights era.
LT: Major Taylor faced closed doors and open hostility with remarkable dignity. The racism during his professional career (1896-1910) ran the gamut. Sometimes on the road he couldn't get a hotel room or a meal. He was barred from certain tracks and certain competitions entirely. When he bought a house in Worcester, the white neighbors were alarmed and offered to buy it back for almost double what he paid, but he refused. There were bureaucratic maneuvers that threatened his eligibility; he was essentially manipulated into leaving the main cycling league for a rebel organization and then briefly frozen out when the new league drew the color line. The press was largely on his side throughout his career, but they still ran racist cartoons depicting him with demeaning stereotypes. He received a death threat while training in Savannah, Georgia, and left town in a hurry. In Taunton, Mass., an opponent hauled him off his bike and choked him into unconsciousness; the culprit was fined $50. Through all of this, Major Taylor never lost his popularity, or his nerve.
JI: How do you view Major Taylor's legacy?
LT: I view Major Taylor's legacy in three parts. First, he helped pave the way for people who came after him to break barriers. He shattered the color line in his sport half a century before Jackie Robinson did it in Major League Baseball.
Second, he serves as inspiration and role model for dozens of Major Taylor cycling clubs and youth programs around the country that promote diversity in sports and in other arenas, as well as for equity advocates tackling issues such as "cycling while black" (how cycling is policed in different communities) and transportation justice (for example, which neighborhoods get bike lanes and how bike-friendly streets are planned and decided). The focus on equity is a welcome evolution of Major Taylor's legacy.
Third is what we call the "living legacy," right here in Worcester, the George Street Bike Challenge. It's an uphill time trial where we see cyclists of all types, all ages, conquer the very steep hill that Major Taylor vanquished as a teenager. That's a gritty, take-your-breath-away tribute to a life that mattered.
The Major Taylor Association offers free downloadable resources, educational guides and other learning opportunities. To access more information about their work, visit their website.
If you liked this article...