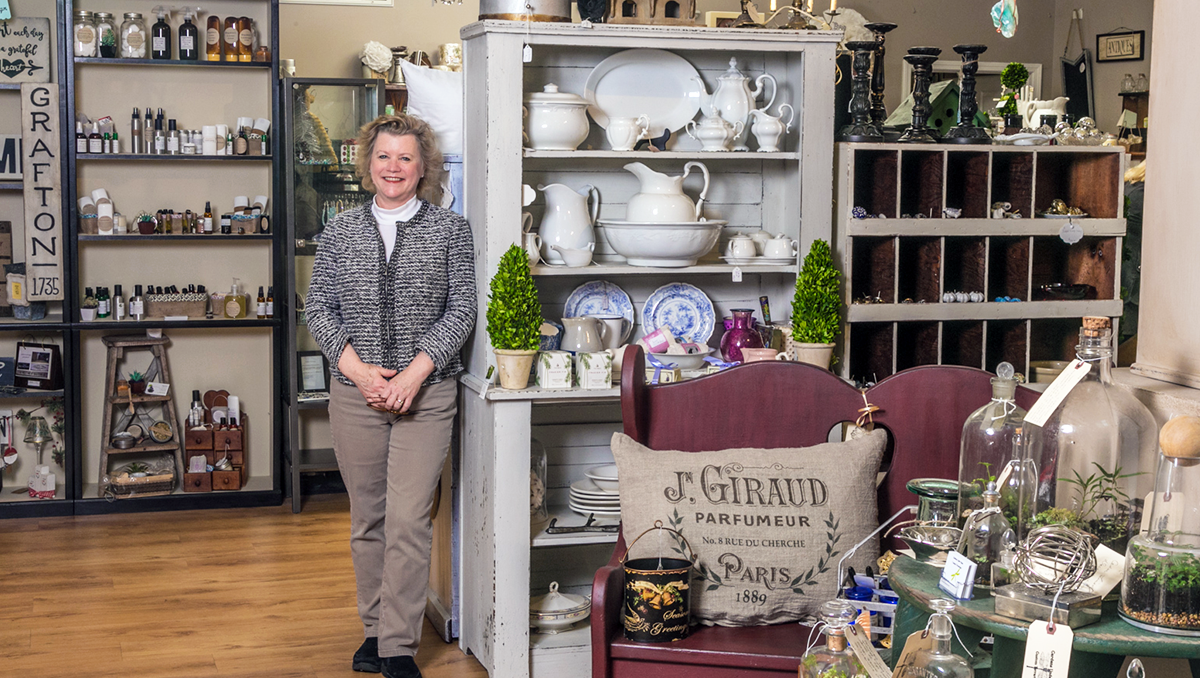 Handmade & Local 
In the search for that truly unique gift, look to locally crafted wares. From hand thrown pottery, to handmade leather designer bags and a curated boutique marketplace - there's no shortage of gift ideas right here in Central Massachusetts.
Crompton Collective in Worcester is a curated boutique marketplace located in a historic Worcester mill building.
C.A.S. Handmade in Hudson uses high quality leather to handcraft trendy and beautiful bags.
Signature Finishes in Grafton is a store with a full inventory of furniture, home decor and speciality paints.
Magic Fingers in Worcester offers a variety of local art like paintings, jewelry, cards, and home decor.
Prints and the Potter in Worcester sells custom framing, fine art prints and American-made craft work.
Gifted Hands in Spencer offers handcrafted home decor creations by local crafters.
Birch Alley in Worcester is located next to Crompton Collective and has a collection of eclectic items for the home as well as gifts and garden accessories.

Made in Central Mass. leather handbags from C.A.S. handmade
---

Ed Hyder's Marketplace, specializing in high quality food & wine for over three decades
For the Foodie
Family owned and operated in Worcester for over three decades, Ed Hyder's Mediterranean Marketplace is a Central Mass landmark. Specializing in quality imported food and wine, you can easily fill up a gourmet gift basket that is sure to please any foodie.
Pecorino, a cute european shop owned by a German expat, is a cultured foodie's paradise. Travel over to the sleepy town of Grafton and grab the Italian Tote filled with vino, artisinal pasta, handmade marinara, a rustic wedge of Parmigiano Reggiano and a decorative ornament. 
Your foodie friend will appreciate a gift set of Trappist jams made by the Monks right here in Central Massachusetts. St. Joseph Abbey Gift Shop in Spencer sells gift sets of their Trappist Jam in flavors like Damsum Plum, Boysenberry, and Quince. Not only are they delicious, they contain no artificial colorings, flavorings or preservatives or high fructose corn syrup.
Order a delicious, locally-sourced cheese board from CharCUTErie Woo and choose from a variety of meats, cheeses, fruits and veggies.
Customize your own cookies and put them into a sweet gift box from Wicked Good Treats in Boylston. The photo cookies are a great gift from the kids or for the kids, while the variety cookie gift boxes are a good fit for the office.
Hebert's Candy Mansion in Shrewsbury is a mansion that's full of candy and chocolate gifts for the holidays! Premium chocolates and specialty gift bags from a local chocolatier makes a great gift for just about anyone!
If you are looking for a gift for a farm-to-table lover, check out the Whittier Farms Milk Store in Sutton. They offer their own beef as well as homemade soups, meals, baked goods and jams. You can also check out the Country Store at Brookfield Orchards in North Brookfield which always have custom-made gift baskets and fresh pastries in stock for the holidays.
Go all out with a Junk Food Basket from Ladybug Flower Shop in Worcester. A salty and sweet mix of Snickers, Twix, Cheetos, Fritos, Milk Duds, Skittles and more.
---

A winter sleigh ride through Central Massachusetts makes for a one-of-a-kind gift
Specialty
Irish Lovers: Authentic Irish sweaters, caps, hats, and Celtic ties for him; and fine woolen irish sweaters, wraps and scarves for her from Wexford House in West Boylston.
Hobbyists: Airplanes, boats, cars & trucks, drones, FPV racers, helicopters, rock crawlers and more can be found at Turn 4 Hobbies in West Boylston. Know someone who is a science buff? Check out the EcoTarium gift shop for science experiments to try at home, space-themed home décor and kitchenware, gadgets to tinker with, bug collecting kits and bird houses, and plenty of fun gifts for the nature lovers and budding scientists in your life.
Games and Pop Culture: Retro games and comics, vinyl, sports memorabilia or old kitschy toys from That's Entertainment in Worcester. 
Cowboys and Cowgirls: The Saddle Shed in Grafton - it's a horse shop but it's got an impressive collection of boots, clothing and accessories for the cowboy or cowgirl in your life.
History Buffs: Inspired by the living history museum, the Old Sturbridge Village Gift Shop features stoneware, tin items, jams, aprons, and fudge all made at the village; as well as old-fashioned toys, games heirloom variety seeds and an impressive book collection. 
Cigar Aficionados: The full service tobacconists at the Owl Shop in Worcester will help you traverse the large selection of cigars and smoking accessories to find the best tobacco gift.
Gardeners: Nature and garden focused gifts for the avid or aspiring gardener from the New England Botanic Garden at Tower Hill in West Boylston.
Musicians: Union Music in Worcester has gift certificates for music lessons as well as a large collection of new and used musical instruments.
Animal Lovers: The Purple Peacock Gift Shop is an animal lovers delight. You'll find handbags painted with zebras, hand-painted wooden giraffes, peacock bracelets, ladybug earrings, animal themed games, mugs, clothes and oh so much more.  Enjoy the gift shop at Heifer International in Rutland for internationally-made gifts and support worldwide relief efforts. 
The Beer Enthusiast: Hit up Wormtown Brewery in Worcester for a growler of his favorite brew, or go with the award-winning Be Hoppy - an all-around favorite. Be sure to check out the Wormtown swag for a t-shirt or beer glass to match that growler. For something different, purchase a beer making kit or supplies from Deja Brew in Shrewsbury or The Modern Homebrew Emporium in West Boylston. Looking for even more selection, then hop over to Rapscallion Brewery in Sturbridge to purchase cans and growlers of their custom beer! 
The Wine Connoisseur: Head to Canal District Wines, a women and LGBTQ-owned wine shop in Worcester, for a curated selection ranging from red wine to white to sparkling!
---

Seed to Stem boasts botanicals, terrariums, antiquities, and more. 
Funky & Unique 
Lost for gift ideas and looking for something more "outside the box?" Look no further than these clever gift suggestions and unique shops: 
Purchase a gift certificate for an enchanted winter sleigh ride through the woods with Cornerstone Ranch in Princeton. 
Crystals, herbs, fairies, dragons, gargoyles, and metaphysical books are some out of the ordinary finds from Some Enchanted Evening in Spencer.
Celebrating the beauty and perfection of the natural world, Seed to Stem in Worcester boasts unusual botanicals, terrariums, natural objects, curiosities, home accessories, and antiquities.
carrying an array of items from different vendors is spread out over their 3500 square foot space.
Purchase a gift certificate from Escape Games Worcester for that puzzle-lover in your life. 
Keepsake Jewerly Art will take your memorabilia - be it special flowers, animal fur, or ashes -and make it into a custom piece of jewelry for a sentimental gift idea.