What is Geocaching?
If you're new to the concept of geocaching, think of it as a gigantic treasure hunt. Players stash goodies in publicly accessible outdoor locations, then post the GPS coordinates of these prizes on Geocaching.com. When other players find these hidden gems, they post their victory on the site's forums and then put the prize back for others to locate in turn. 
All geocaches are adventures, but if you want a bigger challenge, you can find that too. Puzzle Caches, also known as Mystery Caches, include extra mental challenges like word or math problems. If you're new to caching, make sure and download the app before you begin. Your phone's GPS will be key to helping you find those hidden treasures. You'll also want to bring a pencil or pen, since you'll need to mark your success manually on some caches.
Why Central Massachusetts?
The geocaching community is very active in Central Massachusetts. There are always new caches popping up, and plenty of legacy caches are active across the region. In fact, some caches, like the Central Mass Railroad cache, teach you that history as you play. Here are some top spots you won't want to miss:
Holden
The Micro Madness cache series is one that is not to be missed if you find yourself in Holden! This group of caches is numbered, but you can start anywhere. Try Micro Madness #12: No Sweat if you want a moderate challenge to begin!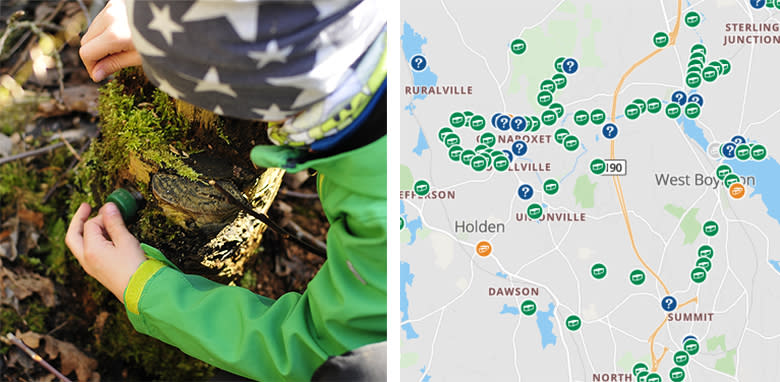 Paxton
Located in Paxton, Massachusetts, Moore State Park is a hidden delight and home to several geocaches of varying levels of difficulty. The whooo whooo cache is one of these that's findable right off of a popular hiking trail. The Road to Enchanta cache is another fun find located in this scenic park.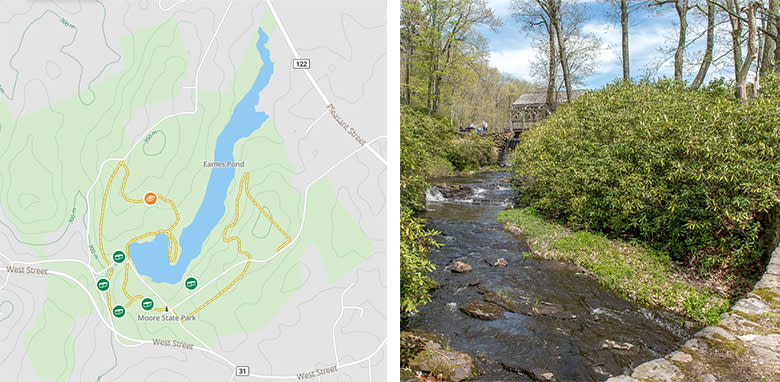 Oxford
Oxford, Massachusetts is famous for being the birthplace of Clara Barton as well as the home of several charming geocaches. The real wealth lies to the west of the town itself around the lovely Buffumville Lake. The park surrounding this waterway is home to a 7.5-mile lake trail and a large handful of geocaches, including the Trail Blazer.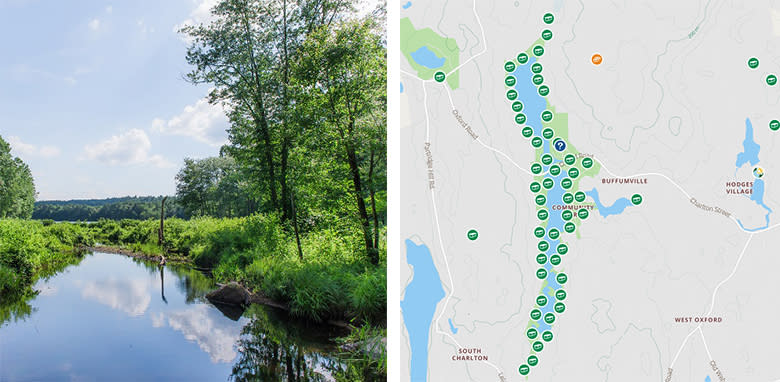 Douglas
If you're an avid hiker, you may already know about the Southern New England Trunkline Trail, or SNETT. This rail trail is one of the longest in Massachusetts, stretching 60 miles, and there are plenty of caches along its length! Look for Pine Stooges as you pass north of Wallum Lake in Douglas State Forest.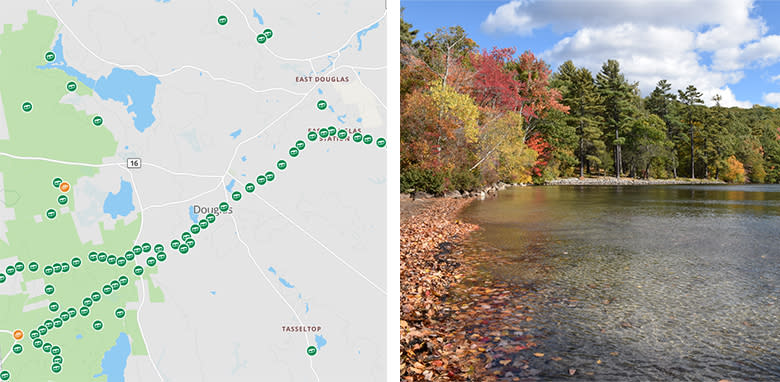 Sturbridge
Some caches are works of art – literally! There is a not-to-be-missed collection of mystery caches in Sturbridge whose placement forms the shape of a smiley face. Whether you're taking a day trip to Sturbridge or staying the weekend at The Publick House Historic Inn, there is plenty to see and do in this beautiful Central MA town.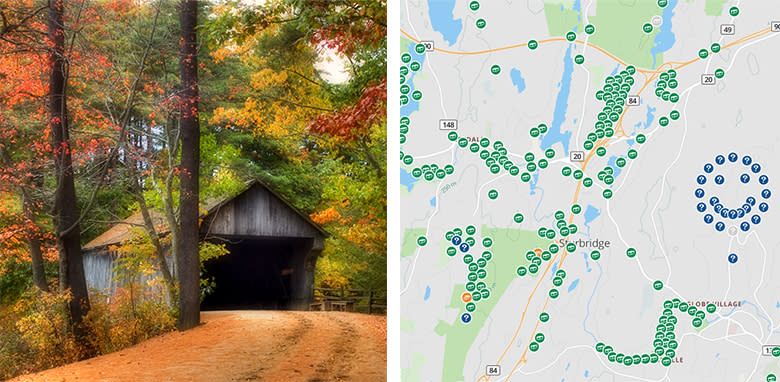 Geocaching in Rural Central Massachusetts
Spencer
Make sure and prepare if you want to hike for your cache! As always, check out the cache's entry on the website or app. This will tell you if there are additional clues about its exact location and how hard it will be to locate. Bring your pencil, your bug spray, and a sturdy pair of boots. If you want to find multiple caches, you could be outside for a while! One good starter cache is The Pond That Time Forgot, which is located in the Spencer State Forest.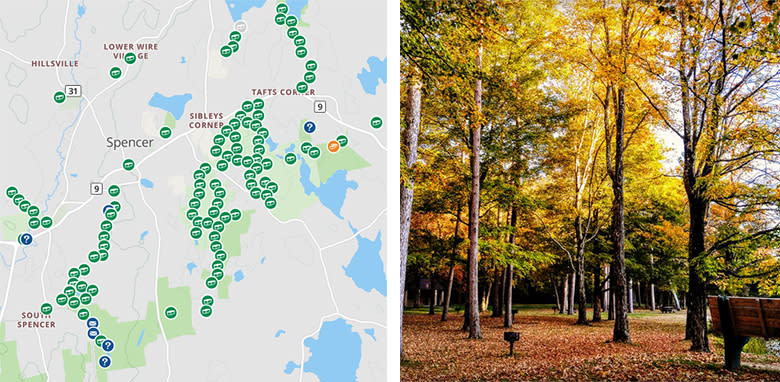 Brookfield
Look for a large collection of caches in the Quaboag Wildlife Management area to the west of Brookfield, Massachusetts. There are many caches located on the same trail in this area, but some are hard to access! Start out with Star Wars, located on Long Hill Road, and go from there. While you're in the area, stop by Brookfield Orchard's country store, open all year round.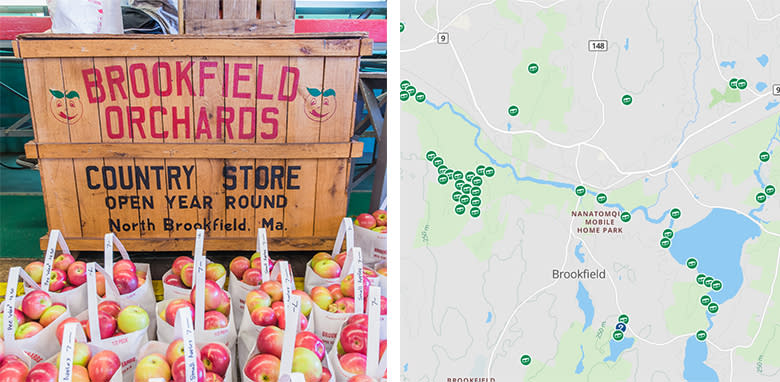 Urban Geocaching
Worcester
Maybe you'd prefer to stop for food or explore public art while you're cache hunting. In that case, you'll want to be in the Heart of the Commonwealth, Worcester, MA the state's second largest city. Keep an eye out for history-related caches like the Cathedra Vigorniensi near Worcester's Cathedral of St. Paul. Home to cuisine from around the world, we recommend exploring Worcester's Black-owned restaurants, the Worcester Public Market or take a stroll down Shrewsbury Street.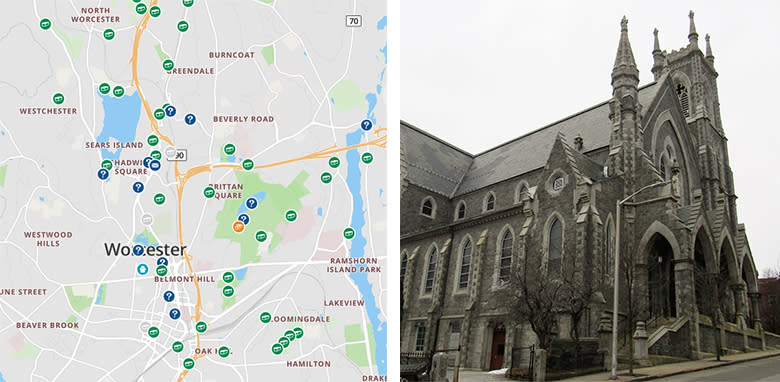 That's just a taste of the geocaching experience that Central Massachusetts has to offer. Not only is this area beautiful and vibrant, but it's got as much hidden history as it has hidden geocaches! If you fall for central Massachusetts while geocaching this autumn, then be sure to check out the C-Mass Geofest, too. A summertime tradition, this festival is one of the area's most prominent geocaching events.