Whisky and Bourbon Delights
All things spice and everything nice! The Whistle Fig found at The Duck & Avellino is a savory and sweet balance featuring fruits and bitters that will take you on a journey that delights the senses. Whistle Pig bourbon, black fig vodka, Montenegro amaro and ginger liqueur are the stars of the show in this memorable craft cocktail. 
Chai Hollow | Armsby Abbey, Worcester
Calling all tea connoisseurs who enjoy trying a variety of blends. The Chai Hollow is described as herbal and satisfying. This cocktail has a surprisingly light texture bursting with decadent flavors. Bourbon, chocolate liqueur and iced chai tea are combined to bring feelings of an afternoon tea-time, offering rest and relaxation with each sip.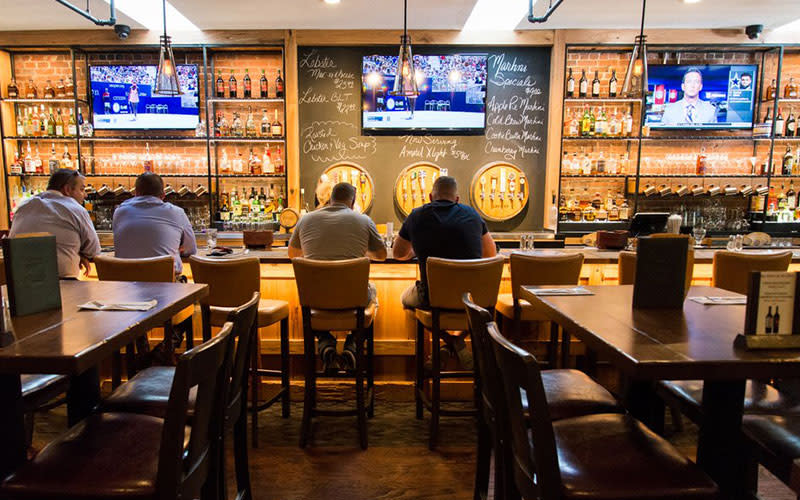 A whisky lover's dream. Oak Barrel Tavern patrons can choose from an extensive bourbon and whisky list. From Kentucky to Scotland and everywhere in between, there is something for everyone. Look forward to aged blends, ryes, single barrel batches and more, which can be selected for any traditional cocktail favorite, like a Manhattan or Old Fashioned.
---
Gin Favorites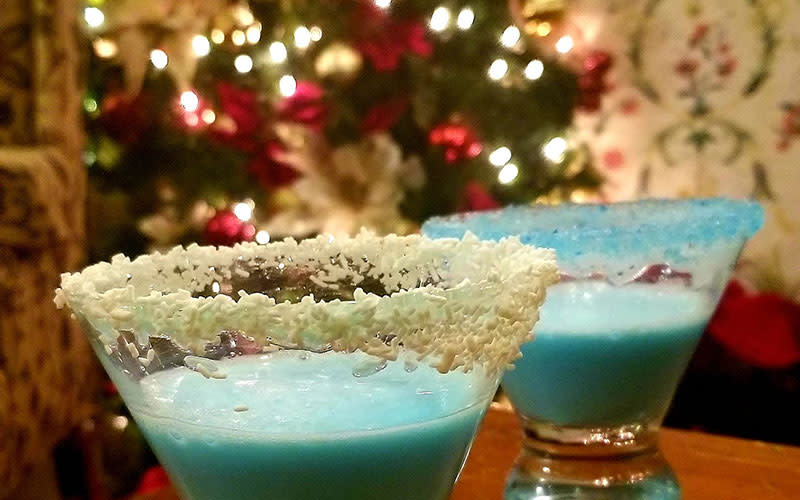 Fun fact: all cocktails on the Publick House menu are named in honor of each of its unique and historic, hand-crafted function and dining rooms built over the last two centuries. The Juniper Barn brings to mind visuals of candlelit dinner parties of year's past, spent with friends and loved ones and is a mix of Citadelle gin, St. Elder elderflower liqueur, grapefruit juice and aperol.
S&S Gin and Tonic | Still & Stir, Worcester
Herbal, refreshing and featuring a green hue that could rival any balsam fir tree. The S&S Gin and Tonic has the perfect blend of Bully Boy-Niche gin, green chartreuse, lime, rose water, Fever Tree aromatic tonic. Visiting Still & Stir between November 25 and December 31? The bar will be covered in Christmas décor and guests can enjoy themed cocktails in custom holiday glassware.
---
Vodka Creations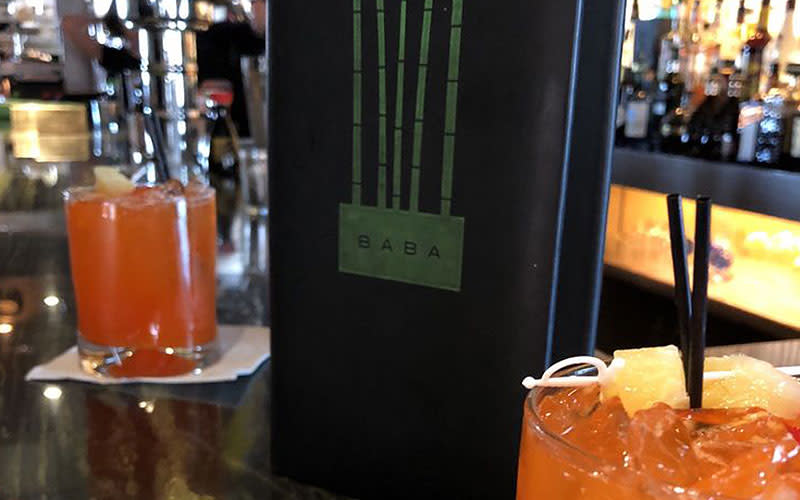 Redheaded Panda | Baba Sushi, Worcester
Cranberries are bold, bright in flavor, with many freshwater bogs found right here in Massachusetts. Their flavor can be enjoyed year-round, however, the winter months are infused with cultural traditions that bring cranberries to the forefront. For a dose of nostalgia, order the Redheaded Panda at Baba Sushi, which combines Triple Eight cranberry vodka, Mathilde raspberry, cranberry and ginger beer.
Tiramisu Martini | Nuovo, Worcester
Drink your dessert with this oh so delicious cocktail, sure to satisfy your sweet tooth. Vanilla Vodka, Kahlua, Bailey's Irish Cream, Amaretto and a shot of freshly brewed espresso. This is the perfect drink to get you in the holiday spirit!
Salted Caramel Apple Martini | Salem Cross Inn, West Brookfield
Apples are a quintessentially New England fruit with several varieties found in this region that serve as a welcome reminder of the changing seasons. Can't get enough of the flavor and have a sweet tooth? Ask for the Salted Caramel Apple Martini at Salem Cross Inn, which blends vodka with apple cider to produce a whirlwind of tastes that mirror what you'd find chewing on a caramel apple.

Sometimes dessert is found in a glass instead of on a plate. When you've had your fill of delicious Italian favorites like pasta and wood-fired pizza at Volturno, order an espresso martini to complete your meal. Vodka and coffee flavors are married together and displayed in a traditional martini glass with an espresso bean garnish. Decadent and indulgent, just like the winter months should be.
---
Tequila Tastes
The weather outside may be frightfully cold, but who says you can't imagine yourself on a sandy beach under the warmth of the sun? The simplicity of coconut, lime and tequila in the Coconut Lime Margarita found at Chuck's Steakhouse will take your taste buds on their own vacation. No swimsuit or sunglasses required to enjoy this island-inspired cocktail.
---
Rum Wonders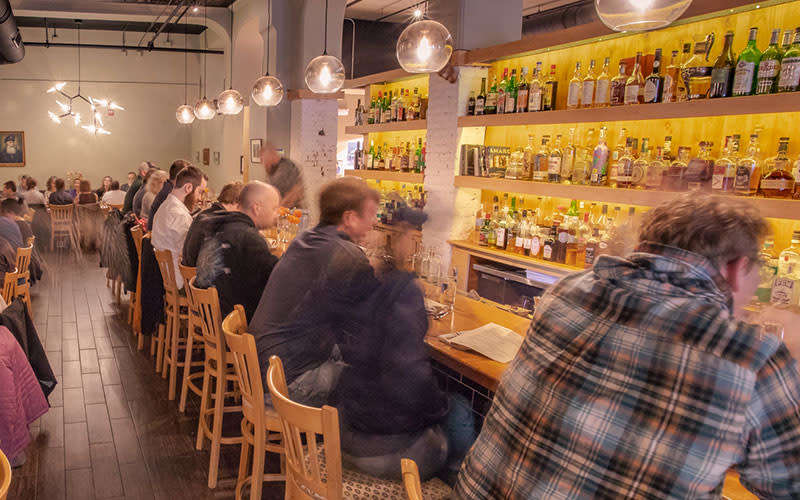 Famed restaurant deadhorse hill has a number of impressive local and national bartending accolades and prides themselves in creative concoctions that will suit any palate. The Amaretto Sour, has the nutty and silky notes Amaretto, the bite of overproof rum, spiked with the fresh smell of citrus and sweetness of cherries. Cozy and smooth.  
Some things are almost too pretty to consume. Colorful and made with a healthy heaping of winter joy, Flying Rhino's Winter Rum Punch is served on the rocks. This pink rose-colored cocktail is a delicately balanced drink with Bully Boy aged rum, Heering cherry, sweet vermouth, and festive apple cider.
---
Winter Spirits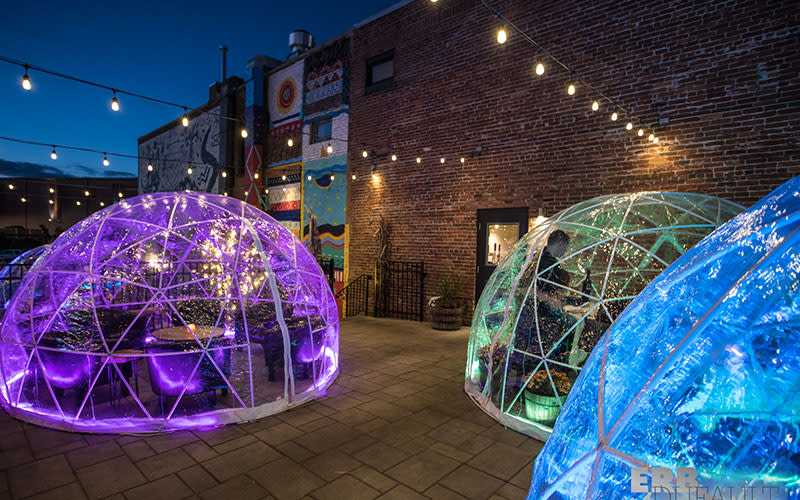 Rose Sangria | Lock 50, Worcester
Flowers may not be growing on bushes anymore, but this cocktail enjoyed inside a colorful igloo will remind you that the winter months are only temporary. Lock 50's rosé, cassis noir, lemon, elderflower, sparkling soda found in the Rose Sangria will tickle your nose, like a crisp spring breeze best enjoyed while walking in an English garden.
This bubbly Italian aperitif cocktail, colored rose and orange like a summer sunset, is capable of brightening any winter day. Light, refreshing, sweet, crisp, and bitter, you'll find the Spritz Veneziano made with aperol, prosecco and citrus will lift your spirits and leave you ready to embrace the months ahead before the snow thaws for good.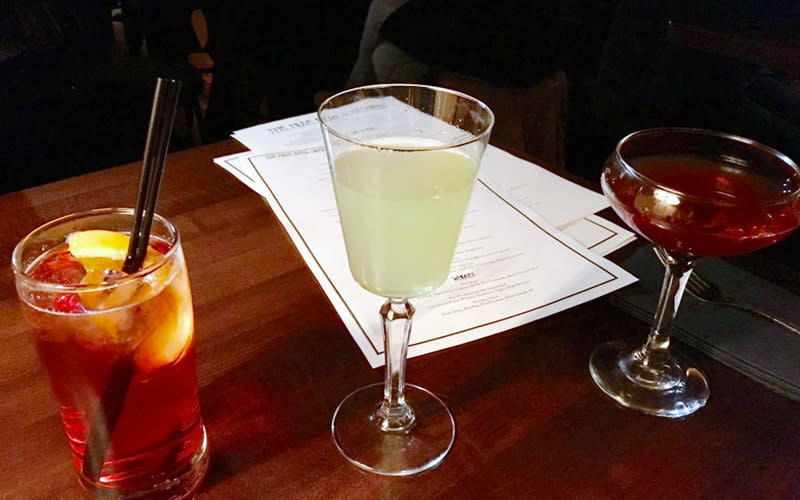 Scots Old Fashioned | The Muse, Worcester
Like the soothing taste of amari? The Muse has amassed one of the most essential amari lists in the region. Drop by before or after a show at The Hanover Theatre nearby for a nightcap and friendly conversation. Be sure to try the Scots Old Fashioned, a delightful creation made with Laird's Rare Apple Brandy, aged 12 years.
No matter the cocktail you decide on, we raise a (metaphorical) glass to you and extend a hearty "Cheers!" as you enjoy all the things that make the winter season special.