Gregory Dubuisson, Founder of Urban Pigeons
By Natalia Perez
Updated yearly by Abagail Pandolfo
---
Here's a glimpse into the founders, creatives, community and inspiration that makes up Worcester's bustling Black fashion scene.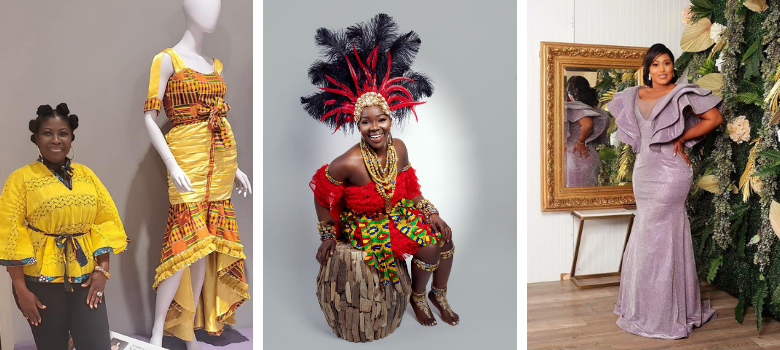 Known as "a place where authentic styles are born from experts hands and heart," Danquah's Home Of Fashion in Worcester brings beautiful, inspired garmets into being. Owner Effie Danquah often uses traditional Ghanaian kente cloth with colors and patterns that hold symbolic meaning.
She produces a variety of casual and formal designs showcasing a modern take on traditonal Ghanaian dress, including in her own 2012 wedding anniversary dress, shown on left above, that was included in the Worcester Historical Museum exhibit "Pretty Powerful." Looking to bring out the African Queen in you? Danquah offers private photoshoots in her African Queen Collection garments. See more of her work on Facebook and Instagram, and shop Ghanaian fabrics on her website here.
---

An award-winning journalist and storyteller exploring the global Black diaspora, Erica Akosua Ayisi of Akosua's Closet believes wholeheartedly, "you have to take risks." Through travels to Africa and building connections with female makers there, Ayisi has mastered a traveling boutique with supremely bold and bright pieces. With every piece of the collection, wearers can assure they've helped a woman in Africa feed their family, attribute to their children's schooling and help put dinner on the table at night. Ayisi wants women to know that they've invested in another woman's company and hard work—both physical and mental. "They're out there carrying their goods and hustling, and I'm that bridge" between African sellers and local buyers. 
Ayisi grew up in Worcester as a dancer, and commends her former dance teacher for her current outlook on entrepreneurship. "She cultivated my standard of professionalism and perfectionism," Ayisi says. And it's clear that Ayisi's sense of both are of a high merit. Beyond a keen eye for fashion, you'll find incredible pieces of storytelling here—proving that, as Ayisi attests, "if you're from Worcester, you can grow anywhere." 
---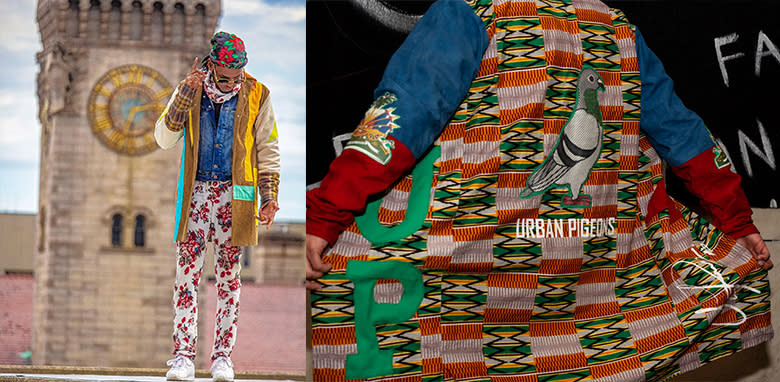 Founded by Gregory Dubuisson (Yazbthegreat on Instagram), Urban Pigeons has been running for over a decade, producing high-end street wear garments from t-shirts and scarves to fur coats and dresses. They provide tailored services based on customer demand and accept orders for custom pieces. Handmade accessories are available to complement their collections, and they also sell unique and personalized artwork on their website in the form of acrylic paintings on stretched canvases in all sizes. Aside from product production, they provide services such as sewing classes, modeling courses and opportunities to expand your artistic portfolio.  
"Worcester is filled with amazing talents and I am fortunate and blessed to have been able to meet and collaborate with so many different organizations, such as Pow Wow Worcester, ArtsWorcester, Love Your Labels, Worcester Solidarity, Crocodile River Music, Clark University's Black Student Union (BSU) and Caribbean and African Student Association (CASA)," says Dubuisson. His collaborative work with 4ce has retailed at Exclusives, a retail shop "where music meets fashion" at 39 Pleasant St. in Worcester.
Dubuisson was born and raised in Haiti, and infuses his vivid, colorful culture into his style. He moved to Boston when he was 15 years old, and then moved to Worcester during his college years and now calls the city home.
---

Founded by Tessy St Fleur and Veline Touissaint, Demoiselle Accessories is driven by their dedication to providing one of the best personalized shopping experiences, with a focus on dependability, customer service and the uniqueness of their brand's products. 
Originally from Haiti, Touissant and St Fleur had a dream to support women's desires to feel confident in their fabulous femininity by providing exquisite, handpicked statement pieces. This mission propelled them to turn their inspiration into a booming online store and brick & mortar on Main St. 
"We have a big artistic community in Worcester," St Fleur and Touissaint can attest. "As an emerging city, the variety of cultures and creatives makes it the ideal place and perfect combination to be exposed as an artist. The Worcester community has been very supportive of Demoiselle Accessories. We've gained loyal customers and have been referred by many through word of mouth, social media, professionally, and have been recognized by Pulse Magazine."
---

JashoWear's story began when creative artist and visionary, Jasho, set out to establish a custom clothing brand that would ensure clients got the fashion they always wanted: a blend of art, Afro culture and unique, inspirational designs.
Located at 75 Webster St., near Funky Stuff, Scallywags Tattoo and Donut Express, JashoWear boasts hundreds of designs on t-shirts, dresses, leggings, hoodies, pants and jumpers. Each label art is inspired by a part of the motherland, Africa.
Originally from Tanzania, Jasho's name is a Swahili word for sweat. JashoWear was founded as a company in 2006 initially using transfer paper and a pressing iron creating one item at a time. Sweat became a vital portion of the process, a validation of all the effort being put into each individual design. 
"As our artistic mission has evolved it has become more clear than ever that all creative work requires sweat," Jasho says. "We dedicate our success to the literal sweat from all those years ago, and encourage all artists, musicians, designers to always continue their 'sweating' towards their success."
Jasho/JashoWear has participated in Start on the Street, Central Massachusetts' largest art, music and performance festival, has exhibited his work through ArtsWorcester and is a member of The Worcshop in Rochdale, Mass.
---

Handmade By Wavey Mavey is a fiber art brand by Mavis Dwobeng, who runs the business from home and from her dorm on the UMass Dartmouth campus. She custom crochets outfits, jewelry, bags and more. She launched her business in June of 2020, after crocheting herself a top and posting a picture of it on social media. The post garnered lots of attention from potential clients who raved over her shirt, and a large number of people were requesting one. Within a few weeks, Handmade By Wavey Mavey was formed.  
Dwobeng was born and raised in Kumasi, Ghana, where crocheting is a big part of the culture, and schools prioritize teaching their students how to crochet and sew as part of the curriculum. It's been a part of her for a long time, and her products are 100% handmade and tailored to fit the customer perfectly.  
While she hasn't found much of a crochet community in Worcester, she has two friends who were also inspired to launch businesses around the same time as her: @hookedonyarnbyroro and @kalipoe_crochet, both on Instagram. 
"They're both extremely talented at crocheting and I like to think of them as my community," Dwobeng says. "I'd love to connect with any other fiber artists out there in the city of Worcester if they're reading this."
---

Founded by Racquel Knight, Own Your Legacy Brand provides branding services and creates merch stores for small businesses and nonprofits to increase their visibility within their communities.
Knight, originally from Jamaica, is also the founder of a nonprofit called For One Child Foundation. One of her long-term goals has always been to start a for-profit business as an anchor for her nonprofit, as another means of obtaining funding. When COVID-19 happened, fundraising for her nonprofit became a challenge, which she saw as an opportunity to launch Own Your Legacy.
By creating an easy to use platform, small businesses can sell, manage or create merchandise for their business through support from Own Your Legacy. All of their products are currently designed by students attending Becker College. Knight believes that their tagline, "Dream it Embrace it Create it" embodies what these students are capable of. 
"By showcasing their own creativity, skills, and talent, they are creating their own legacies and that's our business and brand exemplified," Knight says. 
---

Prodigal Pieces is an online clothing, apparel and accessories store run by a collective of three Worcester natives: Yaw, Denzel, and William. Open since June 2020, their goal is to create a product people can feel stylish in at an affordable price. 
They've created pieces that shine a light on issues faced within the Black community or pieces that showcase and uplift the beauty of Black people and their influence in the world, which we will most definitely see more of in their next releases. 
"The Worcester community has definitely been huge in supporting us from day 1," says the Prodigal Pieces team. "Through things like sharing our apparel/page on social media and actually buying our pieces. It's been amazing to see and we appreciate all the love and support. We have a lot more on the way and it's only going to get better so stay tuned!"
---

Founded by Cardethia Moore-Jenkins, Waistbeads by Cardethia is the first boutique in Worcester to focus on creating custom waist beads, later expanding to include anklets, bracelets, necklaces and most recently bath salts.
Originally from Detroit, Michigan, Cardethia is fascinated by stories of young Ghanaian women sharing stories of when they received their first waist beads, and the people from whom they received them. She researched the history of waist beads and decided to make some for herself, her sister and her mother. Within a year she was making and selling waist beads to her friends who encouraged her to formalize her business.
"I love the look in the eyes of my customers when they receive and first put on their waist beads," Cardethia says. "Waist beads serve many purposes, but I believe and promote positive body image and loving yourself regardless of weight, stretch marks or love handles. Wearing waist beads makes you feel sexy and encourages you to appreciate every inch of your body."
In 2017, Cardethia was recognized by Women In Action, Congressman Michael Moore and Mayor Joseph Petty, recognizing local entrepreneurs, which she describes as a significant milestone in her small company. She'll be celebrating the 10-year-anniversary of her business this year. 
---

Run by local talent Lorna Ellis, this elevated dress shop is proud to be Worcester's spot for formal occasions. With a vast selection of contemporary dresses, the team at 4U is ready to assist in finding a seamless-fitting dress with matching shoes, clutches and jewelry to boot. (And if alterations are needed, Ellis is your go-to.) 
Ellis emigrated from Jamaica to Worcester in 1983, dreaming of opening her own shop since she was a little girl. At age 8, Ellis began sewing and envisioned a future with such fashion. Now, she graces Lincoln Street with dresses to rent or own. 
---

Founded by Emmanuel Carboo, WavvzNewage—located on 39 Pleasant St. at Exclusives Meets Fashion—sells customized t-shirts, hoodies, bomber jackets, royalty/fur coats, artwork, accessories, dresses and more. 
Whether customers bring in the apparel they want customized or made from scratch, the final product is always one of a kind, as Carboo's signature touch and the vibrancy of his work is difficult to miss. Every piece he's created is handmade and/or hand-stitched, beautifully representing Carboo's African roots, incorporating patterns like Ankara, a fabric characterized by its boldness and vivid colors. 
"I wanted every outfit to tell a person's personality without saying it out loud," Carboo said. "I want my customers to feel confident and feel connected. What motivates and drives my business and creativity is seeing the final product and people's reaction to my outfits. When I sew an outfit, I think of ways to change a person's life by giving them the confidence they might need in what they wear."
Wavvz Newage also allows customers to rent their clothing designs for photoshoots and artwork for art exhibitions in Worcester or fashion shows. 
Originally from Ghana, Carboo's mother sewed clothes to provide for his family, which eventually inspired Carboo's entry into the fashion scene. His inspiration for WavvzNewage comes from the waves themselves, symbolizing that every wave on the ocean represents a new age/a new era, and just like his work, none are ever the same. 
In 2023, Wavvz was added to The Pulse Magazine's list of People to Watch.