Where To Find High-Quality Local Meats
We're proud of our local family-run farms in Central Massachusetts. There's no need to head to a big-box store when you can make a stop at your local butcher for the freshest selection - or have it delivered right to your doorstep.
Voted Best in Worcester
Emerald Meats / Worcester 
This family-owned establishment is run by an Irish family who emigrated to Worcester from Dublin in 1990. They offer meat cuts as well as marinated items like Butcher Bill's Steak Tips, Lemon Garlic Chicken breast, and BBQ Wings. 
Give your backyard BBQ a twist by adding in some of their specialty Irish Products. Galtee Black Pudding, Marrowfat Peas, and Brown Bread - traditionally meant for an Irish breakfast - could be an interesting addition to your feast.
They are currently open 7 days a week for in-store shopping, following social-distancing guidelines. Check for updates on their Facebook page.

Organic, Grass-Fed, Pasture Raised Meats 
Kalon Farm / Lancaster & Ashburnham 
Animals graze on the 150 acres of beautiful pasture at Kalon Farm, who harvest grass-fed beef and lamb; pasture-raised pork and poultry; and free-range eggs. If you're looking for locally-raised organic grass-fed meat that's tender and healthy - this is your place!
They are open from 10 AM - 6 PM seven days a week at their Lancaster location and 10 AM - 2 PM on the weekends at their Ashburnham location. They also offer options for curbside pickup and in-store purchases.
Artisan Meats
Central Street Meat and Deli / Worcester 
Family run since 2003, this meat shop grinds their own meat daily to ensure that everything is fresh and never frozen (there's not even a freezer on the premises!). Order a meat package with a variety of meats, or pick up freshly ground lightly seasoned chicken or hamburger patties for the best-tasting burger around! 
Orders can be taken over the phone or purchased in-store following social-distancing guidelines. Get updates on their Facebook page.

One-Stop Meat & Fish Shop
Stillman Quality Meats / Worcester & Hardwick 
Stillman not only supplies quality locally raised meats, but also everything you need for a BBQ aside from the veggies - local seafood, cheeses, creative sausages, bread, and more!
For updates, keep an eye on their Facebook page.
Latin Butchery 
Big Boi/Big Mania Meat Market / Worcester
Looking for a specific cut of meat like oxtail or piranha? You'll probably find it at this family-owned meat market who specializes in Latin cuisine.
Currently they are open for in-store shopping following social-distancing guidelines. Get updates on their Facebook page.
Authentic Smoked Meats
Westside Steak & BBQ / Worcester
Ribs, brisket, pulled pork oh my! Grab a pack of your favorite brew and head over to the West Side's staple neighborhood joint: Westside Steak & BBQ. Local taps and house-made desserts provide the perfect complement to your meaty feast. 
Don't Forget The Sides!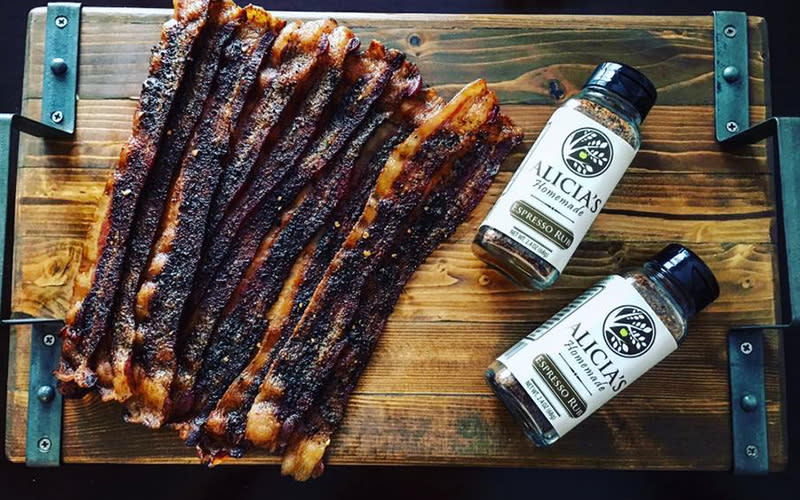 Espresso Rubbed Bacon/photo credit: Alicia's Homemade
Local Produce Packages
Fresh vegetables taste delicious when grilled alongside your main ingredients. The Worcester Regional Food Hub offers a weekly food package that includes food only from local producers. You can order online and pickup with contactless service in Worcester. 
Packages include produce like apples, cranberries, and lettuce along with other staples like bread, farm milk, and locally made ice cream.
All-Natural Spices and Rubs
Alicia's Homemade out of Worcester is delivering her savory all-natural spices, rubs, and sauces to local residents. 
Need a recipe idea? We suggest picking up some steak tips from your local butcher, then using Alicia's Garlic Herb Seasoning Blend for Marinated Steak Tips. Or, try Garlic Tequila Lime Tacos using ground beef from Lilac Hedge Farm! You can also try it in Garlic Chickpea and Lentil Burgers or Sautéed Balsamic Kale Salad. Yum!