Dangerously Drinkable Brews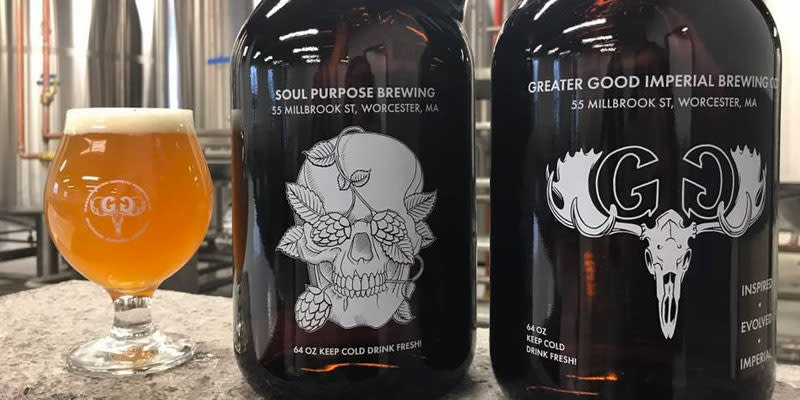 Location: 55 Millbrook Street, Worcester, MA
Hours: Tues -Thurs: 4 PM - 10 PM; Fri. & Sat.: 11:30 AM - 11 PM; Sun: 12 PM - 7 PM.
Flagship: Pulp - Imperial New England IPA
Greater Good Imperial Brewing  is America's first all-imperial brewing company, meaning that all of their ales and lagers range from 8%-14% alcohol by volume. From pillowy farmhouse ales to crisp German classics, Greater Good's brews are dangerously drinkable. +more
---
Brew Yard with Cool Airstream Bar and Huge Copper Fire Kettle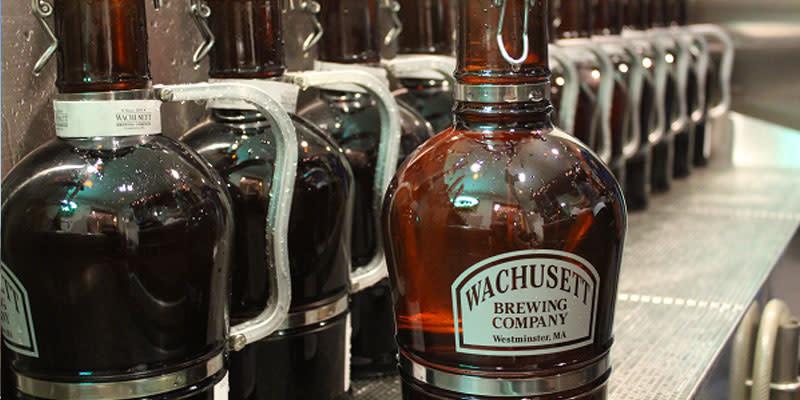 Location: 175 State Road East, Westminster, MA
Hours: Opens at 12 PM 7 days a week (summer hours)
Flagship: Country Pale Ale
Wachusett Brewing was founded by three college buddies in 1994 who delayed their careers in Engineering and Biology to pursue their passion for beer. Recognizing recently that they had taken a backseat in beer tourism to wunderkinds like Tree House, this summer Wachusett launched a brew yard to create a more welcoming atmosphere for visitors.
The brew yard includes an Airstream bar and an enormous copper fire kettle. With the addition of the MBTA's new Wachusett Station last year, Wachusett Brewing instituted a shuttle to transport visitors to the brew yard with no hassle.
---
More than just great beer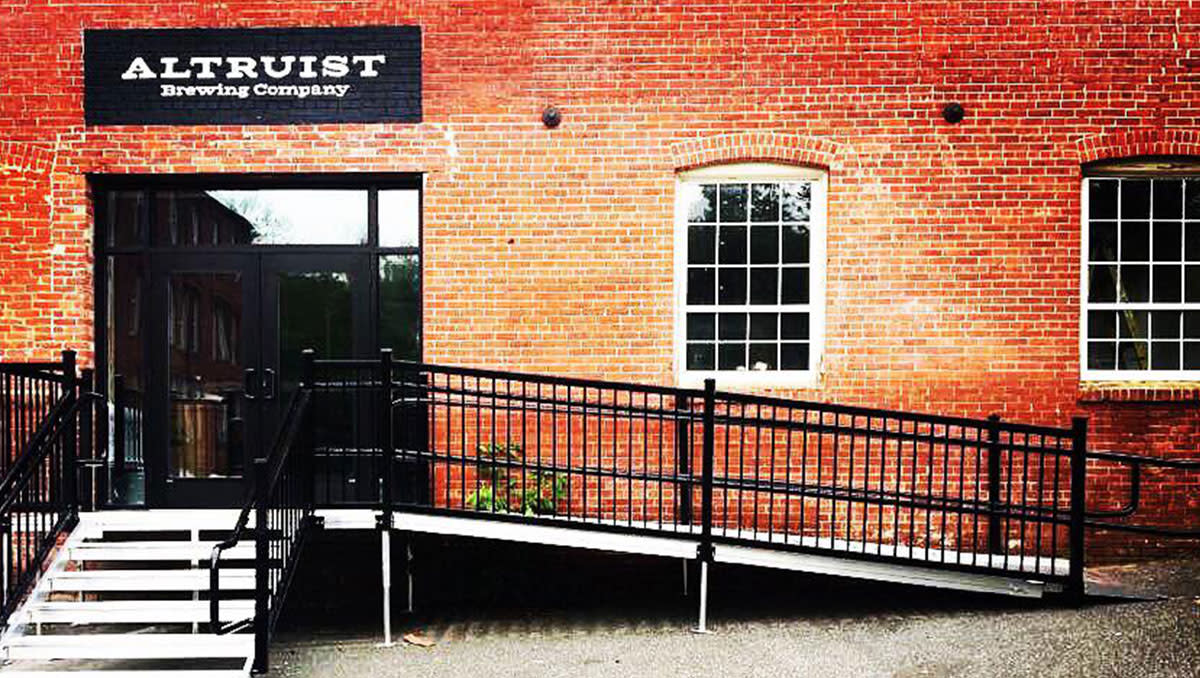 Location: 559 Main Street, Sturbridge, MA
Hours: Thurs. - Fri. 5 PM - 10 PM; Sat. 12 PM - 10 PM
Aside from hand-crafted brews that use only the highest quality ingredients perfectly balanced for the best flavor and body - the folks at Altruist believe in the power of beer to bring community together and do great things. Starting as a home-brewing operation that forged new friendships through a common passion for excellent beer; Altruist wants to do the same through their taphouse and their efforts to give back to the community. Enjoy live music and a beaufitul private beer garden overlooking a river. +more
---
Award winning beer, outdoor patio, and walking distance to a dozen restaurants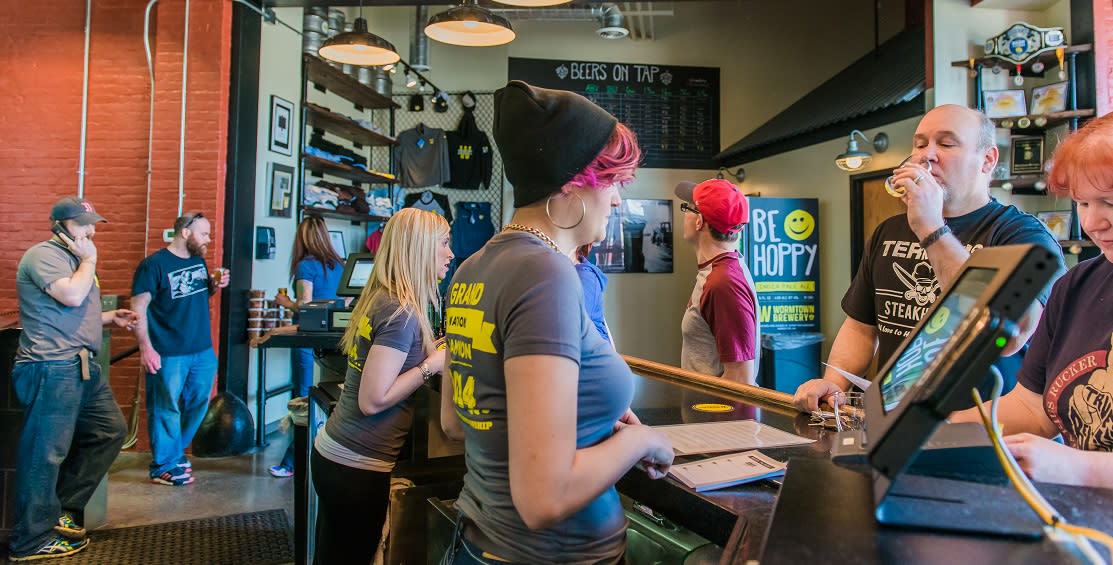 Wormtown Brewery's taproom includes an outdoor patio.
Location: 72 Shrewsbury Street, Worcester, MA
Hours: Opens at 12 PM. Tuesday-Sunday. Brewery tours on Saturday and Sunday at 12:30, 1:30 and 2:30
Flagship: Be Hoppy
Wormtown Brewery was born in a small ice cream stand and has quickly grown into a 50,000-square-foot space on Shrewsbury Street. A "three-decker-attitude" and a mounting list of accolades render Wormtown a popular patio destination for patrons hoping to taste seasonal and underground offerings. Lines are rare and bar service is efficient. More than a dozen restaurants are located within walking distance. +more
---
Fast Growing Brewery With A Cult Following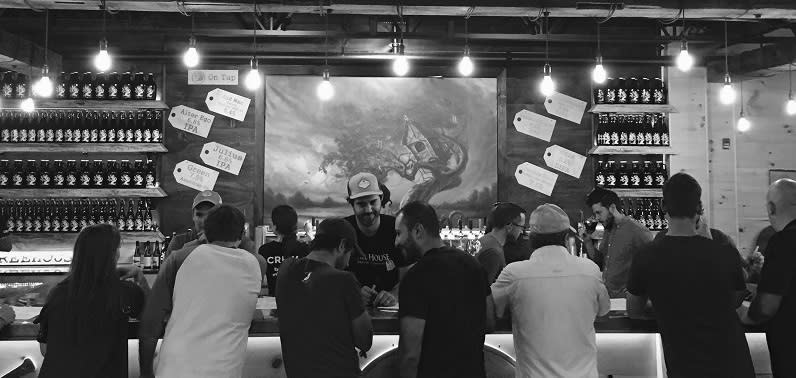 Tree House Brewing Co. recently expanded its operations into Charlton, Mass., a rustic retail shop with rotating craft beers and limited hours. 
Location: 120 Sturbridge Road, Charlton, MA
Hours: Tuesday 4 PM - 8 PM for draft and cans; Wed. - Fri. 12 PM - 8 PM can sales only; Sat. 11 AM - 7 PM draft, can sales, live music, and food.
Flagship: Julius
Acute attention to craftsmanship and consistency have gained Tree House Brewery a dedicated cult following from all over the country. The brewery's new facility in Charlton marks a physical departure from Tree House's origins in a humble garage. Given Tree House's rapid growth, the brewery's quality and attention to detail remain unbelievably intact. Food trucks frequent the property including Say Cheese to keep you well fed while you brave the inevitable lines. +more
---
Dog-Friendly Brewery Surrounded by a 150 Acre Orchard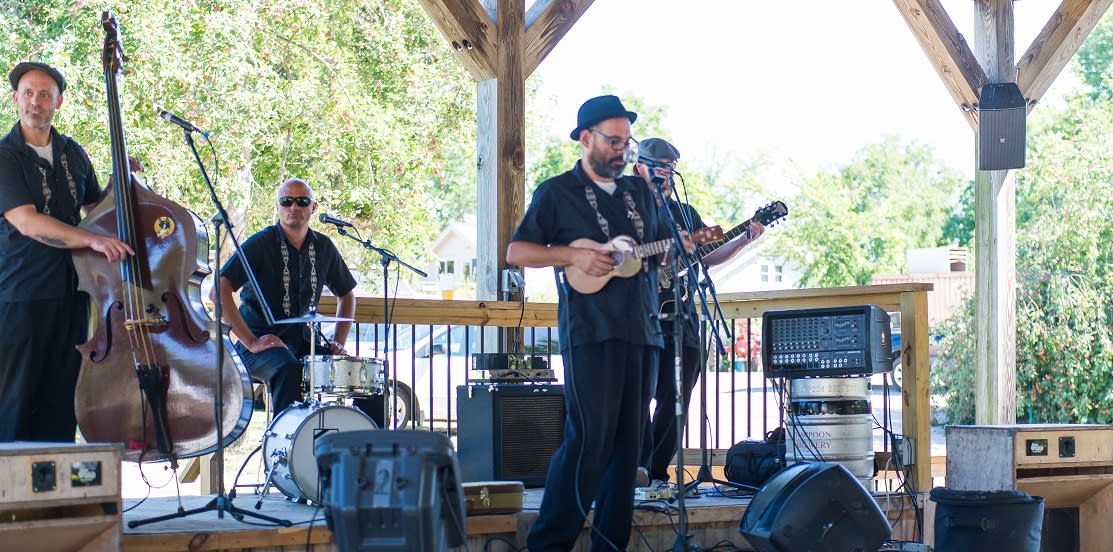 Rapscallion Brewery is located on Hyland Orchard. The brewery offers disc golf and is dog-friendly!
Location: 195 Arnold Road, Sturbridge, MA
Hours: Mon. 5 PM - 9 PM; Tue. - Fr. 3 PM - 10 PM; Sat. 12 PM - 19 PM; Sun. 12 PM - 8 PM. Live music every week.
Flagship: Honey
Rapscallion is located in a 1940s apple barn surrounded by a 150 acre orchard. The brewery is both dog and family friendly, regularly hosting festivals and offering an on site food truck. Members of the mug club enjoy 20 ounce pours. Their flagship brew is made with local wildflower honey. +more
---
Rated The No. 6 Best Brewery in All of Mass With Highly Rated Double IPAs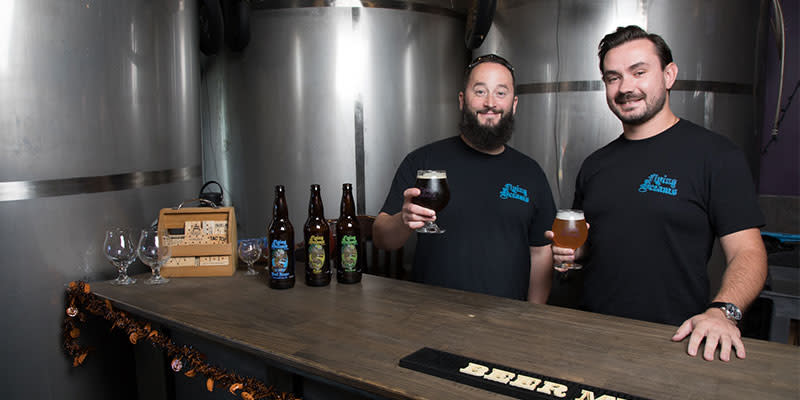 Location: 455 B Park Avenue, Worcester, MA
Hours: Thurs. 4 PM - 9 PM; Fri. 3 PM -10 PM; Sat. 12 PM - 10 PM; Sunday 12 PM - 5 PM.
Flagship: Pond Jumper
Flying Dreams may have inherited the original home of Wormtown Brewery, but they have built up a culture that is all their own. Their Mass style IPA, Pond Jumper, was brewed in honor of the first hole at Maple Hill Disc Golf Course where the players favor hazy juice bombs to refresh and invigorate. +more
---
Named After the Legendary Purgatory Chasm 

Location: 670 Linwood Avenue, Whitinsville, MA
Hours: Thurs. 5:55 PM - 10 PM; Fri. 4:55 PM - 9 PM; Sat. 11:55 AM - 9 PM; Sun. 11:55 AM - 3 PM
Flagship: Mumford River Rye IPA
Named for legendary hiking destination, Purgatory Chasm, this newcomer has set up shop in the former Linwood Mill. Purgatory Beer Co. typically maintains six beers on tap and offers growler fills to-go. The Mumford River RyePA possess a subtle spice on account of rye grains used in the mash. The Mumford River is a tributary of the Blackstone and once acted as a power source for local mills and factories. Dog/family friendly. Bring your own food or order from a local restaurant.
---
Location: 26 Cambridge Street (4 Knowlton Ave, Worcester for your GPS)
Hours: Wed. - Thurs. 5 PM - 9 PM; Fri. - Sat. 12 PM - 10 PM; Sun. 12 PM - 6 PM
Flagship: 3Cross offers a rotating, seasonal selection, but we're partial to Whirlwind (named for Major Taylor)
The 3Cross name references a classic spoke lacing pattern for a bicycle. You'll find cyclist culture woven throughout the industrial taproom where live entertainment and bike shorts are a near constant. You can bring your own food or take home a growler at your convenience. +more
---
Medusa Brewing Company
Location: 111 Main Street, Hudson, MA
Hours: Monday to Thursday 3 M - 10:30 PM., Friday to Sunday 12 PM - 10:30 PM
Flagship: Laser Cat (Now available in cans!)
Medusa's eye catching 50-foot bar was constructed from salvaged steel and white oak. The full service Beer Hall allows guests to comfortably enjoy a range of American style ales along with European-inspired recipes.
---
About The Beer Movement in Central Mass.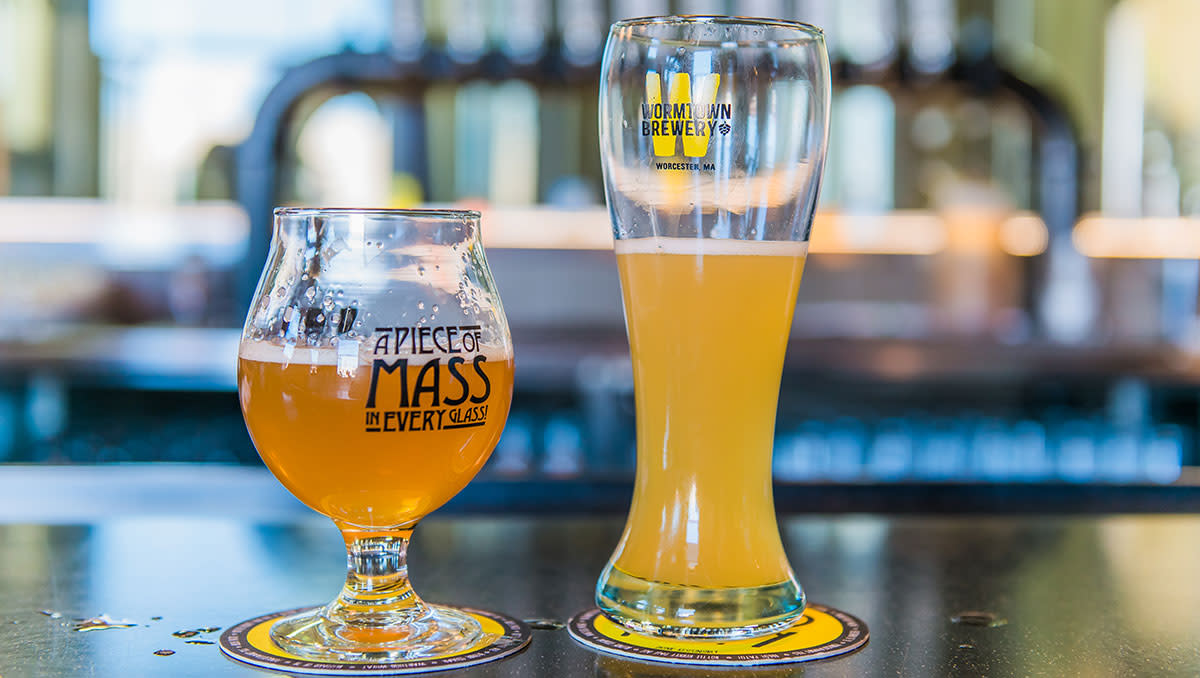 In late June of 2012, Mechanics Hall in Worcester welcomed the most esteemed brewers in the world including Shaun Hill of Hill Farmstead and Jean van Roy of Brasserie Cantillon for an event known simply as "The Festival." The Festival, spearheaded by Shelton Brothers and organized by Sherri Sadowski and Alec Lopez, also marked the first time Westvleteran 12 was legally available to sample in the United States. Trappist beer had grown to fame in the mid 2000's on account of beer nerd fascination with Westvleteran Brewery, a profitless, self-sustaining operation powered by Belgian monks.

On that weekend in 2012, beer lovers from all over the country flocked to Worcester for their chance to try the best beer on the planet and brush elbows with A-list brewers, gathered under one roof. As a result, Central Massachusetts earned its place in the beer history books and set a tone of excellence for a new generation of brewers, including the now legendary Nate Lanier of Treehouse Brewing Co.