APEX Entertainment  
APEX Entertainment sits at the nucleus of food, attractions and events, offering 100,000 square feet of serotonin. APEX features party packages based on group, age and interest, with boundless activity options. Think: luxury bowling, arcade games, a multi-level go-kart track, bumper cars, laser tag, glow-in-the-dark mini golf and sports simulators. The team offers a variety of catering options, too, planned alongside their on-site event managers. Party requests are to be submitted at least seven days prior to the date of inquiry and are subject to availability. Connect with a coordinator at 508 251 8666 extension 3 to book.
---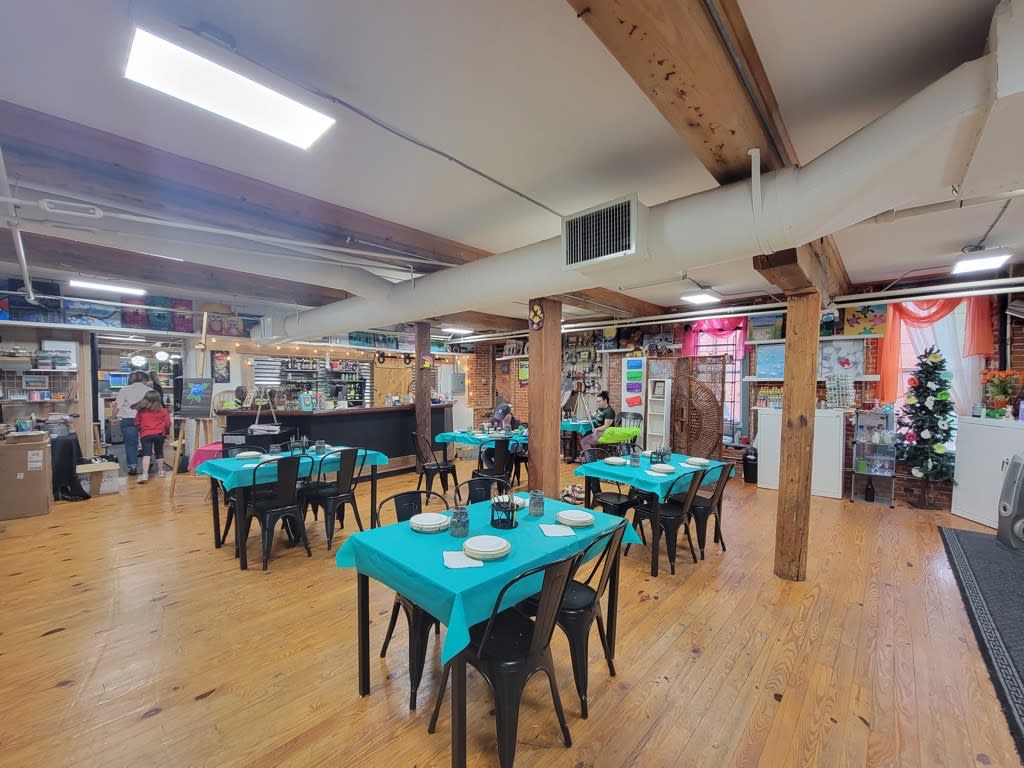 Brush It Off Paint & Sip Bar 
Located inside a rustic mill in Sturbridge, Brush It Off Paint & Sip Bar encourages attendees to "bring out your inner Picasso." Kids celebrations cover a private room rental, with themes like Splatter Room Party and Neon Light Making Party, offering options for varying ages. Foster your little artists' creativity with a celebration full of color. Click here for all the creative details you need.
---

EcoTarium 
The EcoTarium serves as New England's leading museum of science and nature, dedicated to inspiring a passion for both with every visitor who passes through. With hands-on activities (like make-your-own stomp rocket) and an entire museum to explore, birthday parties here are a true combination of excitement and education. The venue also boasts a playground, train ride and planetarium, adding movement and joy to the many lessons being learned. Head here for all the info you need on birthday packages for the little ones, or to host a family-friendly corporate event. 
---

The Farm at SummitWynds 
With farm animals, lavender fields, sunflowers and scenery aplenty, The Farm at SummitWynds sits on 32 private hilltop acres with stunning views and even more unique experiences. Kids can frolic among panoramic views of Wachusett Mountain at SummitWynds' various yearly festivals. A notable favorite on the list is Unicorn Farm Fest, when the area is transformed into a magical land of unicorns, wagon rides and nature trails of wonder. They also host flower festivals to show off their gorgeous in-season blooms such as sunflowers, lavender and azaleas, that adorn this scenic venue for all ages to enjoy. 
---

Mass Audubon's Broad Meadow Brook 
Boasting a unique, natural setting on the outskirts of Worcester, Broad Meadow Brook Conservation Center and Wildlife Sanctuary offers facility rentals for private and public groups and orgs, with specific birthday programs for children aged 4+. Parties include a 1.5-hour naturalist-led program, followed by time for gifts and refreshments and can accommodate up to 15 children. Mass Audubon members can head here to book (or join, if you're not already part of the membership!)  
---

New England Botanic Garden at Tower Hill 
Nature fans should also consider New England Botanic Garden at Tower Hill, with its backdrop of gardens, woodlands, meadows and mountain views. Included with their onsite birthday rental package is admission to the gardens and trails for up to 30 guests (adults and children), a guided one-hour program led by a New England Botanic Garden at Tower Hill Teacher Naturalist, program materials for up to 15 children. Each child even takes home a project or kit unique to the party theme. For a hands-on experience (and virtually hands-off planning), click here for more private event information.  
---

Old Sturbridge Village 
A truly unique immersive experience, Old Sturbridge Village stands as the largest outdoor history museum in the Northeast. Kiddos will transport back to a rural New England town of the 1830s, among more than 40 original buildings depicting homes, meetinghouses, a district school, country store, bank, working farm, water-powered mills and trade shops—all situated on more than 200 scenic acres. Bring your kids and their pals to chat with costumed historians and see heritage breed farm animals. Several days on the OSV calendar are dedicated to fun for children and families, like Home School Days and Kids Free Summer at the Village. 
---

Polar Park 
And as the proud home to the WooSox, Polar Park's space boasts more than just baseball. Birthday parties among the WooSox include a scoreboard welcome and game-day staples like hot dogs, chips and Table Talk pies. Starting at $20 per child, bring along (at least) 10 of your kid's closest pals and revel in this American classic together. Click here for more. 
---

Southwick's Zoo 
Southwick's Zoo is a local staple for little adventurers. And when you host your child's birthday here, you and your guests get all-day access to the zoo, as well as a 90-minute celebration in the Party Pavillion. During the visit, partygoers can watch the educational shows held in the zoo and learn about hundreds of wild and exotic animals in their naturalistic habitats. Click here to learn about the various event packages, from Wild Child to Gone Bananas.  
---
Planning a Big Group Event?
If you're a planner organizing an event for 100+ attendees, consider reaching out to us directly. Our team can act as a liaison to securing multi-venue bids from across the region, as well as overnight accommodations and entertainment options.