Uncover Shopping Itineraries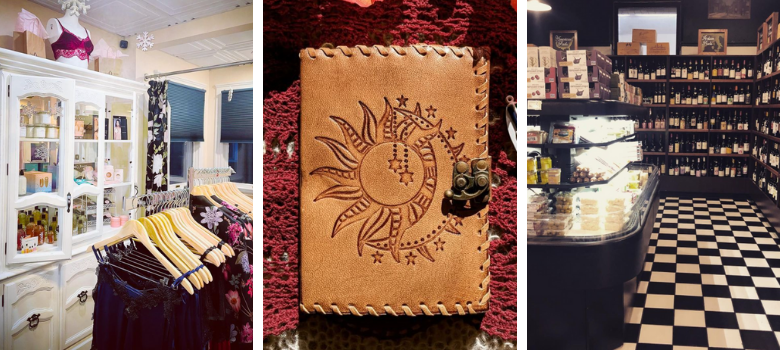 More than 33% of businesses in Massachusetts are owned by women. To celebrate the boss-women in our region, we've created a Women-Owned Shopping Trail that will have you visiting a choice selection of businesses run by some of the fiercest females in Worcester. Featured above, left to right: The O Shop, Annie's Book Stop of Worcester and Ed Hyder's Mediterranean Marketplace.
---
With 39 stops, this ultimate holiday shopping itinerary will keep you busy and take you all across Central Massachusetts. If that sounds intimidating, browse the list and pick your own stops! From Sensory Station Toys to Thyme Herbal Apothecary, there's a spot to peruse for every giftee on your radar. With our Visit Widget, you can also check out local events and dining options along your route. Featured above, left to right: Joe's Albums, Lake Road Living and LuLu's Jewelry & Gifts.
---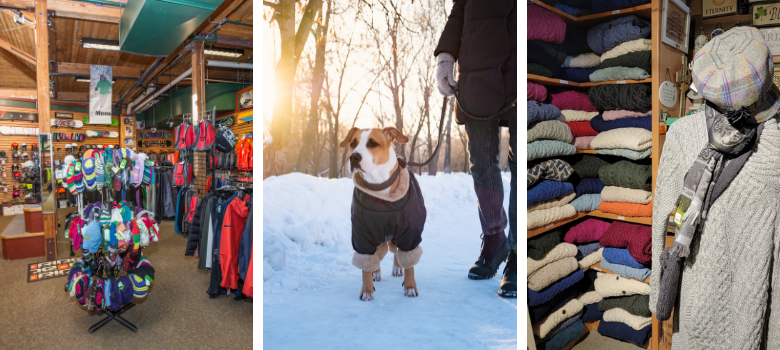 New England is known for cold, snowy winters, so you've got to layer up to stay cozy. The holiday season is a great time to gift your loved ones (or yourself) new winterwear, from wool sweaters to snow jackets (for you or the dog). This guide highlights an array of local options. Featured above, left to right: Wachusett Mountain Ski Area Shop, Quite Fetching Barkery and Pet Boutique and The Tinker's Cart.
---
Discover Holiday Markets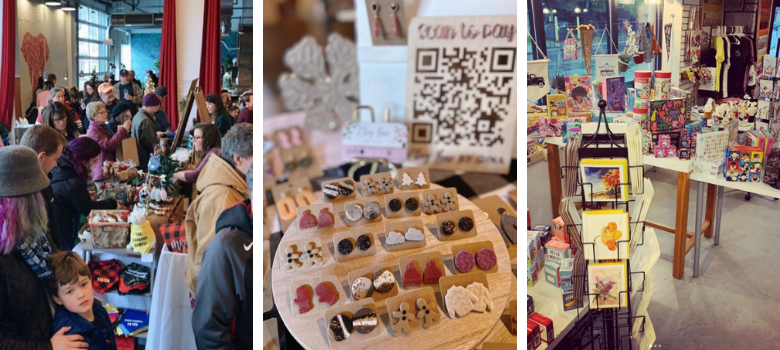 Featured above, left to right: Redemption Rock Brewing Co. Holiday Craft Fair (previous year), Clay Bae by Gina at The Market at Timberyard Brewing Co., & C.C. Lowell Art Supply and Custom Framing
Nov. 5 to Dec. 24 at Timberyard Brewing Co. in East Brookfield: The Market at Timberyard is back in action with gifts and freshly baked goods, Saturdays and Sundays from noon to 4 pm.
Nov. 11 & Nov. 12 at Vaillaincourt Folk Art in Sutton: Celebrate the start of the season with a traditional German outdoor market—the Vaillancourt Christkindlesmarkt & Artisan Show—in Sutton, a quintessential New England town. Friday's market runs 11 am through 8 pm and Saturday's, 11 am to 6 pm.
Nov. 25 to Nov. 27 at Worcester Center for Crafts in Worcester: The Holiday Festival of Crafts event is from 10 am to 5 pm on Friday and Saturday, as well as 11 am to 4 pm on Sunday. There is a $5 per person admission at the door.
Nov. 25 to Nov. 27 at Sturbridge Host Hotel & Conference Center in Sturbridge: Visit the Country Folk Art Show & Artisan Market Friday & Saturday from 10 am til 5 pm and Sunday 10 am to 4 pm.
Dec. 4 at Redemption Rock Brewing Co. in Worcester: Peruse the Handmade Holiday Market while you sip a craft beer, held from noon until 4 pm. 
Dec. 4 at The Grafton Municipal Center in Grafton: Take a peek at artisan goods, wood items, photography, jewelry, soap/scrubs, spices and more at the Holiday Craft & Vendor Fair from 10 am through 2 pm. 
Saturdays in December at C.C Lowell in Worcester: Meet local artists and makers, find the perfect gift, and you might even be inspired to pick up art supplies to make your own creations! The Mini-Merry Market will pop up at C.C. Lowell features it all. 
---
Give & Let Live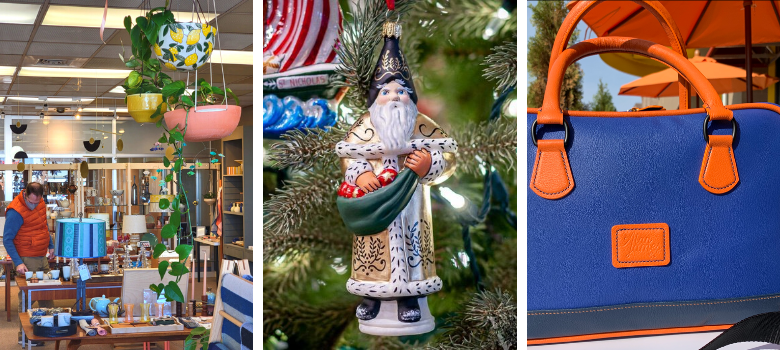 We highlighted dozens of shops and artisan-made gifts during the 2020 holiday season in our Handmade Holidays Gift Guide. If you're looking for one-of-a-kind, this list is for you! Featured above, left to right: Worcester Center for Crafts Gift Shop, Vaillancourt Folk Art and Alan James Co. at Worcester Public Market.
---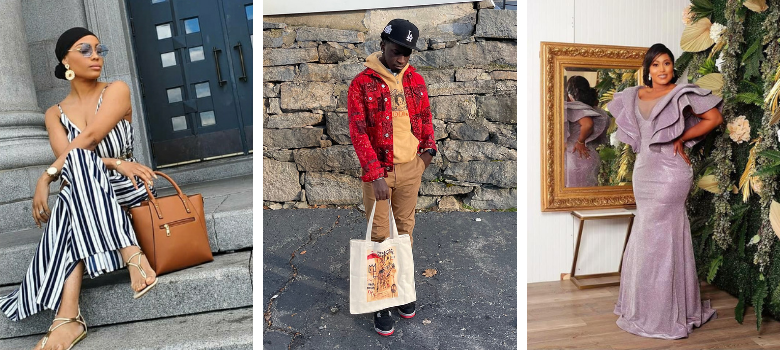 Celebrating Black-owned businesses in Worcester's fashion scene, this article highlights where to go for designer gowns, accessories, streetwear, custom creations and beautifully curated knits. Featured above, left to right: Demoiselle Accessories, Prodigal Pieces and Danquah's Home Of Fashion.
---
Shop Local Flavors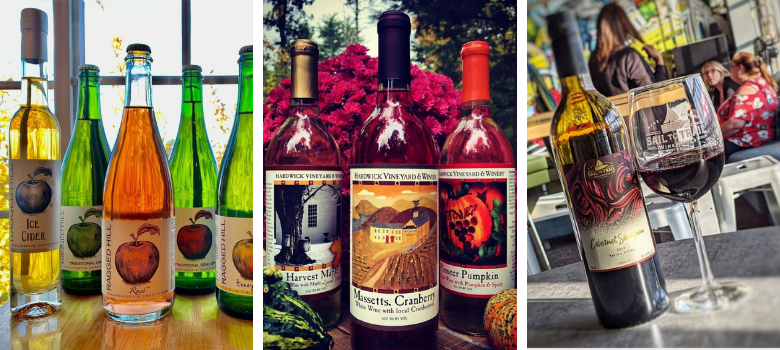 From a celebratory bottle, to a flight with a friend, to a private event with your whole team, peruse Canal District Wines for holiday celebrations of every sort. Both wineries and breweries are aplenty in Central Massachusetts, of which you can find a full list here. Featured above, left to right: Ragged Hill Cider Company, Hardwick Vineyard & Winery and Sail to Trail WineWorks.
---
Discover Our Growing Gift Guide on Social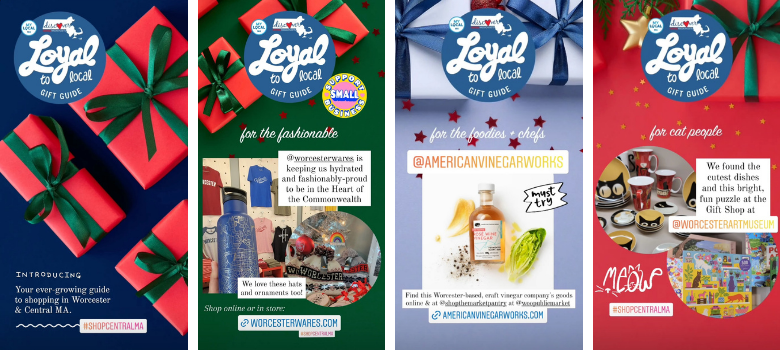 Follow along on Instagram, where we're sharing gift ideas throughout the holiday season! Catch up on what you missed in our 'Gift Guide' Highlight, and you can screenshot our templates to shout out the shops you love most.
---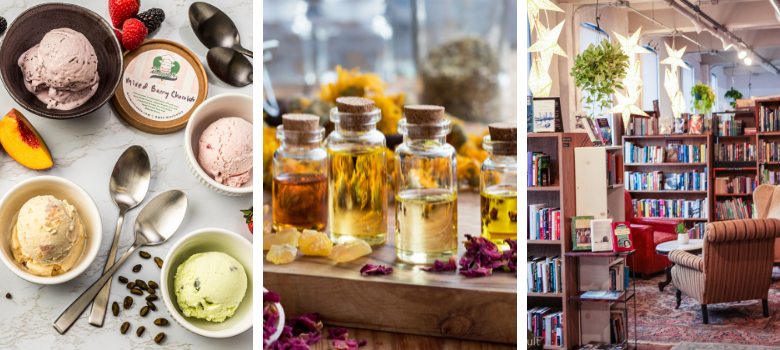 Our Shopping directory will connect you with retailers across the region. Featured above, left to right: Mrs.Moriconi's Ice Cream, Alternatives for Health Herbal Apothecary and Bedlam Book Cafe
---
However you decide to #ShopCentralMA - let us know! Tag us @DiscoverCentralMA on Facebook and Instagram, or @VisitCentralMA on Twitter.