Worcester Craft Beer Week Schedule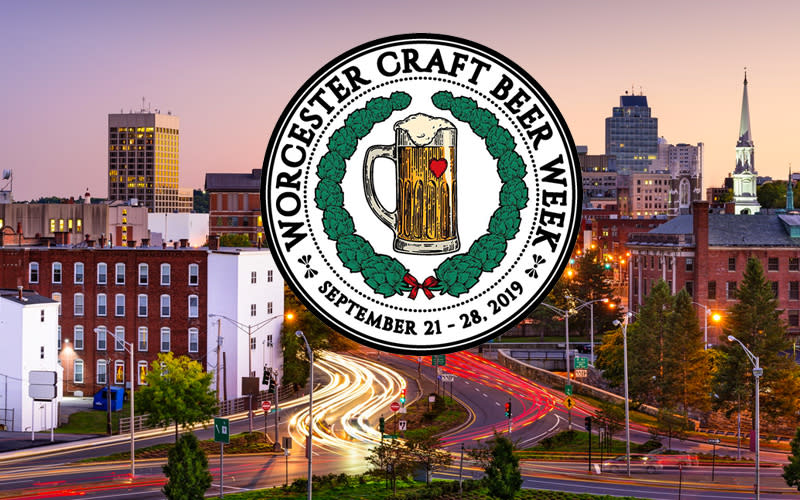 Mass Collaborative Beer Fest
Sept 21 / 1 PM - 5 PM / Worcester Common
The Great Mass Collab will kick off at the Worcester Common Oval, under the direction of the Mass Brewers Guild. Breweries were asked to collaborate in the spirit of the event and Worcester took things one step further by bringing together all of the "five families" for one ambitious endeavour.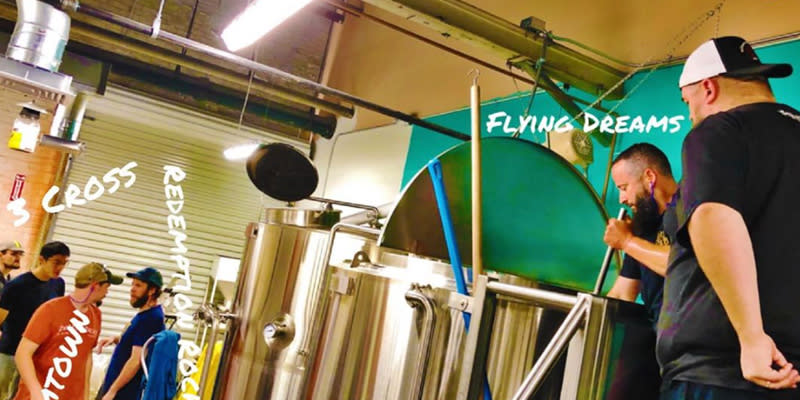 As a unit, the five breweries developed "Snoopy Cap," a brown ale featuring locally roasted coffee beans from Acoustic Java. They enjoyed the experience so much that they decided to use the one day festival as the first event in an entire roster of "Worcester Craft Beer Week" programming.
Be among the first to sample this great collaborative beer at The Great Mass Collab. This spectacular beer festival will also feature food trucks, yards games and more than 50 local breweries. Tickets are $45 for general admission and $10 for designated drivers. General admission includes unlimited beer samples from participating breweries. +tickets
Rooftop Party
Sept 21 / Union Station Garage
Food vendors and live music by The Worcester Jazz Collective and Weege & The Wondertwins! Hosted by the Worcester Breweries: Redemption Rock, Wormtown, 3cross, Greater Good, and Flying Dreams. Learn More.
Greater Good Disc Golf Tournament
Sept. 22 / Maple Hill
Maple Hill Disc Golf Course in Leicester, Massachusetts is a host to the MVP Open at Maple Hill and is rated as a top 10 course in the world by DGcoursereview.com. Maple Hill boasts six different course configurations ample enough to satisfy a beginner, yet challenging enough for even the most seasoned professional. Make sure to stop by Maple Hill to check out the Greater Good Disc Golf Tournament in celebration of Worcester Craft Beer Week! Participants will receive a craft beer and a custom tournament stamped disc. Learn More.
Shuttle Service Rotating to Breweries With Pop-Up Food
Sept. 27 / 5 PM - 11:30 PM / Brewery to Brewery
Take the train to Union Station and enjoy a complimentary shuttle to explore the city's breweries. Two 29 passenger shuttles will rotate every 30 mins to: Redemption Rock, Wormtown, Greater Good and Flying Dreams. 5 PM – 11:30 PM. Learn More.
Beer Themed Scavenger Hunt
Sept. 28 / 1 PM / Wormtown Brewery
Ready for an adventure? Embark on a beer themed scavenger hunt and explore the amazing city of Worcester. An array of fun clues will guide you, culminating in an awesome Worcester craft beer tap takeover at an undisclosed location! Learn more.
---
The Five Breweries of Worcester 
Join the "five families" of Worcester for a drink; you'll feel right at home. Each of Worcester's breweries offers its own flavor of hospitality and together they make a powerful force.
3cross Fermentation Cooperative, Flying Dreams, Greater Good Imperial Brewing Co., Redemption Rock Brewery, and Wormtown Brewery have developed a collegial relationship over the years. Wormtown Director of Marketing Katrina Shabo sees great value in having other breweries in close proximity, explaining, "We're the happy-hoppy brewery. Each of us has our own identity."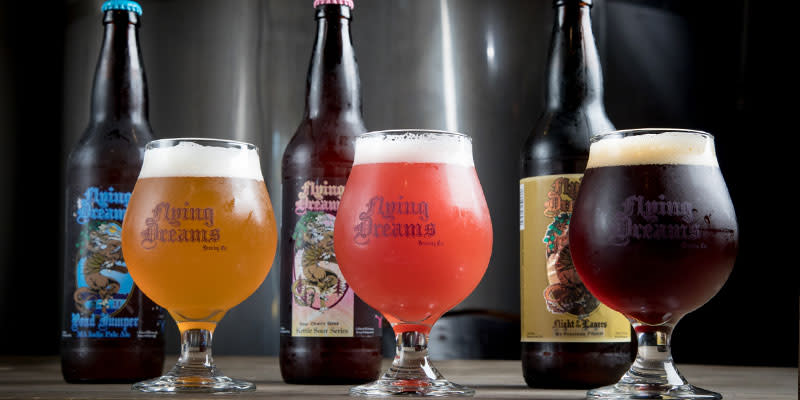 455B Park Ave, Worcester
Long before Flying Dreams was born, Dave Richardson spent years experimenting with flavors and honing his skills in brew school and as a master brewer at the legendary Gardner Ale House. Since then, he has been recognized as one of the top beer innovators in the region; collecting over thirty-five awards for his pure, unfiltered and unadulterated brews.
---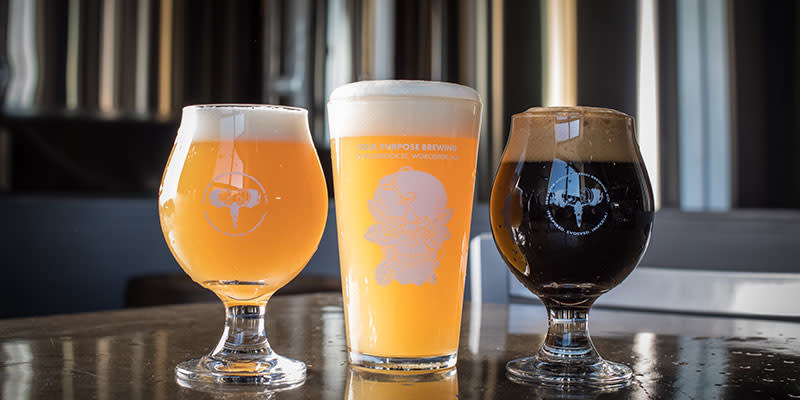 2804, 55 Millbrook Street, Worcester
Did you know that America's first all Imperial beer brewing company is located in Worcester? Imperial beers have an alcohol content of 8% and up, and contain more hops and malt than a traditional brew. Paul Wengender fine-tuned his hand-crafted recipes for over a year before officially opening Greater Good in 2018. All beers at this unique tap room range from 8% - 12% alcohol content, so we advise to consume on a full stomach! Their on-site test kitchen, TOAST, has a creative menu with dishes like gooey grilled cheese, Hawaiian Maui-Wowi panini, and cheese plates that pair perfecltly with their brews. This family-friendly brewery also has a kids menu with classics like hot dogs, PB&J and root beer floats.
---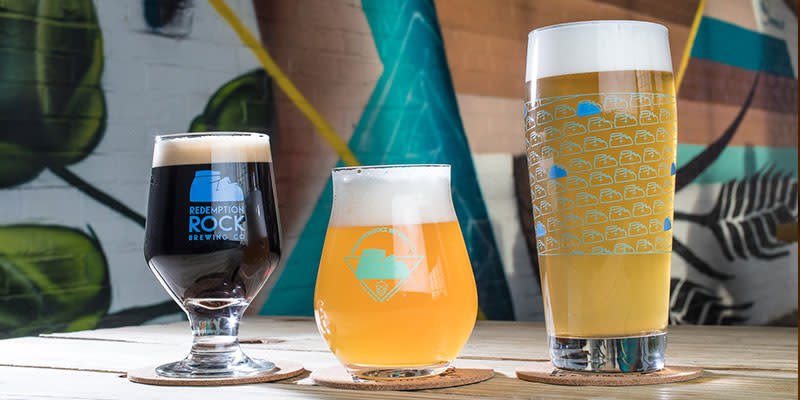 333 Shrewsbury St, Worcester
The folks at Redemption Rock are self-professed beer geeks, but their brews are for casual beer drinkers, not just beer nerds (although they are certainly welcome too!) In fact, they welcome everyone at this community-centered brewery, taproom, and cafe on Shrewsbury Street in Worcester. 
The founders think craft beer should be an experience centered around camaraderie and community. They want to see their patrons having a good time with their friends while exploring all that beer has to offer. This comfortable and colorful brewery serves as both a coffeehouse and a bar. 
---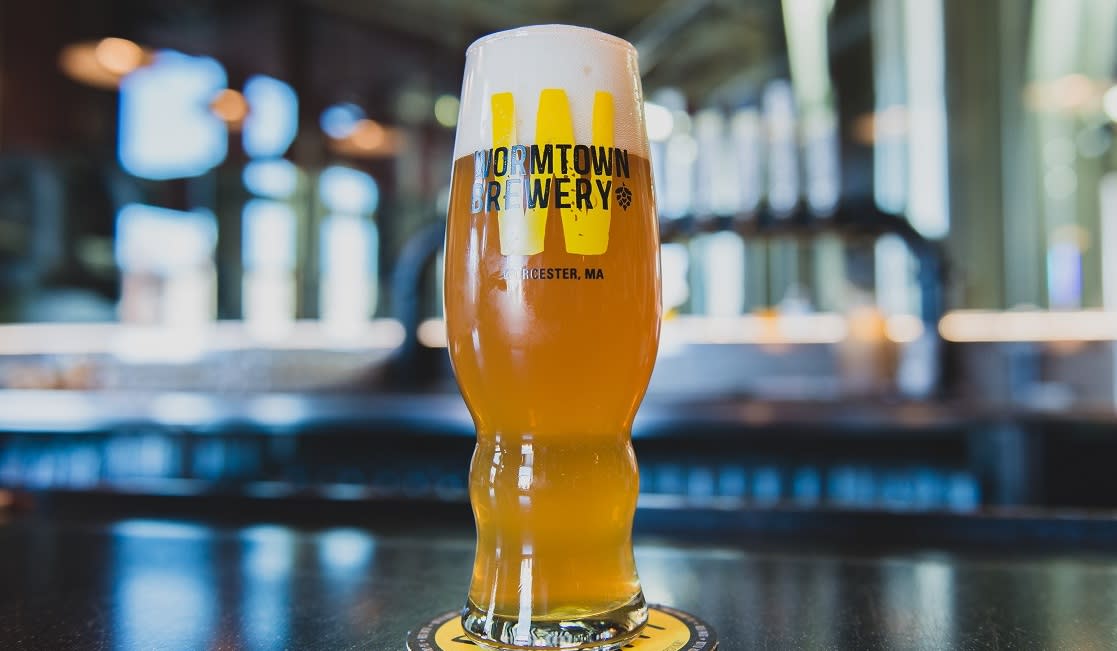 72 Shrewsbury Street, Worcester
Ben Roesch was brewing and selling beer for Honest Town Brewing in Southbridge MA when he had a vision for a brick and mortar brewery in his hometown of Worcester. After starting small in an old ice cream stand, Ben teamed up with David Fields and grew into their current 50,000 square-foot space. Located within walking distance to dozens of restaurants on Shrewsbury Street, the award-winning brewery also has a tasting room and popular outdoor patio.
---
Location: Seeking a new home for their taproom. Find their beers at a number of restaurants and package stores in the Worcester area.
Flagship: 3cross offers a rotating, seasonal selection, but the 3cross team is partial to Whirlwind (named for Major Taylor)
3cross Fermentation Cooperative is Massachusetts' first community-owned brewery. Since the business is owned cooperatively by a core group of local fans (that could be you!), they keep their focus on serving the Worcester area. The name 3cross references the classic spoke lacing pattern for a bicycle wheel and you'll find elements of bicycle lore and culture throughout the brewery. Unfortunately, 3cross ran into facility trouble with their taproom and is not currently open to the public, but check their website for a list of restaurants and package stores where their beer is available for purchase. They hope to reopen to the public soon!
 +more