Burton Cummings' voice continues to be listed among the finest in rock music. As the Canadian Songwriters Hall of Fame points out, "The praise doesn't come any loftier than when none other than John Lennon says you are his favorite singer, and Led Zeppelin icon Robert Plant says you are one of rock's best voices."
American Woman
In his early career as lead singer, songwriter, and keyboard player with Canada's original rock superstars, The Guess Who, Burton scored an unprecedented string of international hits including American Woman, These Eyes, No Time, Laughing, Share The Land, Hang On To Your Life, Albert Flasher, Glamour Boy, and Clap For The Wolfman, all of which Burton wrote or co-wrote. By 1970, the Guess Who had sold more records than the remainder of the Canadian music industry combined. Today, their achievements remain unequaled.
With Burton Cummings as frontman, the Guess Who became the first Canadian group to reach number one on Billboard charts and first to earn a U. S. platinum album for sales exceeding one million copies. 
Rolling Stone magazine hailed the group as "…one of rock's most consistently fascinating maverick bands, with a succession of meritorious songs that has few equals among contemporary North American groups." Dick Clark described The Guess Who as rock innovators and ambassadors of Canadian music.  Their songs appear in feature films including American Beauty, Almost Famous, Cable Guy, Austin Powers: The Spy Who Shagged Me, and Jackie Brown.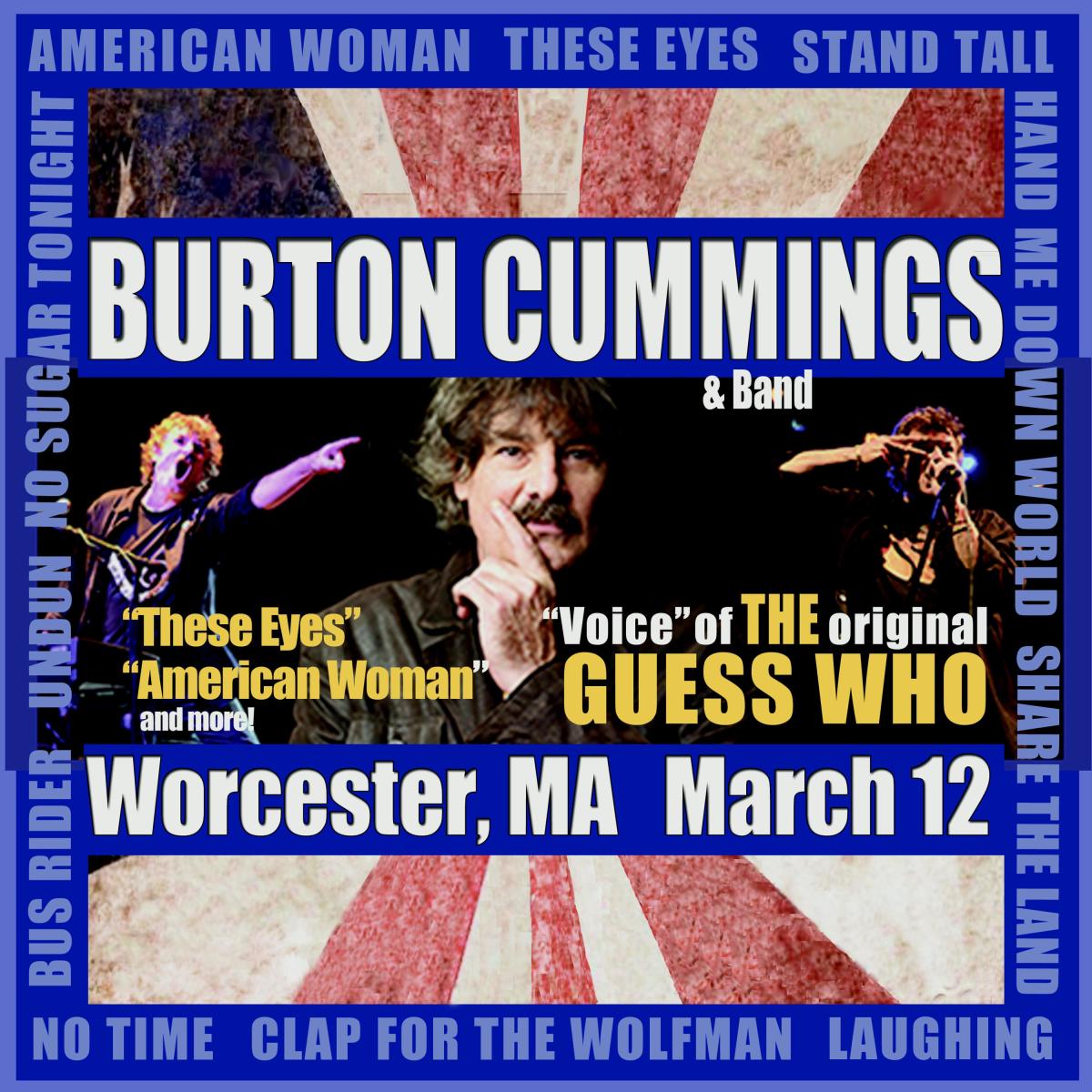 Beginning his solo career in 1976, Burton's success continued with a gold record for his debut solo single Stand Tall, produced by legendary hit-maker Richard Perry who listed among his clients Barbra Streisand, Carly Simon and Ringo Starr. Burton's subsequent solo hits include I'm Scared, My Own Way To Rock, I Will Play a Rhapsody, Timeless Love, Break It To Them Gently, Dream Of A Child, Fine State of Affairs, and You Saved My Soul.
Sold out tours across Canada and the United States solidified Burton's stature as a top performer. He starred in several television specials and, from 1977-1980, earned five Juno Awards for Best Male Vocalist and Best Album, serving four times as host of the annual Juno gala. His 1978 album Dream of a Child became the first quadruple-platinum-selling album by a Canadian artist.