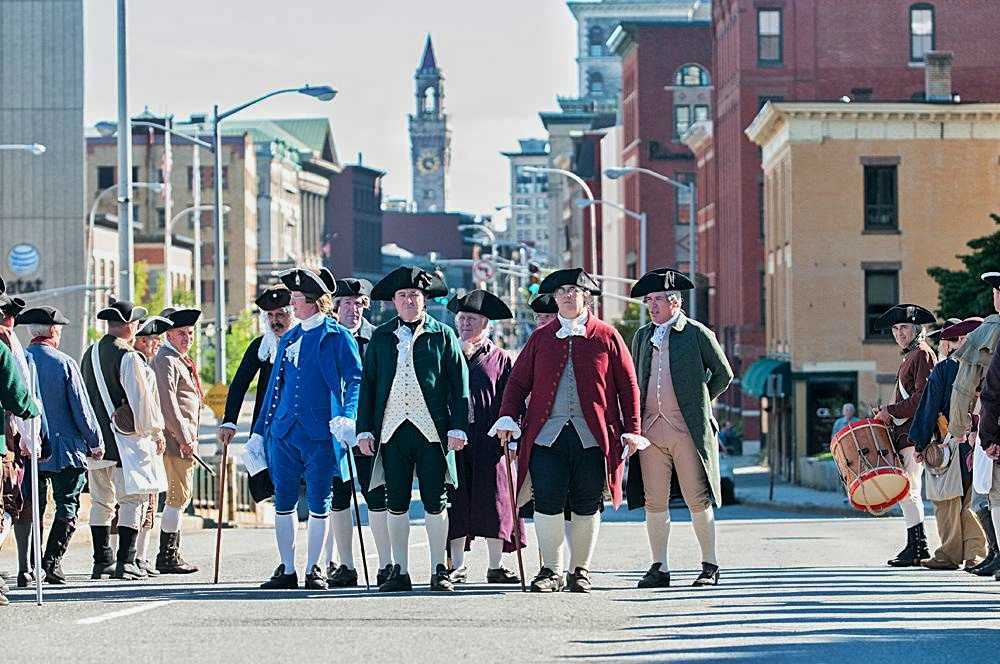 Source: Worcester Magazine, 2014
Worcester Revolution of 1774
Worcester, MA is home to "the most successful and enduring popular uprising in our nation's history." The Worcester Revolution of 1774 was etched into history when 4,622 people from Worcester and the surrounding rural towns of Central MA gathered in Worcester on September 6th and peacefully seized control of the government, ending Royal authority in Central MA for good.

The consequences of this event were enormous. The following spring, when General Gage decided to mount an offensive on a province he had already lost, his spies warned him not to attack Worcester, where patriots were too strong, but to go after Concord instead. The war started there on April 19th, 1775, but the revolution, the actual transfer of political and military authority, occurred in Worcester first, nine months earlier.
Celebrate Patriots' Day by diving into this history headfirst. Here's a guide of where to start:
---
How Worcester's History Was Hidden
You won't find this Worcester's story in most of the history textbooks. In 2012, historian Ray Raphael asks "Why not. Why don't we tell this story?" during his TEDxEureka talk. We highly recommend this video to learn more directly from him:
Among Ray Raphael's 17 books is The First American Revolution: Before Lexington and Concord, which chronicles the 1774 Massachusetts Revolution featured in this talk. Raphael also authored A People's History of the American Revolution (the first volume in Howard Zinn's "People's History" series) and Founding Myths: Stories That Hide Our Patriotic Past.
---
Telling Worcester's American Revolution Story
Source: C-SPAN
In 2015, the American Antiquarian Society, represented by James Moran, sets the record straight on C-SPAN. Most accounts of the American Revolution consider the beginning of the opening battle of the American Revolutionary War on April 19, 1775 in Lexington and Concord. But during a previous summer, in 1774, ordinary citizens gathered by the thousands in Worcester and county seats nearby, and, without the loss of a single life, put an end to British rule in the Massachusetts Colony outside Boston. From mid-August to mid-September of 1774, the citizens of Worcester and rural Massachusetts, mostly farmers, ended British rule over themselves and on their countryside forever. With no real organization, no official leaders, no fixed institutions, and no bloodshed – they went up against the most powerful empire on earth and won. In many ways, Worcester started our country along its path of open defiance that led to the founding of our country.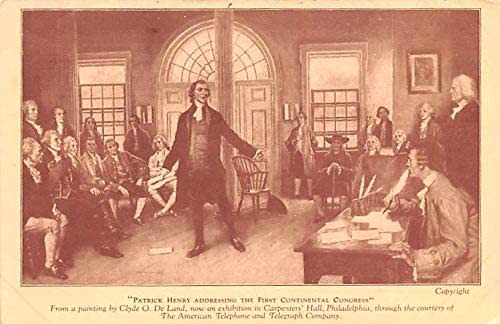 Above: Colonial Post Card depicting Patrick Henry Addressing the First Continental Congress
The spectacle of the Worcester rebellion against British authority and public humiliation of its officials sent a shockwave across the Massachusetts colony, all the way to Philadelphia, where the First Continental Congress was in session. Worcester's militiamen had irreversibly set the stage for an inevitable later, larger confrontation with the British military.
---
Worcester's History in the Press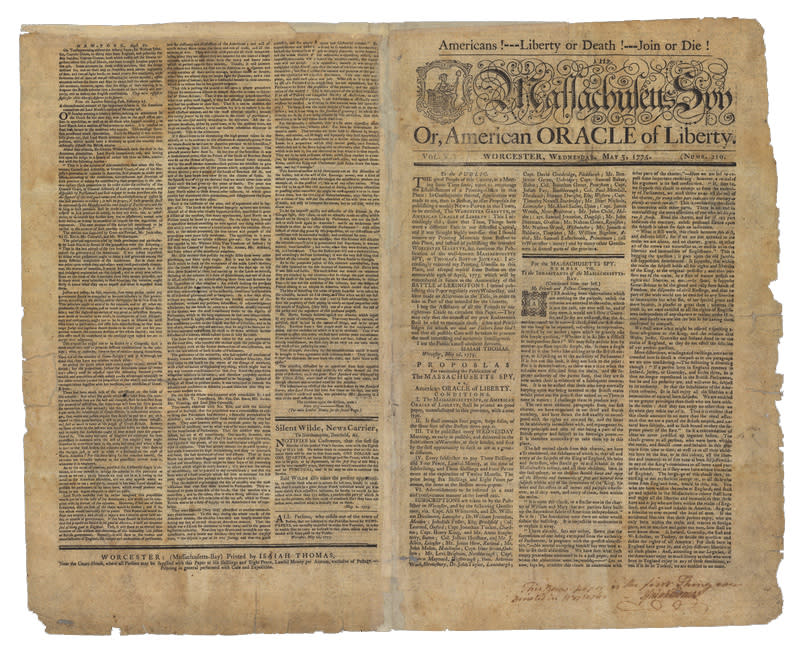 While most colonial newspapers had circulations of between 500 and 1,000, the Massachusetts Spy had a circulation of 3,500 from subscribers throughout the thirteen colonies making it the most popular American newspaper at the time. Designed specifically for the middling or middle class of craftsmen, the paper was founded in 1770 by Isaiah Thomas and his former master Zechariah Fowle, later Thomas would buy out Fowle and publish the Spy on his own.
Massachusetts Spy Moves to Worcester
At the start of the American Revolution, under the advisement of John Hancock and with the assistance of Timothy Bigelow and Joseph Warren, Thomas smuggled the press out of Boston during the night of April 16, 1775, and removed it to the inland Whig stronghold of Worcester. When paper finally arrived in early May he was able to publish the May 3rd, 1775 edition, the first Massachusetts Spy edition printed in Worcester.
America's First War Correspondent
As was customary with Colonial newspapers the breaking news appeared in the inside of the publication and thus on page three is Thomas's account of the battles of Lexington and Concord. The Spy was one of 27 Colonial newspapers that carried news of the battles at Lexington and Concord. But Thomas's version is one of the few that is clearly an eyewitness account. Because Thomas was present at the fighting, the historian of journalism Frank Luther Mott credits him with being America's first war correspondent.
---
Celebrating Worcester's History
Thanks to our local cultural organizations, such as the Worcester Cultural Coalition, Preservation Worcester, American Antiquarian Society, Worcester Historical Museum, the Salisbury Cultural District, & others, Worcester's history is being celebrated and recognized. In addition to learning more about those organizations, here are ways you can participate:
Worcester Revolutionary Walking Tour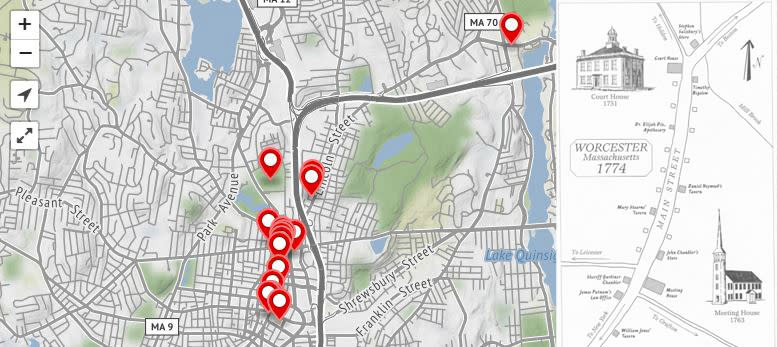 Worcester's Revolution: A Town that Defied an Empire is a project of Worcester Historical Museum in collaboration with Digital Worcester and students at Worcester Polytechnic Institute. They've collected stories and a walking tour so you can experience history in the streets of the city.
---
Living History at Old Sturbridge Village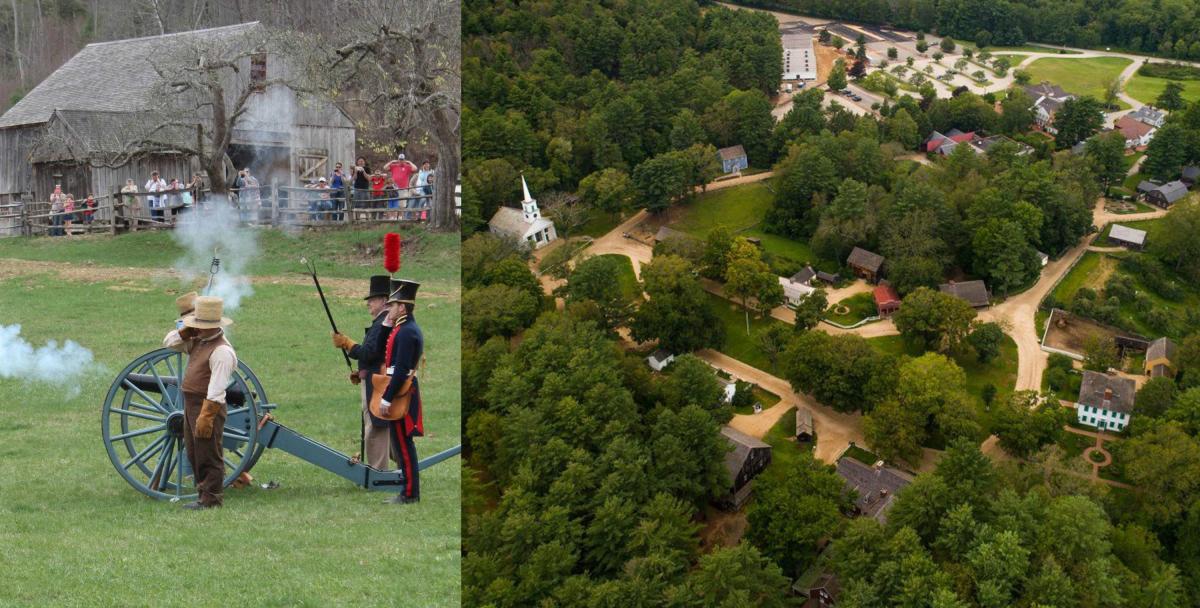 This Patriots' Day Old Sturbridge Village is alive and buzzing from 9:30 am to 5:00 pm. Special programs and activities throughout the day will invite visitors to experience the sights and sounds of our colonial ancestors as the Revolutionary War began. You must have ticket reservations to attend.
Listen to Fife & Drum music
Meet a "Loyal" American Solider and a Minuteman
Watch Cannon Firing Demonstrations
View Revolutionary War artifacts from the Old Sturbridge Village collection
---
"Walking of the Gauntlet" Reenactment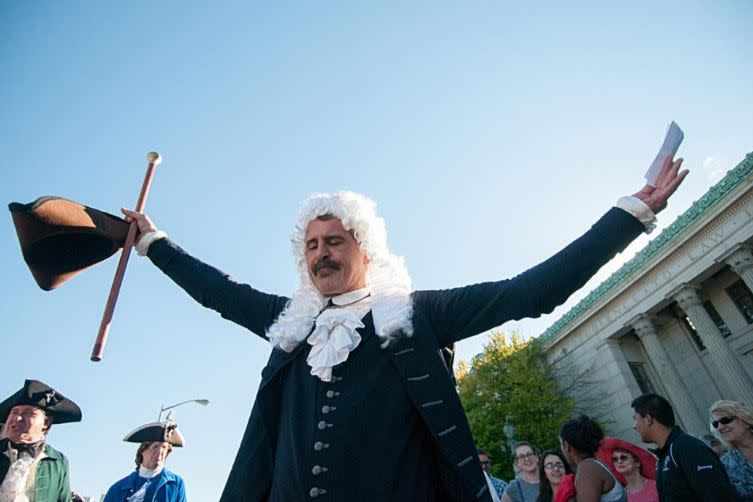 Source: Worcester Magazine, 2014
The award-winning Worcester Revolution of 1774 project created public programming throughout the region involving all of the thirty-seven communities that originally participated in this event. Lectures, exhibits, special programs, workshops on historical research, a website, reenactments, and an original play brought the Worcester story to a wide audience.
These events culminated in a daylong free festival that included children's activities, historic presentations, period music, and performances of The Chains of Liberty. The festival concluded with a reenactment of the closing of the courts that involved members of each town's historical society, elected officials, and the general public. 
---
With Worcester's 300th Anniversary approaching, it's important to remember and celebrate the city's history. Please consider supporting local cultural initiatives & reenactment projects to bring history alive for younger generations for years to come.