After School Youth Art Classes in Worcester
The Worcester Center for Crafts offers instruction in craft and creativity for adults, children, and teens. The studio is fully equipped to practice all sorts of art mediums from blacksmithing, to jewelry making and darkroom photography.
With the winter approaching, these creative craft classes in Worcester for kids and teens are the perfect indoor activity to keep them learning and expanding their skills.
Youth classes start the end of October and run until December. Geared to ages 6 - 17, these small focused classes run after school from 4 PM - 6 PM.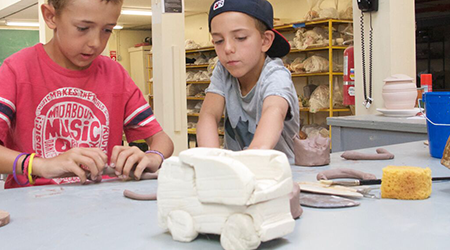 Create real and abstract sculptures in clay while learning about the history of ceramics in "Shaped by Hand" for ages 10 -13. The younger kids can build clay creatures, bowls and dishes in "Clay Creations" for ages 6-9.

For teens, they'll love walking away from the course with a piece of jewelry they handmade themselves in "Adorn Yourself: Jewelry." They'll learn soldering, wire work, and creative metalsmithing.

If your teen prefers playing with clay; start off their sculpture portfolio with "Ceramics by Wheel and Hand." And lastly, if your teen is in to fire - the flameworking class is the perfect environment to learn safe flame working techniques.
Classes do fill up quickly so register for a class today.