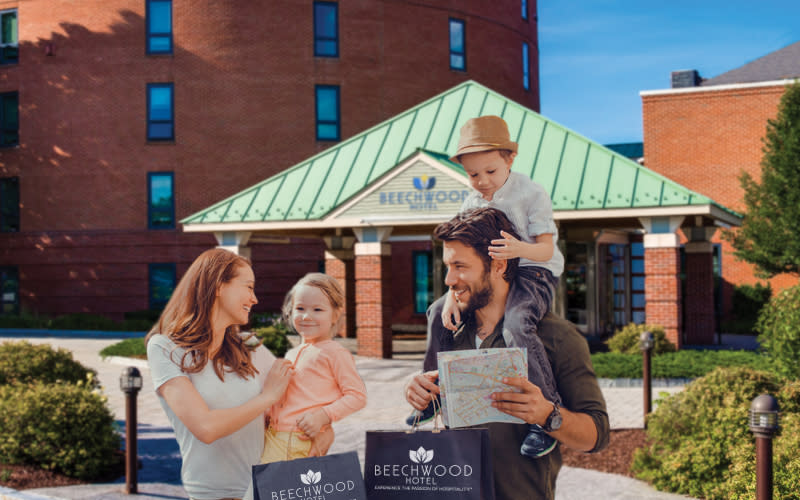 Sometimes the best plans include rest and relaxation. Guests of the Beechwood can be found perusing the owners' private collection of museum-quality artwork, learning about the unique history behind each piece with a hotel provided guide.
If adventure is preferential, guests will find plenty of Boston-esque amenities throughout the city. Support the arts with a Broadway show at The Hanover Theatre, stroll through the Worcester Art Museum boasting nearly forty thousand works of art, or catch a thrilling show at the DCU Center.
Fairs, festivals, and farmer's markets
If you're traveling to one of the many festivals or fairs the region has to offer, fuel up with a generous breakfast plate at the Hotel's onsite Sonoma Restaurant before you depart.
Should you have eyes for the unique and precious, you'll appreciate all the Brimfield Antique Show has to offer from September 3-8. At the end of the day, return to a spacious suite with plenty of room for your new treasures, and celebrate your spoils with room service and a glass of wine.
Cooler weather brings a multitude of family-friendly fun, like stART on the Street, the largest music, art, and performance festival in Central Massachusetts held less than four miles from the hotel. The festival boasts over 300 crafters and artists, food vendors, and free activities for families.
If you're staying at the Beechwood, you may enjoy exploring relics from the past, like the property's black walnut fireplace resurrected from a 1800s-era New England homestead, the stained glass ceiling domes, or the restored turn-of-the-century chapel located in the Grand Ballroom. To further release your inner historian, learn about Worcester's rich past at the annual Dragon Boat Festival, a kaleidoscope of colors and culture.
Staying at the Beechwood is a real treat for four-legged friends, where they'll enjoy pet-friendly accommodations, ample green space for leisurely walks, and local dog parks. Vernon Hill Dog Park features over 17,000 square feet to sit, stay, and play. Safety is top of mind with double gates, fencing, and a section for small-dog and big-dog fun. On September 8, animal lovers will delight in attending the Pet Rock Fest where hundreds gather to highlight the work of animal welfare organizations, listen to live music, view k9 demos, and sample mouthwatering vegetarian concessions.
Getting Here
The Beechwood Hotel is just an interstate, flight, or train ride away. With Rt-290 bisecting the city, those commuting in and out of Worcester have access to several major highways to the north, south, east, and west. Park your vehicle in the Beechwood's spacious lot—always free for guests. Air travel is made seamless with the Worcester Regional Airport providing daily flights to Philadelphia, Orlando, New York City, and Fort Lauderdale. Delta Airlines will begin offering flights to Detroit this August.
Activities for all ages
Mere miles from the hotel, you'll find everything you need to entertain young explorers. Expand their knowledge at the EcoTarium, an educational museum of science that features indoor and outdoor experiences including live animal habitats, a digital planetarium, hiking trails, and seasonal train rides. A busy day out means early to bed, and more time for parents to reflect and reconnect over a bottle of wine and quiet conversation.
Luxurious Accommodations
In the heart of the Commonwealth sits one of the Northeast's most exquisite boutique properties, Central Massachusetts's only AAA Four Diamond rated Beechwood Hotel, a proud member of the Preferred Hotels & Resorts Connect Collection, featuring 52 European-inspired guestrooms and 21 elegantly appointed suites equipped with luxurious amenities.
Fine Dining for All Ages
Worcester's restaurant scene is acclaimed throughout the region, including the culinary adventure in fine dining, Sonoma Restaurant, featuring farm-to-table delicacies and a full selection of expertly mixed cocktails, craft beers, and a top-rated wine selection. On Thursdays during warm weather months, patrons will find live music on the Patio at Sonoma event pavilion and an elegant retreat for al fresco fare.
---
Wherever your Central Massachusetts explorations take you, your home base at the Beechwood Hotel awaits at the end of the day with delicious meals, beautiful surroundings, and comfortable accommodations. Visit the Beechwood Hotel website for more information, pictures of the property and surroundings, and sample menus from Sonoma Restaurant.