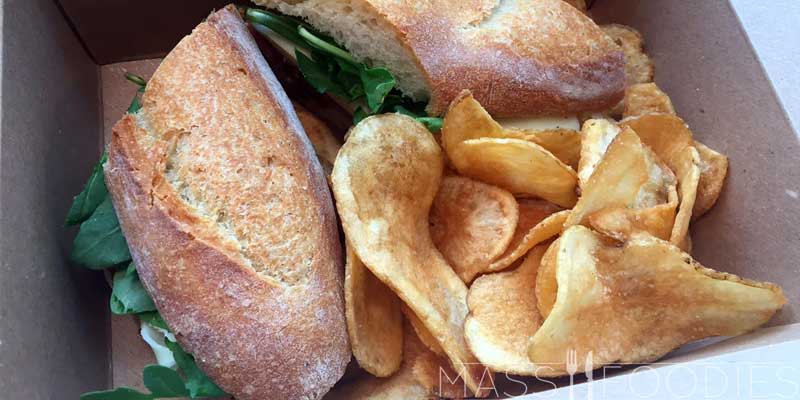 Parma Classic from Figs & Pigs in Worcester
Figs and Pigs' take on the classic Croque Madame is the Figs Madame, made with ham, dijon, gruyere cheese, and a fried egg. All of Chef Candy Murphy's sandwiches are served on Nashoba Brook Bakery's Slow Rise Breads, an outfit who operates under the belief that "anything worth having is worth waiting for." Each hand-formed loaf is made with wild yeast captured using Concord Grapes on the banks of Nashoba Brook.
Anh Thu Restaurant II took us by surprise with their house Banh Mi. Each French Bread Roll is lightly toasted to order. The eatery's emphasis on bread does not go unnoticed. House pickled carrots, thin slices of jalapeno, and crisp daikon radishes prove that the Banh Mi is one of the rare instances where vegetable accouterments can effectively steal the show. Anh Thu's juice and boba bar is also worth mentioning. 
Mama Roux, the latest addition to the local food truck scene, has already built a cult following around its Szechuan Hot Chicken Sandwich. Owner, Jonathan Demoga, insists on using Regal Crown Pickles, an artisan pickle producer based in Worcester. The sandwich is made with buttermilk fried free-range organic chicken thighs, doused with Szechuan spiced chili oil and served on a Martin's potato roll. 
The Regatta Deli has been serving up their "Famous Italian Grinder" since way back when Jordan Levy was the Mayor, and the best part is that the sandwich is still only $5. The Italian Grinder is served on a half loaf of Italian bread with Genoa Salami, Imported Ham, Provolone Cheese, lettuce, tomato, onion and housemade dressing. Like any other sandwich, the order of assembly is important and Regatta has it down to a formula.