Lodging

Beechwood Hotel 
With 52 sleekly decorated guest rooms and 21 elegantly appointed suites, Worcester's Beechwood Hotel welcomes you with warmth to its fireplaced lobby. Seven fireplace suites, exceptional service, amenities and accommodations make this AAA Four-Diamond boutique hotel a coveted destination for Valentine's Day or a winter weekend escape. 
---

Publick House Historic Inn 
For the true charm of New England and the warmth of a cozy fireside, be sure to visit the Publick House Historic Inn this season. This Sturbridge landmark is a historical ode to the area and a wonderful spot for winter dining and overnight stays.  
---

AC Marriott, Worcester 
You can spend an entire day exploring downtown Worcester when your hotel is just a few steps away. Enjoy an evening at AC Marriott, complete with pillow-top mattresses and smart TVs with premium channels. Gather your family around the fireplace in the lobby after stopping by the lounge in the evening for craft beer and tapas. 
---

Laurel Ridge Bed & Breakfast 
Warren's Laurel Ridge Bed & Breakfast prides itself on being an oasis for privacy, peace and quiet, and New England's "off-grid" B&B, powered entirely by sun and wind. The wood-lined lobby's big, bold fireplace and leather chairs make for an ideal cold-weather retreat.  
---

Courtyard Worcester 
With a host of amenities including (but not limited to!) free Wi-Fi, an onsite restaurant and bar, and a fitness center, Courtyard Worcester is a solid contender for a local stay. After taking a winter dip in their indoor pool, curl up with a good book or your loved ones by your side at the lobby fireplace. 
---

Comfort Inn & Suites 
Unwind after a long day of wintertime fun and enjoy the warmth of the fire in the comfort of your own suite at Comfort Inn & Suites. The next morning, treat yourself to a complimentary hot breakfast, amidst a variety of other wonderful accommodations. 
---


Sturbridge Host Hotel & Conference Center 
Whether you're traveling with family or for work, Sturbridge Host Hotel & Conference Center has everything you could ask for and more. Enjoy a night of playing games in the arcade or getting drinks at the lounge, and then sit back in front of the lobby's beautiful fireplace and take it easy. 
---
Dining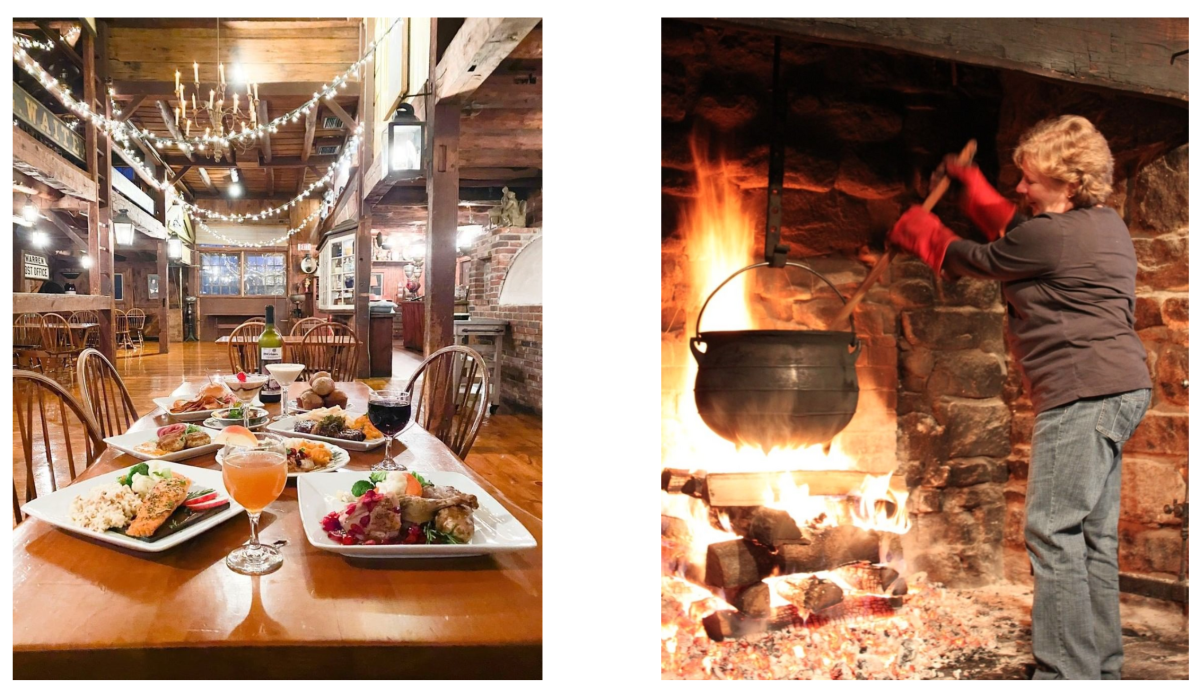 Salem Cross Inn 
The folks at Salem Cross Inn in West Brookfield are experts in fireside entertainment. Their Fireside Feasts, hosted on various weekends through April, feature a full evening of warm enjoyment, including prime rib roasted in their great fieldstone fireplace using an antique approach, as well as horse-drawn sleigh or wagon rides.  
---

Lock 50 
Worcester's original outdoor dining patio igloos can be found at Lock 50, the upscale/comfortable spot in the historic Canal District with a New American menu. The heated igloos are decorated with neon lights, plants, carpets and electric fireplaces for intimate little parties of all sizes.  
---

Black & White Grille 
Spencer's family-style Black & White Grille is another spot for igloo dining and imbibing. Delicious pub food and a warm atmosphere make this one a charming must-visit this winter season.
---

110 Grill 
The Modern American watering hole, 110 Grill, is an additional patio favorite for locals and visitors alike. Located next to Worcester's AC Marriott, the grill offers comfortable outdoor seating with a large fire pit at the focal point for diners in colder months.  
---

O'Connor's 
An Irish staple in the Heart of the Commonwealth, O'Connor's Restaurant & Bar boasts a heated tent for events purposes. Whether your crew is of 10 or 150 guests, outdoor dining (with proper social distancing) is always an option at this classic pub. 
---
So many fireside adventures await this year, we're constantly updating this list—so be sure to check back for more warm opportunities.