To many, outstanding service is just as crucial as taste itself. When planning your next event, consider these crowd-pleasing catering options to satisfy every attendee.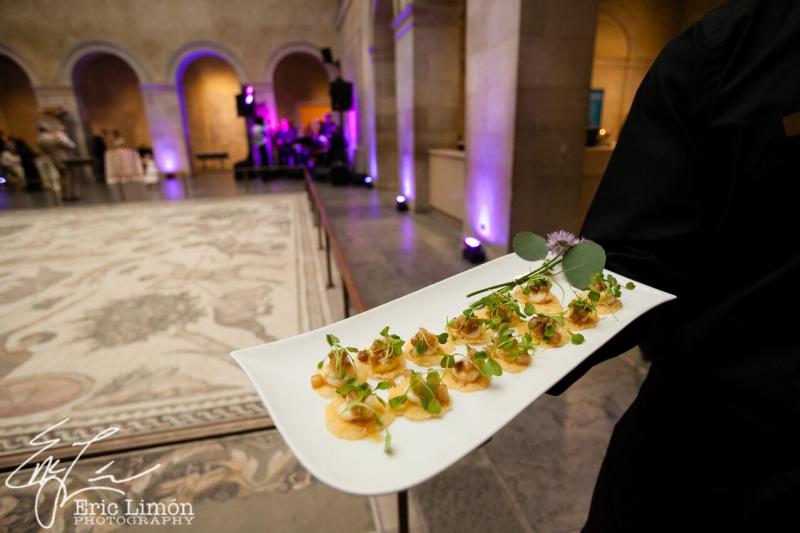 Peppers Artful Events 
Catering from Peppers Artful Events will enhance your event with purpose and passion. Owners Susan and John Lawrence pridefully adhere to their guarantee of a savored food experience at every celebration. Peppers Artful Events' assortment of culinary delights, cakes and bar accoutrements are designed to inspire. Their talented team works closely with clients to customize a menu to complement your life event.  
With over 30 years in the game, the culinary team at Peppers Artful Events prioritizes cooking with locally sourced and organically grown ingredients to guarantee a memorable dining affair while their skilled pastry team adds flair to sweet treats. Their uniquely-styled food displays such as their "Steamed Bao Bun Station" or "Mediterranean Presentation" will give guests a variety of tasty portions. As clients are allowed to create custom menus, other options like flatbreads pizzas or brunch sized sandwiches are sure to be the perfect complement for your event and guests' desires. With leading catering talent who're true masters at their craft, Peppers Artful Events is a prized local choice. 
Guests bonding over a meal or snack can support the high-spirited atmosphere of your gathering. With that, your party planning creates a priority to have a menu that will impress ranging taste palettes. If you're a planner organizing an event for 100+ attendees, consider reaching out to us directly. Our team can act as a liaison to securing multi-venue bids from across the region, as well as overnight accommodations and entertainment options. 
---

Creedon and Co. 
The professional team at Creedon and Co. specializes in full-service catering that brings exceptional dining to your occasion. Their ranging catering menus offer breakfast food staples like assorted fruit and freshly baked muffin tops, while their lunch and dinner menu extend from buffet-styled hot dishes, like mini deep dish pizzas and vegetable quesadillas, to handmade sandwiches and boxed lunches.  
From backyard outings and corporate events to weddings and other formal affairs, Creedon and Co. has the menu options to please your guests. They further ensure client satisfaction by offering custom menu options to accommodate specific meal requests. Creedon and Co. catering services exceed your event needs with a wide range of offerings like barbecue food staples, concession stands and bar services (with option for a mobile bar, too!). Gratify your celebrants and trust in Creedon and Co. to complement your lively event with a remarkable dining selection. 
---

CharCUTErie Woo 
Based in Worcester, CharCUTErie Woo is a coveted charcuterie option in Central Massachusetts for any soiree. These custom cheese boards feature locally sourced ingredients and notable detail that double as a tasty treat and decorative addition. For the everyday fruit and veggie lover, they also offer assorted boards filled with the likes of mango, peaches, cucumber and peppers with accompanying dips.  
Their generous offerings of custom-designed boards, sizing from small to extra-large, make this a stellar choice to celebrate occasions of any size and style. CharCUTErie fosters easy communication with their online ordering system, too, through which clients can share specific personal instructions and requests for their creation. To boost a bigger-scale social event, CharCUTErie's larger-form "grazing tables" feature beautiful charcuterie artwork that will provide an impressive feast of snacks and quick bites to appease your guests' appetites.  
CharCUTErie also offers private party classes and workshops that can serve as a special bonding event and experience for an intimate-sized group. Their private classes include a two-hour package with a class on crafting your own cheese board with an inviting atmosphere that's comfortable for your private party to socialize and connect over these artful indulgences.  
---

Nothing Bundt Cake 
Turn your event into an especially sweet moment with a dessert from Nothing Bundt Cakes. This unique cake option will certainly elevate your occasion with up to 10 delicious flavors to choose from. For that special touch, your Bundt cake can accommodate any occasion or theme with their menu, offering cakes that celebrate year-round holidays and customized occasions.  
Their trademark Bundt cake is made from the finest ingredients and decorated with signature cream cheese frosting. Along with the original Bundt cake, their products include mini Bundt cakes available individually wrapped or by the dozen, which can serve as a special treat as party favors or on a dessert table at your event. Nothing Bundt Cakes' bakeries also carry an array of essential party supplies that make it the perfect one-stop shop before your upcoming event. Bring your decorated Bundt to the next happily ever after moment. 
---

Struck Catering 
Struck Catering's artful food presentations will leave a lasting impression on your guests with expansive arrays of authentic menu options. Family reunions, birthdays bereavements, banquets, luncheons and wedding receptions are simply a few events that Struck Catering dedicates to improving with their creative culinary spirit.  
The full-service catering team prepares fresh food with hand-selected ingredients to create perfect meals to please your guests. Their offerings include specialty cuisine, small dishes, beverages and a dedicated  staff that will completely free your mind from the stress of food preparation, allowing you more time to enjoy among fellow attendees.