Trending: Family-Style Dining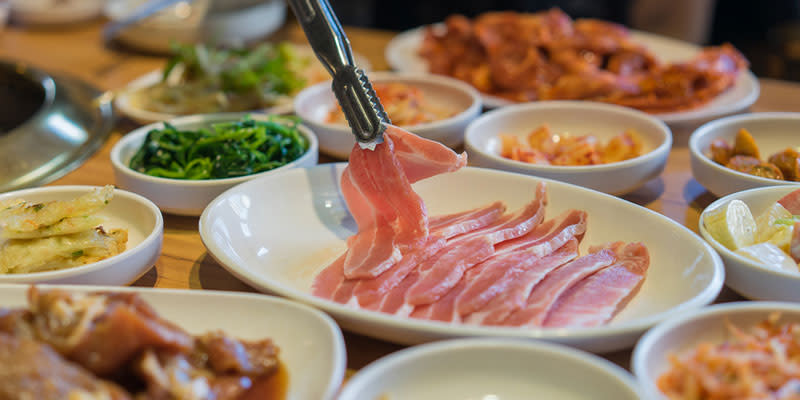 Korean cuisine is a perfect match for family style/shared plate dining
The Worcester Restaurant Group has noticed an increase in large parties. '"Date nights' are still common," says General Manager, Keith Carolan, "but people are getting together in large groups with more regularity than we have seen in some time."  All three restaurants (Via, One Eleven Chophouse, and The Sole Proprietor) have seen an increase in private events. "That is one of the main reasons we launched the 'Suckling Pig Dinner' at Via Italian Table," Carolan explains. During this private dining event, the suckling pig arrives on a silver platter for presentation, inevitably turning heads throughout the busy dining room. "It's pretty awesome because it changes the whole vibe of the restaurant; it adds a buzz and electricity that isn't always there when your dining room is filled with parties of two." 
Jared Forman, co-owner of the new Korean restaurant simjang, also wants his customers to share. "I love going out to a restaurant with friends and sharing food. Instead of everyone getting their own individual plate and being locked into a solitary flavor. Sharing allows you to try more things and experiment by combining different flavors and textures. Korean cuisine is a perfect match for that," said Forman.
---
Trending: "Trash" Fish

Barramundi is a lesser known asian sea bass you probably haven't tried yet 
Chefs are using the term to describe seafood that has traditionally lacked mainstream market appeal. Don't knock it; lobster was the original trash fish. Tim Russo, Executive Chef at Lock 50, wants to introduce his customers to a few lesser known species that are keeping the region's sustainable fisheries alive.
"Fish commonly referred to as 'trash fish' include monkfish, redfish, scup, and more", said Russo. "You will begin to see them on our menu in the summer months." Lock50 will continue featuring signature house-made items such as sausage, pasta, and gnocchi. Russo is eager to expand the restaurant's butchery repertoire, adding, "We also serve Teres Major and Tri Tip steak, cuts of beef now, which are beginning to show up on menus across the country."
---
Trending: Vintage Resurrections

MamaRoux recreated "King Cake" during their Mardis Gras popup
We're not talking about tuna-casserole. These chefs want you to eat your way through history, properly. Jonathan Demoga, chef/owner at MamaRoux, enjoys paying homage to the recipes of beloved southern chefs. Whether he's recreating Chef Austin Leslie's blend of soul food and creole cuisine, or testing out king cake recipes from old Junior League cookbooks, Demoga's southern food truck draws a crowd.
This year, deadhorse hill revived its own ghosts when Executive Chef Jared Forman recreated one of the Baystate House Hotel's original menus with new spins on caviar, foie gras, truffles and champagne.
---
Trending: Experiential Dining

Bull Mansion is set in an historic downtown landmark 
The dinner party vibe can be difficult to recreate in a restaurant environment. Sometimes a change of scenery is all it takes to convey a sense of intimacy. Bull Mansion Bistro is built upon ambience. The Grand Army of the Republic Hall was constructed circa 1876 and features two stories of Victorian Gothic architecture now open to Bull Mansion's guests.
"There have always been a lot of great small, cheap, fast-service places of all different ethnicities in Worcester, which I've always enjoyed," said Owner Victoria Mariano, "but not as many places that focus on atmosphere and experience." At Bull Mansion Bistro, visitors are encouraged to explore the restaurant in its entirety, like a living museum.
---
Trending: Arcane Spices and Herbs

The National Restaurant Association's 2018 menu trend predictions included the use of lesser-known herbs and ethnic spices like sumac, harissa, curry, peri peri, ras el hanout, and shichimi. Chef, Chris O'Harra, from the Flying Rhino,  has a series of paired dinners that explore a variety of culinary trends over the last six months.
The "Spice Up Your Life: World Tour," which included harissa chicken samosas, berbere-spiced lamb lollipops, and lavender semifreddo. O'Harra says, "With 18 years experience in Worcester's dining scene, we know it's crucial to not only stay current with trends, but also to be ahead of the curve and lead by example.
We provide a variety of creative, seasonal foods, super fun ambiance, and top notch service that we would want to enjoy ourselves."