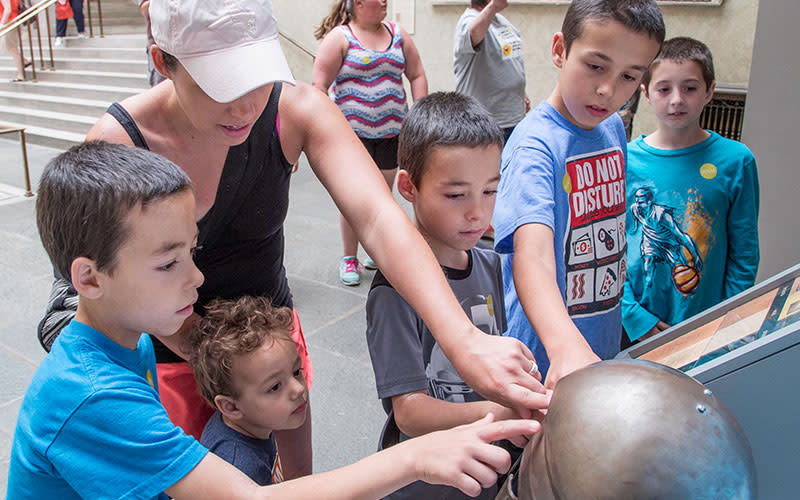 Kids get interactive with art & history at the Worcester Art Museum
January 1 / 11 AM – 1 PM / West Boylston
Celebrate the New Year by taking an easy walk around the Wachusett Reservoir. See the sights and learn about the water supply that delivers the area's drinking water. 
Where: Wachusett Reservoir, Gate 22, Route 140, West Boylston, MA
January 2 / 3 PM - 7 PM / Fitchburg
Every first Thursday of every month, Fitchburg Art Museum (FAM) opens their doors to the public with free admission beginning at 3 PM. Enjoy art tours, special activities and the Fitchburg Farmers Market. 
Where: FAM, 185 Elm St.. Fitchburg, MA
January 3 / 4:30 PM - 8 PM / Acton
Explore the museum for free on the first Friday night of every month beginning at 4:30pm. The outdoor exhibit, Discovery Woods, is open until dusk. 
Where: Discovery Museum, 177 Main St., Acton, MA
January 4 / 9 AM - 12 PM / All Locations 
This month, kids develop hands-on skills making a mini hockey game. All kids get to keep their craft, receive a FREE certificate of achievement, a Workshop Apron and a commemorative pin and bragging rights. 
January 5 / 10 AM - 4 PM / Worcester 
Every first Sunday of the month, Worcester Art Museum (WAM) is completely open and completely free! January 5 is the last day of "Deck the Halls" experience and you can also take a free Sunday Public Tour at 1pm. A great way to spend a Sunday afternoon! 
Where: WAM, 55 Salisbury St., Worcester, MA
January 10 / 4 PM - 4:45 PM / Worcester
This EcoTarium sponsored program invites families with kids ages 6 and under to explore different animals who use their tails for survival through a themed storybook reading, touchable pelts and other natural history bio-facts. 
Where: Frances Perkins Library, West Boylston St., Worcester, MA
January 20 / All Day / All US National Parks
All National Parks have free admission today! There are 17 parks in Massachusetts alone—discover one near you by visiting their online directory. 
January 25 / 2 PM - 5 PM / Worcester 
Crazy as it may seem, now is the time of year to be thinking about summer camps! Visit Auburn High School and meet with summer camp representatives from all over New England and find the perfect camp and activities for your kiddos! 
Where: Auburn High School, 99 Auburn St., Worcester, MA
---
For a full list of fun things to do with kids in Central MA, visit WCKC's calendar.