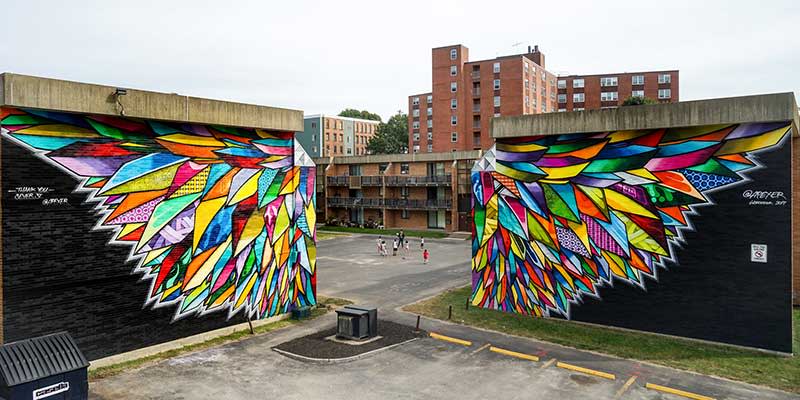 photo: Jasper Wong
What started as a modest mural project in 2016 has evolved into one of the biggest annual mural festivals in the region. POW! WOW! Worcester has curated approximately 60 murals over its last two festivals.
Large scale murals can be found peppered throughout the city on buildings ranging from iconic landmarks such as the Palladium and George's Coney Island to residential developments, public schools, and community centers.
Local and visiting artists from around the globe travel to Worcester to paint for POW! WOW! as part of it's worldwide network of festivals founded by Jasper Wong in 2011.
Led by co-directors Jessica Walsh of Worcester Wares and Lisa Drexhage of the Worcester Business Development Corporation; the POW! WOW! Worcester local organizing committee is made up of over 25 members of the business and creative community in Worcester.
Working with partners such as the Worcester Public Schools, United Way and Art Reach, among others, the committee continually seeks out opportunities to activate underused and vacant spaces, engage youth, encourage dialogue and inspire change as a means of providing the residents of the region a sense of place and pride through public art.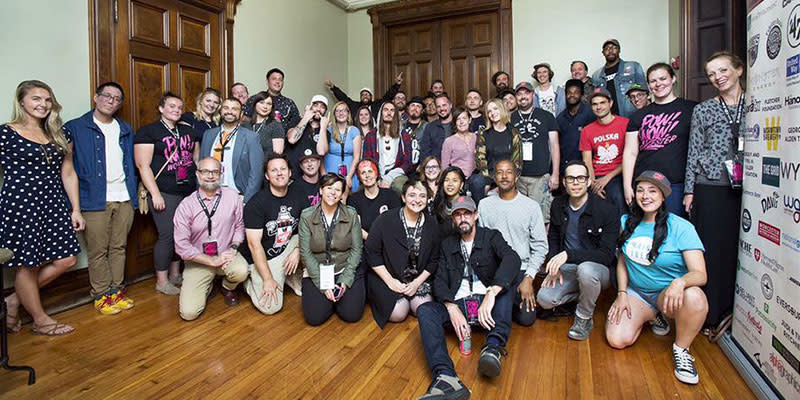 After completing 16 murals with a focus on walkability in the city center in their inaugural year, the group set a more ambitious goal for the 2017 festival painting walls at one elementary school in each district throughout the city. Far exceeding that goal, more than 40 murals were painted by over 50 artists in total, 17 of which cover the walls of Elm Park Community School.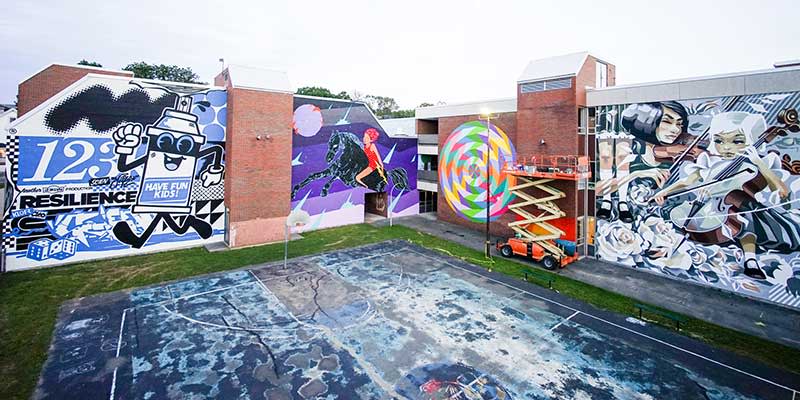 photo: Jasper Wong
Returning August 31 to September 9, 2018, POW! WOW! Worcester will turn its attention to reimaging public spaces by featuring art installations in green spaces while adding more than a dozen more murals to the growing portfolio.  The weeklong occasion includes a host of pop-up shops, events and experiences centered around music, fashion, sports, culture and visual arts.
Follow Discover Central Massachusetts over the next several weeks to learn more about what POW! WOW! Worcester has in store for this summer including an introduction to this years talented artists. For more information on POW! WOW! Worcester and where you can find existing murals, visit the website, and find them on social on Facebook, Twitter, and Instagram.