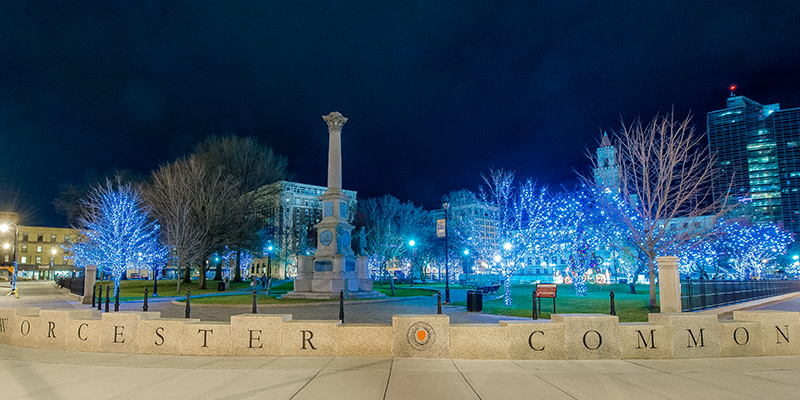 This free family friendly event takes place from 5 PM - 8 PM on Sunday, Dec. 31. We know it will be cold this year, but there will be a heated tent to take the chill off - so don't let the cold keep you from enjoying #NYE2018!
Free Ice Skating 
Skate for free from 5 PM - 8 PM, or come from 1 PM - 5 PM and skate for $10 (children six and younger skate free). (Remember that a $25 refundable deposit is required for skate rentals.)
Entertainment 
Cirque de Light fire performers, live music, and face painting will start at 7:30 PM. Skate for a while, grab some beer from the beer garden and snacks from the food trucks, heat up in the tent, then head back outside for the entertainment. 
Food and Brew
Worcester's favorite food truck, The Dogfather, and Jackson Effie Coffee Cabin will be on-site to make sure no one goes hungry. The beer garden will be serving up brews, and a Winter Wonderland pop-up shops will be selling unique goods. 
Where to Park 
Affordable parking options within walking distance of the Worcester Common include the underground Worcester Common Garage at 2 Eaton Place, Mercantile Center Parking Garage, Federal Plaza Parking Garage and the Pearl-Elm Parking Garage.
Location and Details:
When: Dec. 31 from 5 PM - 8 PM
Where: The Worcester Common, 455 Main Street in Worcester, Massachusetts
More Info: Worcester Common Oval Website
---
Worcester Common Oval hours during school vacation week:
Tues./Wed., Dec. 26-27: 1 p.m. to 6 p.m.
Thurs./Fri., Dec. 28-29: 1 p.m. to 8 p.m.
Sat., Dec. 30: 1 p.m. to 6 p.m.
Sun., Dec. 31: 1 p.m. to 8 p.m. (Free skating 5 p.m. to 8 p.m.)
Mon., Jan. 1: 1 p.m. to 6 p.m.
Upcoming Events at the Oval:
Fri., Jan. 5: Meet the USA Luge Team with free ice skating - 5 p.m. to 8 p.m., presented by Saint Gobai
Sat., Jan. 13: Curling demonstration by the Blackstone Valley Curling Club, Petersham Curling Club and Marlborough Curling Club – 12 p.m. to 2 p.m. (2 p.m. to 6 p.m.: open for ice skating)
Fri., Jan. 19: Broomball matches, including the Worcester Fire Department vs. the Worcester Police Department and City Hall vs. the press – 4 p.m.