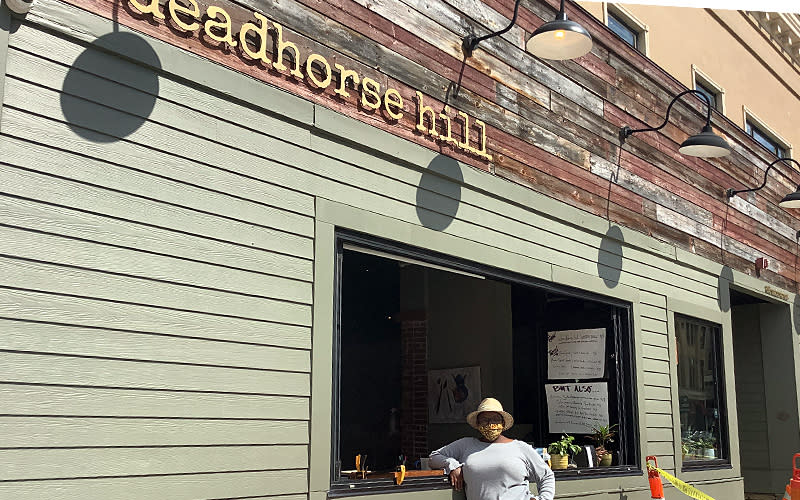 You may not be able to leave the country to go on a culinary adventure of taste and experience, and you don't have to! The food scene in Worcester offers a whole host of world-class delights without ever leaving town. Owners, chefs, and kitchen staff are infusing ingredients and executing cooking techniques that reflect their culture and background, and customers are enjoying every bite. Plan your food tour around the world by stopping by one or more of these tasty eateries - some of which are now offering indoor seating! Don't forget to snap a shot at your favorite local spot and tag #WeLoveWorcester!
Have an Outdoor Dining Experience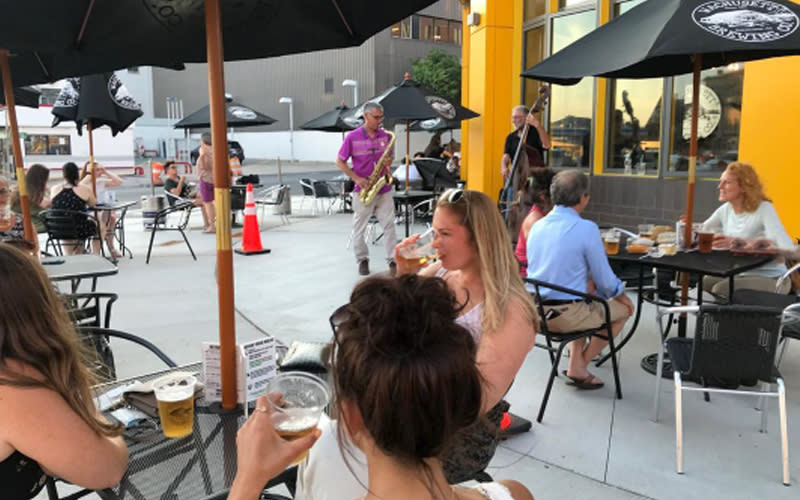 Diners enjoy a drink and live music outside. Photo / Worcester Public Market
From the casual tiki-bar vibe at Lock50 to the pristine upscale patio at Sonoma and Grill on The Hill's scenic hilltop deck after a day spent at the park - Worcester's outdoor scene is booming with options to choose from. Now that the Worcester Public Market is open, you can peruse the vendors inside and then enjoy a beer, hard cider, or margarita over live music at the Wachusett Brew Yard.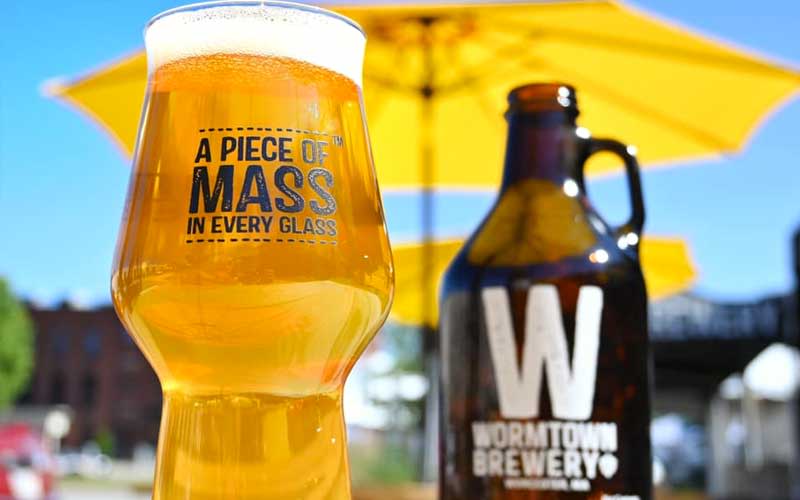 Enjoy a fresh pour of Wormtown. Photo / Wormtown Brewery 
Who was missing the fresh pours in the taproom? You can now drink indoors again at Wormtown Brewery, and just in time to try their taproom exclusive, Another Hop Pun - a west coast style IPA with crushed pine, sweet orange and Meyer Lemon. The perfect summer drink if you ask us! Don't forget to get a shot of you with your fav summer beverage and tag #WeLoveWorcester to show your love for the city.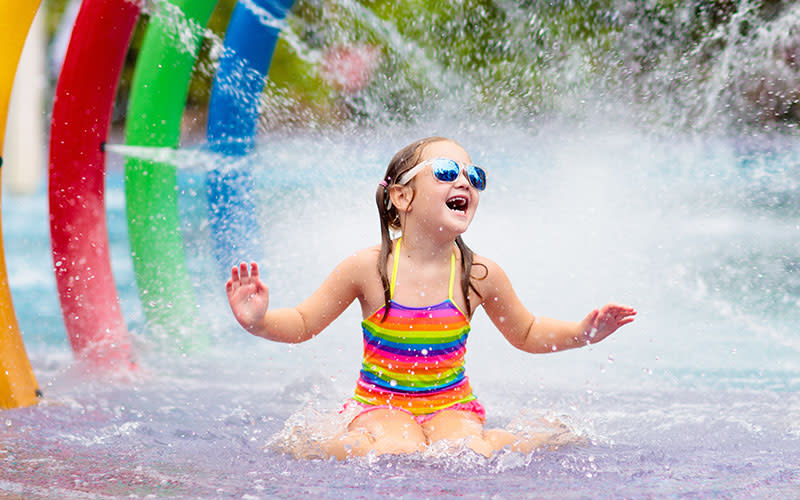 Worcester Splash Pads that are planned to open July 1 under Phase 2 guidelines. Cristoforo Colombo Park's splash pad and playground attract countless families to the Shrewsbury Street neighborhood all summer long. Also known as East Park, the park is tucked at the edges of one of Worcester's most booming commercial districts. 
Behind the park's beautiful amphitheater is a tree-covered hillside with trail connections to Bell Pond Park and Green Hill Park leading all the way to Lake Quinsigamond. The 23-acre park is open from dawn until dusk. Across town, Crompton Park also offers a wonderful splash pad. Click here for a full list.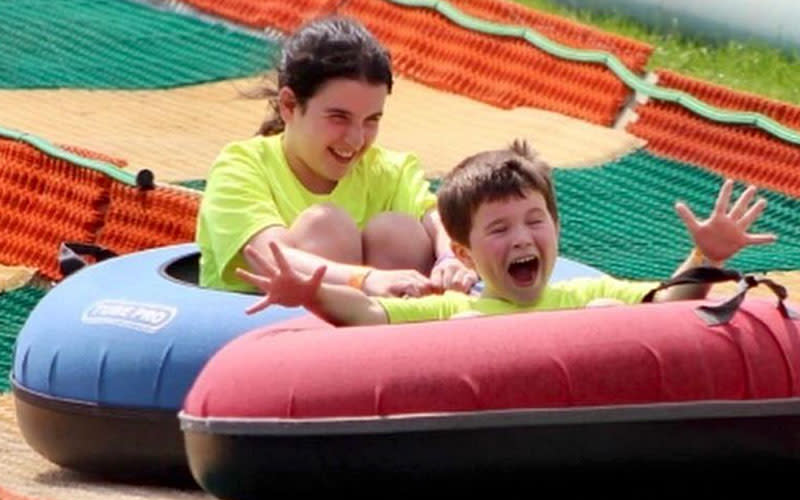 Officially open for the summer, now you can zip down the hill on a hot summer day at Ski Ward, also open for beers on the patio and ice cream. Get your TubaSliding on and snap a shot in your mask using #WeLoveWorcester!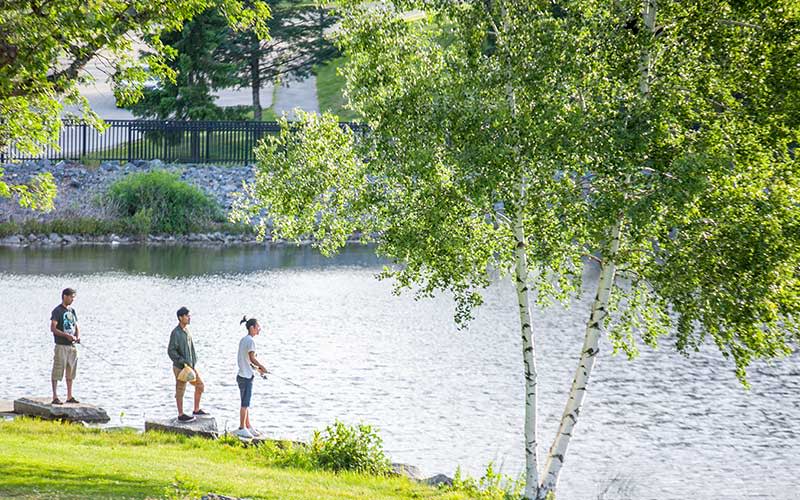 Whether you are looking for a relaxing meditation by a feudal tower, games, and recreation on a hillside, or a rigorous waterfall hike - the region has a destination to satisfy your needs. Lace-up your hiking boots, grab your bathing suit, and dust off that fishing pole - here are eight local parks for you to explore. Remember to play it safe and follow the latest outdoor recreation guidelines.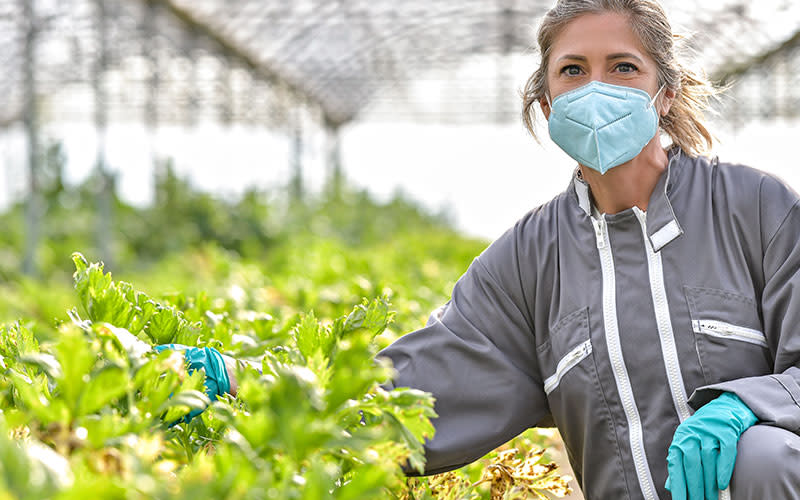 The Regional Environmental Council hosts many farmer's markets around Worcester where you can purchase local veggies, fruits and handcrafted goods made local. Get their 2020 schedule, and check out our full list of Central Massachusetts Farmer's Markets. Snap a shot in your mask at a Worcester Farmer's Market and tag #WeLoveWorcester to enter into our giveaway!
The Worcester Bravehearts 2020 Baseball season is ON! The first home game kicks off July 11, and you can still enjoy this American pastime in Worcester, under some new guidelines. Check out the 2020 Schedule!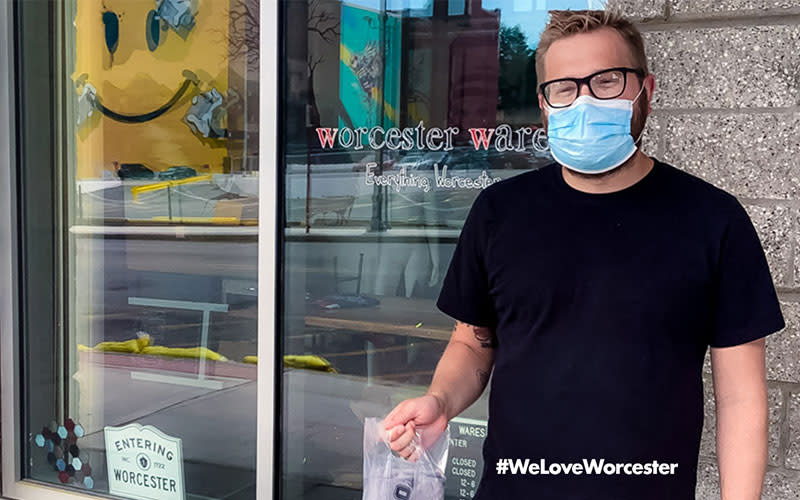 Worcester Wares is currently offering curbside pickup
Worcester boasts a wide array of unique shops owned by small business owners. In addition, the Worcester Public Market's multi-vendor food-oriented European style marketplace is currently open, and their new vendors (in case you missed it) include a Middle Eastern bakery, an African Fusion cafe, a Girly Girl Soap store, and an Italian Gelato booth! Be sure to snap a shot of you enjoying your favorite treat and tag #WeLoveWorcester!
Go on a Doggie Day Trip!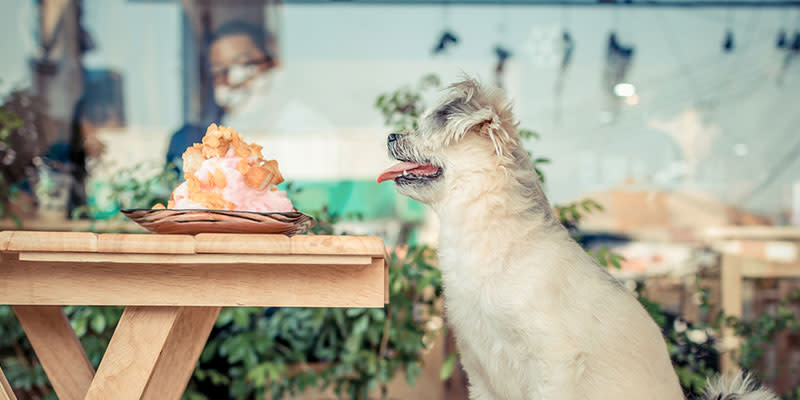 Dog parks have reopened and now you can bring your dog to socialize under the new guidelines at one of Worcester's city dog parks. Up for a day around the city? Follow the self-guided tour of the Worcester POW! WOW! Murals, then grab takeout from a local restaurant (make sure to order extra for your furry friend!) and have a picnic in the summer sun. We'd love to see a photo of you and your pup enjoying summer in Worcester. Capture a shot of you and your pup (only one of you needs a mask!) and tag #WeLoveWorcester!
We Want to Hear From YOU!
How are you taking advantage of summer in Worcester? What are your favorite places to go, and what spots do you recommend? Let us know by tagging #WeLoveWorcester on Facebook, Instagram, and Twitter. You'll also be automatically entered to win up to $1,000 cash for your entry! Click here for details.