Comfort food by definition is food that provides a comfortable feeling of well-being. When conversations turn to "favorite comfort foods," inevitably Mac & Cheese is high on most everyone's list of favorites. So whether it's baked, boxed, buffaloed or baconed, Mac & Cheese has oozed its way into the hearts of many Americans – much to the dismay of cardiologists everywhere… (but that is a story for another day).
Lets start with Mac & Cheese, the fast and easy way – at a lunch counter. For that we have the Boulevard Diner and Mac's Diner in Worcester and Puffin's in Millbury – all places you can sit down at the counter and enjoy a bowl of steaming hot cheesey goodness and be on your way full and happy in no time. Looking for Lobster Mac & Cheese? Scales in Millbury and Red Rock Grill & Bar in Upton have been keeping their customers happy with this tasty concoction for a long time. For a few twists on the Mac & Cheese theme, try Vintage Grille on Shrewsbury St. in Worcester for a Mac & Cheese pizza or crispy and crunchy deep fried Mac & Cheese bites. For Mac & Cheese along with BBQ, BT's Smokehouse in Sturbridge is outstanding. Brew City in Worcester offers a spectacular blackened chicken Mac & Cheese tossed in creamy béchamel sauce. Just to be fair, since we mentioned BBQ, for a great vegan Mac & Cheese, yes we said it, vegan Mac & Cheese you must try Belmont Vegetarian in Worcester!
Life seems to slow down in fall and winter and our thoughts turn to Mac & Cheese or other comfort foods like casseroles, stews and soups. So get into your sweat pants, get on the couch and relax…..here are some of our favorite places for Mac & Cheese in Central Massachusetts.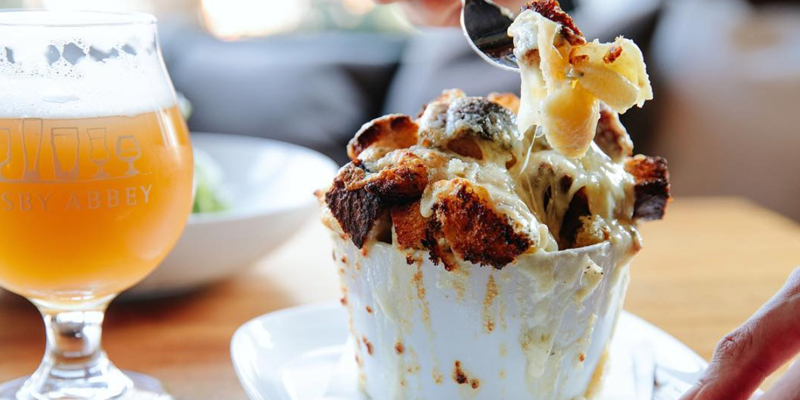 Armsby Abbey's Mac and Cheese (Source: Instagram)
ARMSBY ABBEY
Worcester, MA
The famous Mac & Cheese at the Abbey is ridiculously decadent, handcrafted and some say, beyond description. Stuffed with assorted Farmstead cheeses, rustic breadcrumbs and some IPA for good measure this is truly a dish you must have. Hint…try it with a spicy Bloody Mary for weekend brunch – you won't be disappointed.
ADDIE LEE'S SOUL FOOD
Worcester, MA
With recipes handed down from Addie Lee herself (born in Mississippi in 1909) this restaurant does soul food right, including a baked Mac & Cheese that must have Addie Lee smiling down from the heavens!
BLACK & WHITE GRILLE
Spencer, MA
The pub-style food at the Black & White Grille is worth the trip, especially the very generous serving of their homemade Baked Mac & Cheese. Add lobster, chicken or bacon to make it a very filling comfort food meal!
Truffle Mac and Cheese at the Oak Barrel Tavern on Grove Street in Worcester, MA
Worcester, MA
This family-friendly Worcester staple has been serving up Mac & Cheese forever. On the menu now is pulled pork or lobster, both with rich sharp cheddar that goes perfectly with a Wormtown Be Hoppy Brew!