Tale of The Long Lost Lime
Lou Charbonneau was recently named Assistant General Manager at Lock50 after his departure from Cafe ArtScience, the acclaimed Cambridge cocktail haven. Our favorite Lock 50 cocktail of the season is the Tale of The Long Lost Lime made with Joven Mezcal, Luxardo Maraschino, Crème de Violette, Lime, and Strawberry Chili Bitters. We look forward to new additions fueled by Charbonneau's aptitude for the avant-garde.
Guns of Barolo
Volturno / 72 Shrewsbury Street
Volturno's bar manager Carlos Martinez has just returned from a stage in Rome and the weight of his Italian adventure is prevalent on the restaurant's latest cocktail menu. His top pick, Guns of Barolo, is made with Monkey Shoulder blended malt, Barolo Chinato, black walnut, roasted star anise pod. This riff on the Rob Roy reintroduces a classic with the addition of one of his favorite spirits - Barolo Chinato.
Spiked Pineapple Espresso
deadhorse hill / 281 Main Street
Sean Woods of deadhorse hill continues to wrack up an impressive list of local and national bartending accolades. Order a Pineapple Espresso, made with tiki bitters, Parlor Coffee redux, lime juice, pineapple syrup, and the famed deadhorse r(h)um blend responsible for many of Woods recent wins. The cocktail is built in a large tiki glass with crushed ice, a swizzle straw, and a pineapple leaf garnish.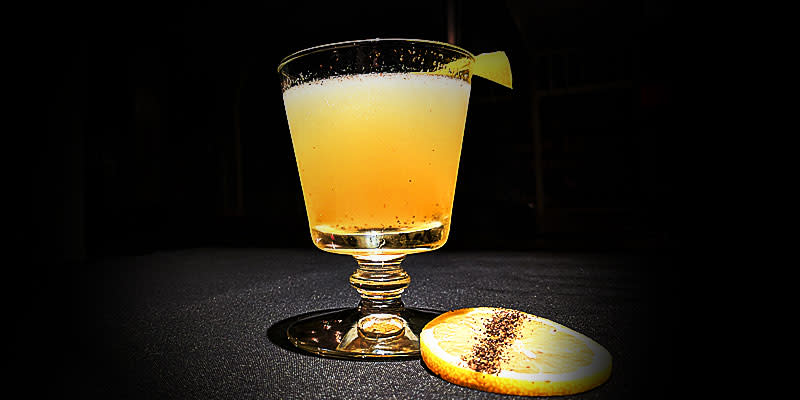 Reposado Tequila, Swedish Punsch, and lemon from The Citizen
The Swedish Margarita
The Citizen / 1 Exchange Place
Beverage Director Silas Axtell is eager to create a sense of comradery among his hospitality brethren in Worcester. His innovative and ever changing cocktail list likewise blossoms on Friday and Saturday evenings at Still & Stir in the "back jail." Try the Swedish Margarita made with Reposado Tequila, Swedish Punsch, and lemon.
Scots Old Fashioned
The Muse / 536 Main Street
John Rinaldo has amassed one of the most essential amari lists in the region. Additionally, his cocktails have the power to provoke conversation, making The Muse an ideal stop before or after a show at The Hanover Theater across the street. Try the Scots Old Fashioned made with Laird's Rare Apple Brandy, 12 year old.
Tennessee Fire Sangria
Ballot Box / Kelly Square
Guy Glodis has been collecting political memorabilia for nearly his entire life. Glodis' own deep history as a politician in Central Massachusetts is reflected in every fibre of his establishment, right down to the fiery cocktails. The Ballot Box proudly endorses their Tennessee Fire Sangria made with red-hot cinnamon liqueur that possesses the smooth character of Jack Daniel's Old No. 7
Pina Colada Scorpion Bowl
The Hangover Pub /102 Green Street
Nicholas Patchen is the Bar Manager at New England's first bacon gastropub, The Hangover, where superabundance reigns. For a playful tropical delight, try one of Patchen's pina colada scorpion bowls served out of a bonafide fishbowl that is built to serve your whole table.
Bourbon and Whiskey
Oak Barrel Tavern / 229 Grove Street
It's no surprise that Oak Barrel Tavern's spirits program is focused on Bourbon and Whiskey. Order up a classic like a Manhattan or Old Fashioned-- heck, be daring and ask for a Pickleback! Consider a whiskey drink made with Jefferson's Ocean, which typically ages while crossing the equator four times, and visiting five continents and over 30 ports on an average sailing.
West Coast Negroni
Flying Rhino / 278 Shrewsbury Street
An Italian classic dating back to 1919, the Negroni has served as the entry point for many a budding bartender. We view the Negroni as a gateway cocktail. Flying Rhino's West Coast Negroni calls for equal parts Anchor Junipero gin, Bruto Americano bitter aperitif, and sweet vermouth.
Lychee Thai Iced Tea Mocktail
Basil n' Spice / 299 Shrewsbury Street
Basil n' Spice serves up refined Thai cuisine alongside a full service bar, but they've also come to be known for their mocktails. Order a Lychee Thai Iced Tea if your abiding by a new year's resolution, or succumb to the signature Basil n' Spice cocktail for a little kick in your glass.
Spiked Chocolate Milkshake
Brew City / 104 Shrewsbury Street
Brew City's draft list can be exhaustive, but you'll find reprieve in their chocolate milkshakes. Order your shake with the spirit of your choice. Bailey's or bourbon will do the trick!