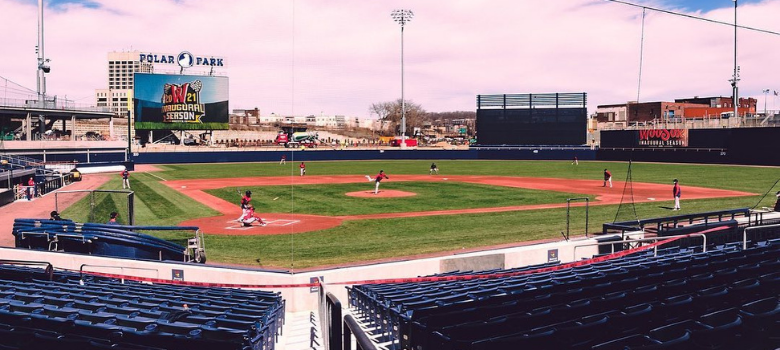 Polar Park
This guide will provide everything you need to know to plan your trip to Polar Park: how to get here, what to do, where to dine, and the best places to rest your head when all is said and done.
---
What to Do
An afternoon at Polar Park is just the start of fun in this area, so you'd be missing out if you left town without experiencing more wonders of Worcester.
Let the Artists Do the Talking
There are specialty POW! WOW! murals all over Worcester from the festival encouraging public art, and there are a few we love that you'll spot close to Polar Park. Located on the back of the Worcester Ice Center, artist Adam Fu created his 90-foot POW! WOW! piece by just hand and eye (and a singular, powerful word). Slick, another POW! WOW! piece, is perhaps the happiest wall in Worcester, located at The Palladium, a concert venue downtown. Third, the mural at Lock 50 by Spencer Keeton Cunningham is a skillfully adorned masterpiece utilizing the beauty of black and white. Once you've stopped by these three displays and are predictably hungry for more, check out this self-guided downtown public mural tour for the full artistic excursion.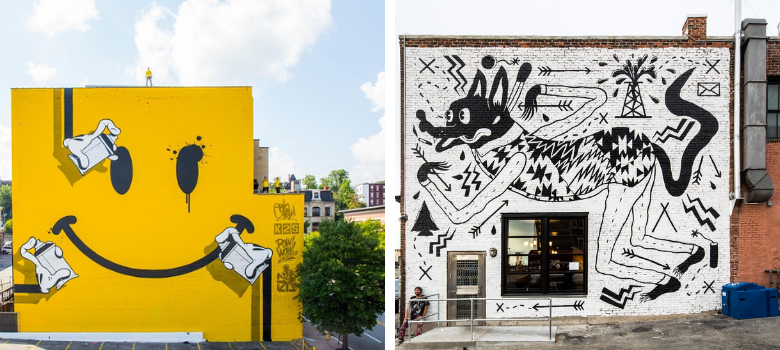 Left: OG Slick POW! WOW! Mural | Right: Lock 50 Mural by Spencer Keeton Cunningham
Hop Around the Breweries
Baseball and a cold beer. A combo as old as time. And you're in luck. Many breweries in the area knock it out of the park with their local craft creations. Start at Wachusett Brewing Co.'s tap room at Worcester Public Market for a beer lineup built by local college alumni who pursued their passion by immersing themselves in craft brewing culture. Next up, hit Wormtown Brewery, well known for their Be Hoppy IPA, with Worcester's signature smile right on the can. And bring it on home with Redemption Rock Brewing Company—the "beer for people"—with a space full of brews, coffee, snacks, WiFi, art and friends. Thirsty for more? Here's your go-to guide for even more brew stops and wineries in the region.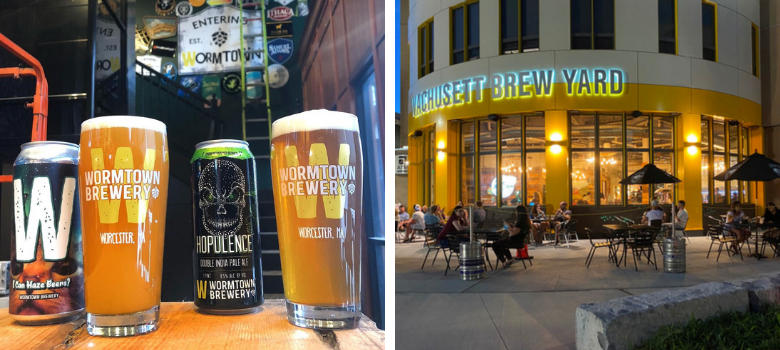 Left: Wormtown Brewery | Right: Wachusett Brew Yard at Worcester Public Market
Shop in the Canal District
For the shoppers in the crowd, there's something here for every interest. Local specialty stores like BirchTree Bread Company will whet your appetite for the shopping adventures to follow. Think: bread, pastries, sandwiches and pies (of the pizza variety). Then walk straight on over to Seed to Stem, a lifestyle and plant boutique filled with unique botanicals, crystals, home accoutrements and handmade goods. For the bookworms (and the heartwarming smell of books in their element) step inside Bedlam Book Cafe, a space where owners Nicole and Patrick create "a hub of social and intellectual energy." And for the most classic of shoppers, pop in The Haberdash, a local fashion mecca and a bow of honor to the small business makers who make it happen. There's plenty more where that came from, and if interested, we have you covered with our full list of shops and to-dos in the Canal District.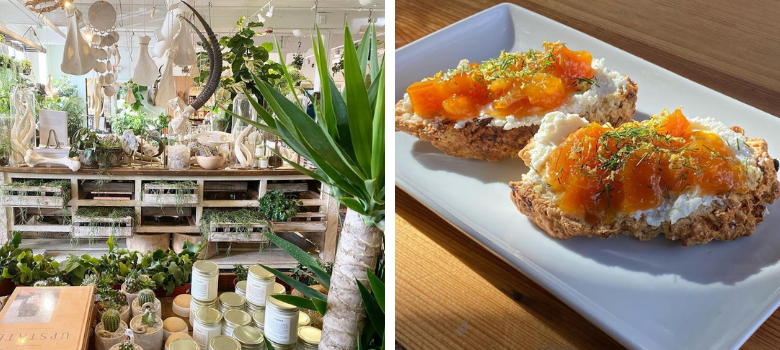 Left: Seed to Stem | Right: BirchTree Bread Company
Immerse in Culture, Museums & Art
Before the game, bring your family to play outdoors and visit the animals at the EcoTarium museum of science and nature. Near Polar Park, you'll also find Portland Street, the home of ArtsWorcester and a gallery of exhibits, education and experience of local contemporary art from varied artists. See what's new there, as well as at the Jean McDonough Arts Center (JMAC) Worcester PopUp, a "permanent popup" gallery serving as a space for artists, orgs and creatives in the local space to display their work through events and art shows. A must-see this summer, bustling with excitement from locals, is at The Hanover Theatre, with their presentation of Shakespeare's Julius Caesar from August 3 through August 22. And just a mile from the park is Worcester Art Museum, a local cornerstone of culture with art at its heart. This summer, you won't want to miss WAM's special collection marrying art with sport: the 'The Iconic Jersey: Baseball x Fashion' exhibit running June 12 through September 12, 2021.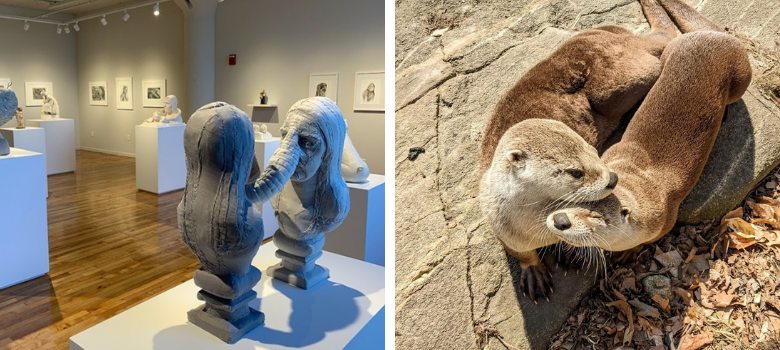 Left: ArtsWorcester | Right: EcoTarium
---
Where to Eat
While the stadium is packed with great grub options (we think B.T.'s Smokehouse is the best in the ballpark) Worcester is quickly blossoming into a foodie's city, so you may want to leave room for tasting around the neighborhood. 
Canal District
The Canal District boasts really solid bites, and the only problem you'll have in this area is choosing which to indulge in. Perhaps you begin at George's Coney Island, a classic spot with diner vibes, quick fare and Table Talk Pies to boot. (You can also visit The Pie Store if you're a tried & true connoisseur.) Or maybe you'd rather head "down South" with a twist, at Smokestack Urban BBQ, or taste a bit of everything at Bocado Tapas Bar. Lock 50 Restaurant & Wine Bar is another good bet for brunch, lunch or dinner, with their menus aplenty. And The Hangover Pub can be a post-dinner cool down, or an early-morning Saturday stop-in for your weekend "hair of the dog."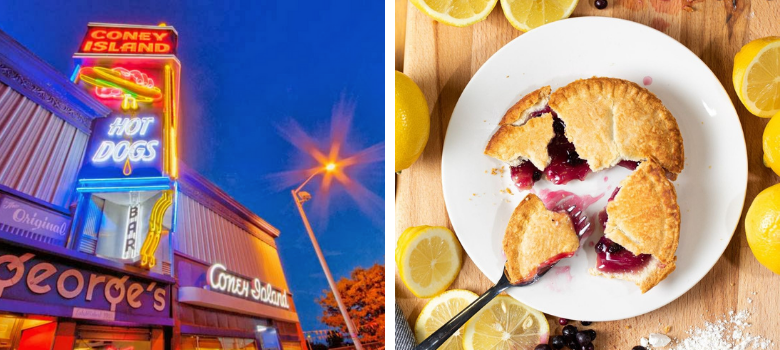 Left: George's Coney Island | Right: Table Talk Pies
Shrewsbury St. "Restaurant Row"
For more in tasty treats, you'd be remiss not to stop by "Restaurant Row," the food hub on Shrewsbury Street. Get your beer on at Brew City Grill & Brew House, a mecca for beer-lovers, with an ever-changing selection of brews that includes over 155 different kinds—plus a totally beer-inspired food menu. Via Italian Table marries authentic Italian-style dishes with American panache in sophisticated yet casual digs. Nuovo is another option for Italian lovers, with an extensive menu and wine list to write home about. And if you're all about the atmosphere, head to Flying Rhino Cafe & Watering Hole, offering flavors from around the world with a menu that's chalk-full of originality.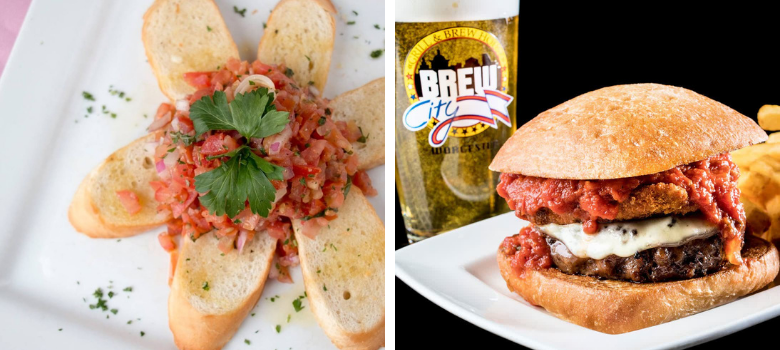 Left: Nuovo | Right: Brew City Grill & Brew House
Downtown Worcester
For more globally-inspired options, downtown Worcester is the place to be. Chashu is your spot for funky vibes and flavorful ramen, specializing in tapas to be shared. To get your tequila on, head straight to Mezcal Tequila Cantina, which blends traditional Mexican style offerings with Southwest spunk. Or swank it up a bit at Deadhorse Hill, a seasonal American restaurant where the dishes are just as gorgeous as they are tasteful. For a full food roundup, here's a link to even more.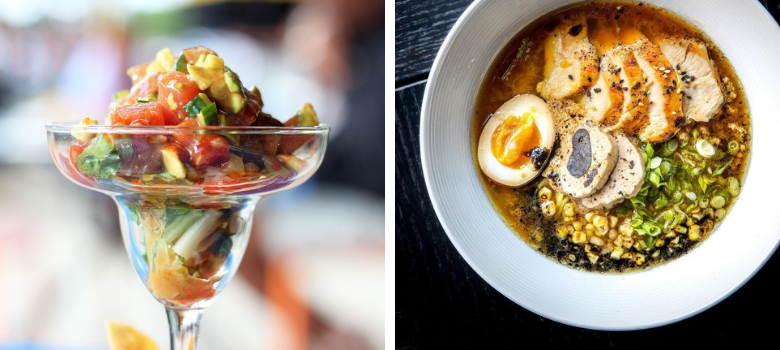 Left: Mezcal Tequila Cantina | Right: Chashu
---
Where to Stay
If you are visiting Worcester, book an overnight or weekend stay at the world-renowned
Beechwood Hotel, just moments from Polar Park – ranked the #1 hotel in Worcester by
TripAdvisor and the only AAA Four Diamond luxury boutique property in Central MA – featuring
an award-winning restaurant, beautiful walking trails, close proximity to museums, adventure,
golf and kayak rentals, on-site spa services, spacious rooms and fireplace suites, the finest
European-inspired accommodations, abundant free parking, a safe location – perfect for
families, and only the highest standards of clean beyond industry regulations – all delivered with
a true passion for hospitality.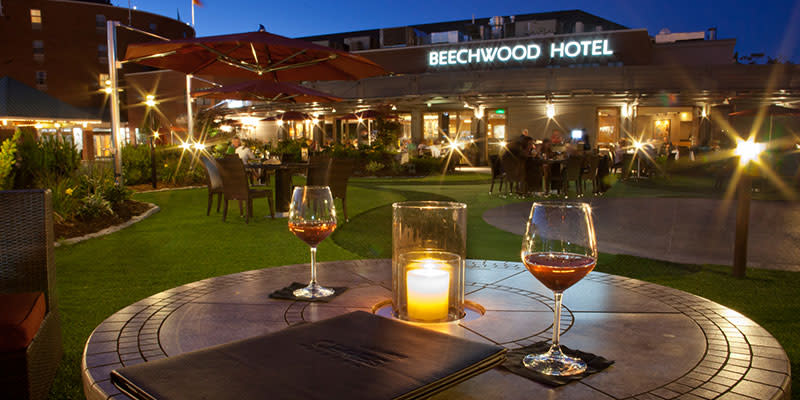 Beechwood Hotel also boasts stunning outdoor dining.
If you're looking to be front and center, the AC Marriott as well as Homewood Suites by Hilton are just a short walk from Polar Park. Pop in and out in minutes and rest your ahead amidst the action. The Residence Inn by Marriott is another great option, ensuring a short drive to the stadium, and an even quicker trip to Lake Quinsigamond.
For the middle-ground, take a look at Courtyard by Marriott, Hampton Inn & Suites, Holiday Inn Express Downtown or Hilton Garden Inn—all options under a 7-minute drive from the park, each with its own flair and specialties.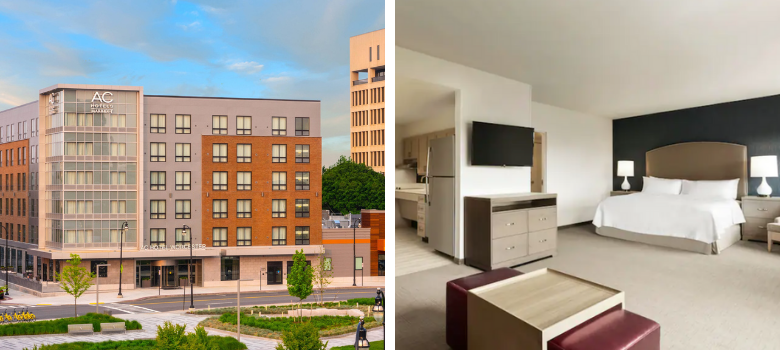 Left: AC Marriott | Right: Homewood Suites by Hilton
---
Getting to Worcester
By Car
Polar Park is just a few blocks from Interstate 290 and accessible from every Mass. locale. 
From the North
From the north, follow I-495 South to I-290.
From the South
From the south there are many options, depending on your starting location.
From Connecticut, follow I-95 to I-91 and connect to I-90. Also, I-84 North and I-395 North are major routes into the region.
From Rhode Island, you'll likely take Route 146 all the way into Worcester. 
From the East
From the east, follow I-93 West to I-90. 
Route 9 offers a toll-free alternative and is a popular route when traveling from Boston and Metro West to Worcester.
From the West
From the west, you'll follow I-90.  
By Train
Union Station, located in Worcester and steps from the DCU Center, offers commuter rail service from Boston to Worcester daily. The Massachusetts Bay Transportation Agency (MBTA) commuter rail offers express service each morning (less than an hour). Amtrak also offers train service to and from Albany, Chicago, New York and Washington, D.C. daily.  
By Bus
Union Station also boasts a major bus terminal. 
Parking in Worcester
If you're arriving by car, you'll want somewhere safe and convenient to park. Great news: Pay by Plate Parking just launched in the Canal District. You can also peruse Park Worcester for parking garage options as well as on-street and surface lots.