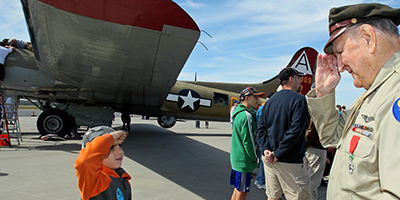 No reservations needed! Just stop by to tour the inside of these rare bombers when the Wings of Freedom Tour stops by Worcester on its national tour!
The Wings of Freedom Tour brings rare Word War II aircraft to Worcester Massachusetts, including the Boeing B-17 Flying Fortress, Consolidated B-24 Liberator, and P 51 fighter. 
Get a grand tour of the planes, and for those seeking a once-in-a-lifetime experience, 30 minute flights on the planes are available.
Details
When: September 23 @ 2:00 pm - September 25 @ 4:30 pm
Cost: $6 - $12
Location:
Worcester, MA
375 Airport Drive 
Worcester, MA 01602 United States + Google Map
Phone:
Official Website: http://www.collingsfoundation.org/see-do/events/category/wings-of-freedom-tour/