Meet a few of our favorites online or in person to get a feel for sustainable fashion.
Sweet Janes
120 Main Street, Worcester
@shopsweetjanes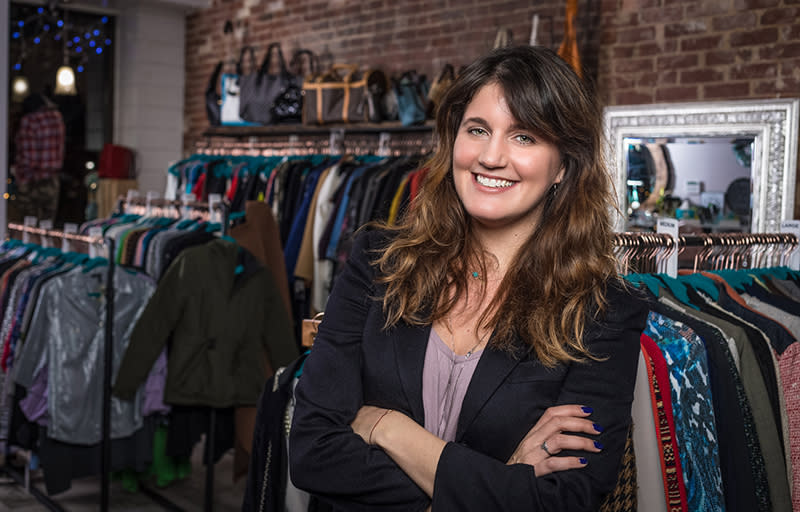 Amanda "AJ" Setaro is Worcester's designer consignor. Her inventory at Sweet Jane's on the north end of Main Street includes some of the most iconic bags and shoes of our generation. Sweet Janes does a great deal of its business online, thereby affording competitive prices and frequent sales for brick and mortar customers. AJ is an expert stylist and a charming conversationalist. Shopping at Sweet Janes feels like playing dress up in a celebrity's closet.   Grime 356 Shrewsbury Street, Worcester @grimeclothing Molly McGrath offers stunning selections for both men and women at her Shrewsbury Street shop, Grime. The troll doll aesthetic is worth a visit all by itself. McGrath's knack for vintage styling brings films like "Dazed and Confused" to life each summer when she leads a cast of local characters in their live annual production at The Dive Bar on Green Street. You can keep track of Grime's inventory on instagram where McGrath has amassed nearly 13k followers. Modern Muse 123 Highland Street, Worcester @mariasmodernmuse Maria Pappas has always had a passion for street style and vintage fashion. Her one-of-a-kind pieces all come with a story. Pappas wants you to try things on, take your time, and make Modern Muse your second home. She's not just a shopkeeper, she's a community member with tiptop taste. Trunk n' Disorderly Brimfield Antique Show @trunkndisorderly Ashley Troy is a pivotal voice in Worcester's vintage and private consignment communities. Her shop, Trunk n' Disorderly, has become a mainstay of Brimfield Antique Show. Brimfield draws well over 100k visitors from around the country each year including plenty of A-list celebs. Alexis Grace 7 Harrison Street, Worcester @shopalexisgrace Alexis Grace is right in the thick of the Canal District, a neighborhood where local markets, gift shops, and antique vendors abound. Alexis Grace is a great spot for costume jewelry, glitz, and glamour. They are known for their vintage florals, lacey layers, and embellished hats.