Live Music at The Commons
Nicole Michelle is a New England native who started her career by playing the National Anthem to local sports lovers for the New England Patriots as well as the Boston Celtics.
Currently working on her first full-length record, Generation N, produced by Jeff Timmons of the multi-platinum vocal group 98 Degrees and Ken Lewis, Nicole is no stranger to working alongside music icons.
She has opened for Vine star Jeffrey Miller and former American idol finalist and Nashville recording artist Ayla Brown.
She's shared the stage with Mark Farner of Grand Funk Railroad, Elliot Easton of The Cars, Barry Goudreau formerly of the band Boston, Rick Derringer the brass behind The Rolling Stones, blues legend James Montgomery and many more.
Nicole Michelle is the vocal prodigy we've all been waiting for with those in the industry saying she's in line to be one of the next superstars of the contemporary pop genre.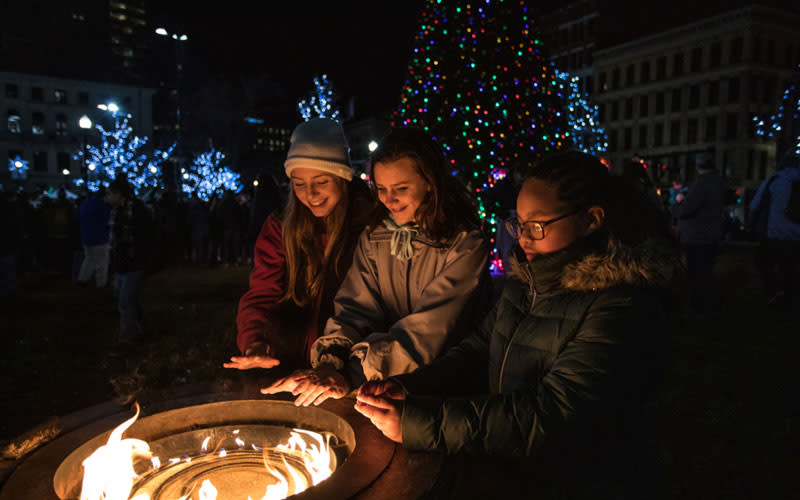 Warm Up With Local Art & Cookies!
Located adjacent to the Worcester Common, the Worcester PopUp in collaboration with ArtReach, a community art studio in Worcester, will be the perfect place to warm up.
ArtReach will be "illuminating" local artists and their work. A variety of products will be available for sale. 
In addition to vendors, there will be a lantern making station that will let guests of all ages create a paper punch lantern to take home with them. A paper craft station will also be available for guests to create snowflakes.
While enjoying the cultural storytime or listening to the live performers, be sure to grab some hot chocolate and cookies, and don't forget to head back outside to watch the ice sculptors work their magic.

Weekend Schedule
Friday, December 6 / Worcester Common / 4:30 PM – 9 PM
iHeart Radio presents Nicole Michelle and performances by Worcester Public Schools Choral groups. There will be a preview of the Hanover Theatre's production of "A Christmas Carol" as well as:
- Ice Skating
- Visit from Santa
- Tree Lighting
- Heated Beer Tent
- Food trucks, Face painting, Street performers, free pedicab rides around the Common by Woo Rides and More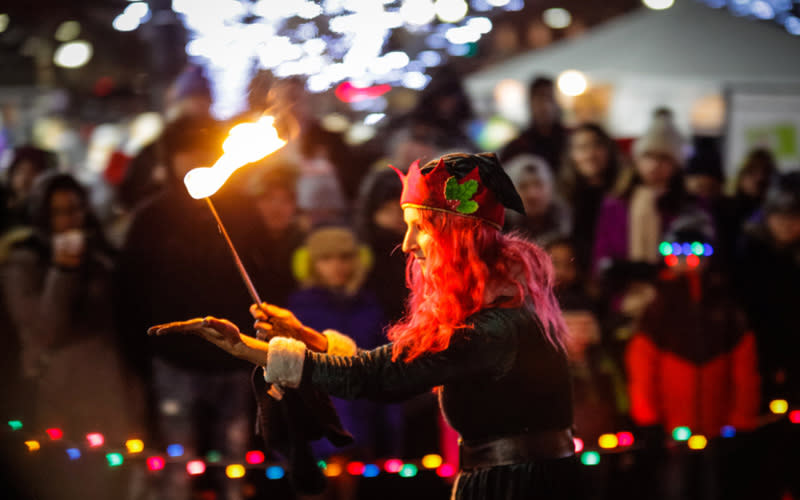 Friday, December 6 / Worcester PopUp, 20 Franklin Street / 10 AM - 3 PM
From 10 AM to 3 PM enjoy local art vendors, story time and crafting. From 4 PM - 8 PM these special activities will take place:
- Ice Sculpting
- Glow-in-the-dark ice hands-on activity
- Giveaways & Performances
- Hot chocolate & cookies
---

Saturday, December 7 / Worcester Common / 1 PM - 7 PM
- Ice Skating on the Common (ends at 6 p.m.)
- Cirque de Light – Holiday stilt walker and winter-themed LED Performer (4-7 p.m.)
- Face painting by Just Clowning Around (4-7 p.m.)
- Light Show by LuminArts (5-7 p.m.)
---
Saturday, December 7 / Worcester PopUp, 20 Franklin Street and Printer's Building, 44 Portland Street / 1 PM - 5 PM
Vendor Market featuring local artists and crafters selling jewelry, pottery, prints and more
---
Sunday, December 8 / stART at the Station, Union Station / 9 AM - 5 PM 
stART on the Street brings its 14th annual gifting-themed arts and crafts festival to Worcester's Union Station at 2 Washington Square on Sunday, December 8, 2019 from 9a - 5p. stART your holiday shopping ahead of the crowds from 9-11a for $10 donation. Admission is free after 11am.

Affordable Parking
With thousands expected to attend, early arrival is recommended. There is plenty of affordable parking available within walking distance of the Worcester Common Oval, including the Worcester Common Garage at 2 Eaton Place, Mercantile Center Parking Garage, Federal Plaza Parking Garage and the Pearl-Elm Parking Garage.
Roads around the Worcester Common will be closed beginning at 2 p.m. and include both Front and Franklin Street.