Source: Erb/Dufault Photography
Lake Park at Quinsigamond State Park
Officially called Lake Park at Quinsigamond State Park, you'll find this destination off of Lake Ave in Worcester, MA. "I have photographed just about every category possible in this park!" says Scott Erb, a sought after Worcester-based professional. From sports to portraiture and landscape photography, this park attracts both photographers and outdoor enthusiasts during every season of the year. "The trees and trail make for a great backdrop" according to Erb, adding "the sunrises from Lake Park are stunning." 
From his perspective as a landscape photographer Erb adds, "that newly constructed bridge between Worcester and Shrewsbury lights up for really interesting evening photos" If you're looking for wildlife, sightings of foxes, whistle pigs, ducks, and eagles have been spotted in the park. Aside from a gorgeous backdrop, Lake Park is truly one of the most versatile places to visit in Worcester.
 
Old Sturbridge Village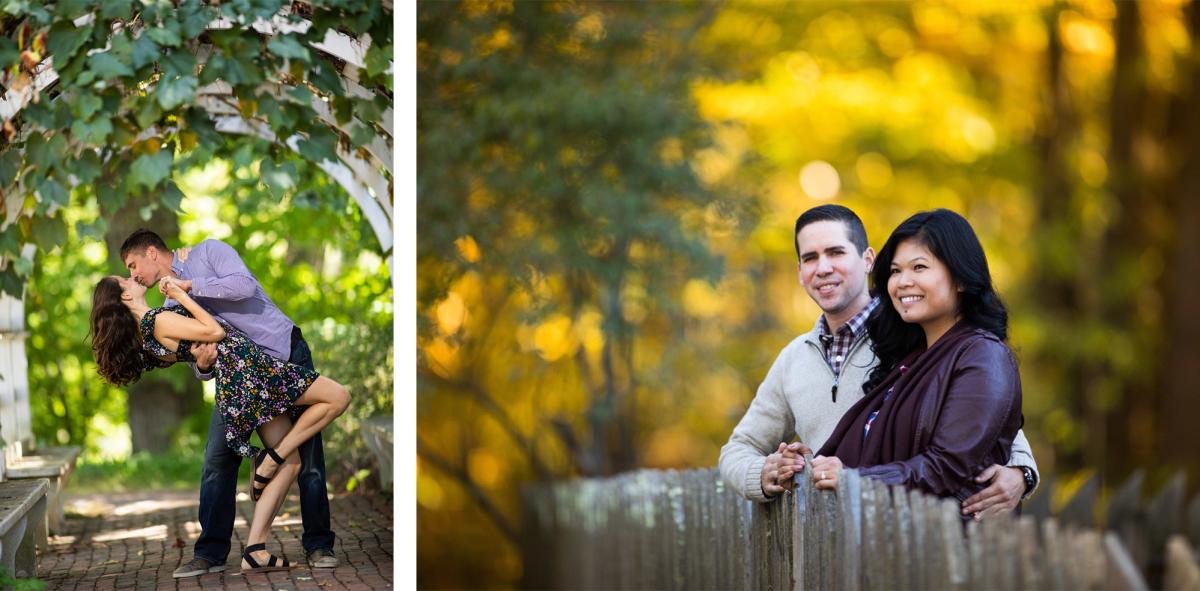 Source: Mike Hendrickson 
A family favorite, Old Sturbridge Village also attracts photographers. Mike Hendrickson, often referred to as Unity Mike, shared Old Sturbridge Village is a favorite destination because "all throughout the park is a win with clients for the entertainment, exploration" and an extra bonus, "there's plenty to talk about during the shoot." Hendrickson advises the gift shop is a crowd pleaser and advises you to conclude your visit with a meal at B.T.'s Smokehouse.
Be sure to look into the Village's events calendar as there's always something new to see. This October you're in for a treat with Phantoms and Fire so book your tickets before they're all sold out.
 
Downtown Worcester 

Sources: Renak Photography
Versatile locations are a treasure trove of creativity, which is why portrait photographer and strobe light pro Nana Acquaye of Renak Photography chooses Downtown Worcester as his location of choice. According to Acquaye, "Downtown gives you lots of options and interesting ideas to make your compositions better." Between Worcester Common behind City Hall, the plaza across from AC Marriott and the plethora of public murals within a mile, Downtown Worcester is an attractive destination to those with an eye for image making. Above is a glimpse behind the scenes, at center Acquaye is capturing what becomes the end result on the right.
The UXlocale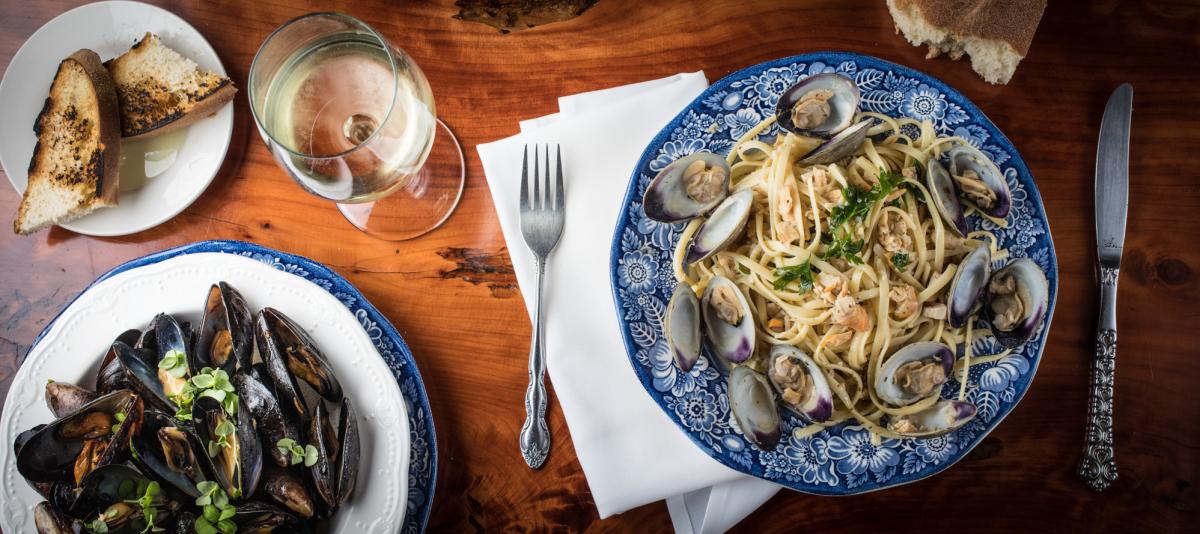 Source: Erb/Dufault Photography
This locally owned family restaurant is in the middle of farmland, with a beautiful barn right next door. The UXlocale in West Uxbridge, MA is the pick of food photographer Donna Dufault when asked about her favorite place to make great images.
Dufault's favorite features include a big patio, lined with glowing lights perfect for watching the setting sun while you enjoy a drink. At The UXlocale, Dufault shares you'll be in for "some pretty amazing food, not to mention the most breathtaking golden hour photos." 
"I'm a food photographer, so I get excited when the plates of food come out because they are photo ready! You can also see the Italian pizza oven right from the dining room, so with your pick of pizzas cooking, you can get some great photos of the fire glowing and the scrumptious goodness that comes bubbling out."
Between the beautifully updated, cozy barn space to a live edge bar made by the owner's son, this location is stunning. And finally, "almost every Friday night there is some musically-inclined, talented human being playing their heart out to a lovely small crowd. This is also incredibly picture worthy."  
 
Elm Park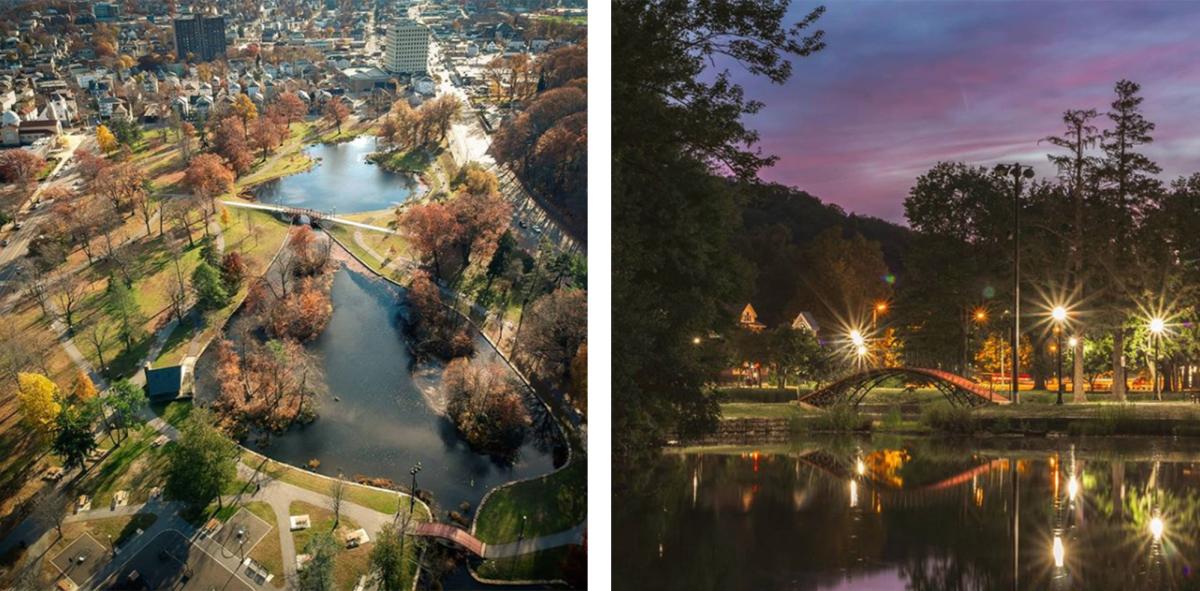 Source: Roberto Calixto
Worcester's Elm Park dates back to 1854 and was designated a National Historic Landmark in 1970. The most highly developed portion of the park offers the landscape design eye of the famous Frederick Law Olmsted. This eastern end contains ponds for ice skating in the winter and two iconic bridges spanning Lincoln Pond as well as a playground and picnic area.
It's lesser known that Elm Park is split by Park Avenue, offering wooded trails on the west side of the park as well as a lighted basketball court and four lighted tennis courts on the farthest western end at Newton Square. Roberto Calixto's bird's eye view photography, exhibited at ArtsWorcester, captures the magic this park has to offer.
 
Old Stone Church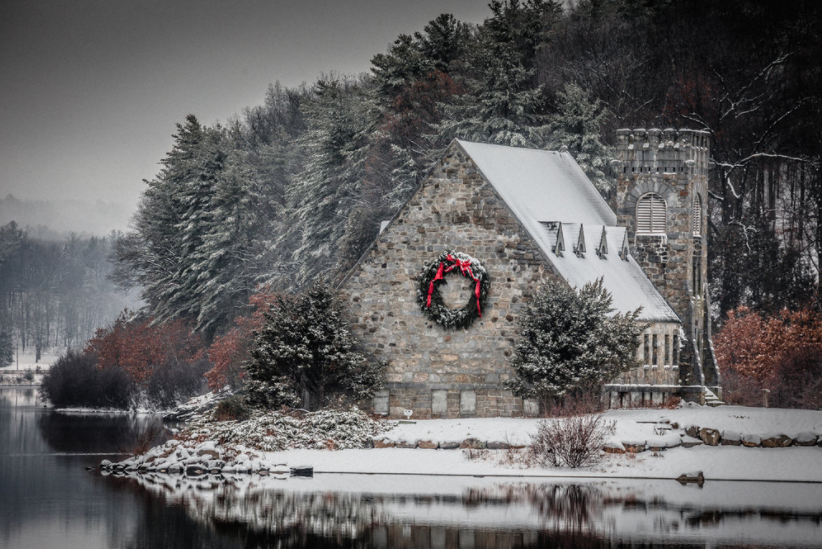 Source: David Long
For its elegance in every season, The Old Stone Church is "one of the most amazing landscape locations in New England" according to award winning photographer David Long. Thanks to the structure's location on a peninsula in the Wachusett Reservoir it can be shot from different angles in the mornings or evenings. Long hosts photography workshops throughout New England and offered these tips to Old Stone Church visitors: 
"The array of trees to the right and behind the church provide a perfect balance and framing. Catching it on a still day also adds the benefit of a perfect reflection." 
"During your visit, walk the trails at the Wachusett Reservoir. "In the fall is a special experience. Narrow and winding and usually deserted, you can be totally engulfed in the fall foliage for miles. There are many locations where you can set up any shoot singular subjects with great angles and perspectives without seeing another person for hours." 
 
Blackstone River & Canal Heritage State Park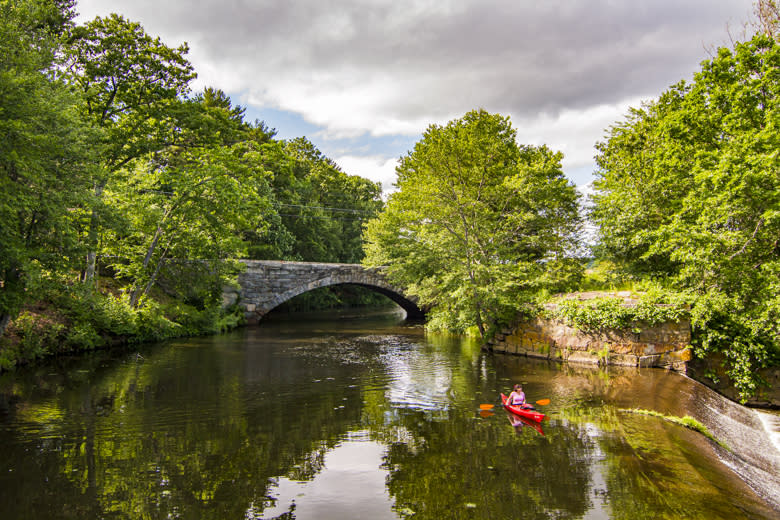 Source: Norm Eggart
The Towpath Trail follows the Blackstone River through the park from Plummer's landing to the Stanley Woolen Mill. Adjunct Photography Instructor and member of the Worcester County Camera Club, Norm Eggart advises, "The trail is an easy walking trail with great views of the Blackstone River. My Favorite place for a photograph in any season is at the Stone Arch Bridge which crosses the Blackstone River at the beginning of the Towpath Trail." For more tips on exploring the area check out our guide to exploring the Blackstone Valley. 

 
White Room at Crompton Collective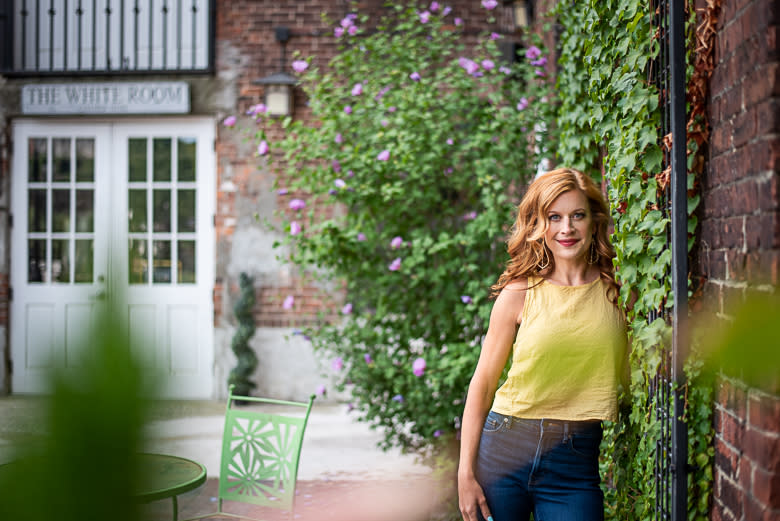 Source: Creative Chaos Events 
Photographer Stephanie Dozois of Creative Chaos Events specializes in providing a luxurious portrait experience and considers The White Room at Crompton Collective one of her favorite destinations to shoot at. "I love Crompton Collective because the area offers beautiful natural lighting and greenery." adding, "The unique decorations add to the fun atmosphere and The White Room is beautifully set up for many different styles of photography."
Conveniently located next to Worcester Public Market, this destination is also a perfect place to sneak in holiday shopping. Speaking of the holiday season, Stephanie is hosting Vintage Truck Christmas Minis on November 14th and spots are limited!
New England Botanic Garden at Tower Hill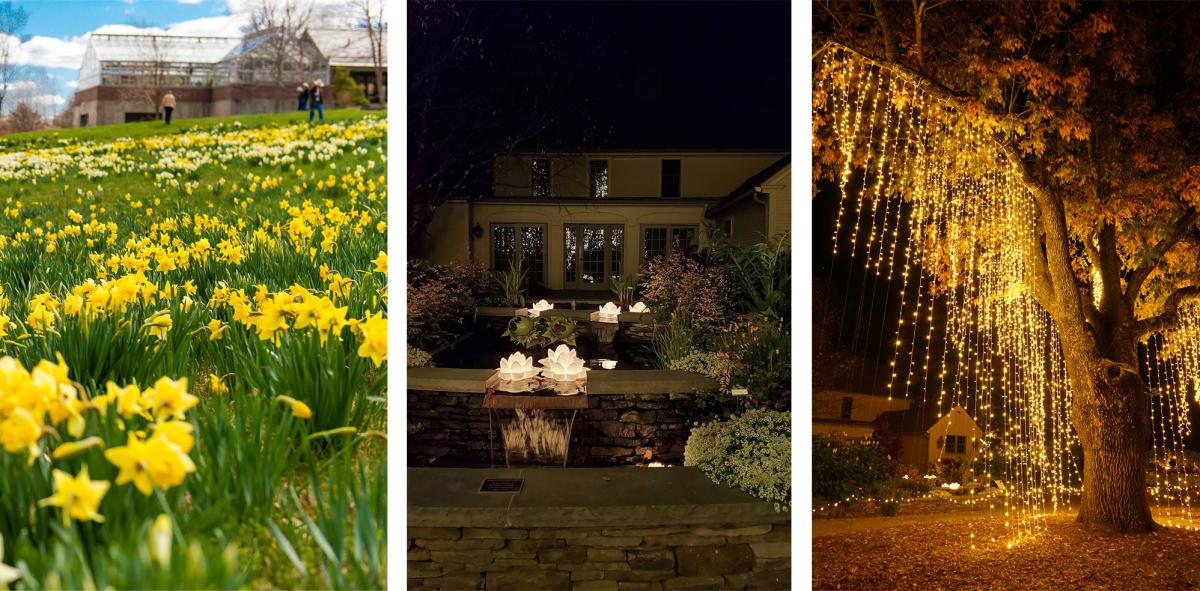 Sources: New England Botanic Garden at Tower Hill (left), Studio DiBella (center & right)
With deep history preserving the region's horticulture, New England Botanic Garden at Tower Hill features a display of the finest plants for cultivation in New England. The nonprofit offers carefully planned gardens and collections of ornamental, edible and native plants, plus trails that enhance the natural features of this beautiful 171-acre property. Often you'll encounter special events and displays, like this season's Mythical Creatures and Autumn Lights, picture above. Due to the care and curation that goes into the property, unsurprisingly, there is a Photography Policy we advise you to review before embarking on a photoshoot at this location.
Upper Church St in Hardwick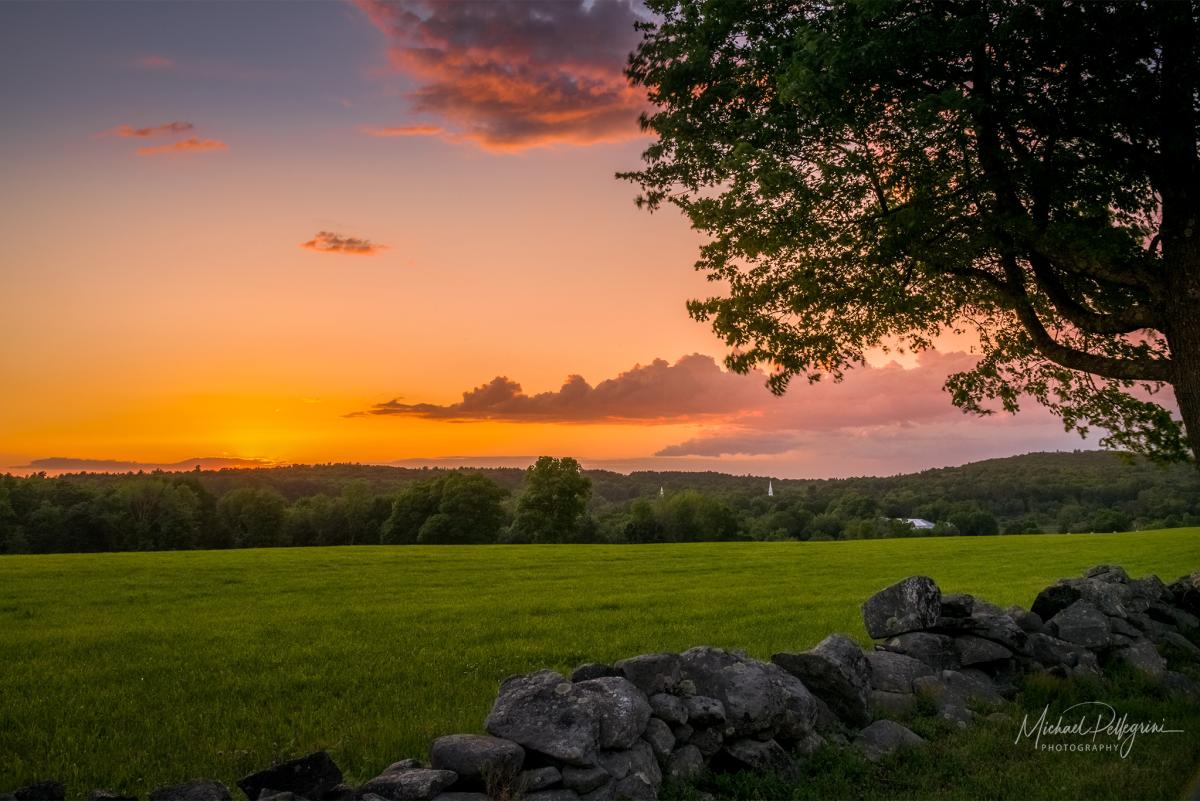 Source: Michael Pellegrini
Take a tip from photographer Michael Pellegrini and visit the quiet town of Harwick, MA. Specifically, take a drive on Upper Church Street. What makes this place so special, Pellegrini says, is "the maple tree lined street with farms on both sides." A pilgrimage to this place of pastoral perfection is fitting for those seeking romantic walks, dramatic sunsets and peaceful reflection. Explore our Getaway Guide to the Quaboag Countryside before your trip to plan a day full of discovery. About a 15 minute drive from Hardwick Vineyard & Winery, enjoy this beautiful stretch of road in one of the more remote areas of the region.
 
The Farm at SummitWynds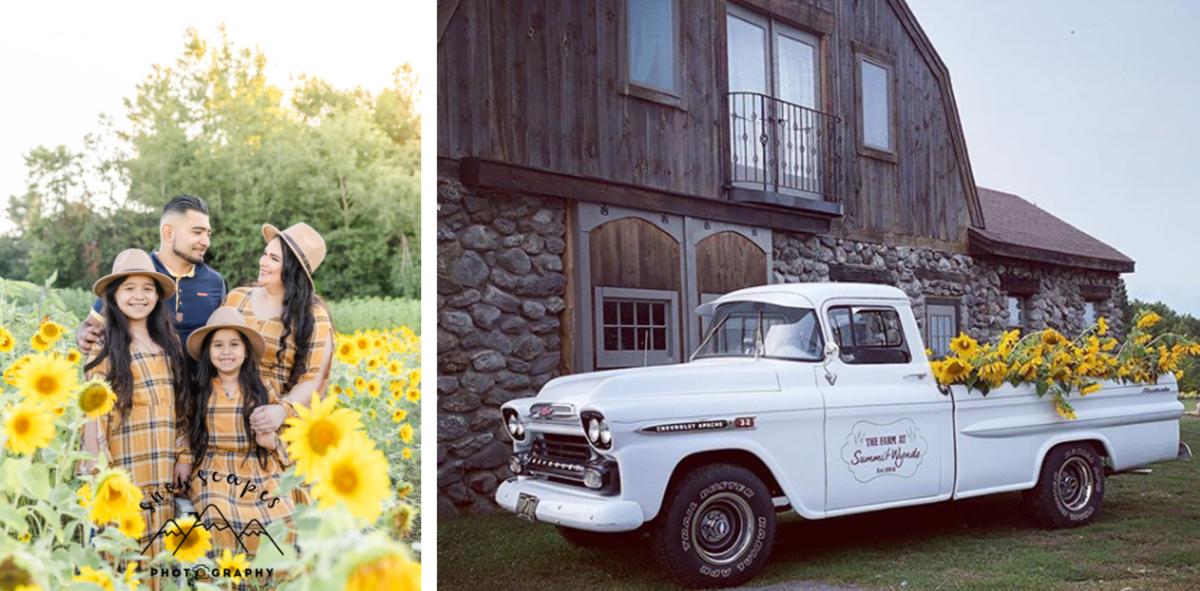 Sources: Snowscapes Photography (left), The Farm at SummitWynds (right)
Nestled into 32 private hilltop acres, The Farm at SummitWynds is a top choice for photographer Karly Snow. Only open to the public for seasonal events, you'll want to mark your calendars now so you won't miss the Lavender (June & July) and Sunflower (August & September) Experiences next year. Horseback riding lessons are also offered and photographers can rent the farm for dreamy photoshoots on a gorgeous property that boasts stunning panoramic views of Wachusett Mountain (another photo-worthy destination!)
---
Please note, while exploring the photogenic gems of Central MA, be respectful of private property. For commercial photographers, it's common to pay a fee to host photoshoots in scenic places and we advise you to consult the professionals to fulfill your family photoshoot dreams! 
If you're a novice or just having fun with a cell phone camera, stay mindful of your surroundings and the folks who upkeep our region's treasured landscapes. Full of historic sites and public parks, there's plenty of additional places to explore as you photograph Central Massachusetts.