With options for any crowd, Central Massachusetts has a venue to fit celebrations of every sort.
Restaurant Venues

For the restaurant explorers and foodies, Central Massachusetts offers boundless event space options. A few notable mentions in the City of Worcester include: The Mercantile, Volturno, Chashu Ramen and Bocado Tapas Bar. 
A two-floor restaurant & bar serving up New American tavern cuisine, The Mercantile features two private event spaces. The first, a 4,000 square-foot main floor with a 66-seat dining room, a 50-seat lounge and 55 bar seats. The second, an upstairs option, is a 1,000 square-foot space with a 66-seat main dining room and a combination lounge/rooftop patio with 104 seats. The patio can also be used solo, with space for up to 78 seated guests. Popular and conveniently located neighbors to The Mercantile include the DCU Center, an arena and convention center, plus the AC Hotel, both just a block away. 
Volturno, the official local source of Neapolitan pizza, boasts a beautiful function room with accommodation for 80 guests. The European-style ambiance will be a surefire appeal to get you there, and the mouthwatering menu will keep you coming back.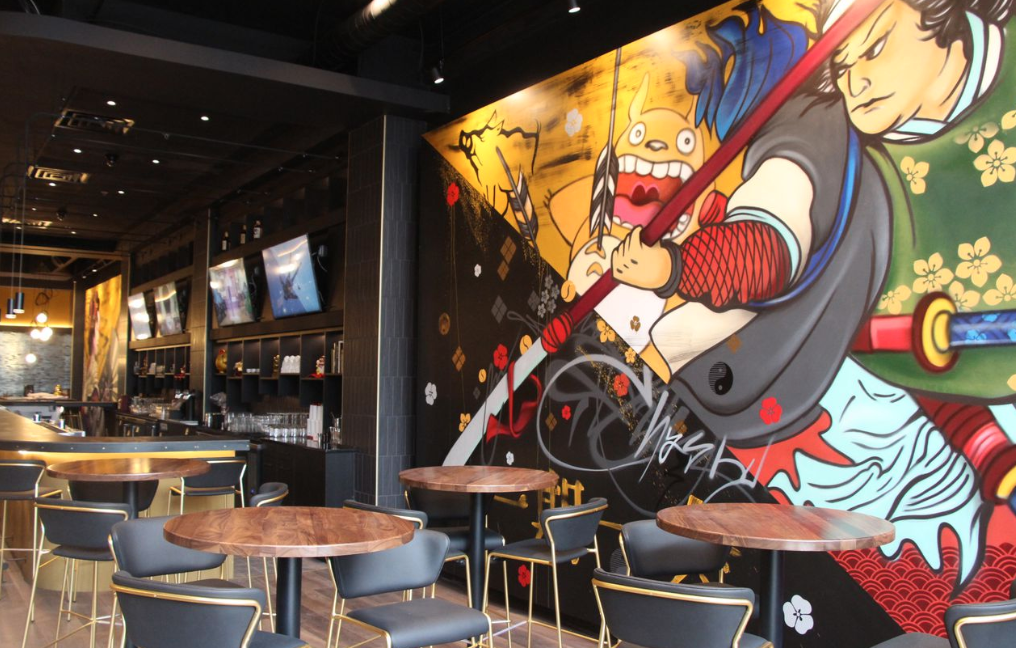 Chashu Ramen + Izakaya, another downtown gem, has a unique, intimate private room to serve eight hungry guests. The reservations-only chef's table is tucked behind the restaurant's kitchen, where food is prepped right before eventgoers' eyes in a true omakase experience. If you have a small group and are seeking an impressive experience, this would be a great option. 
Decorated in modern cream leather with rustic tables, The Cava Room at Bocado Tapas Bar seats 40 seated guest, with accommodation for 60 in a cocktail-style gathering. The Bodega Room offers a darker vibe, with six large communal-style wooden tables and high leather-backed chairs, which accommodate up to 60 eventgoers for a seated or cocktail-style gathering. With either choice, you're promised authentic Spanish flair.  
To discover additional spaces in the restaurant realm, click here to spark further ideas.  
Bar & Brewery Settings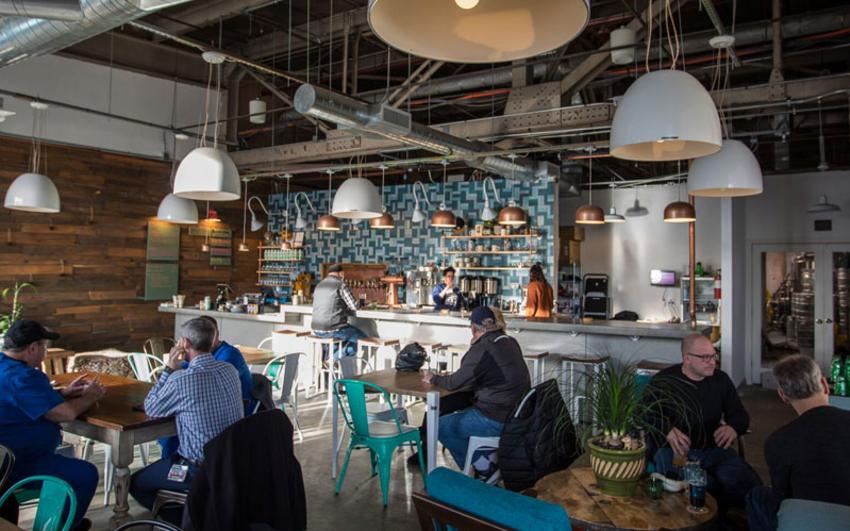 For the 21+ folks, explore local hops and cocktails to get a taste of the Central Massachusetts scene. Breweries like Wormtowm Brewery and Redemption Rock Brewing Co. offer hops from hardworking brewmasters along Shrewsbury Street.  
With curated menu offerings including specialty cocktails, craft beer and fine wines, Electric Haze is a staple entertainment space in Worcester with live music and art in a sleek lounge setting with a capacity of 240. If you're seeking a more intimate setting for a private party, The Muse Bar & Kitchen serves up Italian-focused fare, craft beer and cocktails.  
Whether it's a birthday party, graduation celebration, corporate team building or networking thing, Canal District Wines is another spot perfect for intimate, one-of-a-kind events that your entire guest list is sure to remember. Their bottle shop and tasting room offers 60+ wines, tasting flights and food pairings for events up to 35 people. 
Uncover a full list of bars and breweries for your event here. 
Unique Spaces 

Artful Atmospheres 
Tap into your artistic side at spots like ArtsWorcester, with galleries best suited for networking/cocktail-style events, and a "best experience" capacity of 75 to 100, depending on the event and time of year.   
Spots like the BrickBox by JMAC have become the go-to for performance events, where professional artists are empowered to share their talents in a 299-seat venue. Combined with Worcester PopUp, a gallery adjacent to the black box theatre, the JMAC venues offer both a place for reception and separate backdrop for your main event, whether that be a presentation or performance. 
Mechanics Hall offers unparalleled acoustic character, making it the primary choice for musical performances with distinctive architecture to complement, also suitable for galas, business meetings, commencements and large family celebrations.  
The White Room is another beautiful option, a multi-functional event space with a courtyard in a historic mill. Its location in the Canal District makes this appealing for attendees who may be interested in exploring shops and the Worcester Public Market before or after your event. 

Wild Destinations Kids Will Love 
There are plenty of kiddo-friendly spots to host events at in Central Massachusetts, from the EcoTarium indoor-outdoor museum and Southwick's Zoo to New England Botanic Garden at Tower Hill.  
The EcoTarium is New England's leading museum of science and nature, dedicated to inspiring a passion for both with every visitor who passes through. With hands-on activities (like make-your-own stomp rocket) and an entire museum to explore, birthday parties here are both exciting and educational. The venue also boasts a playground, train ride and planetarium! Head here for all the info you need on birthday packages for the little ones, or to host a family-friendly corporate event. 
Southwick's Zoo in Mendon is a staple for little adventurers. And when you host your child's birthday here, you and your guests get all-day access to the zoo, as well as a 90-minute celebration in the Party Pavillion. During the visit, partygoers can watch the educational shows held in the zoo and learn about hundreds of wild and exotic animals in their naturalistic habitats. Click here to learn about the various event packages, from Wild Child to Gone Bananas.  
Nature fans should also consider New England Botanic Garden at Tower Hill, with its backdrop of gardens, woodlands, meadows and mountain views. The serene gardens and unique facilities offer a welcoming, picturesque venue for wedding celebrations, business gatherings and social events. Included with their onsite birthday rental package, for example, is admission to the gardens and trails for up to 30 guests (adults and children), a guided one-hour program led by a New England Botanic Garden at Tower Hill Teacher Naturalist, program materials for up to 15 children. Each child even takes home a project or kit unique to the party theme. For a hands-on experience (and virtually hands-off planning), click here for more private event information. 

Action Packed Places 
Central Massachusetts is a hub for action-packed venues for those competitive, challenge seekers in your life. Think: X-Golf Worcester, the year-round sports spot for new and experienced golfers, with nine simulators, beverages, bites, televisions and tournaments. Consider: Live Action Escapes, an immersive environment for solving puzzles and challenges, with customizable experiences for two to 25 players per hour. Or look to: APEX Entertainment, the nucleus of food, attractions and events, offering 100,000 square feet of pure fun. APEX offers party packages based on group, age and interest, with boundless options, from luxury bowling and arcade games to glow-in-the-dark mini golf and sports simulators.  

Spectator Sports 
Sports fanatics will revel in these on-theme event space options—whether it's a Bravehearts game at Fitton Field, indoor football competition with the Pirates, on-ice excitement with the Railers or witnessing the talents of the Worcester Red Sox at Polar Park.  
And as a proud home to the WooSox, Polar Park's space boasts more than just baseball, with indoor and outdoor spaces to accommodate between 10 and 10,000 people. Whether it's a bird's eye view of the ballpark from the DCU Club Level or embodying the life of a player in the Home Clubhouse, there's an option for nearly every occasion.  
The DCU Center offers extended options during gametime, too. The Railyard serves as a VIP lounge during Railers HC and Pirates games, a private function space with a full bar, customized table setup, on-site bartender and amenities to ensure a seamless experience for up to 100 onlookers, before and throughout the game. Additional Pirates group outing options and game day experiences are available, as well as Railers group packages, during which you'll create your very own fan zone.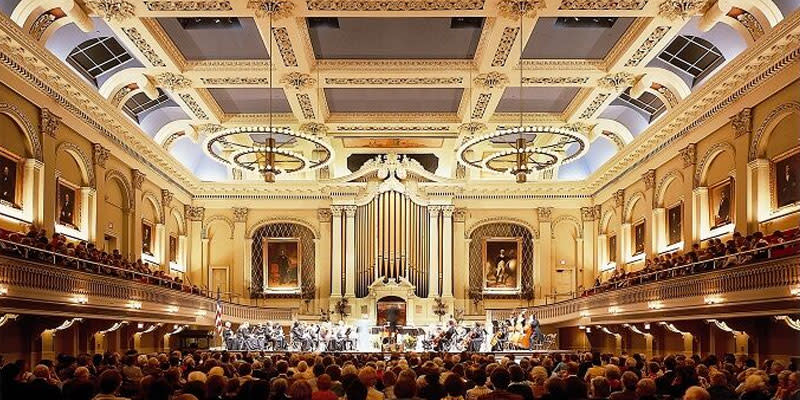 Historic & Rustic Grounds  
Worcester's local history is legendary, with Central Massachusetts at the center of the first American Revolution, host of the first public reading of the Declaration of Independence, site of the first perfectly pitched game in Major League Baseball and home to inventions like candlepin bowling, commercial Valentine's cards and the monkey wrench.  
If you're a history buff, or simply intrigued by structures that have stood the test of time, check out places like Mechanics Hall and The Publick House Historic Inn. Worcester Historical Museum's private event spaces, the Marion S. & Paris Fletcher Auditorium and Milton Conference Room, will have guests surrounded by history just the same.  
A modern-day replica of the riverboats that plied the Mississippi River in the late 19th century, the Indian Princess is another grand host to private events. Weddings, birthdays, anniversaries, corporate parties, proms, memorials and holiday gatherings are just the start. You can simply rent the boat with its crew or work closely with the event coordinator, who will help with every aspect of planning.  
There's no shortage of rustic charm here, either, with many local barns and farms offering unique venue spaces. Consider The Barn at Wight Farm or Salem Cross Inn with rolling hills and pastures as a picturesque backdrop. For more unique venues across Central Massachusetts, read here.  
---
If you're a planner organizing an event for 100+ attendees, consider reaching out to us directly. Our team can act as a liaison to securing multi-venue bids from across the region, as well as overnight accommodations and entertainment options.