Delve Into History
Explore American Military History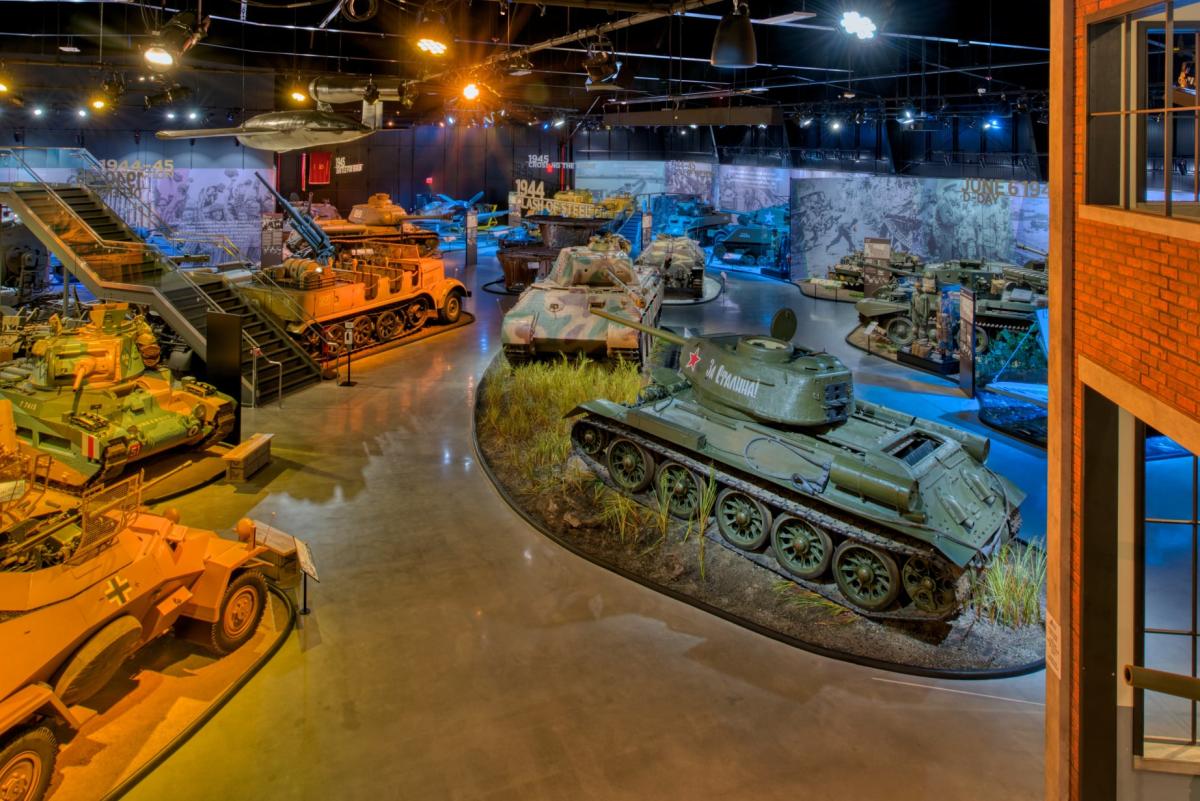 American Heritage Museum is an epic military history attraction in Stow, Massachusetts featuring one of the world's largest collections of armored vehicles and tanks, uniquely displayed in dioramas and exhibits. The one-way visitor pathways, a well-ventilated and wide-open main gallery, and over 65,000 square feet of display space allows for a safe, socially distant visitor experience. 
Take a Stroll through Another Time Period
"The spirit of Old Sturbridge Village is the spirit of our country." -Ken Burns. Take a winter walk through Old Sturbridge Village, the living history museum in Sturbridge, Massachusetts. This season the village is open on weekends, Martin Luther King Jr. Day and the entire February School Vacation Week. Also of note, now is the time to sign up for 2021 Historical Craft Classes at the village, which includes Basic Blacksmithing, Intro to Cheesemaking and so much more. If you're not able to visit in person, explore the Virtual Village photos and videos online.
Share Your Story
You and your family's experience can be part of history thanks to the Worcester Historical Museum's Covid-19 Chronicles. For 145 years the museum has had the unique responsibility of collecting Worcester's past. To immortalize what we've experienced during these novel circumstances, the museum has an open call for submissions of your stories, photos, obituaries, journals and other memorabilia. As you reflect on your past year, consider contributing - even if anonymously - to preserve history for our future generations to learn from.
View Artful Interpretations of Russian Autocrats

A treasure trove of more than 1,000 Russian icons and related artifacts, the Museum of Russian Icons houses one of the largest private collections of Russian icons outside of Russia and the largest in North America. If you missed an in-person visit to the latest exhibition, Playground of Autocrats, take advantage of the Virtual Exhibit to see this stunning collection by artist Anne Bobroff-Hajal. While the museum is closed this January, you can explore their virtual programs as you await the museum to re-open in early February.
Join Bibliophiles and Scholars
For a scholarly take on books in American culture, turn to the American Antiquarian Society's Program in the History of the Book in American Culture lecture series. Next month's virtual lecture, approximately 45 minutes long, features the author of Dark Archives: A Librarian's Investigation into the Science and History of Books Bound in Human Skin. "Captivating and macabre in all the right ways," like the book, this event is sure to interest bibliophiles, historians and anyone interested in the taboo and mysterious oddities of culture. Attending is free but you must register in advance.
---
Hands-On Experiences
Encourage Eco-Activites at Home
Source: Ecotarium via YouTube
While the Ecotarium remains temporarily closed to in-person visitors, this lively museum of science and nature in Worcester, Massachusetts offers many ways for you and your family to stay connected! Discover at-home activities, for example, download the Butterfly Puppet Activity Sheet or watch and learn how to build a stomp rocket. The Naturalist Program is an educational initiative geared toward ninth graders in Worcester interested in learning about natural science and careers in STEM. Participate in the Symbolic Animal Adoption Program to support the creatures who live at the Ecotarium, or take a Virtual Museum Tour to check out all the exhibits from home!
Cultivate Your Craft
Worcester Center for Crafts opened registration for winter programs, both in-studio and online learning experiences, that will cultivate your craftsmanship. With programs in ceramics, glass, metals, photography and more, there is something for anyone interested in diving deeper into artisan culture. While Session 1 has already begun, Session 2 courses begin February 22nd, so check out the catalog here and register for your spot!
Get Tool Training
Technocopia is a non-profit makerspace located in Worcester, Massachusetts boasting a 9,000+ sq. ft. facility offering members common workspace, rental bays, and a variety of tools for artisans to create and work with. If this sounds exciting but you're totally lacking in experience, check out the many tool training workshops like Sewing Machine 101, Leather Tools and Wood Shop Tool Training. 
Find Event Inspiration
On Jan 26th, 27th, 28th and 29th, from 6:30pm-8:00pm, JMAC invites you to visit their open house. With 2021 promising a return to live events, this socially distant event is an opportunity to get inspired and think about how you want to bring the JMAC to life! During the event, you'll be able to see the finished BrickBox theater, try the streaming and recording equipment, experience the Worcester PopUp's new point-of-sale system and more! While the event is free, you must RSVP here to attend. 
---
Join The Discussion (or just listen)
Book Clubs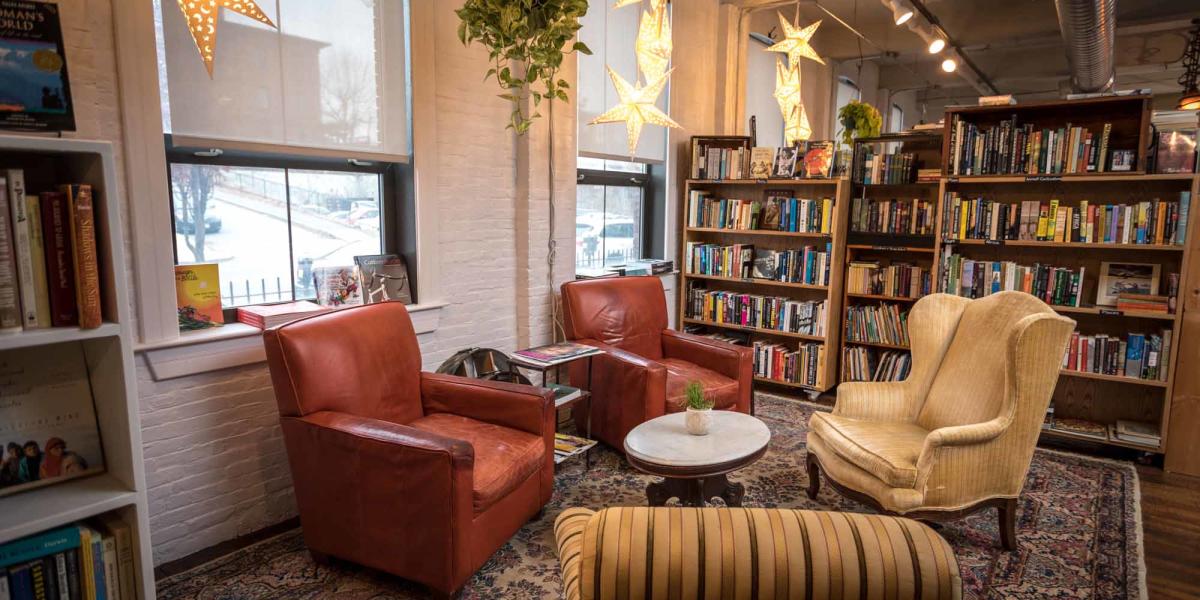 The Worcester Public Library is hosting discussions across many genres for those interested in discussing books. The Great American Read Book Club is discussing Frankenstein by Mary Shelley on Jan 26th and Beloved by Toni Morrison on February 23rd. Murder by the Book Mystery Book Club's next discussion is about Faceless Killers by Henning Mankell on January 27th. Check out the Romance Readers Book Club's next pick: Get a Life, Chloe Brown by Talia Hibbert to read up for a February 9th discussion. The American History Book Club discusses You'll Never Forget Your First: A Biography of George Washington by Alexis Coe on February 2nd. The Science Fiction Book Club discusses Sooner Or Later Everything Falls Into The Sea by Sarah Pinsker on January 19th and All Systems Red by Martha Wells on February 16th.
Gain Insight on Climate & Family
On February 20th, Ellis Jones, assistant professor at the College of the Holy Cross, will moderate a community book discussion on Hope Jahren's 2020 book titled, The Story of More: How We Got To Climate Change And Where To Go From Here. Jahren, an award-winning geobiologist, illuminates the link between human consumption habits and our imperiled planet.
Learn how to deepen your knowledge about your family history at An Introduction to Finding American Military Records for Genealogists on February 27th.
Discuss the Movie: Ladybird
Watch Ladybird - available to view for free through Kanopy with your Worcester Public Library card - and join fellow movie buffs, ages 18 & up, on February 10th at 12pm to share your experience. The coming-of-age comedy-drama film, written and directed by Greta Gerwig, is sure to spark an interesting conversation!
For the Kids
Enjoy a virtual storytime, which includes stories, songs and more for families with children ages 5 and under on January 20th and January 27th. Join Ms. Iris for Bilingual Storytime, on January 21st or January 28th, for stories, nursery rhymes, and songs primarily in Spanish/en español, recommended for families with children ages 2-6. Lastly, discover new books, all-time favorite titles, authors, and get book recommendations from librarians and special guests every other Thursday on the library's facebook page (the next virtual event is January 21st at 3pm).