Diwali at WAM 2019 © Troy B. Thompson Photography
Diwali at Worcester Art Museum  
Diwali, also known as the "Festival of Lights," is a fall celebration in Indian culture in which decorative lights represent a larger meaning: that is, inner light warding off spiritual darkness, or the triumph of good over evil. This year, there have been and will be multiple celebrations of the holiday throughout the month of November. The first of these events was hosted by the ISW and Worcester Art Museum (WAM) on Nov. 7, and featured activities such as story times, Rangoli sand art and henna. There was also a traditional ceremony in which lamps were lit, followed by Indian song and dance. Attendees at this Diwali celebration had the opportunity to indulge in a variety of Indian cuisine options, as well. 
---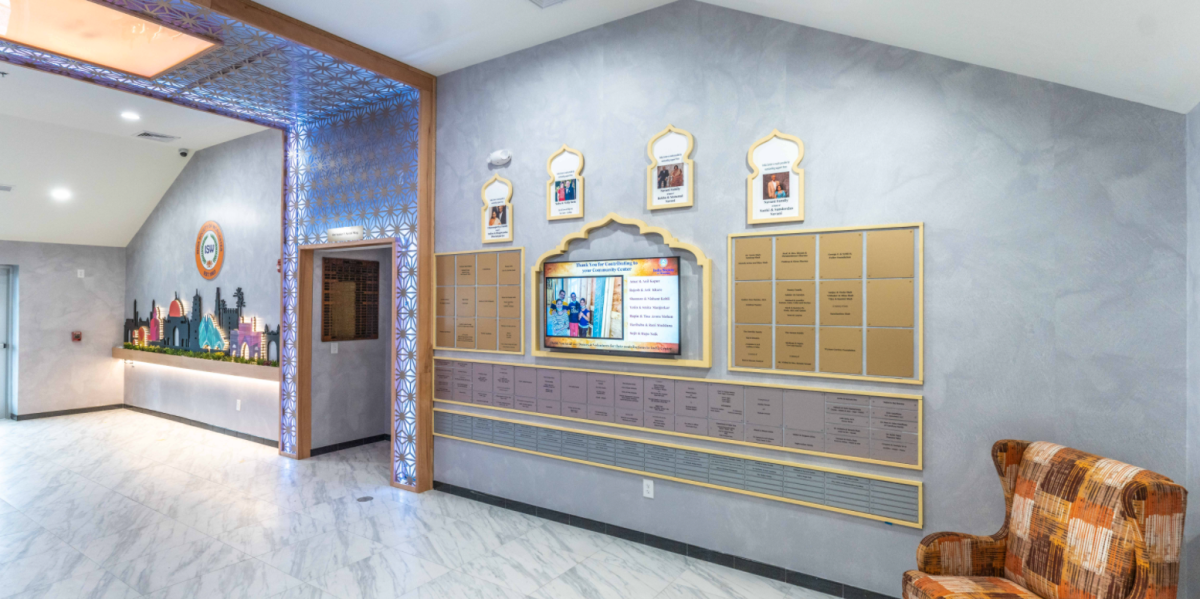 Image via iswonline.org
Diwali at ISW 
After the Diwali celebration at WAM, ISW hosted another celebration later that day at their newly renovated India Center, featuring bhajans and prasad, followed by dinner. Then, on Nov. 13, ISW streamed their annual Diwali Cultural programming online with a theme of "Deep se Deep Jale, Dil se Dil Mile." 
---

Diwali Lights 2021 © Mala Lam
Diwali Lights at New England Botanic Garden at Tower Hill  
Another Diwali celebration hosted in partnership with New England Botanic Garden at Tower Hill??????? and ISW took place on Nov. 20, during which attendees could explore the light displays set up throughout the gardens. Additionally, they had the opportunity to partake in festivities such as listening to a talk on Ayurveda—an alternative medicine system—eating Indian food, shopping at the Indian Bazaar, getting a henna tattoo from Meghna Ajmera and more. 
---

Sri Chaitra Prasadula (Tiny Tim) and Sriram Emani (Bob Cratchit) - Photo by Erb-Dufault Photography
The Hanover Theatre's "A Christmas Carol"  
Come mid-December, the Hanover Theatre will be putting on their annual production of "A Christmas Carol," adapted by Troy Siebels, the Hanover's CEO and President. Siebels notes that the show is "every bit as relevant now as it was in 1840 when it was written," and strives to demonstrate this every year with his adaptations.
This year, Siebels made the creative decision to cast Indian actors in the roles of Bob Cratchit, Mrs. Cratchit, and the Cratchit children, hoping to illustrate the immigration that took place during this period due to England's colonization of India. He explains how the difference in race and culture between Bob Cratchit and Ebenezer Scrooge "affects the way they act with one another," and "affects the way Bob Cratchit hears some of the things Ebenezer Scrooge says." Not only does this casting choice serve to educate the audience about what England really looked like in the 1800s, but it also serves as a representation of our community here in Central Mass.  
Siebels says, "I live in Shrewsbury and my kids go to school with many South Asian kids and none of them were on stage last year in 'A Christmas Carol...' This is not color-blind casting; this is intentionality and trying to explore." If you're interested in witnessing this inventive, one-of-a-kind version of a classic holiday tale, click here to get more information and purchase tickets. 
---

Diwali at WAM 2019 via iswonline.org
About India Society of Worcester  
Starting out in 1963 with just 25 members, the ISW has blossomed into what is now considered one of the most active Indian organizations in New England. They offer an array of social, cultural and educational programs and activities that help to enrich the lives of Indians and non-Indians alike. The ISW serves as a window into Indian culture, allowing India natives to feel at home, Indians born in America to get in touch with their heritage and non-Indians to appreciate the beauty of Indian traditions. Some of the specific programming the ISW offers is as follows, below. 
The ISW Cultural and Language School  
The ISW Cultural and Language School (established in 1992) believes that "language binds a culture," and offers Indian children a safe space to engage with and learn more about different aspects of their heritage. The school offers five different languages, including Hindi, Marathi, Gujarati, Tamil and Telugu. Additionally, they offer music, arts, yoga and other activities. 
ISW Symphony 
ISW Symphony is hub for a variety of creative endeavors, including visual arts, performing arts, applied arts and literary arts. One notable program they offer is BollyZumba, a way to get your body moving through dance whilst immersing yourself in an important part of Indian culture. The BollyZumba sessions feature 45 minutes of Bollywood dance that are sure to get your endorphins flowing, followed by 20 minutes of yoga stretches. ISW Symphony also offers a folk rhythm group named Dhol Tasha Lezim Pathak, and Achaar making workshops in which attendees can learn to make Indian pickles. 
ISW Women Empowering Women 
ISW Women Empowering Women (WEW) is a program through which women from all walks of life have an opportunity to connect with and learn from one another. They host brainstorming sessions every six to eight weeks in the hopes of fostering a sense of community through meaningful conversation. Some of their past sessions have included "Intellectual Multitasking: Connecting Passion with Profession" and "Health and Rejuvenation." 
ISW University 
ISW University serves as an educational resource for youth in ninth through twelfth grade, offering programming such as conversation circles in English and college preparedness, STEM skills, life skills, QI skills, summer activity classes, chess and Vedic math. They also welcome adult volunteers over the age of 18 to teach students and are happy to listen to any ideas those volunteers may have to broaden the program's horizons. ISW University is even in the process of setting up a free library onsite, which is exciting news for all in the area.   
ISW Professional and Entrepreneurial Network 
ISW Professional and Entrepreneurial Network (PEN) is a space designated for working professionals to make connections with and learn from one another. They offer an array of activities to foster professional development, such as mentorship programs and monthly meetups. Some of the featured programming over the past few months includes sessions like, "Job Search Strategies," "Planning for Your Financial Future," "Is Business Ownership an Option for You?" and "Elevator Pitch Workshop." ISW PEN even offers members to use the ISW as a shared workspace every Thursday for those who work remotely and are in need of a change of scenery. 
---
The Holidays are a season for gratitude and celebration. With such a strong cultural impact throughout the region, we are grateful to experience all of the beauty and passion the Indian culture has to offer.