POW! – It's the impact that art has on a person. WOW! – It's reaction that art has on a viewer. Together they form POW! WOW!, which is a term that describes a gathering.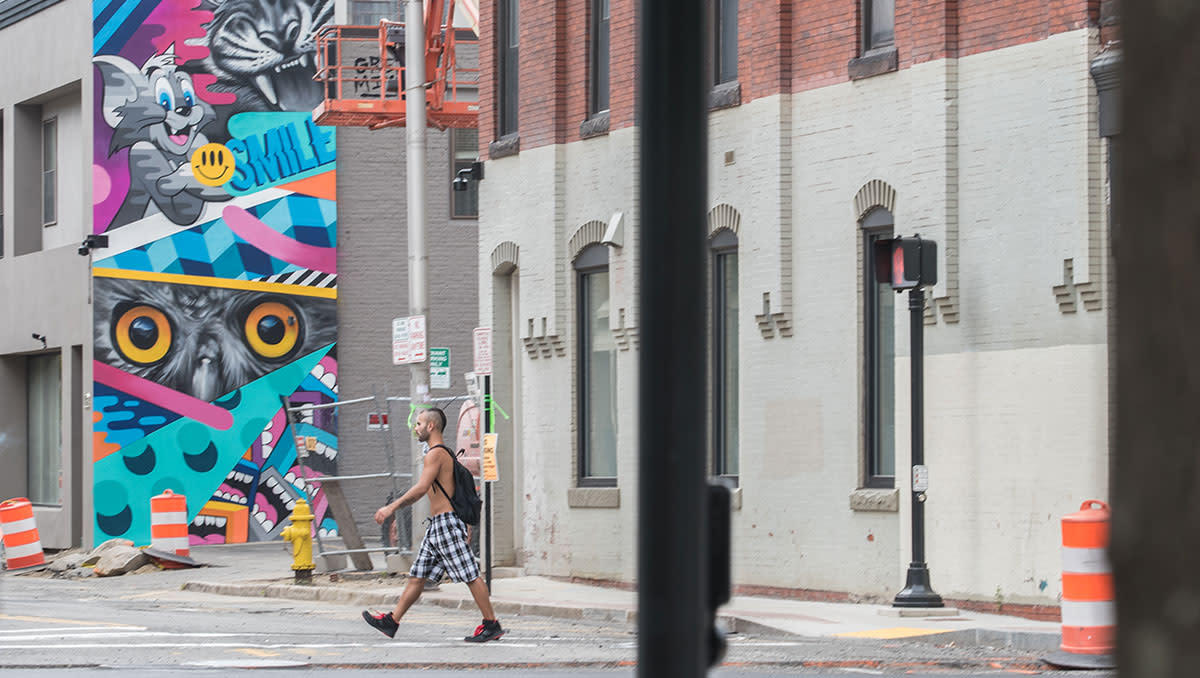 Photo by Steven King
POW! WOW! Worcester is a 10-day art festival
Now in its second year, POW! WOW! Worcester is a 10-day art festival, featuring gallery shows, lecture series, live painting, music, and artraiser, public installations and more.  POW! WOW! Worcester brings international and local artists together to create murals and other forms of art.
The festival will run from August 25 through September 3, and is scheduled to produce at least 29 murals throughout the city of Worcester. 
The weeklong festival, sponsored by the Worcester Railers HC, will bridge together various parts of the city while welcoming an estimated 10,000 visitors to the area. The walls that will be painted extend from Pleasant Street through the Elm Park area and out to the city's Canal District.
"Arts have historically brought people together and we are excited to continue that tradition here in Worcester with the 32 artists involved," said Jessica Walsh, Co-Director of POW! WOW! Worcester. "Artists from Worcester, various states in the US and from 9 countries around the world will join the event to continue the efforts of a renewed focus on our schools and the communities around them," she continued.
Worcester Schools to Receive Murals
Out of the 29 walls, 14 walls will be painted at Elm Park Community School if a successful Patronicity campaign is completed. If the campaign reaches its crowdfunding goal of $50,000 by August 25, 2017 at midnight, the project will win a matching grant with funds from MassDevelopment's Commonwealth Places program. More information is available at http://www.Patronicity.com/Worcester.
Elm Park Community School will be joined by one elementary school in each quadrant of the city, each of which will receive at least one mural. The schools that have been selected are: Worcester Arts Magnet, Rice Square and Caterbury Street Magnet Computer-Based School.
Co-Director of POW! WOW! Worcester, Che Anderson said, "This year we wanted to bring art directly to the students of Worcester to excite and inspire them. POW! WOW! Worcester will not only see these artists create works of art to be enjoyed by students moving forward, but during the week of POW! WOW! Worcester we have numerous events to help instill the importance of art to these students."
The Largest Wall Will Measure 240 x 33 Feet
Through generous support from the Worcester Railers HC Foundation, POW! WOW! Worcester is excited to unveil that the largest wall to be painted this summer is at the highly anticipated Fidelity Bank Worcester Ice Center. It will measure 240 feet across and 33 feet high and will be tackled by a team of talented artists led by Five 8 and Earth Crusher of Montreal, Canada.  POW! WOW! Worcester directors Che Anderson and Jessica Walsh saw this partnership as an opportunity to join forces with one of the newest and most dominant organizations in the city.
"The Railers are excited to sponsor POW! WOW! Worcester and look forward to an additional wave of art to be showcased throughout the city," said Mike Myers, President of the Worcester Railers HC. "We can't wait for the completion of the artwork on the Fidelity Bank Worcester Ice Center and we are eager to be a huge part of another successful POW! WOW! Worcester event."
The remainder of the walls and artist roster will be announced in a series updates on the POW! WOW! Worcester social accounts in the following weeks leading up to the festival. Stay in the know by following POW! WOW! Worcester on Facebook, Twitter and Instagram and by logging on to www.powwowworcester.com
---
Win 2 Tickets to The Closing Party
Help us close out POW! WOW! Worcester with a bang. The Closing Party will feature music and entertainment and is 21+. Take this short quiz to test your knowledge about the festival and be entered to win 2 tickets to the event.