Your pumpkin passport awaits.
New Englanders are wise to the wonders of nature. We find the fall months particularly entrancing in Central Massachusetts, rich with cherished traditions such as hayrides, apple picking, corn mazes, Oktoberfest, and of course—a visit to the local pumpkin patch. Although this year comes with plenty of unique challenges, our beloved proprietors are thinking creatively about upholding the region's signature autumn attitude.
The glowing hue of a bright orange pumpkin evokes a spirit of adventure and rejuvenates our emotional energies. Whether it's a pumpkin spice treat or the giant pumpkin growers at your local fair, we all have a reason to look forward to fall. Pumpkins even offer a host of antioxidants and potent levels of tryptophan to boost serotonin—just like your turkey on Thanksgiving Day. Find out where you can get your pumpkin fix in Central Massachusetts with some of our favorite proprietors below:
 
Pumpkin Patches
Farmers know how to adapt. You can bring a mask and pick your own pumpkins at Berlin Orchards, Brookfield Orchards, or Douglas Orchards & Farm. Pumpkins for carving and cooking come in all shapes and sizes. When you're finished, don't forget to stop by the farm store for a steaming cup of apple cider and freshly baked pumpkin pie to take home.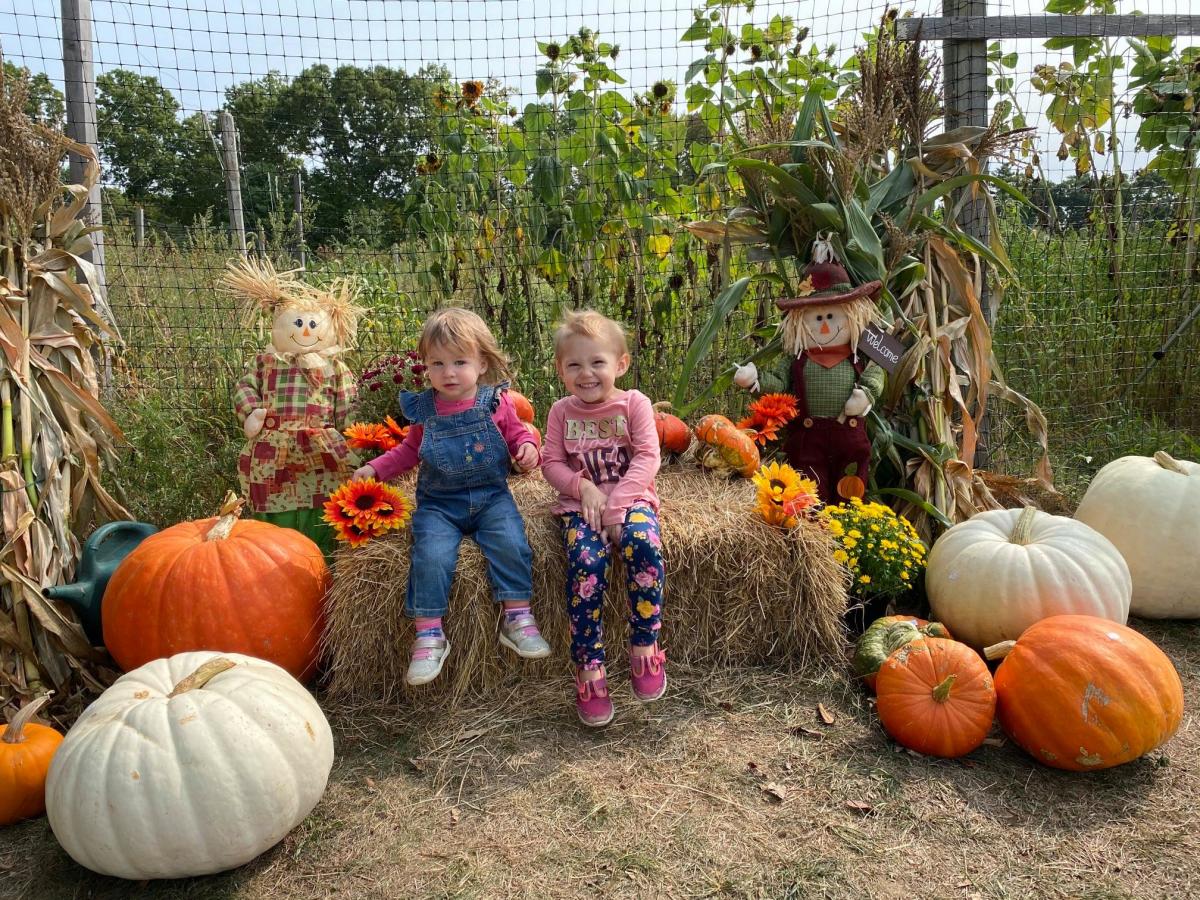 Source: Douglas Orchard & Farm
Other regional options for pumpkin-picking include Stowe Farms in Millbury & Breezy Garden in Leicester, both offering hay-rides and barnyard animal attractions certain to delight kids of all ages.

Locally Grown Gourds
The Regional Environmental Council's community farmers' markets feature an excellent selection of gourds and vegetables for roasting. Stop by Beaver Brook Park in Worcester on Mondays and Fridays from 9 a.m. to 12 p.m. from now until November 6. The market also opens at University Park on Saturdays from 9 a.m. to 12 p.m. until November 7.
 
Pumpkin Events
Haunted Drive-Thru
There are treats in store for the whole family at Timberyard Brewing's Haunted Drive-Thru. While of-age adults can pick up canned treats for home, kids along for the trip will be delighted by a trick-or-treat experience that results in candy for the ride home! Happening on October 24th & October 31st, the haunting can be turned down by requesting the "Monsters Be Nice" option. 

Period Piece Pumpkins
Old Sturbridge Village is offering free kids admission through the month of November. Autumn Harvest Weekend will kick off on October 17th when a team of costumed interpreters take to the 19th-Century garden. Horse-drawn wagon rides will be in full swing, so bundle up.
Halloween spirits are unleashed at Phantoms & Fire, October 21st through 31st, Wednesday-Sunday evenings at the Village. You won't want to miss the headless horseman, haunting tales told by bonfires and cauldrons - plus the clues and candy - is trick-or-treating cleverly reimagined for your family!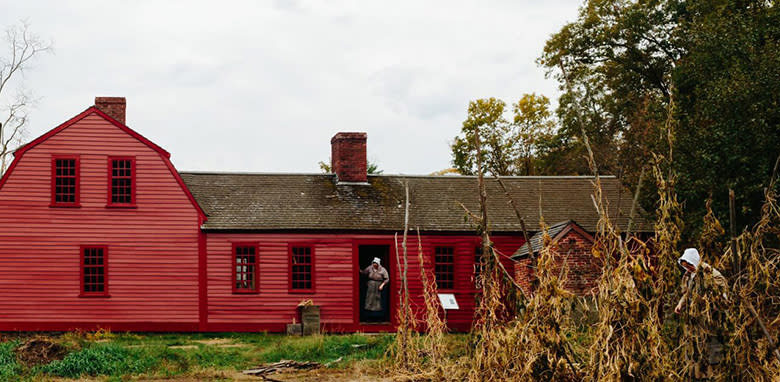 Source: Old Sturbridge Village
Spooky Movie Getaway 
Imagine watching Drive-In Massacre while tucked into the woods at the new drive-in experience in Charlton, MA! 508 International and Comfort Inn & Suites Sturbridge are offering a spooky-season special you won't want to miss. Discounted packages are available through the hotel include a room plus a drive-in ticket. Or if you attend one of the dozen Horror at the Drive-In flicks and spontaneously decide to book a room, get 15% off your stay by showing your ticket stub!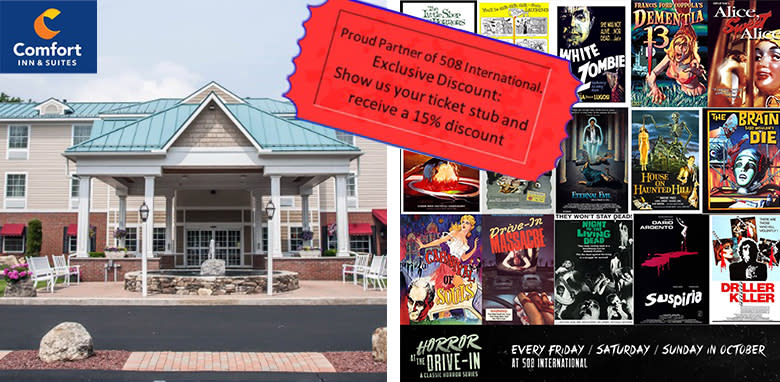 Sources: Comfort Inn & Suites (left) & 508 International (right)
A Seasonal Cone for the Corn Maze
West End Creamery in Whitinsville offers a 6-acre corn maze from now until Columbus Day. Get yourself a seasonal cone and a bucket of kettle corn as provisions, just in case you get lost. There's also mini-golf, pony rides, and you guessed it—pumpkins.
Pumpkin Carving
Just north of Central MA, at The Harding Allen Estate, Bootiful Lights for Barre Nights - Pumpkin Carving Contest offers a pumpkin display, carving contest, fall foods and more. Registration is required and you should act fast because early evening tickets are already sold out on October 30th.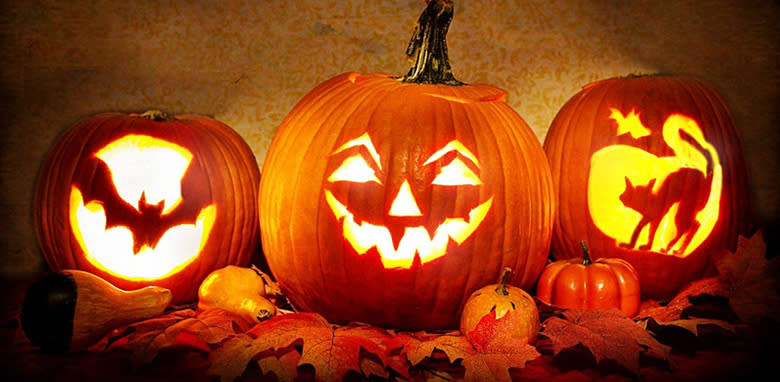 Source: The Harding Allen Estate
 
Autumn Illuminated
The fall colors are on fire at New England Botanic Garden at Tower Hill. Secure your ticket for an evening of crunching leaves and nature's majesty. Take your little pumpkins along with you, but make sure to bring masks for the whole family.
Zoo Boo 
Humans aren't the only animals fascinated by pumpkins this season. Lean into the fall festivities at the Zoo Boo at Southwick's Zoo where children under 12 in Halloween costumes receive free admission on October 17th, 18th, 24th & 25th!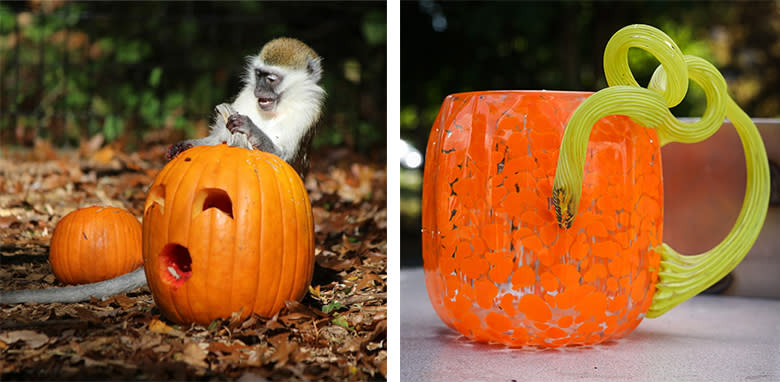 Sources: Southwick's Zoo (left) & Worcester Center for Crafts (right)
Pumpkin Crafts
Sunday, October 25th take a floral design course that put pumpkins at the center of the display. Held under an open-sided outdoor canopy tent at New England Botanic Garden at Tower Hill, Instructor Betsy Williams will teach you how to create a stunning centerpiece for your Halloween table. Spots are limited and registration is required.
Make your own pumpkin beer stein while learning the ancient art of glass blowing at an October 9th class offered by the Worcester Center for Crafts' New Street Glass Studio. No experience is necessary, all materials are included and you can register here.
The Crafty Nest DIY is hosting a pumpkin-themed craft night on October 6th at their Whitinsville studio, with the option to pick up your kit to craft in the comfort of your home. Worcester's Burncoat Center for Arts and Wellness is hosting two all-ages outdoor craft classes: Cork Pumpkins on September 25th & Felted Wool Pumpkins on October 3rd for families looking for a fun activity that adds fall flair to their home decor.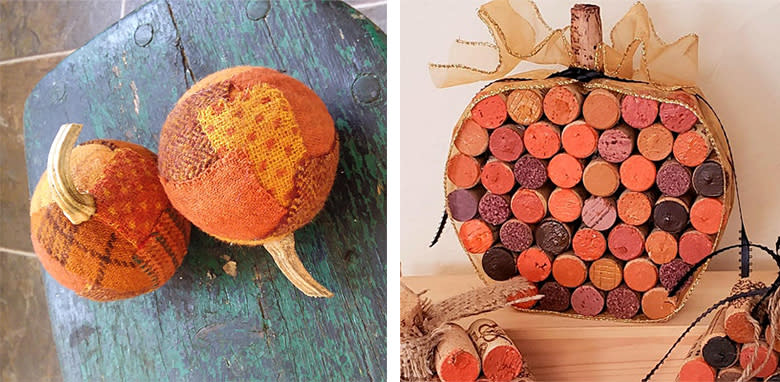 Source: Burncoat Center for Arts and Wellness
 
Pumpkin Dishes
Taste the Season
Samuel Slater's is hosting a Fall Harvest Tasting on the shores of Lake Chaubunagungamaug. Executive Chef Keith Polaina will prepare a feast of seasonal small plates on October 13, 2020 starting at 6 p.m. for a cost of $55 per guest. In addition, select wine pairings will be available for the evening.
Pumpkin Ravioli 
A favorite of the season, Quinn's Irish Pub is serving a pumpkin ravioli tossed in a creamy amaretto sauce and featuring sautéed chicken medallions, spinach, roasted red peppers, and spicy pecans. Quinn's also offers a wide variety of pumpkin drinks, a couple are shown below and more are described under Pumpkin Cocktails.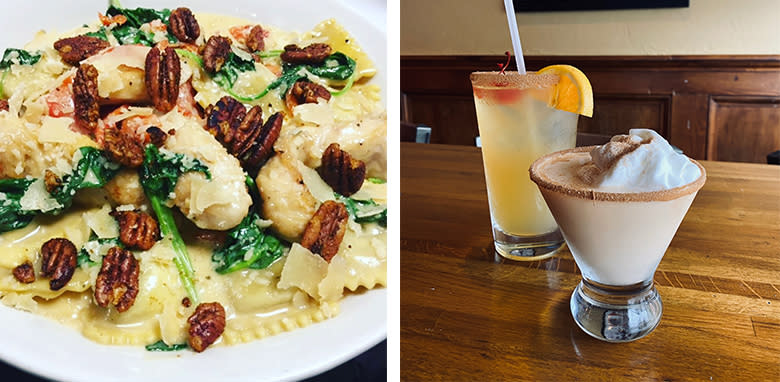 Source: Quinn's Irish Pub
A Hearty Fall Cooking Class
The Worcester Public Library will host a "Wholesome Hearty Fall Cooking" lesson with resident Chef Kim. The class covers chowder, stews, and casseroles. Pick up your ingredients at Maker to Main, a downtown grocer dedicated to strengthening the community through a regional food system and increasing accessibility to healthy locally-sourced sustenance.
Seasonal Specials For Your Dog
Your furry paw family members are in for a treat at Quite Fetching Barkery and Pet Boutique! All the dog treats are homemade - including their pumpkin-based cupcakes - and custom orders are highly encouraged. With toys, clothes and treats in store, kick off your weekend at this Grafton destination's Yappy Hour every Friday from 5-7:30pm.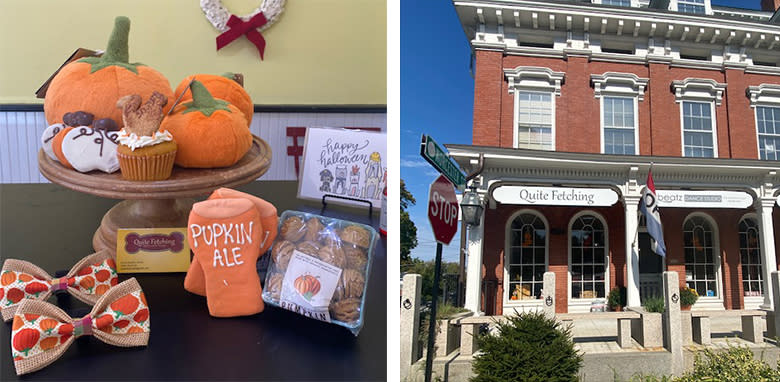 source: Quite Fetching Barkery and Pet Boutique
Pumpkin Drinks

Bring on the Pumpkin Brews
In Worcester, stop by Redemption Rock Brewery to warm up with a pint of "I Can't Even," a Pumpkin Spice Latte Stout brewed with pumpkin pie spice or a dark roast coffee from Worcester's Acoustic Java roastery. Still thirsty? Make it an open-air brewery crawl. Just down Shrewsbury Street, Wormtown Brewery is crafting an homage to pumpkin spice that's sure to get you in the autumnal spirit.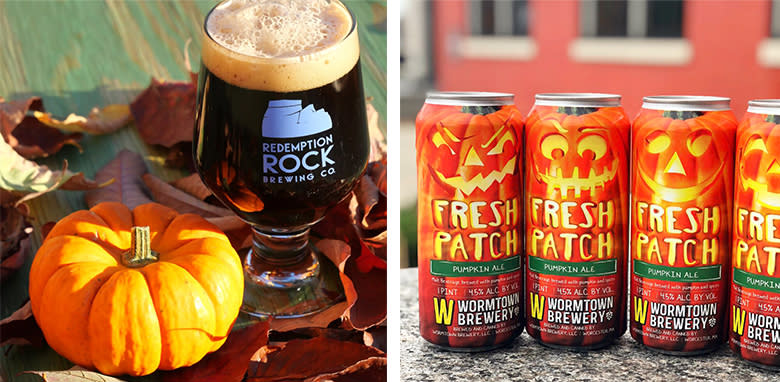 Sources: Repemption Rock (left) & Wormtowm Brewery (right)
 
Fancy a fall beer followed by sky-high views of fall foliage? Then venture off to Princeton, MA where O'Brien's Grill at Wachusett Mountain is serving Wachusett Brewing Company's Boo-Yeah! "A Scary Good Spiced Pumpkin Ale" that pairs well with a Skyride to the summit to fulfill your leaf-peeping desire. 
A Sturbridge favorite, Altruist Brewing Co. has Pumpkin Pi on tap and in cans. We hear it's referred to as "the best pumpkin beer around" - we recommend you try all of the region's seasonal brews before you cast your vote! 
The first lager from Greater Good's Session Project, Soul Purpose Brewing, Oktoberfest - Festbier includes pumpkin adjuncts. Keep an eye out for Shook Ones: Volume 4, the next on-deck in Soul Purpose's line of fruited Milkshake IPAs.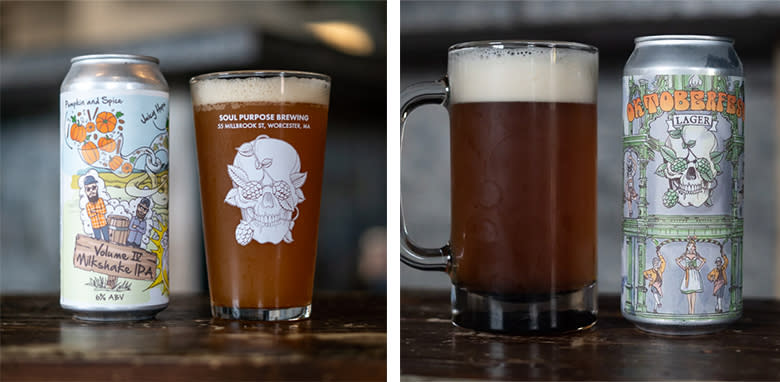 Source: Greater Good Imperial Brewing
Pumpkin Cocktails
If cocktails are more your speed, stop by Reunion Tap & Table in Grafton for a Pumpkin Pie Martini. If you're in Worcester and seeking a variety of pumpkin beverages to taste, Quinn's Irish Pub has you covered with their Pumpkin Martini, Pumpkin White Russian and brunch cocktails such as a Pumpkin Spice Irish Coffee, Shipyard-Mosa & the Drunken Pumpkin. In Sturbridge, Baba Sushi is offering the Candied Pumpkin, melding flavors of pumpkin vodka, ginger, cinnamon cookie oat milk and pumpkin pie spice into a show-stopping cocktail.
Shop & Sip on Pumpkin Coffee
Birchtree Bread Company is bringing back the pumpkin spice latte so you can shop and sip during you day in the Canal District. Explore the antiques at Crompton Collective, fall fashion from The Habberdash, the botanical wonders of Seed to Stem, and your favorite fall reads at Bedlam Book Cafe.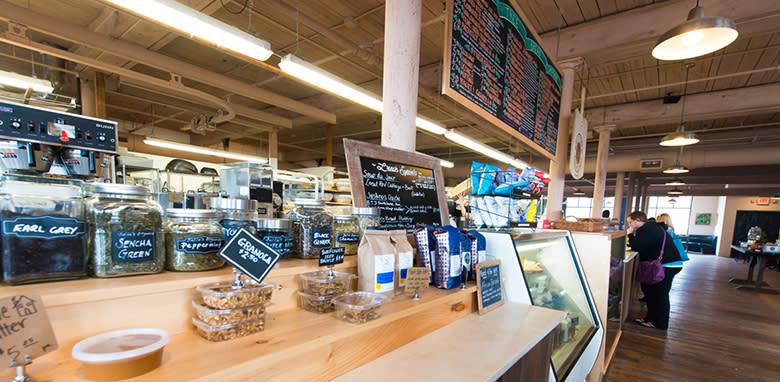 Source: Chelsea Ouellet
Pumpkin Sweets

Pumpkins for Breakfast
Glazy Susan's new partnership with REIGNcafe at 50 Foster Street in Worcester has launched - expect lines on weekend mornings! We suggest you order owner Susan Skrzek's pumpkin spice cake doughnut, inspired by a secret family recipe. Think: pumpkin cake dough, pumpkin glaze, and toasted pepitas. A pumpkin cheesecake doughnut is also in the works, complete with 24-hour brioche, spiced pumpkin cheesecake mousse, a cream cheese glaze, and crushed ginger snap cookies. And, if you fancy yourself more of a bagel fan, don't miss Bagel Time's pumpkin bagel and coffee combo on Park Avenue.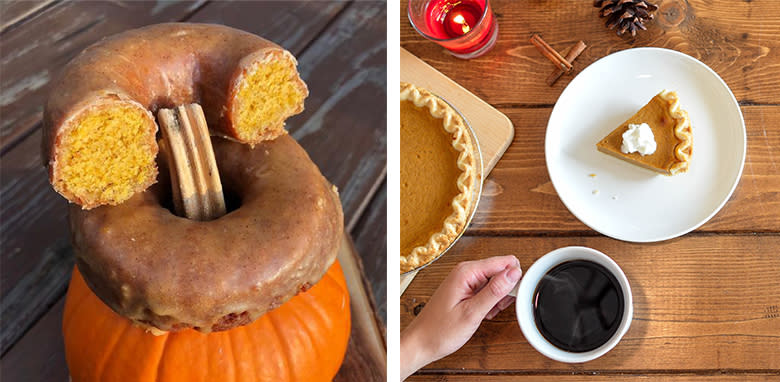 Sources: Glazy Susan (left)
Pumpkins for Dessert
Bean Counter Bakery has fantastic fall flavors in store for you at their Shrewsbury and Worcester locations. Pumpkin spice lattes are available hot, iced or frozen and there many options for a pumpkin treat pairing. Their Pumpkin Brown Butter Cake Slices, Pumpkin Whoo-Pie Pie and Pumpkin Cheesecake Cups are exactly what you'd want in season dessert.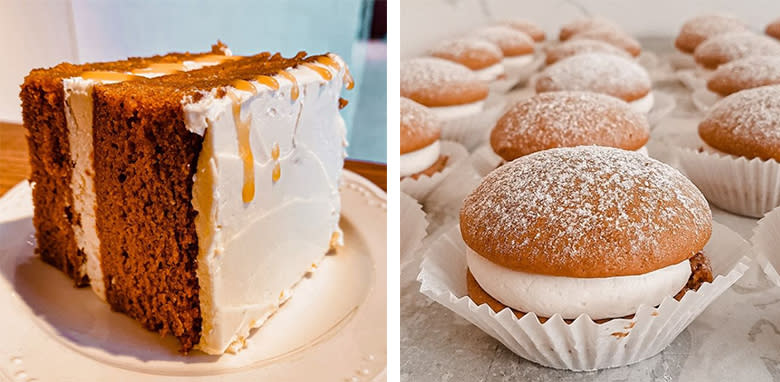 Sources: Bean Counter Bakery
The Journey Continues
We want to see how you are celebrating the season. Throughout October our chronicle of pumpkin delights will continue to grow, so bookmark this page and follow us on Facebook and Instagram to discover more seasonal favorites. Tag #PumpkinPassport and #PumpkinPassportCentralMA on social media along with our handle @discovercentralma and your photos could be featured!
Contributing Editor: Sarah Connell Sanders