---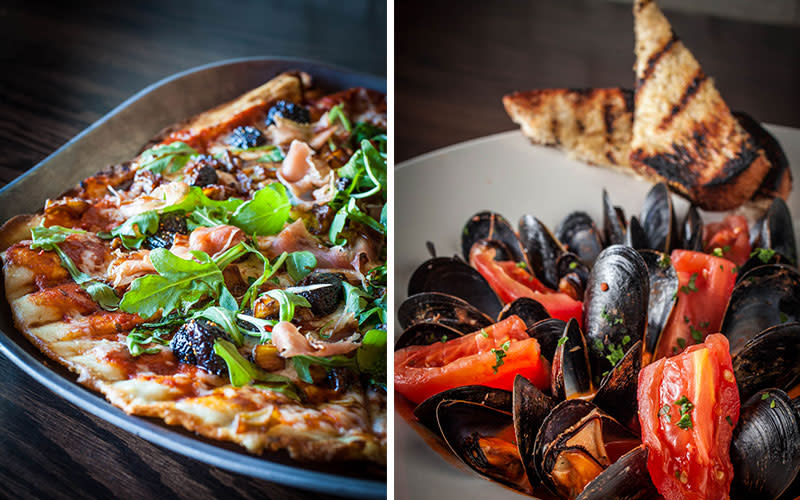 VIA is the place to visit if you're searching for a slice of Italy. Voted "Best Italian Restaurant in Worcester", this authentic spot will tempt each one of your taste buds with a wide variety of pasta, pizza, hearty salads and an extensive wine menu.
---
Nuovo / 92 Shrewsbury Street

Take a culinary trip to the Mediterranean by working your way through Nuovo's delicious fare. You'll find dishes like veal marsala right next to more adventurous options like seafood cioppino.
---

Brew City offers 165 beers, 41 of them on tap and all the comfort food you could possibly desire. Think crispy wings, juicy burgers and fries done three ways. There are plenty of TVs visible as well, if you're looking to catch a sports game.
---

When steak is on the brain, 111 Chop House is a must. Meats are carefully selected and cooked to perfection and service is always on point. The lively dining room offers the perfect spot for your next date night.
---
Boulevard Diner / 155 Shrewsbury Street

Built in 1936, Boulevard Diner is a historic barrel-roof diner serving patrons good eats with a side of nostalgia. Open 24 hours, 365 days a year, staff is serving up hot and fresh classic hometown favorites.
---

Looking for some adventure? Flying Rhino has some eclectic twists on traditional dishes. Buffalo rangoons and bison burgers are just a few things you can order. Sit on the outdoor patio and watch all the Shrerwbury Street action pass by while you eat.
---

Play a few board games, order a pint and relax. Redemption Rock's plentiful and comfortable indoor and outdoor seating is a haven after a long work day. Enjoy gazing at the gorgeous wall-to-wall mural inside when you visit.
---

No matter the week, Wormtown Brewery is serving up refreshing drinks with a smile. You won't be disappointed with any style of beer you find on tap. Be sure to check out their trivia nights, drink-and-draw events with local artists. Wish you could explore all of the above? Don't miss the second annual Taste of Shrewsbury Street on October 13. The day's family-friendly festivities include delicious samples of signature dishes, live music and a row of local vendors. Proceeds will benefit the Shrewsbury Street Merchants Association and local charities.
---
Volturno / 72 Shrewsbury Street
Located in a former Buick dealership, Volturno offers a bright and trendy environment to enjoy delicious Neapolitan pizza. Recognized by the Associazione Pizzaiuoli Napoletan, the restaurant adheres to strict preparation guidelines that result culinary perfection. Each pie is wood-fired in a clay oven and best enjoyed fresh. 

A hidden gem slightly tucked away from "restaurant row". Leo's is the place to be when you want an elegant and unforgettable experience. Indulge in the handmade pasta and sauces, but be sure to save room for the decadent desserts on the menu. And if you fancy a beer or two after you've enjoyed your meal, check out these local breweries.