Food and Drinks
New and veteran chefs are pushing the envelope with their dishes, dining concepts, and drinks. These innovative chefs take flavors we all love and create it into something unique. The secret ingredient for these mouth-watering masterpieces are the passion that goes into it.  From steakhouses to Italian cuisine, brunch to seafood, American classics, or sushi, chefs are wowing patrons with taste and presentation. Many of these establishments have won noteworthy awards to prove it, such as The Sole Proprietor being named a the top 10 seafood places, an award issued by Tom Horan, expert in the travel and tourism industry, as well as annually winning the Wine Spectator's "Award of Excellence" since 2001.
Worcester's Shrewsbury Street boasts dozens of restaurants, including the 111 Chophouse, Nuovo's, Brew City, Volturno, The Chameleon, Basil N' Spice, The Flying Rhino, and Via. 

Ambiance
Good food is not all you can expect from a dining experience in Worcester. The inviting atmosphere and warm ambiance makes for an enjoyable place to spend time with family and friends.
"There is more thought put into the atmosphere making it hip and new, whether it be a coffee shop you would see in California, or a restaurant in New York," explains Oriola Koci co-owner of Livia's Dish. Her newest restaurant, Altea's Eatery was created with inspirations from Paris in both a European style ambiance and French infused dishes. With a rush of young professionals moving into the city, restaurants are keeping up with a young and fresh environment.
It should be noted that BirchTree Bread Company, open since 2014, has thrived in the fast casual market for years. BirchTree's warm counter service, local ingredients, and enticing ambience define the fast casual genre. Visitors enjoy hassle free pastries, sandwiches, and pizzas that are more reasonably priced than a full service restaurant. With that, the promise of swift service attracts shoppers from on site retailers like Canal District Farmers Market, Crompton Collective, and Seed to Stem.
Birchtree Bread Company offers an inviting ambiance to spend time with family and friends. 
 
Convenience
Going to a modern and innovative restaurant doesn't have to come with the traffic of a big city or inconvenience of parking. Ed Russo, co-owner of Lock 50, explains "Worcester offers dining concepts found in larger metropolitan areas such as Boston and New York but with so much more convenience. There is little to no traffic getting into Worcester from most directions and parking is readily available, or, valet is easily obtained."
Incredible dishes, warm ambiance, innovative drinks, and five-star customer service, is what you'll be served when dining in Worcester and that's why out-of-towners are making the drive to taste it for themselves. Russo adds "Worcester offers something for everyone, from casual BYOB to elegant white linen tablecloth dining and everything in between." So whether you are looking for a romantic date night, a foodie seeking an eclectic entrée, a drink aficionado, or just simply looking for something new, Worcester has something to satisfy any palate. 
 
Culinary Experiences for Everyone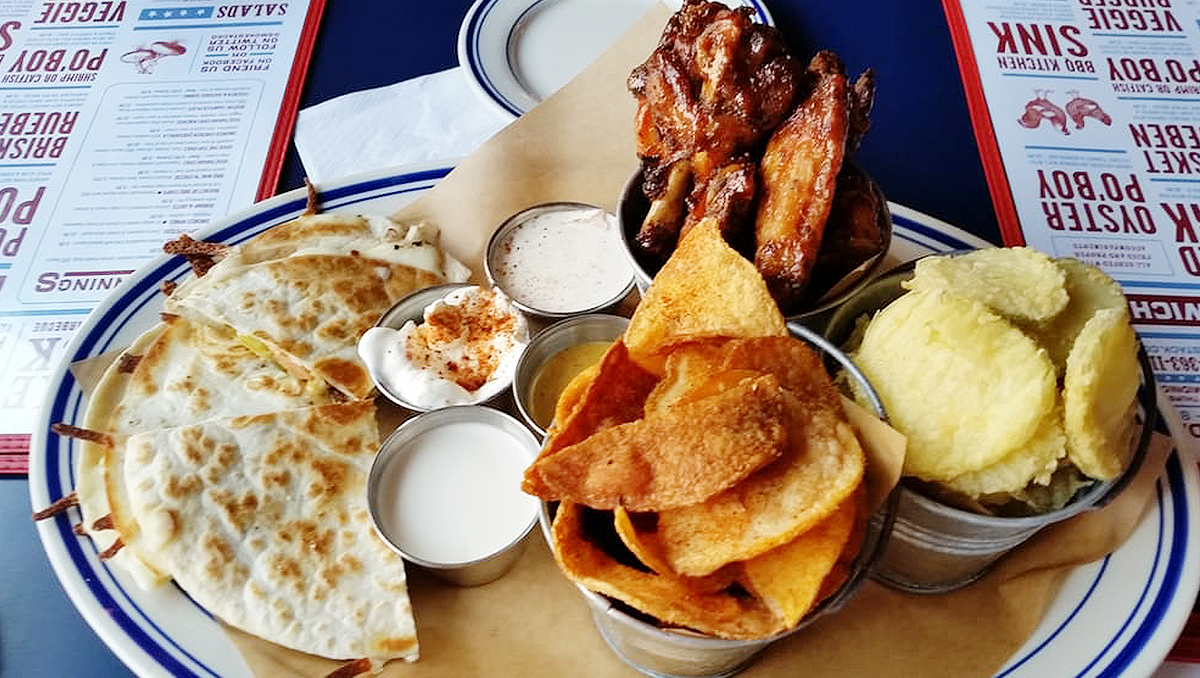 There's nothing quite like sitting outside at Smokestack Urban Barbecue with a Bustin' Sampler Plate – an array of tiny tin buckets that overflow with treats. We promise the honey-habanero wings and the jalapeno stuffed quesadillas are the perfect app.
It's impossible to dine at deadhorse hill without gleaning some sort of knowledge of global cuisine. Brunch makes it even easier. From the Japanese Breakfast bowl, to the Mexican Torta, to the Winter Squash Shakshuka, you'll have traveled the world without ever leaving downtown. Take a peek inside the highly innovative kitchen for a taste of Jared Forman's brunch acumen. 
Grill on the Hill's open deck is the perfect spot to catch a sunset. The food is simple and the views are divine. Pounce on a lobster roll while they last. 
George's Coney Island is coming into their 100th year serving up some of the best Coney Island hot dogs around. Set in a nostalgic diner with a towering neon sign that hasn't changed a bit since 1940 - this hot dog joint is a Worcester landmark. Pair your meal with a Polar Seltzer and a Table Talk Pie for dessert (both made in Worcester.) 
Caffe Espresso Trattoria offers a little outdoor oasis tucked behind Chandler Street – one of Worcester's best kept summer secrets. There's a special patio menu with plenty of tasty appetizers to accommodate leisurely gatherings for friends and family alike. All of the pastas are made in house, light and fresh for an August evening.
Techni Mediterranean Grill – The Grid's spot for falafel, grape leaves, and gyros. Diners can spice things up with tahini, tzatziki, harissa, or cilantro sauce. Guests can order a wrap or bowl on the go, or enjoy their lunch at Techni and its sister cafe, Brew on The Grid. Techni is only the beginning of The Grid's fast casual empire. In the very near future, The Grid has plans to open a ramen spot called Sticks, Pie & Pint for slices, and a beer garden that will serve pretzels and sausages.
Niche Hospitality Group's newest venture, Nonna's Pizza and Pasta, will also embrace a 'fast casual' concept driven by the development of the Worcester Ice Center. Customers will be able to order Italian fare in a low stakes environment with high end ambience. Nonna's will appeal to large groups and offer a beverage program that will set it apart from other grab-and-go options.
---
Stay up to date with events and things to do by signing up for our weekly newsletter, or plan your trip with our free visitor's guide.