---

Win a Local Business Gift Card!
To celebrate Handmade Holidays this season we're giving away gift cards all month long! On Facebook and Instagram we'll be featuring businesses mentioned in this article. You have a chance to win just by liking and sharing any of our Handmade Holidays posts - but don't forget to tag @discovercentralMA to be entered into the giveaway. Each Friday we'll randomly select a new winner!
---
Discover Specialty Shops
Vaillancourt Folk Art
9 Main Street #1H, Sutton
Vaillancourt Folk Art started in 1984 when the owner adapted the Victorian fine art form of chalkware into her own process by pouring liquid chalk into vintage confectionery molds. The resulting vibrant, hand-painted ornaments and figures are celebrated worldwide and bound to bring a smile to any recipient, making a gift worthy of passing down through generations.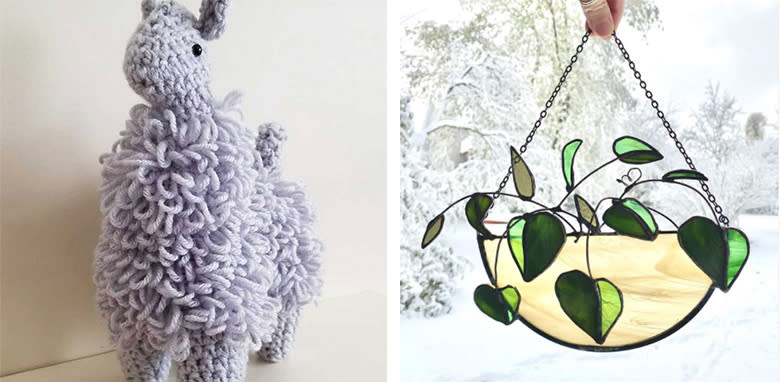 Off the Common Antiques
4 Worcester Street, Grafton
From the moment you walk in, you'll be dazzled by Off the Common's diverse array of antiques, restored furniture, farmhouse-style decor, and fabulous handmade gifts including stained glass by Worcester-based Annie Bassett, quilts, wooden bowls, soap and jewelry. Plus, look for a new handmade favorite in the shop: alpaca stuffed animals made by a local student.
Ed Hyder's Mediterranean Marketplace
408 Pleasant Street, Worcester
For over four decades, Ed Hyder's Mediterranean Market has provided a local passport to a world of fine flavors. Their dips & spreads, such as Whipped French Feta, Butternut Squash Hoomus, and "Ed's Own" Middle Age Spread cannot be missed. While you're there, choose from over 100 spices and herbs, dozens of cheeses, red and white wines, olives, oils, and vinegars. They've recently made online shopping easy - we suggested heading straight to the "From Our Kitchen" section!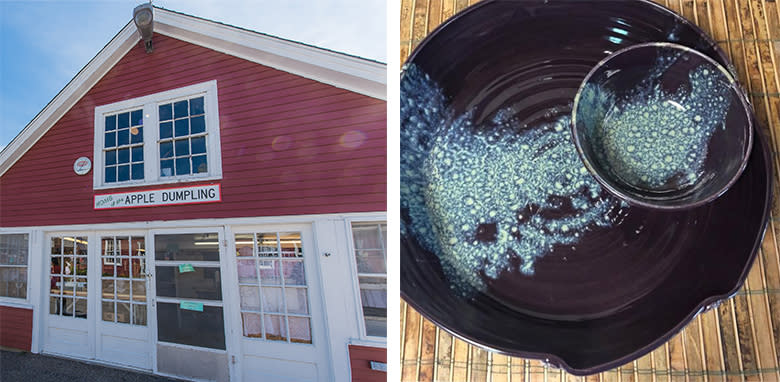 Brookfield Orchards 
12 Lincoln Road, North Brookfield
Visit Brookfield Orchards for the family-friendly environment and charming country store open year-round. Fresh pastries are made weekly including pies and dumplings and if you visit on the weekend enjoy fresh cider donuts. You'll also find gorgeous artisan pottery made by Sturbridge local Rona Roy of Twiddlets Pottery. Brookfield Orchards has been family owned and operated since 1918 and continues to bring visitors a quintessential New England experience.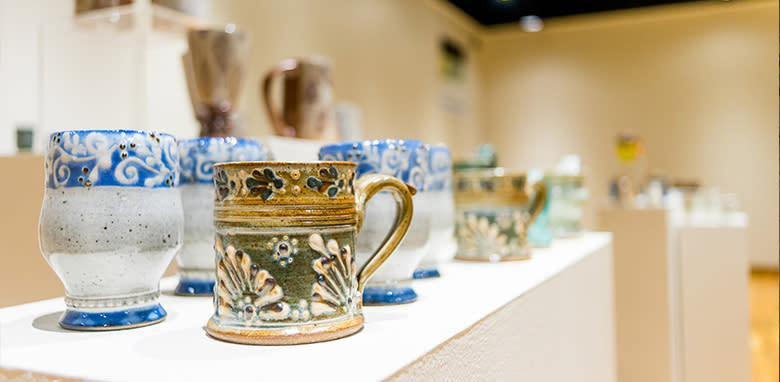 Worcester Center for Crafts
25 Sagamore Road, Worcester
The Gallery Store at Worcester Center for Crafts features stunning handmade works from over 500 talented artisans from across North America. Shop in store or online and choose from a wide range of ceramics, glass work, jewelry and woodwork. Visit the Worcester Center for Crafts' Krikorian Gallery between November 27, 2020 and December 24, 2020 for The Cup Show, a juried collection of handmade cups on view and available for sale.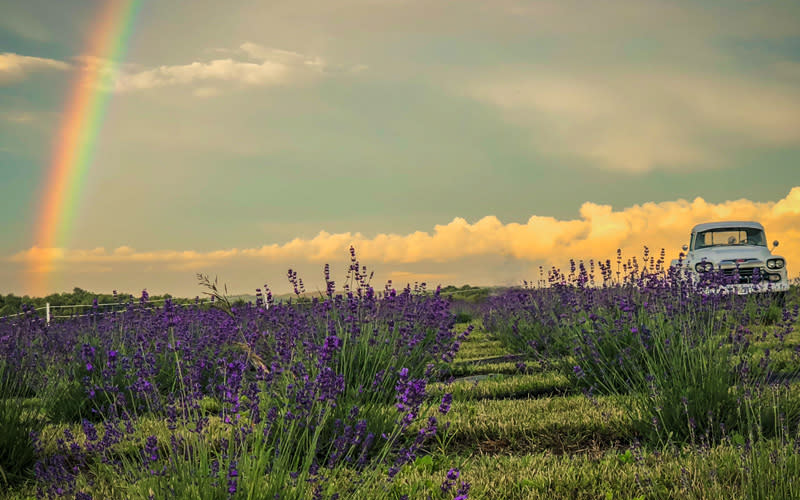 The Farm at SummitWynds 
69 Summit Street, Holden
(Retail shop open on Small Business Saturday, 11/28/20 from 10am-2pm only)
Stop by The Farm at SummitWynds on Small Business Saturday to shop goods made with lavender bunches grown on-site. You'll find farm-fresh items for purchase like raw honey and lavender soap and be sure to ask about opportunities for holiday photoshoots at this picturesque destination!
Quite Fetching Barkery & Pet Boutique
1 Grafton Common, Grafton
Treat the dog owner in your life and their furry friend by picking up a custom-made cookie, cake or toy at Quite Fetching Barkery & Pet Boutique. You can choose from a fantastic selection of squeaky or soft play items, make-at-home doggy ice creams, brightly colored leashes, outfits of all sizes or artwork.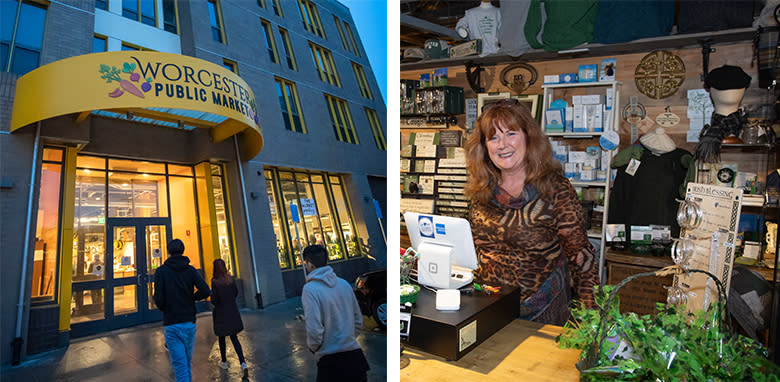 Worcester Public Market 
160 Green Street, Worcester
You could occupy an entire afternoon with a visit to the Canal District's Worcester Public Market and the neighboring shops. Handmade favorites include high-quality handmade leather goods from Alan James Co., Girly Girl Soaps and K. Sense Co. candles. For locally sourced and crafted edible gifts, look for handmade pasta at Pasta Mani & explore curated goods at The Market Pantry. Don't forget to stop by The Tinker's Cart - while most goods are imported from Ireland, you won't want to miss the high-quality wool sweaters and accessories!
Discover More in The Canal District
Worcester
A trip to the Worcester Public Market would not be complete without visiting the neighboring shops. Pick up freshly made bread and Pure BS Maple Syrup from Birchtree Bread Co., and discover a wonderland of goods from retailers like Bedlam Book Cafe, Worcester Wares, Seed to Stem, Birch Alley and Crompton Collective. Before you go, check out our Perfect Canal District Itinerary to help you plan your trip.

Vintage Retriever
1061 Main Street, Holden
Discover one of the newest specialty shops in Holden, Vintage Retriever. Find original, antique, and vintage pieces plus a select assortment of homewares and gifts including honey from Holden-based Bees on Walnut plus bayberry tapers and candles from Mole Hollow Candles in Sturbridge.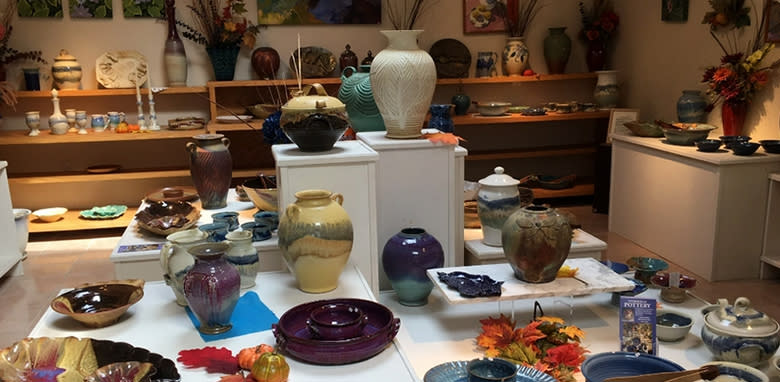 Sturbridge Pottery
99 New Boston Road, Sturbridge
Sturbridge Pottery features high-quality gifts such as vases, pottery & stoneware, the work of Gary & Ann Malone. Collected throughout the United States and Europe their one-of-a-kind artwork and decor showcases a unique blend of form and surface technique developed through years of dedication to their craft.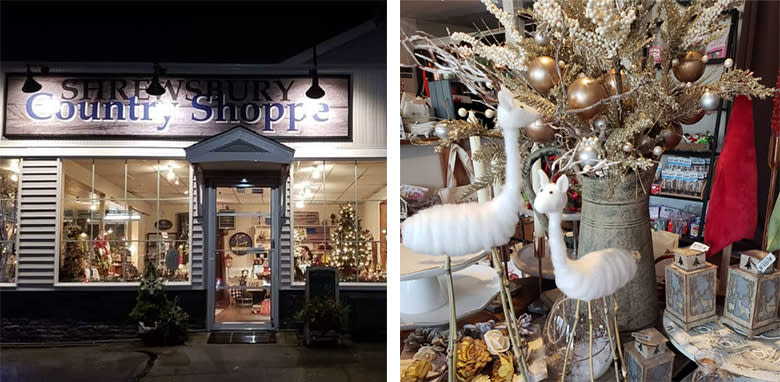 Shrewsbury Country Shoppe
598 Main St, Shrewsbury
At Shrewsbury Country Shoppe you'll find unique home decor, accent furniture, gifts, including lots of area-specific products. Through December 22nd you can call the shop to book exclusive shopping evenings with friends where you'll enjoy wine, giveaways and treats.
---
Discover Central MA Makers
Stationery & Fine Art
Faye Hurley
Worcester based brand Olive & Co. offers a growing collection of stationery, wall art, desktop goodies, and more! Beautifully illustrated by Faye Hurley, expect brightly colored, playful imagery sure to brighten anyone's day. Also, look out for her work at Birch Alley & Worcester Wares!
Cynthia Woehrle
Shop exquisite fine art by Central MA based Cynthia Woehrle, who's work has been shown in numerous galleries including ArtsWorcester. She offers ornaments, original oil paintings and giclee prints in her online shop.
Donna Dufault
With more than two decades of photography experience and a renowned portfolio of food photography, Donna Dufault also offers fine art prints to decorate your environment. Check out her collections of culinary, stone angels and tool fine art photography prints for purchase on her website.
---
Candles, Soaps & Oils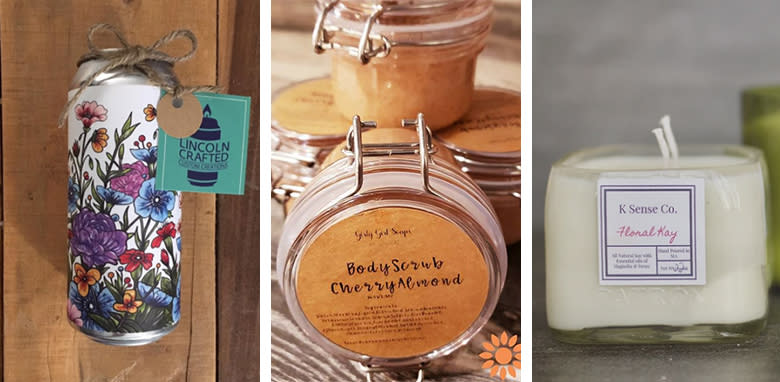 Paul Lincoln
Find 100% soy wax 'CANdles' created by Lincoln Crafted using recycled cans - perfect for someone with a seltzer obsession or for that eco-conscious friend who will appreciate the up-cycling. Best of all, they will create custom CANdles out of any can or container you desire.
Michele Montalvo
Sold at the Worcester Public Market, Michele's Girly Girl Soaps products are made with natural ingredients that leave your skin moisturized and nourished. Offering products like exfoliating soaps, bubble wands and lip balm, there are plenty of gift options to pamper your loved ones.
Katherine Aguilar
With a passion to help the planet, K. Sense Co. makes all-natural candles in repurposed bottles. You can find her products at Worcester Public Market and she's recently expanded to other eco-friendly products to reduce your family's own carbon footprint one tiny change at a time.
---
Woven, Stitch & Knit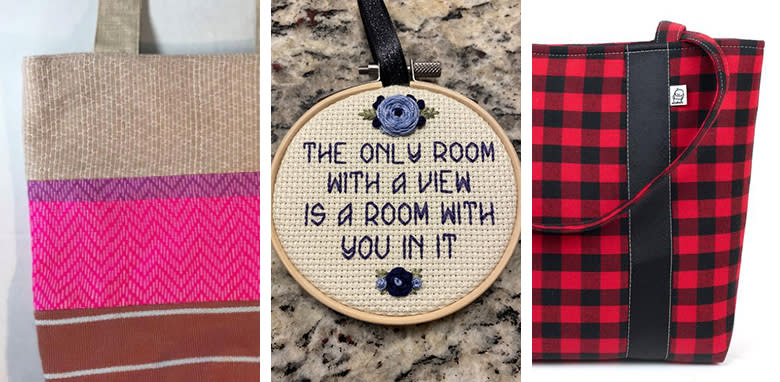 Dar Ku, Yuta Tokunaga & Mihoko Wakabayashi
Weaving Bonds is a collaboration in Worcester between Dar Ku, a local refugee artisan from Burma, Refugee Artisans of Worcester (RAW), Yuta Tokunaga, and Mihoko Wakabayashi, artist and founder of SAORI Worcester Weaving Studio. You can shop their one-of-a-kind, intricate and colorful totes online or shop their collection at Loom in Essence at Worcester PopUp this December 4th through the 23rd.
Victoria Lee
Based in Millbury, the Stitch Witch Vic offers original, empowering and funny one-of-a-kind cross stitch hoop decor that makes a perfect gift for your sassy loved one with a sense of humor.
Christine Guanipa
Christine's Little Man Originals is a brand of textile handbags, accessories, and she's been selling the cutest facemasks we've seen in the region! Each piece of their collection is designed, stitched, and packaged in Central MA from their studio in the historic mill town of Whitinsville.
Robyn Lane
Based in Leominster, Robyn Lane's shop features quilted runners, wall hangings and blankets - all handcrafted and one-of-a-kind.
---
Leather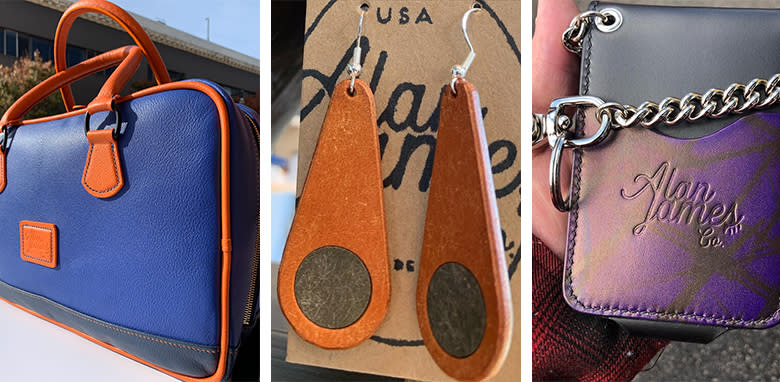 Bill Laudon
This owner-designer-maker of Alan James Co. offers gorgeous, handmade leather goods out of his store at Worcester Public Market. If you're looking for a perfect, custom-fit belt, stunning bags and wallets, or a unique 'No-Shave Kit' for your bearded loved one, this shop is a must-visit.
---
Wood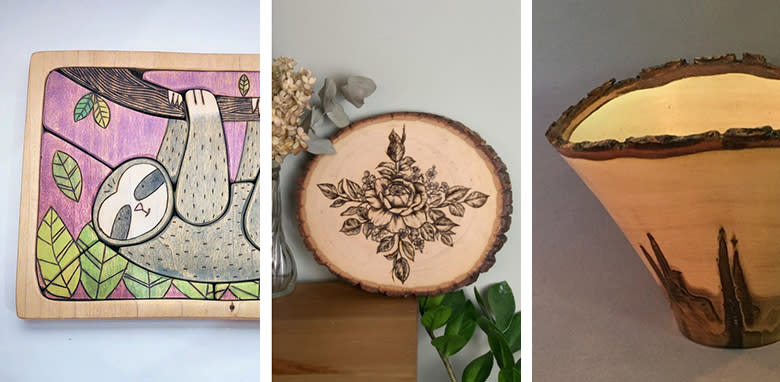 Jen Flanagan
Out of Northbridge, Wood BeeToys makes wooden toys and one-of-a-kind, heirloom-quality puzzles. Depicting playful creatures and scenes, her work is sure to spark any child's imagination.
Doug Morrison
A professional woodworker for 24 years, Doug Morrison has spent the past eight years making carefully crafted pieces from his shop in Sturbridge, MA. His creations, like the elegant Ginkgo Leaf Salad Servers, draw inspiration from the natural features of the wood, all of which is found or salvaged.
Ali Reed
Worcester-based Ali Reed offers a diverse selection of wood and knit gifts in her online shop. The burned wood technique on home decor and garden labels adds a rustic touch that makes each a one-of-a-kind gift.
---
Ceramics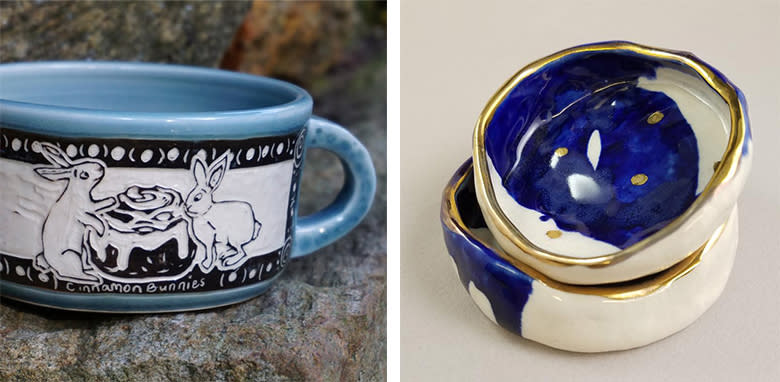 Carly Audet
Find small-batch functional ceramics by Cricket Sonata Ceramics, made in Douglas, MA. You'll find garden-inspired beauty on her ceramics, sometimes even adorned with fun critters and the occasional food pun!
Wendy Popple
Specializing in small-batch, food-safe products, Pinch Ceramics releases limited-edition products out of Worcester, Massachusetts. Wendy works exclusively with porcelain and all of her pieces are hand made and hand decorated in a unique, modern style. 
---
Connect with us on social!
Show us where you went and what special things you found using #ShopCentralMA! 
How to Win a Local Business Gift Card:
On Facebook and Instagram we'll be featuring businesses mentioned in this article. You have a chance to win just by liking and sharing any of our Handmade Holidays posts - but don't forget to tag @discovercentralMA to be entered into the giveaway. Each Friday we'll randomly select a new winner!