Trip Preparations 

Fly in Style 
Aim for a midday arrival time when you book your flight to Worcester Regional Airport (ORH), and fly Delta from LaGuardia or along with JetBlue from JFK for the comfiest luxury experience. (And perhaps bring an empty bag to fill with flea market finds...)  
Reserve Your Wheels 
Once you touch down in Worcester, consider renting a car with a company like Hertz, conveniently located right at ORH. Pro tip: Reserve your vehicle online prior to departure, so your plans are locked in and everything from there is simply smooth sailing. 
Rest Your Head 
To thoroughly enjoy New England's colonial roots, check out the Publick House Historic Inn & Country Lodge to immerse yourself in local charm. For a spot with a more urban twist, however, you might consider staying in the Heart of the Commonwealth—Worcester—where you'll find a solid selection of luxury and brand name hotels, like the Beechwood Hotel, the AC Marriott and the Hilton Garden Inn. 
---
Weekend Plans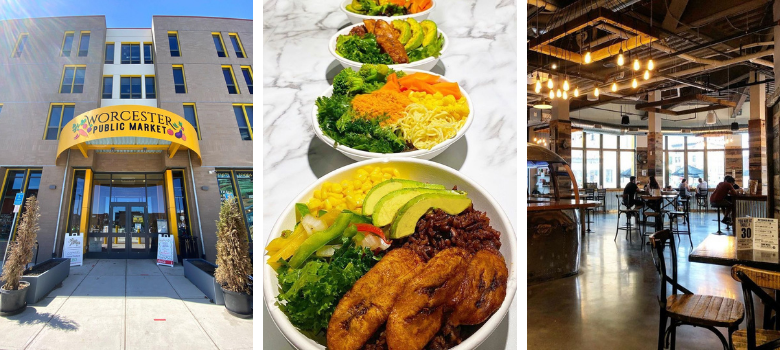 Friday: Discover the Canal District & Dine Downtown
Once you've settled in at the accommodations of your choice, you'll want to hit the town—more specifically, Worcester's Canal District, which is overflowing with trendy restaurants, chic shopping and live entertainment (plus, plenty of history).  
Although the Canal District's once flowing water canal is now underground, this district has resurfaced as one of the fastest growing neighborhoods in the city and the new destination of Polar Park, the home of the Worcester Red Sox.  
The district is also home to Worcester Public Market, which boasts a taproom and brewery operated by Wachusett Brewing Co., and also provides a second retail location for Worcester Wares, a store featuring fun Worcester-themed gifts and souvenirs.  
You'll also find shops like Seed to Stem, a lifestyle and plant boutique with notably beautiful displays of greenery and crystals, plus Crompton Collective, a female-owned, curated boutique with a mission to celebrate local, independent gift makers, along your way.  
As the sun sets on the city, you'll want to head downtown to grab dinner at a coveted spot like deadhorse hill, owned by Chef Jared Forman, a fellow New Yorker who's cooked for the likes of momofuku and Gramercy Tavern, two NYC staples. If you've enjoyed his creations at either of those beloved locales, you'll want to try a few delicacies off his latest seasonal menu, such as the Swordfish Plate or the Rigatoni all'Amatriciana.  
---

Photo Credit: Aimee Tucker
Saturday: Be an Early Bird at Brimfield
Get an early start and spot all the hidden gems at Brimfield Antique Flea Market, America's oldest outdoor antiques flea market and a renowned New England event. Upon arrival, you'll find everything from vintage clothing and jewelry to furniture, artwork, woodwork, metalwork and glassware. Many vendors remain open virtually all day, and some as early as sunrise.  
You'll likely want to familiarize yourself with a lay of the land, and for a list of vendors/map of the premises, you can check out their website here. You can also keep track of updates via their Facebook page to get prepared like a pro. Create a list of what you're on the hunt for, or simply see what speaks to you... There's no wrong way to do it. 
Those quality finds from the market are cause for a little celebration. Conveniently nearby, Brimfield Winery & Cidery can take care of all your celebratory wishes. With wine made of grapes sourced straight from New York, you'll feel right at home as you sip on classics, like Antique Red and Brimfield Rush. If wine's not your thing, though, Brimfield takes care of the beer and hard cider lovers, too. 
If you're willing to drive a bit for a well-worth-it dinner, consider Salem Cross Inn, where you can enjoy their classic Country Chicken & Spinach Burger or Summer Garden Shrimp Linguini. 
In other spots, Baba Sushi Sturbridge offers impeccable Japanese cuisine, while BT's Smokehouse brings out the juiciest BBQ around. Another viable contender is Cedar Street Grille, offering picks like Curried Seafood Stew and a Harvest Grain Salad. You can always return to the Publick House, too, and visit Ebenezer's Tavern for their tried & true menu offerings.  
---

Sunday: Bop Over to Breakfast & Hop Around Local Brews
Take it slow this Sunday morning, leisurely basking in your surroundings with a tasty morning pick-me-up. If you're staying at the Publick House, it's worth checking out their Bake Shoppe, where they serve fresh coffee and delicious baked goods on the daily.  
If you're at a downtown Worcester hotel, walk to The Mercantile for brunch. Or get in your rental car and head to Altea's Eatery for an earlier start (they open at 8 a.m.). You can dine indoors or out, and choose from a vast selection of options ranging from savory to sweet. Top the morning off with a pomegranate mimosa and you'll be feeling just as bubbly. 
For the main event, consider the Central Mass. Brewery Tour. Beer connoisseurs will be in heaven as they sample hops from several breweries throughout the area. While there are quite a few to visit, some honorable mentions include Oakholm Brewing Company, Rapscallion Pub, Altruist Brewing Company, Timberyard Brewing Company and Tree House Brewing Company (to note: advanced ticket purchase required at Tree House). There are even more notables in Worcester, which you can find a full list of here.
There are plenty of options to snack on as you sip, too, as Oakholm and Tree House host a variety of food trucks on site, while Rapscallion, Altruist and Timberyard offer bites straight from their kitchens. This way, you'll fly back on a full stomach (and an even fuller bag of antiques!). 
---
A weekend in Central Mass. is worth the hype in any season, and the Brimfield Antique Flea Market makes it that much more memorable with its uniquely immersive shopping experience. Happy hunting!